We all need one of the best TVs for family entertainment, cozy movie nights or a decent gaming session. Alas, once switched off, televisions can often look like an eyesore, especially in a beautifully decorated room. 
And we all know unsightly wires or cables can easily ruin the aesthetics.
Luckily, there are some clever and stylish ways to conceal or blend your TV seamlessly into your home décor. By incorporating your TV within a unit or wall-mount, this allows the technology to blend into the room scheme, so that it's not the central focus of the room.
In fact, knowing how to decorate around a TV will not only add instant appeal, but has its practical benefits too. For instance, if you have a compact room, this can help to make a small space look bigger. Just make sure you don't make any of these mistakes when rearranging furniture, when considering the size of the TV in proportion to the room. 
So, if you don't want to ruin your interior style, try these clever ways to decorate around a TV, and also maximize on space. 
1. TV above fireplace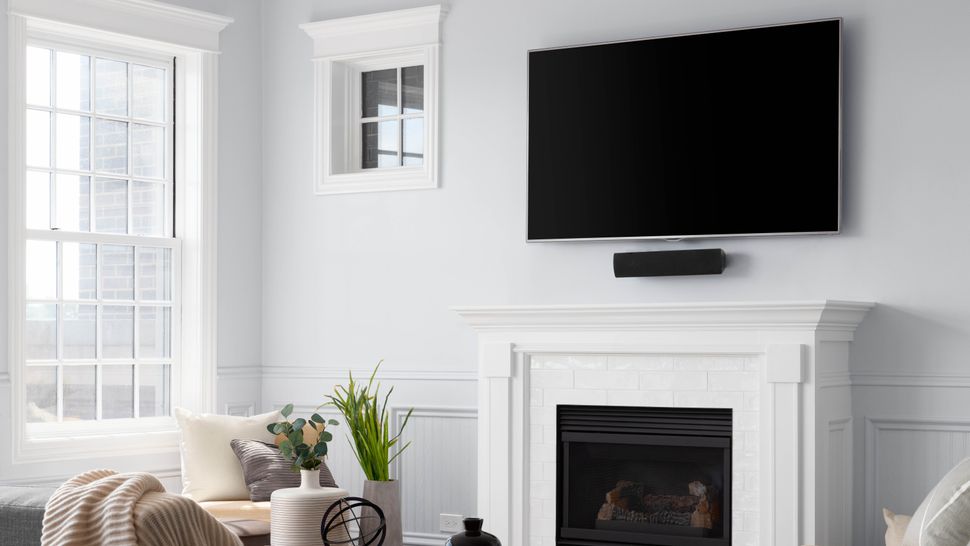 Placing a TV above a mantel or fireplace feature is a common option, especially if you lack floor space. This is often the focal point of any room, and can make a stunning feature wall. But before you mount your TV to the wall safely, there are a few things to consider. 
First, always check the height, and ensure it's at a comfortable viewing position.  You don't want it to be too low or high above the fireplace, and experts suggest placing between 4 and 12 inches above the fireplace. Ideally, the position for your TV should be at eye level, and you can check this by sitting down on the sofa or chair where you mostly watch TV.
In addition, make sure you factor in the directions of your cabling and power supply. 
If you have a working fireplace, it's important to ensure any heat generated is redirected away from the TV, to prevent it from damage. However, installing a proper mantel will prevent this. In addition, experts advise to keep the mantelpiece simple with only a few items, and avoid over-decorating. This will ensure it doesn't look like a cluttered space, or overwhelming.
2. Built-in wall unit 
Another option is to include your TV in a wall unit, that also doubles up as entertainment/home storage. This way, you're maximizing every inch of space along one wall, keeping everything more streamlined. 
This is a great way to hide wires, streaming boxes, remote controls, game consoles, and other gadgets. Not only are they out of sight (and mind!), this should reduce the amount of clutter in your room, and keep things organized. 
There are plenty of designs and colors to compliment your interiors, but if you have a style in mind, you can always get one custom-made. What's more, you can decide on what you want to have on display, or behind closed doors!
3. Floating unit and shelves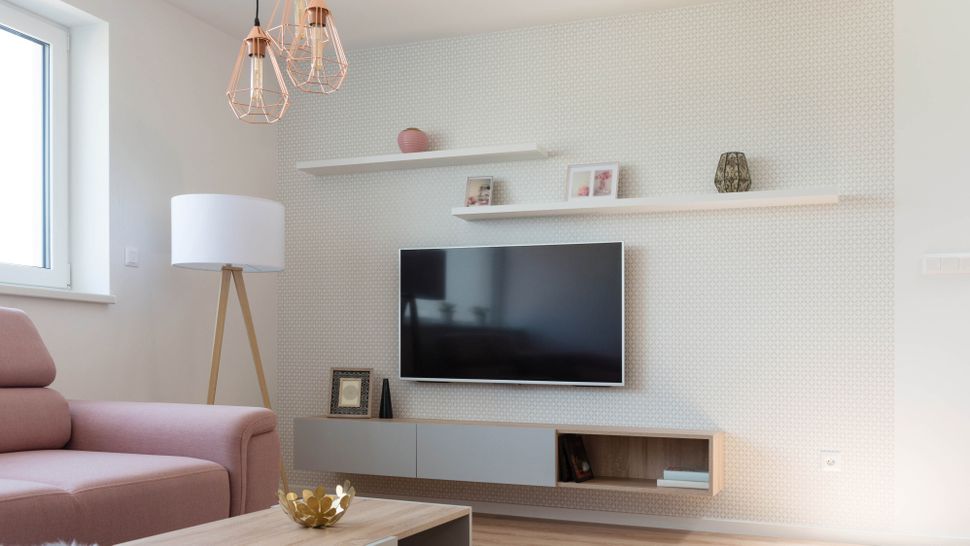 If you don't have the capacity for a TV wall unit, you can opt for a floating console instead. Place your TV above a wall-mounted unit to create the illusion of more space. Again, these double up as practical storage solutions, which are great for concealing clutter. More importantly, they add a contemporary and attractive design feature to any room. 
If you're tight for space, you can also add floating shelves above it, to essentially 'frame' the TV, and blend it within your decor scheme. Just be sure to check the strength of your wall before mounting anything, or call in a professional. 
4. Recessed TV wall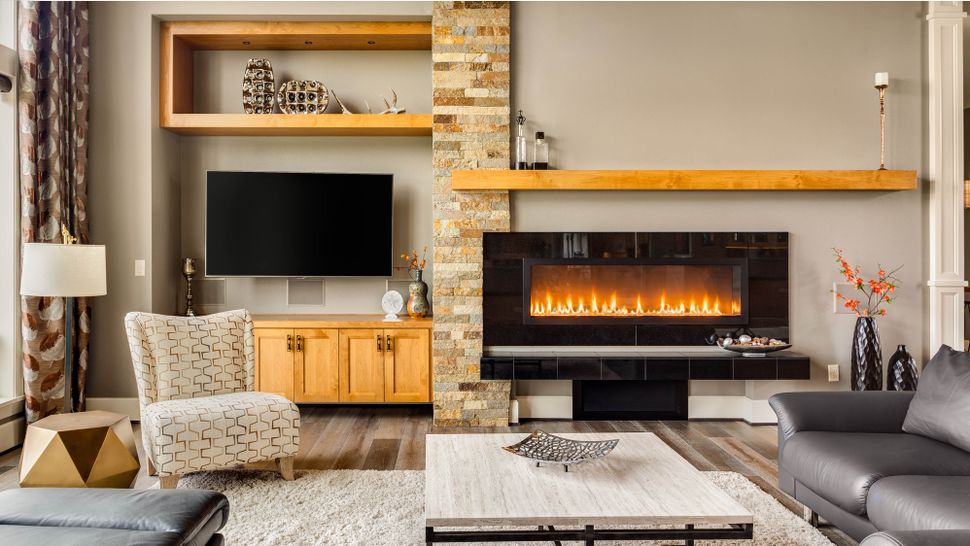 Alcoves or recessed walls can be a great space to home a TV and make it less obvious. Most of all, this will make the most of wall space, allowing more room, and will work better with your interior scheme.  
Alcoves are also great for fitting shelves around the TV, or even a cabinet underneath for practical storage. Just be sure to measure up precisely for that particular space. While you want everything flush against the wall, you also want to make it easily accessible if you want to swap out anything. 
5. Wood panelled TV wall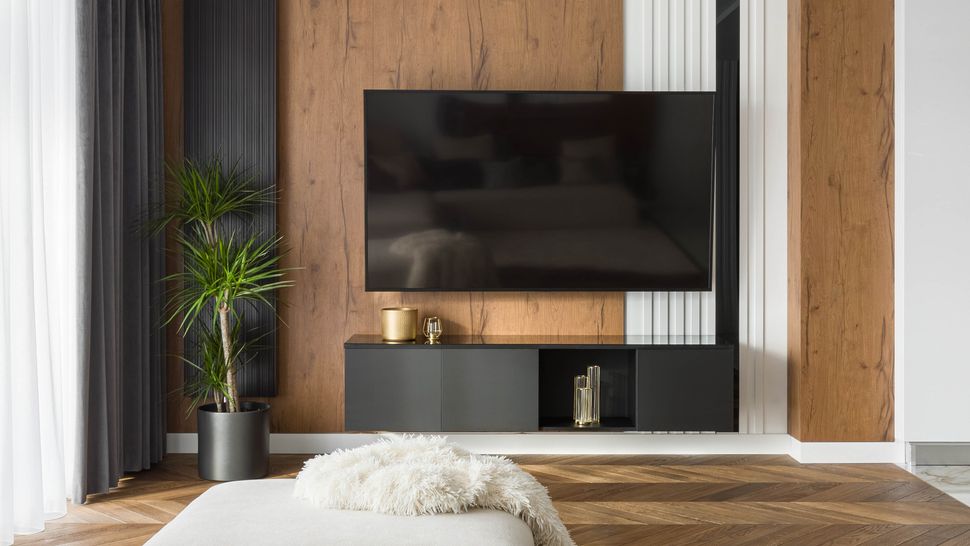 If you just want to change the backdrop of your TV, you can install a wood panelled feature wall. Feature walls work well to give a room character and depth, as well as blending in your TV set.  
In particular, wood panels create a rustic, warm, and more homely feel, and are relatively easy to install. These panels can be attached to the wall with either glue or screws, providing your wall is in good condition.
However, if you don't want to install panels, there are other options of having feature wallpaper. Ranging from marble-effect, and faux brick to geometric designs, you can find the perfect backdrop to suit your room. Before you start though, you might want to check out how to wallpaper a room for best results. 
6. Camouflage your TV with a black wall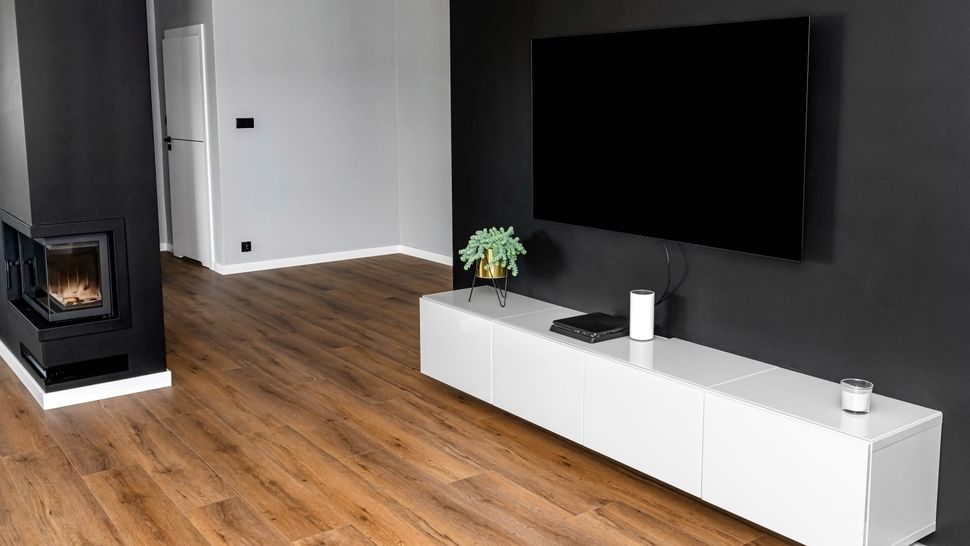 While there's been much debate about this, experts recommend the concept of a dark panel behind the TV. Essentially, this will completely camouflage the TV set, allowing the eyes to be drawn into other decor elements of the room. 
In addition, a dark tone will give your TV wall a more cinematic feel, allowing the colors of the screen to pop out more. Which would make all the difference to movie nights.
If you don't want to stick with black, you can try other dark tones to create a bold, accent wall.  Bear in mind that darker colors can often make a room look smaller, so be sure to complement it with white or lighter tones. In any case, this will downplay the role of your TV in your decor making it 'disappear' altogether. 
7. Frame your TV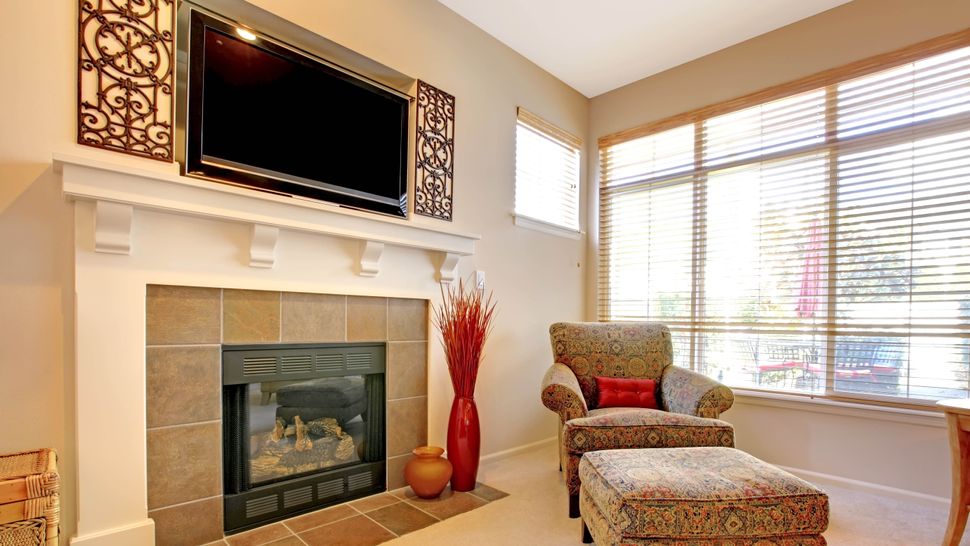 If you want to add glamor to your wall-mounted TV, why not frame it? If you don't have the budget for the Samsung Frame TV, there are other creative ways to add an eye-catching frame.
From bespoke wooden frames, to modern chrome, you can choose a frame to suit your style. While there are plenty of tutorials online, it's always best to seek professional advice when building a frame for your TV. Alternatively, you can add decorative wall art pieces on either side of it to spruce up your room. Not only is framing is a great way to conceal your TV, but it will add character to your space. 
---
Looking to buy a new TV? Before you do, check out our TV buying guide, and everything you need to know. Also, you'll need to know how to clean a TV screen without damaging it, and 11 things you didn't know your smart TV could do.
Also, do you have any of these 7 things that are making your home look cheap? Be sure to read, I'm obsessed with home makeover shows — and these are the 3 mistakes people always make.