How do you ensure a white kitchen is decoratively rich along with looking elegant and light filled? Professional kitchen designers have plenty of examples to offer when it comes to swerving blandness and filling the room with interest.
Here, we've detailed the design lessons that are crucial for success with white kitchen ideas that can be drawn from this room, which belongs to a wonderful Queen Anne house in the British countryside. 
It's a cool, calm kitchen that was redesigned to better suit the busy lifestyle of a family with four young children, and the brief was to create a light, bright airy kitchen with a classic English aesthetic. The old kitchen was much narrower, felt cluttered and featured awkward architectural detailing. 
To make better use of the space, Martin Moore (opens in new tab) reconfigured the kitchen layout, increased the height of the cabinets, created a vertical pantry next to the range cooker for maximum ease, and converted any tricky nooks and crannies into useful kitchen storage. And the kitchen experts employed a range of clever strategies that make the room full of interest.
1. Add depth to a white kitchen with in-cabinet color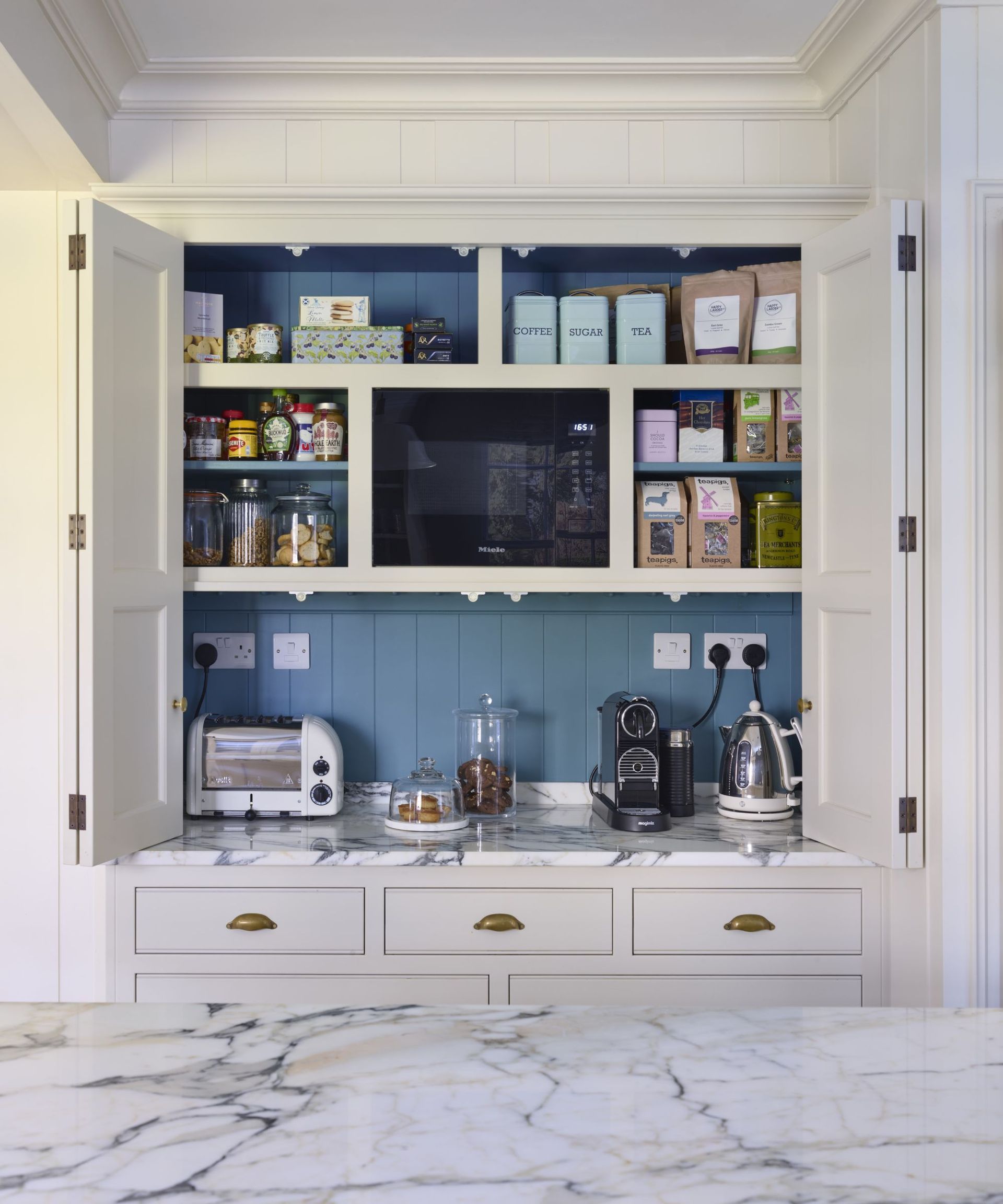 White kitchens are enduringly popular for reasons including the ambience the color creates. Here, the color scheme was kept neutral in order to achieve the calm, restful feel that the clients wanted. 
The cabinets, from Martin Moore's New Classic collection, are handpainted in 'Palladian White' to soothing effect. But choosing white cabinets doesn't mean avoiding accents of color entirely, and one way to include them is by selecting a contrasting shade for their interiors, adding a decorative surprise. Here, the cabinet doors open to reveal decorative interiors in Pale Cornflower blue. 
2. Stand-out surfaces can make a white kitchen sing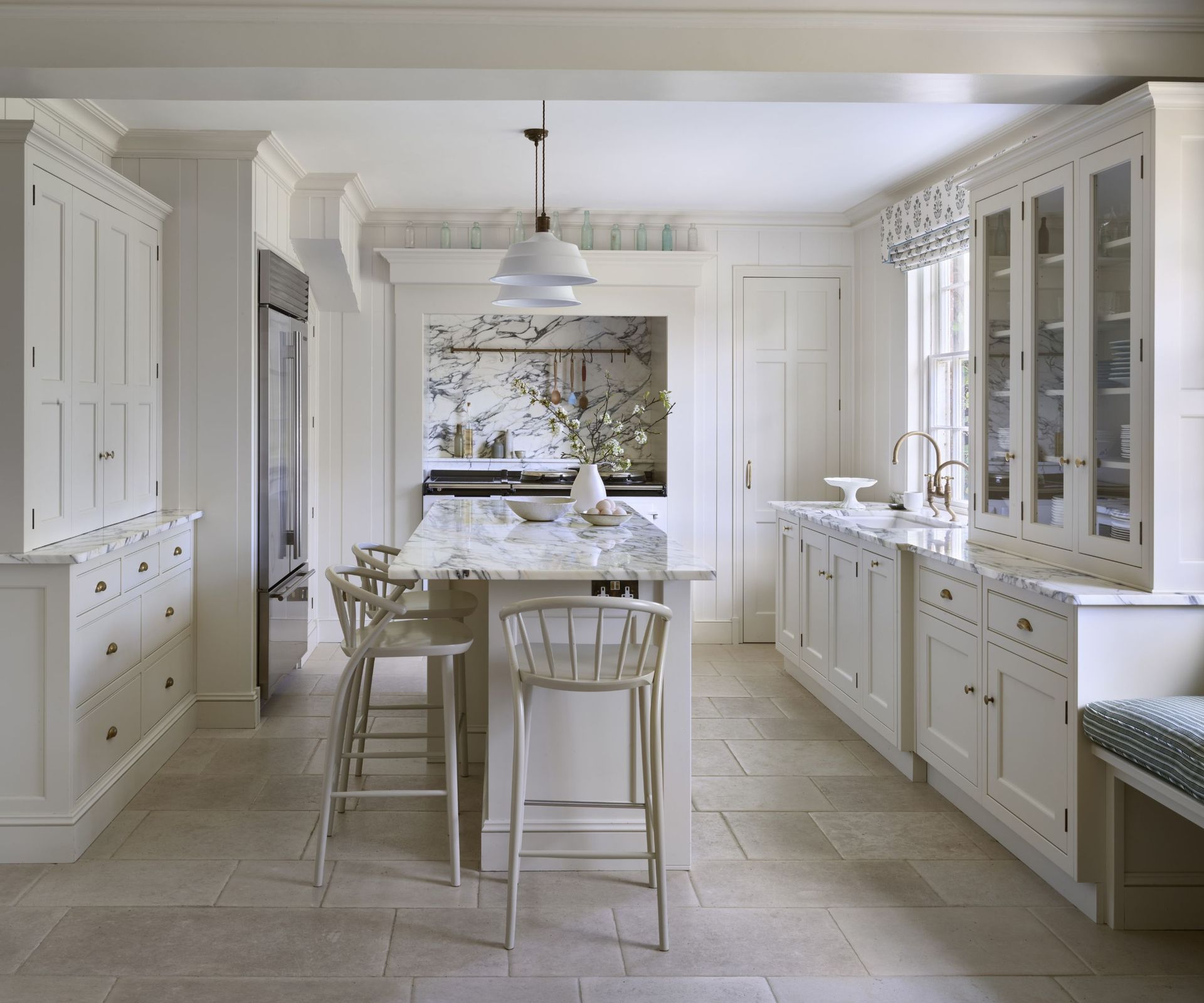 Kitchen countertop ideas are ripe with potential to bring interest to a white kitchen. In this room, it is the elegant, dramatically veined Italian Arabescato Corchia marble countertops that bring the wow factor to the space. 
It's used for the island as well as the remaining countertops, and for the backsplash behind the range, allowing the wonderful veining to be viewed in a vertical orientation. The material elevates the scheme, adding vibrancy and depth to the design. 
3. Keep appliances on show for interest in a white kitchen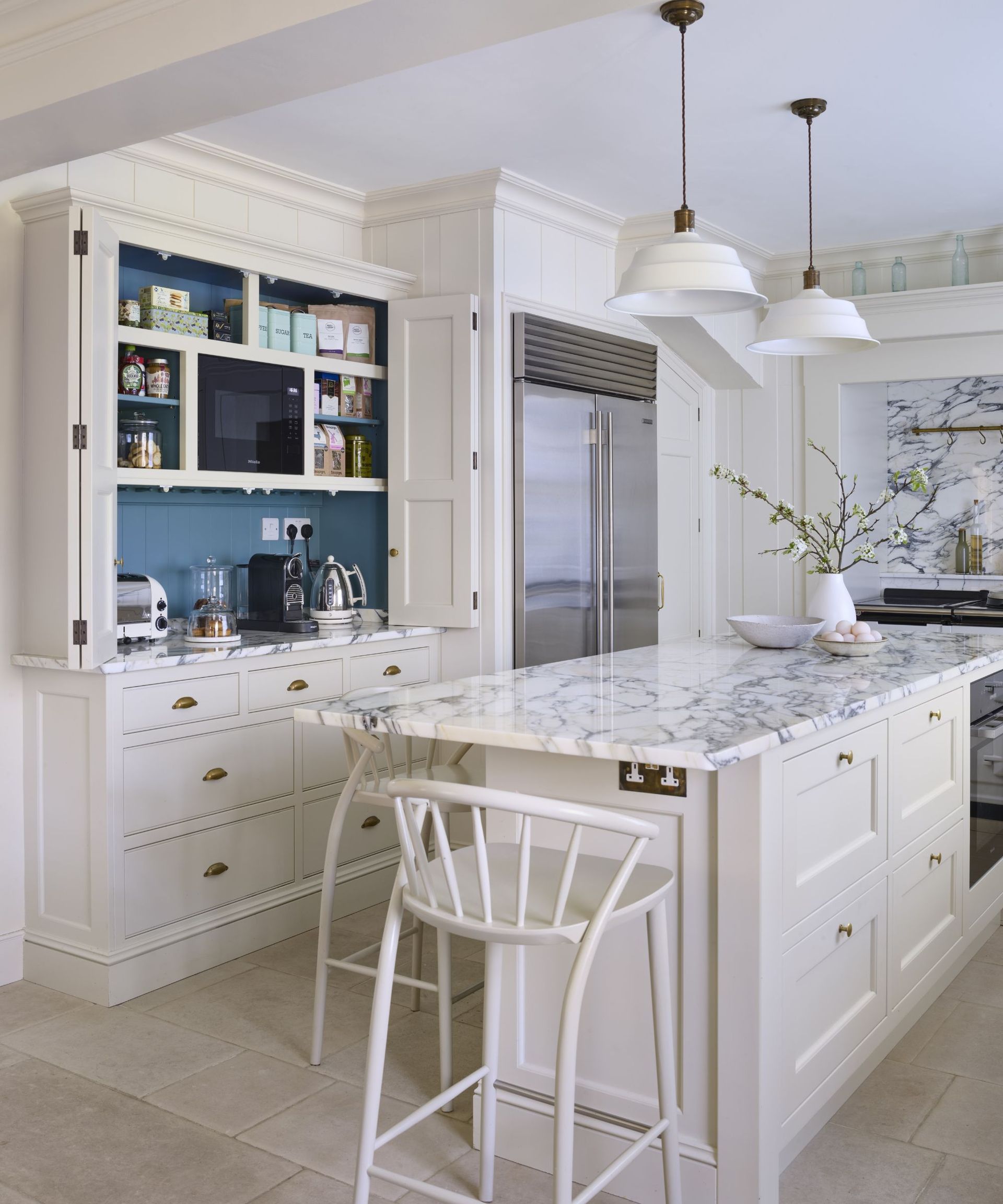 Contrasting materials can add depth to a white kitchen, so consider following this room's lead with a refrigerator in stainless steel. It's a metallic that complements white cabinets perfectly across a whole range of kitchen styles. 
Echo a metal finish in small appliances for a pulled-together look and subtle highlights that add depth to a white kitchen. This can be the case even if these smaller appliances aren't on show all the time.
In this room, it was important that the family had an informal area where the kids could sit and eat, alongside a more formal dining area for entertaining guests. Positioned next to the island and designed to keep breakfast-making facilities close at hand, Martin Moore installed a bespoke breakfast cabinet to house an integrated microwave, coffee machine plus a kettle and toaster that continue the metal finish.
It's 'a total win' according to the family, allowing them to conceal everything away after breakfast in the morning.
4. Add texture, color and pattern for walls and windows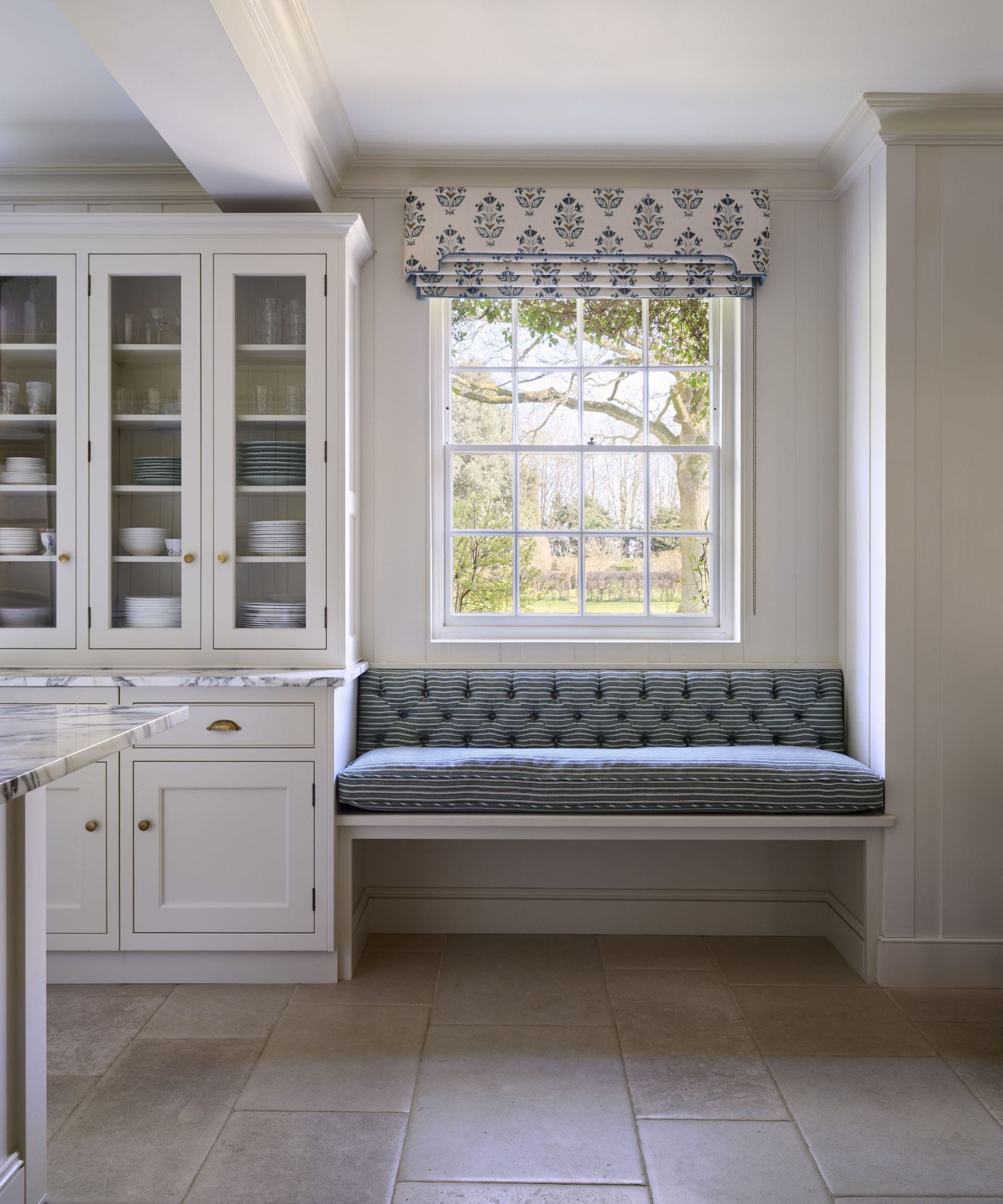 Window dressings and other fabrics used in a white kitchen provide the perfect opportunity to elevate the room through the use of color as well as pattern.
Here, helping to bring the kitchen to life and working closely with the owners, interior design studio Eadie & Crole (opens in new tab) specified luxury furnishings and finishes to add warmth and subtle flair to the scheme. 
As well as designing bespoke wall paneling, they sourced artisanal fabrics from Tissus d'Hélène for the window bench and the blinds. 
5. Create contrast with stone flooring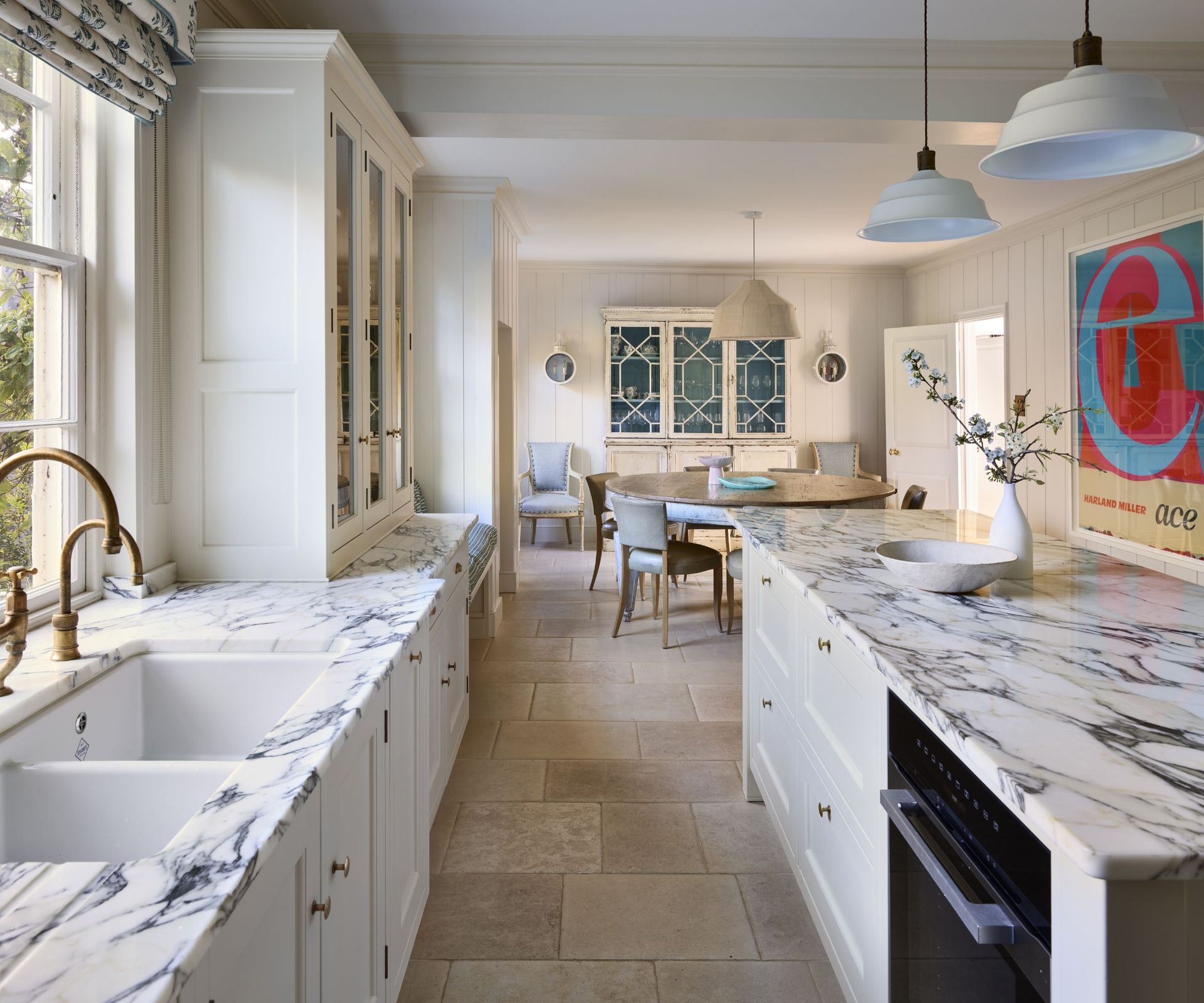 As part of kitchen floor tile ideas, think natural stone to introduce contrasting color and texture to a white kitchen that will add to its interest. 
Natural stone won't disrupt the neutral palette but has pleasing variation and appealing tactility and adds gently warming tones to a white kitchen like this one. Select from choices such as limestone or marble and be sure to take professional advice on sealing to keep the stone in good condition.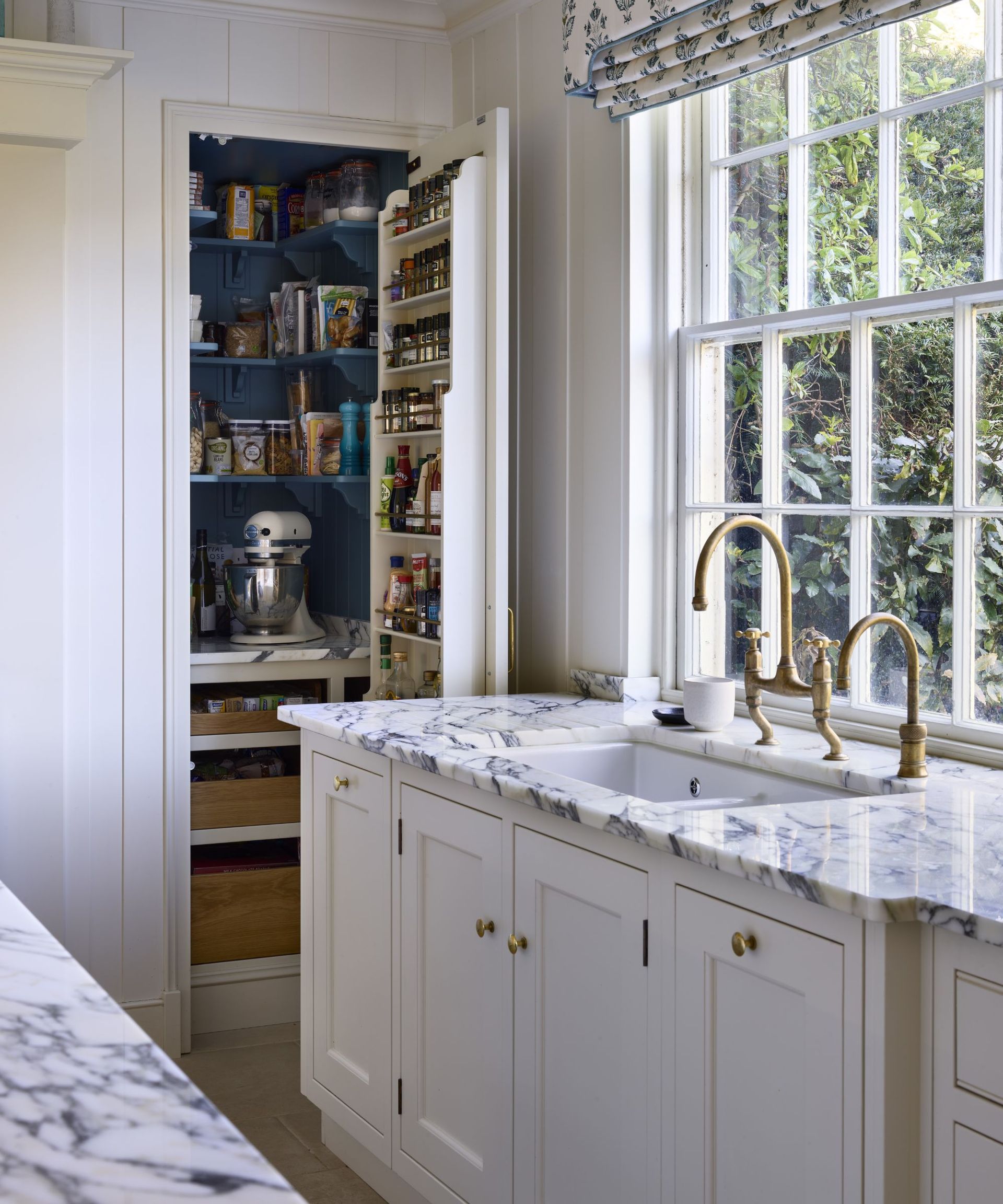 Metal finishes can add subtle highlights to a white kitchen, and as well as bringing them in through appliances, both faucets and handles can introduce them. In this room it's a metallic that has been used for both – and it's a metal that's ideal to bring in a warmer note to white kitchen. 
Think brass and copper as well as warm rose gold to repeat the effect: they can be mixed with cooler stainless steel for a refrigerator without a clash.
7. Incorporate glass-fronted cabinets in a white kitchen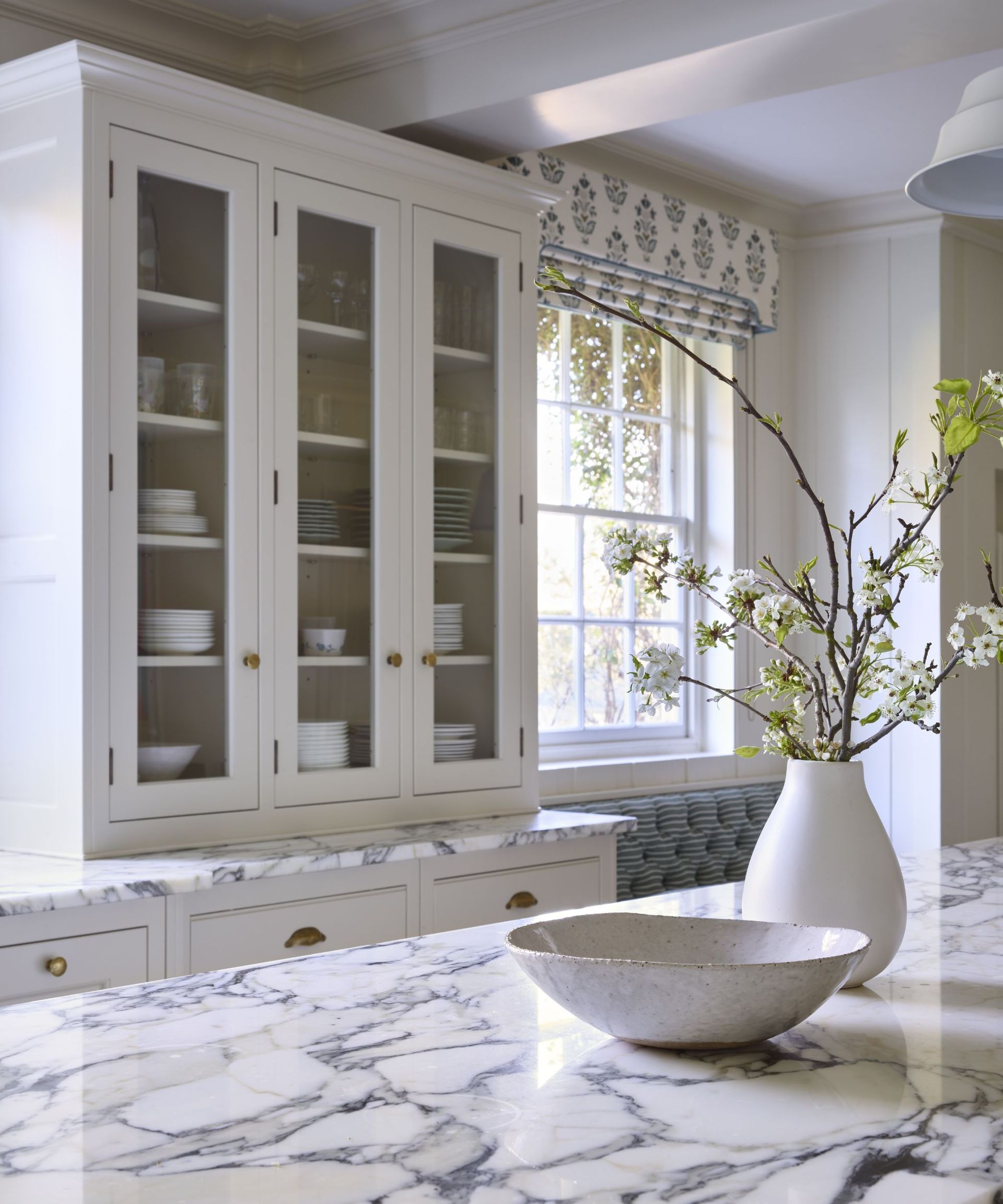 This kitchen features glass-fronted cabinets along with those with solid doors, and it's a strategy well worth repeating in white kitchens for added decorative detail. Use them to display china and glass arranged to make pleasing vignettes. Staying with the white palette for tableware can be the rule – these displays are still perfect for boosting a white kitchen decoratively.
The verdict
Speaking of their new kitchen, the owner says, 'We are completely in love with this room. When I tiptoe down each morning and see the light pouring in, it brings back the feeling we had when we first saw the house. I just knew it was right for us.'