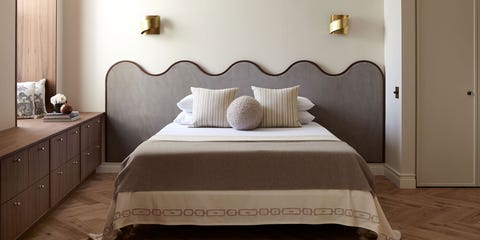 Joshua McHugh
At the the end of a long day, when the only thing that will do is to curl up in bed and catch some z's, you'll want to make sure you're doing so in a beautiful, thoughtfully designed bedroom. These spaces should be optimized for sleep first and foremost, with a downy mattress, soft blankets, and maybe even an ambient noise machine for those insomniacs out there. But a bedroom should also show off your personal taste, which can be reflected in the color of the walls—bold or tranquil?—as well as the bed frame and nightstand you choose.
It's a long list of design decisions, so we're here to help—as always—with some much-needed inspo. From a poppy children's bedroom in France to a more refined, gray-toned space on Long Island, we've rounded up a long list of bedrooms that will suit just about everyone's tastes. Sleep tight!
Advertisement – Continue Reading Below
Designer Jacques Grange brings natural elements, like floral pillows from Marrakech, into a guest bedroom on the Portuguese coast. Pair that with the green ceramics on the shelf and the window that looks out onto the paradisial locale, and you've got one breezy vacation spot.
The Baldissera family palazzo in Milan dates back to the 15th century, so it stands to reason that the bedroom would feature old-world accents like this dramatic Louis XVI canopy bed and gallery wall. Taken all together, you'll feel as if you've stepped back in time.
A centerpiece of the primary bedroom in this Sonoma, California, family house designed by Ken Fulk is the antique limestone fireplace, which was sourced from an Italian estate and reassembled on-site. It's the perfect complement to the room's other old-made-new touches, from the vintage Murano chandelier to the red Chesterfield sofa.
In New York City, Apparatus CEO and cofounder Gabriel Hendifar dresses his bedroom with distinctive works of art and a warm color palette. The latter is achieved through the brass in the pendant by Apparatus, the rosy bedcover from Zak + Fox, and plenty of natural light.
Sometimes a good bedcover can completely make a space. In designer Tamsin Johnson's Sydney bedroom, a red patterned blanket from Roller Rabbit ties the settee and lamp together while adding a bit of whimsy into the equation.
If a gallery wall isn't your style, then why not transform the entire surface into a painterly mural? Martha Mulholland added a statement-making botanical wallpaper from Lizzo to this primary bedroom in Malibu, a move that totally changes the room's tone.
In a children's bedroom, a set of bunk beds can be a great way to save space for more seating—and toys! In this coastal home in France, designer Jean-Louis Deniot mixes a poppy yellow-and-blue color palette with neutral tones to create a bright, inviting space for the kids.
Paolo Castellarin and Didier Bonnin's primary bedroom in Milan makes a statement with subtle but smart color play, from the brown walls to the orange headboard. A simple pendant light from Flos adds a quiet warmth to the room—and a bit of drama.
Fashion designer Carly Cushnie took a more DIY approach to the artwork in this TriBeCa apartment. To honor the client's Indian heritage, the designer made the vibrant work above the bed out of vintage saris, the colors of which echo the black headboard and gold pillows.
Billy Cotton brings the beach to the bedroom of this small Manhattan apartment, with subtle accents—a seashell table from Gallery 25, a sky-blue wall—that nod to sandy shores. Ideas like this one offer a great escape for city dwellers.
Why pick just one pattern, objet, or color when you can have them all? Interior designer William Cullum and his partner, Jeffery Rhodes, filled their two-room New York City apartment to the brim with personal treasures—plus that bold coat of purple paint. This one is perfect inspo for the collector in your life.
If you're mapping out a primary bedroom, make sure there's room for a small sitting area or reading nook. Architect Paul Lamb left space to find some Zen in this charming, ranch-style home in Austin; just snag a book off the shelves and you're all set for relaxation.
In Rome, art historian Carolina Vincenti brought treasures from her collection into her primary bedroom, including 19th-century Turkish rugs and an array of keepsakes on the walls. The unexpected color palette—rich reds paired with sky blues—also livens things up.
In a Long Island home designed by Joe Nahem, the primary bedroom deploys tranquil tones of gray, from the vintage Philip Lloyd Powell chairs to the bedspread. A work by Yayoi Kusama presides over the space, adding a hit of bright color to the otherwise stony oasis.
Changing up the blankets and other fabrics in your bedroom can instantly provide some drama. Peter Pennoyer and Katie Ridder experimented with colors and patterns in this Manhattan triplex, starting with the bed frame in the primary bedroom, which mixes Holland & Sherry textiles with vintage Japanese obi. More classic pieces, like the antique Murano chandelier, round out the colorful space.
Add some fun to your bedroom with a bold wallpaper, like in this Hudson Valley space by Perifio Interiors. The yellow-and-green wallcovering from Milton & King plays off the blush blankets from Vitra, creating a lively, enticing space for two.
A bedroom at a beach house should always have a bit of lightness to it, like this one on Maui designed by Martyn Lawrence Bullard. The custom canopy shows off a serene draped Coraggio fabric, while subtle Barkskin wallpaper from Caba Company clinches the Bohemian feel. All that's missing is a calming sea breeze.
Bedrooms don't have to be all soft edges and plush pillows. A primary bedroom in a Brooklyn apartment designed by Jett Projects features a custom headboard made of Antigua Verde marble, giving the room a panache that's far from ordinary.
19
Experiment with Carpeting
In their Harlem townhouse, poet James Fenton and writer Darryl Pinckney used the boldest of bold paint colors, from a sharp green to a sunshine yellow, to say nothing of the tomato red in this third-floor bedroom. But the real interest here lies in the set of carpets that line the floor, playing off the crimson hues of both the bed and the tablecloth.
Sometimes it pays to have more than one spot for cozying up. In the primary bedroom of landscape architect Thomas Woltz's Virginia home, an inviting French Directoire daybed overlooks the verdant gardens below.
Bring the drama by saturating your room in one dark hue, like in this primary bedroom in Brooklyn by Delia Kenza. Here, everything is black, from the furniture to the walls, even if some natural light does peek through the window to balance out the moodiness.
We love the nods to the artist Donald Judd in this platform bed, which occupies an art-filled home in the Hamptons (see the colorful Matt Connors work above the bed). Here, the space beneath is cleverly used as a bookshelf, but the extra room provided by elevation can serve as storage of all sorts.
If you're in the market for a new headboard, consider a curvaceous option like this one upholstered in an Erica Shamrock fabric. Situated in a Manhattan apartment by Cochineal Design, the wavy shapes add a softness (and a whole lot of fun) to the space.
Between the Isamu Noguchi pendant, Crump and Kwash nightstand, and custom four-poster bed, this Upper West Side apartment by Kevin Dumais is equal parts daring and dreamy.
For a bedroom idea that can do double duty, take a look at the charming built-in Dorothy Berwin incorporated in this Manhattan apartment. Storage and sleep? Consider us sold.
Contrary to popular belief, a bedroom is actually a wonderful place to incorporate some tougher fabrics. In this Milan apartment, Hannes Peer paired a custom, leather-upholstered frame with bedding from Once Milano and a vintage Gaetano Sciolari lamp.
Designer Marie-Lise Féry packed on the vibrant hues in this French boudoir. From the smattering of Pierre Frey fabrics, to a Moustache bench, to the lamp by Magic Circus Éditions, this space offers plenty to smile about.
Want to focus on one hue? Take a page out of this St. Petersburg bedroom, which designer Tim Veresnovsky dressed in a bright blue rug, corresponding custom pendants, and a chandelier by Stilnovo.
In this Beverly Hills abode, which was once owned by the late Alex Trebek, designer Luis Fernandez offset a geometric carpet from the Rug Company with an equally zesty wallcovering from Pierre Frey. Since both features have a similar color palette, this combination is eye-catching, not over-the-top. Rounding out the look is a citrine blanket that offers the perfect pop of color.
As this Manhattan apartment that Husband Wife designed proves, your mattress doesn't have to be rectangular. Here, the firm juxtaposed the custom round bed with a Trabiz rug, a chandelier from Mazzega, and a vintage French side table that dates back to the 1960s.
When it comes to decorating a bedroom, it doesn't get more personal than filling it with your favorite artwork. In this Belgian bedroom, the walls are flanked with artwork by Tracey Emin, Francis Alÿs, Raymond Pettibon, Robert Longon, Michaël Borremans, Willem Cole, Wolfgang Laib, and Tom Molloy.
This bedroom, located inside a Hamptons home designed by designer Remy Renzullo, takes its pattern-happy cues from decorating greats of yore (think Billy Baldwin and Sister Parish). Here in a guest room, the dramatic bed canopy, side table skirt, and walls are all covered in a charming Pierre Frey fabric.
If you want to give your bedroom floor-to-ceiling appeal, take a note from this Boca Raton retreat that Fawn Galli designed. Here, she accessorized the custom terrazzo floor with a rug by Chused & Co, an RH, Restoration Hardware bed frame, and artwork from Laurie Simmons.
Turn your bedroom into your personal throne with classic, opulent touches. Designer Lorenzo Castillo covered this Menorca, Spain, room with an Art Deco sofa, a Maison Jansen bench from Isabel Martínez, and engravings that date back to 18th-century Spain and France.
Statement-seeking dwellers will find a lot to love about this moody space from Canadian firm PlaidFox. Not only does the geometric bed frame pop—yes, even in a monochromatic room—but it's also made with three types of Kravet velvet, upping its cozy factor in the process.
36
Gravity-Defying Design
As this East Hampton, New York, bedroom proves, the only way to go is up. Designer Tim Godbold accentuated the space's high ceilings by adding artwork from Malcolm Hill and a shape-shifting light fixture, courtesy of Ted Abramczyk for Ralph Pucci.
A bedroom is your personal oasis, so why not create a nook where you can curl up after a long day? In this upstate New York farmhouse, Shawn Henderson doubles down on the cozy factor with a moody color scheme and a wingback chair in an Edelman Leather suede.
Daun Curry deftly bridges the gap between subtle and "statement" in this Sag Harbor, New York, home. The cheery artwork and psychedelic mural offsets the room's otherwise neutral color palette.
If you're looking to break up a handful of patterns, cover your bed with crisp pillowcases. In her London home and studio, textile designer Nathalie Farman-Farma created some breathing room with a sweet scalloped set.
Symmetry is a surefire way to give your bedroom a serene flair. In this Houston family home designed by Marie Flanigan, plaster walls from Segreto Finishes are paired with matching sconces and nightstands by Jiun Ho.
Want to make your bedroom feel like a five-star hotel? Add a convenient—and stylish—reading light, just as Isabel López-Quesada did in this Madrid apartment once owned by Ava Gardner.
43
A Showstopping Headboard
For a low-maintenance way to make a statement, consider adding a unique headboard to your bedroom. Emiliano Salci of Dimorestudio masters the look in his Milan apartment with this Luciano Frigerio bed.
From the gallery wall of illustrations to the printed quilt that adorns the bed, Srila Chatterjee and Mahesh Mathai's Mumbai bedroom has no shortage of personality.
45
Floor-to-Ceiling Creativity
Designer Michael S. Smith took his style to new heights—literally—by covering this Beverly Hills bedroom's walls and ceiling in a whimsical fabric by Cowtan & Tout. While this idea may not be for design wallflowers, it's poised to make a major statement.
Why settle for one pattern when you can have three or four? In her Hudson Valley, New York, home, Sheila Bridges embraced her bold eye for design with a headboard upholstered in a Gastón y Daniela fabric, a vintage kantha quilt, and an Adelphi Paper Hangings wallcovering.
To bring a pop of color into your bedroom, take a cue from this London flat designed by Nebihe Cihan. Not only do the purple lampshades breathe some energy into the space, but they also complement the wall mural perfectly.
Just because your bedroom is where you sleep doesn't mean you can't design it with your waking hours in mind. In a Santa Monica, California, house, Natasha Baradaran created all-day appeal with a signature settee, a sculptural stool by Natan Moss, and a statement chandelier courtesy of Lindsey Adelman.
Talk about a room with a view! In Silvio Rech and Lesley Carstens's South African home, they blur the lines between the modern interior and the great outdoors with linen bedding and a textured rug. A custom bed and Cassina chaise complete the look.
Contrary to popular belief, a monochromatic room doesn't have to be boring. When a couple purchased the late architect Mario Connio's former Uruguay beach house, they infused plenty of texture into this all-white bedroom. An ornate headboard, practical mosquito net, and photograph by Vicky Aguirre round out the space.
A pattern can seem chaotic when used in abundance, but a neutral colorway gives it a more subtle and refined appearance. Designer Zoe Feldman used a floral wallpaper with soothing sage floor covering to add interest and elegance in this Washington, D.C. bedroom.
New York City–based designer Nicole Fuller flanked a master bed with two hanging pendant lamps in this Greenwich Village apartment. While very chic, they make a quiet statement and don't distract from the graphic art posited above the bed. The added perk of not using table lamps is the extra surface space on the nightstands.
Installing a mobile as a sculptural piece centered above a bed adds quirk and excitement to an artfully composed room. New York City–based designer Thom Filicia used a custom piece inspired by Alexander Calder in his Manhattan bedroom.
A suzani wallhanging doubles as a headboard and blends in as a piece of art in Carlos Souza's Rome apartment. Bold in color and pattern, the Istanbul-sourced fabric adds texture without overwhelming the space. It's a visually stunning partner to the facing gallery wall.
Yes, the bedroom of Colombian fashion designer Johanna Ortiz's Cartagena vacation home enjoys the benefit of large glass doors leading to a hammocked balcony al fresco. But natural materials—like the raffia-and-seashell pendant and a woven room divider behind the headboard—lend an elevated, earthy feel.
A bedroom is the most personal space in your house, which makes it perfect for expressing seemingly disparate facets of your own unique sensibility. In this New Orleans home, an antique bed resides happily alongside a vintage Chinese screen, a handmade Moroccan rug, and a black and white photograph of Kate Moss.
Canopies of the frilly and flouncy variety are best suited for the childhood bedroom of your dreams. But in luxe materials—here, a mirrored bed frame is upholstered in Romo velvet—the accent feels all grown up. (This one is in a Beverly Hills bachelor pad!)
Chalkboard paint has found its place in kitchens, playrooms, and children's bedrooms, but it's also an innovative and evolving element for adult spaces, too. In this rental treehouse in Florence, Italy, a chalkboard doubles as a headboard and a message space for hosts to leave welcome missives to guests.
Perhaps there is no other room in the house where you'll appreciate lush, opulent textiles and finishes than the place you'll spend most of your time. In Sophia Amoruso's Los Angeles jewel box, a custom silk velvet bed frame is dressed in Frette sheets and blanket, and placed aside brass and black lacquer nightstands and handmade silk drapes.
If you grow tired of things easily, using curtains as a creative headboard lets you update your room to fit every season and mood. In the master bedroom of a palatial Florence estate, the bed coronet and curtains are of an Ian Mankin stripe.
Sticking to one light color is an easy way to make a small bedroom feel less claustrophobic. In a young couple's monochromatic Swedish home, the master bedroom blends white and cool brown for a color scheme that makes the petite space feel more open and airy. The bed is by Hästens, and the is vintage.
Layering is key to a beautiful bed. It gives your space an instantly glamorous upgrade, plus you'll be beyond cozy in the wintertime. The master bedroom of a Gramercy Park, New York City, apartment seen here features a luxe bed dressed in custom Frette linens.
There's nothing more frustrating than a bedroom with just one overhead light. Give yourself options by adding a dimmer or opt for several fixtures throughout the room, like Christian Siriano's Connecticut country home. Who are we to say no to a bedroom chandelier?
There's no need to go overboard with the art in your bedroom: pick one piece that speaks to you and also makes a statement. This charming bedroom in an Uruguayan country house prominently features a painting by Eva Claessens.
65
A Comforting Color Palette
You want everything in your bedroom to exude comfort, and the color palette is no exception. Whether you're a fan of warm or cool shades, pick colors that you naturally gravitate toward and give you a sense of calm. This home in Mexico opted for organic colors like ocean blue and deep brown. The statement wall is painted with Patagonia by Comex, and the Eames chair and ottoman are by Herman Miller.
66
Photographs…But Not of Family
You should have as many family photos as you wish in other rooms in the house, but it's best to keep the bedroom's artwork less emotionally loaded. Elegant photographs add some character to your space without reminding you of specific people while you're trying to fall asleep. All of the photographs pictured in this Upper West Side bedroom are by Marsha Lebedev Bernstein.
Even the brightest, most cheerful bedrooms need an element of dark, sexy glamour. Balance is key. Stick with a few dramatic pieces, like the bedroom in this Windsor Terrace, Brooklyn, home that features a bed frame upholstered in a Lake August fabric and is topped with a vintage Moroccan blanket.
Of course your bedding is plush as could be, but don't forget texture throughout the rest of your room. The guest bedroom of a glamorous Illinois home plays with texture by incorporating a black channel-quilted leather headboard and a Moroccan wedding blanket covered in sequins.
Whether they're on your nightstand, vanity, or windowsill, flower arrangements are a lovely thing to wake up to. Especially in the winter when you need a dose of greenery. Take inspiration from the fresh flowers that flank the bed—not to mention the flora on the walls—of this West Village, New York City, master bedroom.
The end of your bed is a perfect and unsuspecting spot to fit in more storage. In the bedroom of a Los Angeles country house, a vintage clothing trunk steals the decor spotlight while also giving you much-needed space.
Mirrors are a pretty magical design element. They make any space feel larger, brighter, and more unique, whether you decide to hang them or simply prop one up against the wall. Learn from this Hamptons summer home, where a rustic-style mirror perfectly complements the antique bed frame and Swedish chest.
Give your personal space some glamour with a statement bed frame. From four-posts to platforms, the options for a chic piece of furniture are endless. In the master bedroom of a Connecticut weekend home, this bed frame is by Hickory Chair and dressed in RH, Restoration Hardware linens.
How to figure out this number: It should be enough pillows so that your bed looks sumptuous and inviting when properly made, yet not so many that getting in bed requires 10 minutes of excavating. The sweet spot is usually between two to six, depending on the size of your bed. The bedroom of this Connecticut country home makes a solid argument for four being the perfect number!
For Amanda Seyfried's Catskills getaway, designer Sarah Zames opted to accentuate the 1920s house's rustic bones. Here, in the tranquil main bedroom, the bed is from RH, Restoration Hardware, the pendant light is from &tradition, and the walls are painted in Farrow & Ball's Ammonite.
It doesn't have to be an entire étagère-full, but a cluster of pieces that make you smile will go a long way in making a bedroom feel just right, as with this bedroom in a Greenwich Village penthouse, featuring antique French linens, a 19th-century Indian lantern, and plenty of paintings collected over the years. Bonus: This is also a great way to incorporate pieces you've acquired over time but can't quite figure out where to put them.
Advertisement – Continue Reading Below