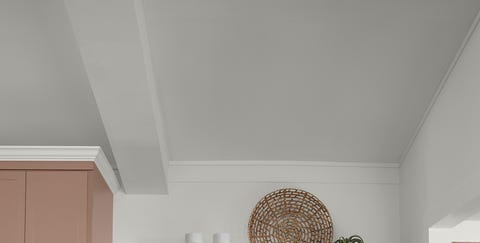 Sherwin-Williams
Sherwin-Williams has unveiled the 2023 Color of the Year—and we want to paint everything in this lovely blushing hue. Redend Point SW 9081, part of Sherwin-Williams's 2023 Colormix Forecast, is a warm, modern mauve that conjures a timeless elegance. "It's if beige could blush," says Sue Wadden, the color marketing director at Sherwin-Williams. "It's a pink-undertone neutral that is warm and earthy, and it has a certain softness and soothing quality to it that is really unique."
Whether you're going for a more glamorous luxe look in the tune of Mara Brock Akil's stunning rosé room in Los Angeles, a playful Palm Springs style, or an earthy bohemian look, Redend Point goes with many design styles that are having their moment right now. Wadden suggests pairing this shade with nature-inspired textiles, wood tones, metallic accents, or vintage accessories, which would really pop against this muted tone. Complementary green shades work well with this hue. Rich reds, gentle greens, muted grays, and other earth tones offer eclectic color combinations.
But don't take our word for it: We've taken a few pages from our archives for some truly lustworthy rosie decor, inspired by the pretty Sherwin-Williams tint. Scroll down for further proof that Redend Point just might be the calming color hug we need going into next year.
Advertisement – Continue Reading Below
The tale truly is as old as time. In this bedroom by Joey Leicht Design, an old-world Ebanista daybed pairs seamlessly with the hand-painted mural by David Ryan, all grounded by a slightly lighter area rug by Oscar Isberian—proof that pink on pink on pink really works, if you know what you're doing. The gold table and chairs by Dorya add a touch of gilded contrast to the otherwise very soft room. This bedroom would be any young girl's (and many adults') pink dream!
2
Choose Colors That Complement
Pair pink with a complementary navy blue, as did designer Jamie Drake in this historic Long Island estate. Here, the walls are skimmed in a plaster Drake describes as a "warm, embracing, vibrant coral-y salmon." A robust Vladimir Kagan tête-à-tête sofa centers and anchors the room. Hot tip: Add dimension with a darker or lighter variation of pink, like the spiraling circular painting by Blair Thurman, to create interest.
Go ahead, have your Sistine Chapel moment and paint the ceiling. In this home in New Jersey's horse country, a touch of pink on the fifth wall is all you need to make a statement. Then, don't be afraid to use something besides a wall to invite more color into a space. Tie the color in with a pink rug, matching velvet ottomans, and curtains—and you've got a dressing room fit for any self-respecting woman (or man, for that matter).
4
Take Advantage of Textures
Go for the modern luxe look by bringing in varying hues and textures like this travertine cocktail table and Métaphores velvet Vladimir Kagan sofa in Mara Brock Akil's Los Angeles home. Hot tip: For added glamour, bring in a glass chandelier or glass vase that will reflect that warm pink on the walls.
If you're stumped on how to incorporate the paint color into your space, think of it as a way to bring other elements in. Use it as a backdrop for a bedroom, as Lisa Corti did with this brighter alternative (Light Pink by RAL) in this vibrant Milan bedroom.
Pink doesn't always have to steal the spotlight. In Finnish shoe designer Minna Parikka's colorful Helsinki home, the serenely playful pink backdrop helps the bold patterns and colors of the decor really stand out—keeping it fresh, fun, and adventurous.
7
Bring in Earthy Textiles
Give your pink walls a relaxed vibe like in this airy Bridgehampton, New York, home by adding a touch of bohemian warmth with beige furniture and natural textiles. This Sherwin-Williams hue is a brighter, lighter hue but toned down with Redend Point, you'll get a more sophisticated, earthy mood. If you want to use it in highly frequented space like a living room, try to add light-colored furniture so the hue doesn't transform your main living area into a dark cave.
Those warmer blush hues add a bit of opulence to this bathroom, designed by Courtney Hill Interiors, which creates a serene space around the striking black freestanding tub. Pink is the perfect shade for a bathroom, as it casts a rosy glow that makes everyone more attractive. Who wouldn't want a little self-confidence boost each day?
Use color (more specifically, pink) to find a balance between grandiose and comfortable like in this London apartment. Here, pattern interplay creates a mood, offset by black furniture and black-and-white artwork.
Advertisement – Continue Reading Below