More and more of us using our gardens as an extension of our homes, elevating them in terms of style and usage has become more relevant than ever. However, if you are at a loss for how to plan a garden we've rounded up the best online garden planning tools to help. 
'We now want to use and enjoy our gardens 365 days a year – a throwback to lockdown which saw gardens act as indispensable safe havens even in the cooler months,' explains award-winning garden designer Kate Gould (opens in new tab).
But garden renovations aren't cheap and while there's a myriad of makeovers for the home across all media to draw inspiration (and steal hacks!) from, those for gardens aren't as rife.
Help is at hand though and without the expense of a landscaper or the cost of a garden designer. There's a credible amount of (inexpensive or even free) garden planning tools available online – and as apps – enabling the ideas in your head to spring to life as a virtual image (or a tangible one if you print it out!) 
If design isn't your forte, they invariably offer templates and pre-conceived ideas, helping you to ignite your creativity.
We've tried and tested a range of garden planning tools and chosen ones that standout for their ease of use or particular features, be it the viewing angles they offer or the option to see your garden in the future, but one thing they all have in common is – they're free! 
1. Smartdraw.com
The online garden planning tool, smartdraw.com (opens in new tab), allows you to select a garden template (you have to set up an account first) that can be blank or pre-designed. And it's not just for gardens! There are also templates for patio spaces, decked areas and if you're reaching for the stars, even swimming pools.
If you've plumped for a pre-designed template, you can drag items around really easily as well as deleting items completely or cutting and pasting to produce duplicates; this is handy if, for example, you wanted a whole row of trees in your design rather than just one. Each decision you make is automatically saved but can be swiftly undone if you change your mind. 
The SmartPanel on the left allows you to choose from hundreds of symbols, from palm trees to birdbaths and everything in between. They're displayed in black and white but once you drag them onto your design, they transform into colour and are a cinch to re-size and position. 
There's help in the form of a tutorial that you can watch and there's live chat available too. Just a warning that the design you've created can't be printed, exported or shared unless you pay, but you could always screen-shot it. 
We logged out and back in again and were pleased to see that our design had been saved. 
Try now: www.smartdraw.com (opens in new tab)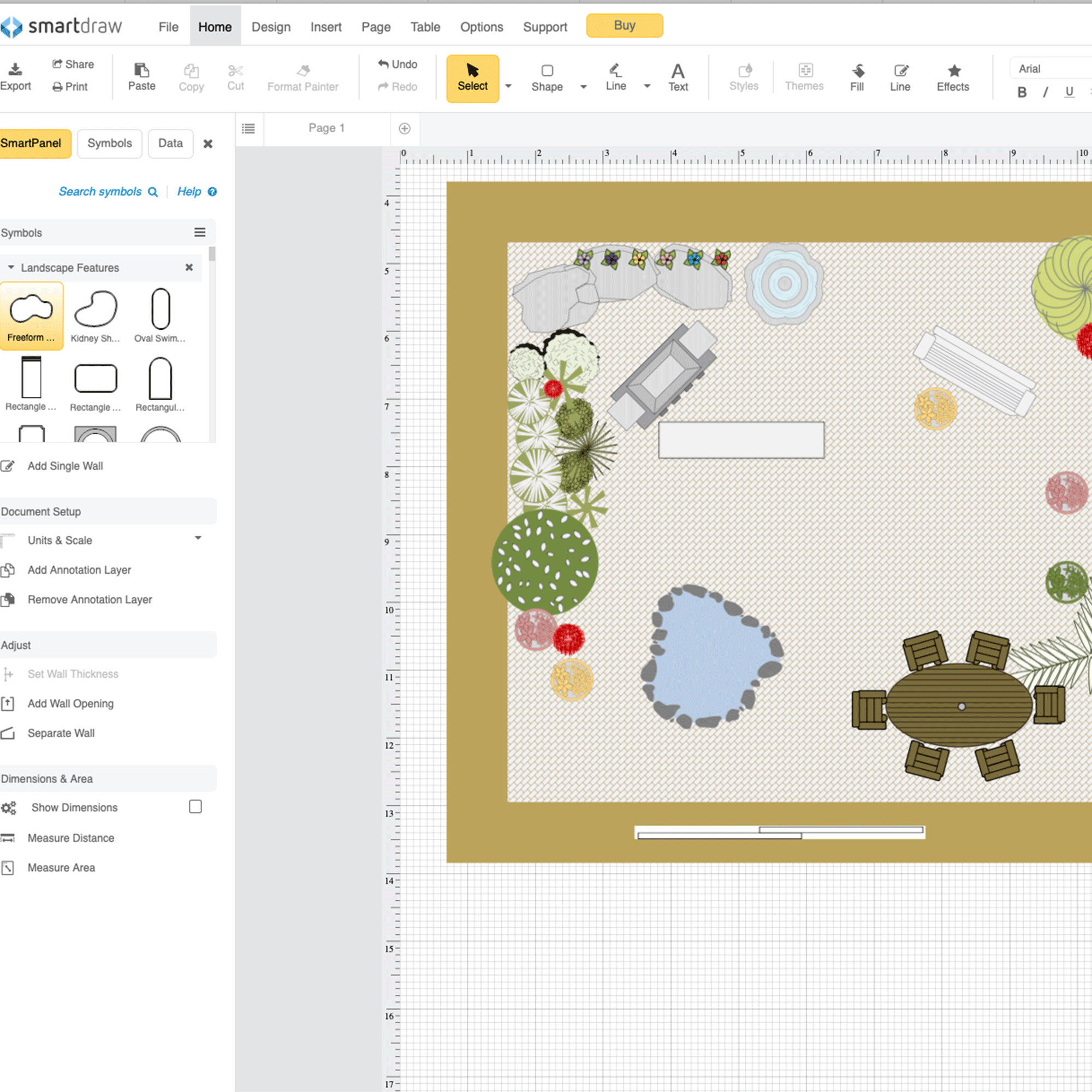 2. Gardena.com
Gardena.com (opens in new tab) is primarily a garden care and irrigation company, but the garden planner tool that it employs is a nifty one that can be used exclusively for garden design and planning your garden layout ideas.
You start by choosing your plot type (soil, grass, gravel, etc.) and using the cursor to plot it to scale (so you'll need your garden dimensions first). Once you've double-clicked to lock this in, you're free to add shrubs, decked areas, even trampolines and once you're done, you can share your garden design via a link. 
If you need more inspiration, there's the option to choose a ready-made design that you can edit easily. It's all from a bird's eye view, in vivid colours and in an animation style, so it's a fun one to use, and as the accessories comprise things like a kids' football goal, a clothes drier and a play house, this is a particularly good planning tool for designing family garden ideas.
Try it now: www.gardena.com/uk/garden-life/garden-planner/ (opens in new tab)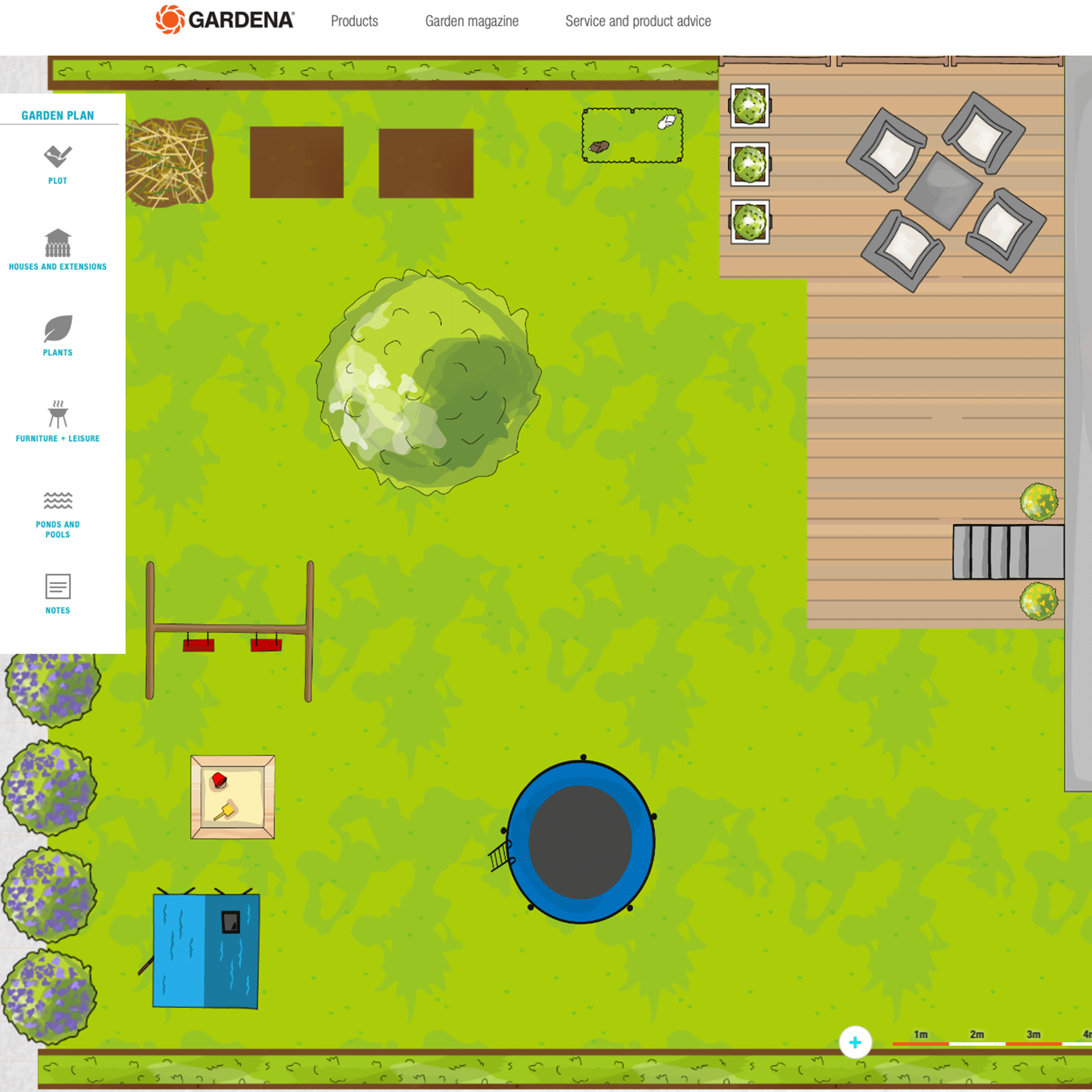 3. Marshalls Garden Visualiser
After creating an account to use this free garden planning tool, you'll be asked to input the dimensions of your garden. And then the fun begins! This planner uses 3D technology so that you can see your garden creations from all angles. Even better, you can upload a picture of your house exterior (or use their stock one), to enable you to see how your front garden ideas, or backyard will look in context. 
There aren't oodles of options when it comes to adding features (there are only four tree types to choose from and no ponds, for example) but as you can upload your own images, the upside is your design will look more realistic. 
The navigation can take a little getting used to – and I had to use Chrome rather than Safari for the software to work at optimal level – but stick with it and you'll be rewarded with a free PDF of your design and a list of all the products you've used in it, which you can then purchase from Marshalls if you wish. There's even an option for them to find an approved installer for you. 
Try it now: www.marshalls.co.uk/garden-visualiser/ (opens in new tab)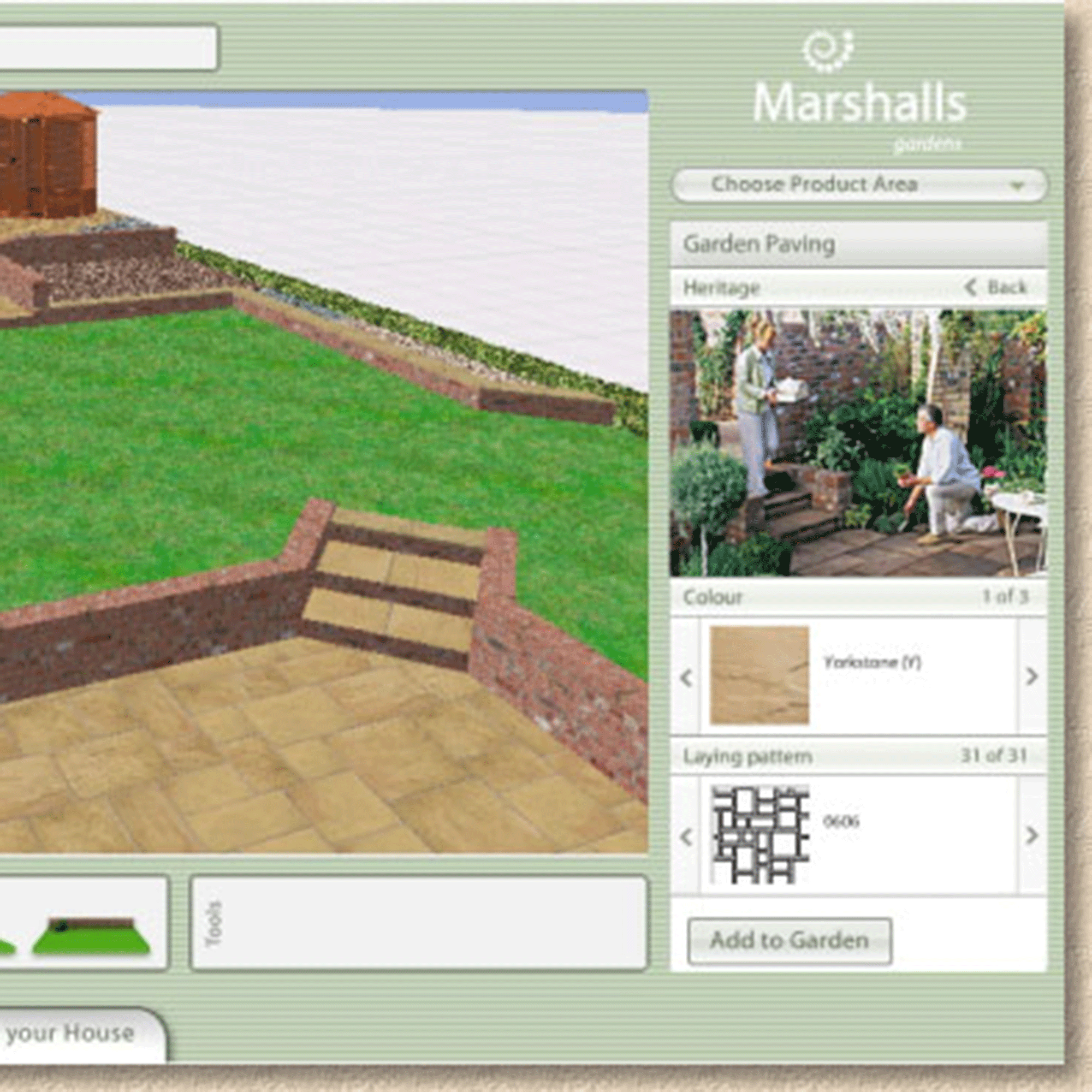 4. Muddytrowel.com
If you like the look of plants and flowers but aren't skilled in knowing how to help them to thrive, a professional gardener will be able to help you, but of course, you'll have to pay! 
Instead, the experts behind the online planning tool at muddytrowel.com can advise you for free, based on the results of your design survey. It's in the form of a four-minute questionnaire that's a doddle to complete. You're asked to upload images of your garden and answer questions ranging from your postcode (so they know what soil type your garden is likely to have) and garden size to the type of plants you like the look of and the type of design you like. It's very visual so it's easy to click on the images that spark joy for you. 
Next, a designer will select and send seasonal plants and accessories for you (according to a budget that you set yourself) as well as a mood board for your space. Do note that there is a £30 charge when you submit the questionnaire, but this is redeemable against the plants that they'll be sending you (and if some – or indeed, all – don't work for you, they can be returned or exchanged for free).
'Garden design and finding the right plants for your space can be costly and complicated,' says Jack Shilley, Head of Plants at muddytrowel.com. 
'Our customers only need to complete a simple questionnaire and provide photos of their space and we can match them with the perfect designer from our network of professionals (which includes Chelsea Flower Show winners!). Their designer will suggest the perfect plants to transform the space, where to position them, and how to care for them to keep the plants growing year after year.'
Try it now: www.muddytrowel.com/design (opens in new tab)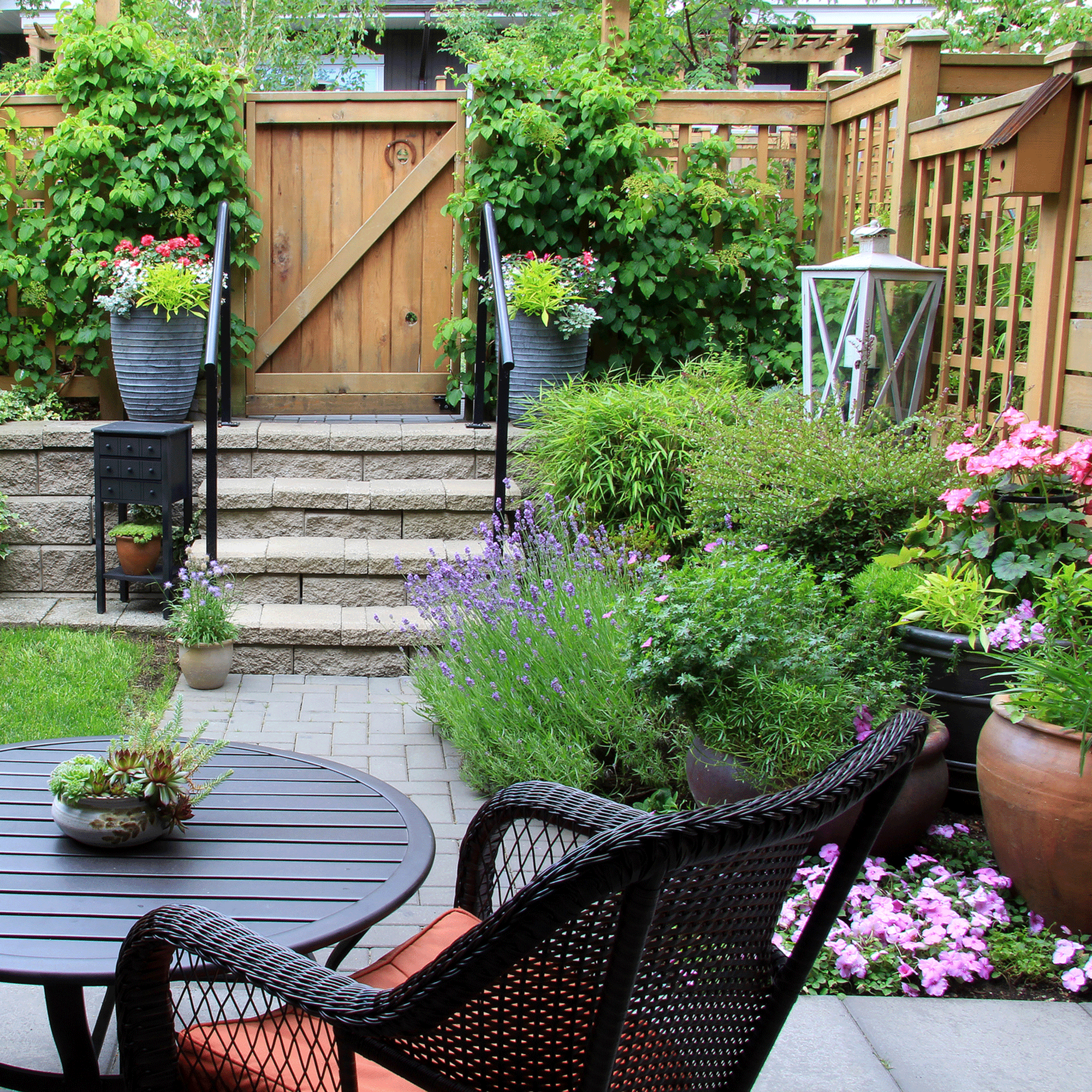 5. Garden Planner from smallblueprinter.com
The highlight of the Garden Planner garden design tool (opens in new tab)is that it allows you to see what your planted garden will look like in a few years' time – once the plants have grown and trees have blossomed. Another handy aspect is that it enables you to print off, not just your final design, but a list of everything you need to buy for it, along with quantities, so it gives you an accurate idea of how much it's all going to cost.
It's easy to use, and allows for more detail and precision, but a downside is that you have to install software (downloadable on Windows as well as Mac) which is always a little dispiriting. Another aspect to be mindful of is that, although the service is free, it's only for 15 days and although you can print your design, it won't save it, so you're best to set aside a decent chunk of time to get it designed in one go.
Try it now: www.smallblueprinter.com/garden/ (opens in new tab)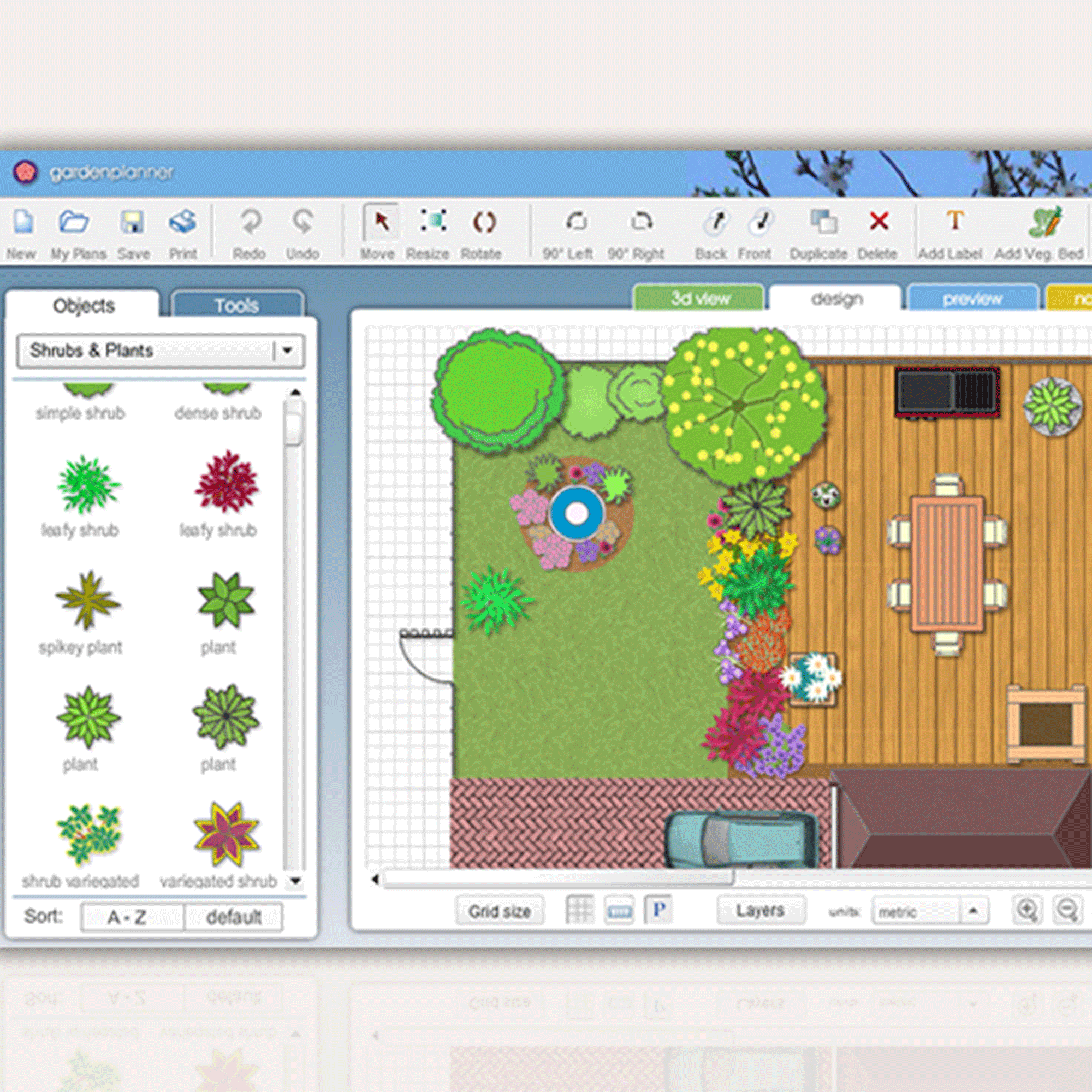 Is there a free app for landscape design?
Yes! The garden design app, iScape (opens in new tab) is available on the Apple App store and is free for the basic package. 
It's a gardening planning tool that has sensible navigation, speed, excellent graphics and an impressive database. Take an image of your garden (or use one from the app's library that resembles yours the most) and then use the menu to add whatever you like. 
It gets top marks for its ease of use (just drag, drop in and swipe to scale), but also because of the extra information it provides. When you choose a tree, for example, it's tagged with useful intel, such as when it blooms and which soil it should be planted in. Furthermore, the images are all photographic, creating a very real picture of what your garden could look like, rather than a cartoon version of it. 
The upgraded, paid-for version of this app is a popular choice for professional garden designers as it comprises 3D technology as well as an extended image library.