Decorating with neutrals is a timeless and versatile choice which has become increasingly popular in recent years with those seeking to create calming spaces to retreat to in our busy modern world.
While pared-back tones are often be associated with relaxed, minimalist spaces, they are also hugely versatile. Far greater than just white and grey tones, the neutral palette spans from myriad off-whites and earthy beige and clay tones, through to deep browns and charcoals, thus offering endless scope for nuanced, layered looks for suitable for every room.
If you're thinking of decorating with neutrals then read on to be inspired by beautiful neutral room ideas plus discover expert advice on how to master the neutral aesthetic.
Decorating with neutrals 
Decorating with neutrals has always had enduring appeal, but while cool greys were the go-to shades for many years, warm, earthier neutrals, also known as 'new neutrals' have taken the lead in the post-pandemic as people seek decorating ideas to reconnect with the nature.
'Colors of nature, such as earthly beige and warm clay and all shades of green have been a firm favourite for the last seasons, however, over the past year nature has become even more important. The outdoors has been an escape, somewhere to go to recharge our batteries or even just take a break from everything. We now want to channel that feeling in our home too, with warm, cozy shades inspired by the natural world,' explains Justyna Korczynska, senior designer at Crown (opens in new tab).
In the past decorating with neutrals has been deemed by some to be drab and boring, but these beautiful schemes prove that with the right treatment muted interiors are far from mundane. In fact, colorless schemes can be the perfect place to get creative with texture, tone and furnishings.
1. Use neutral tones to create a cozy living space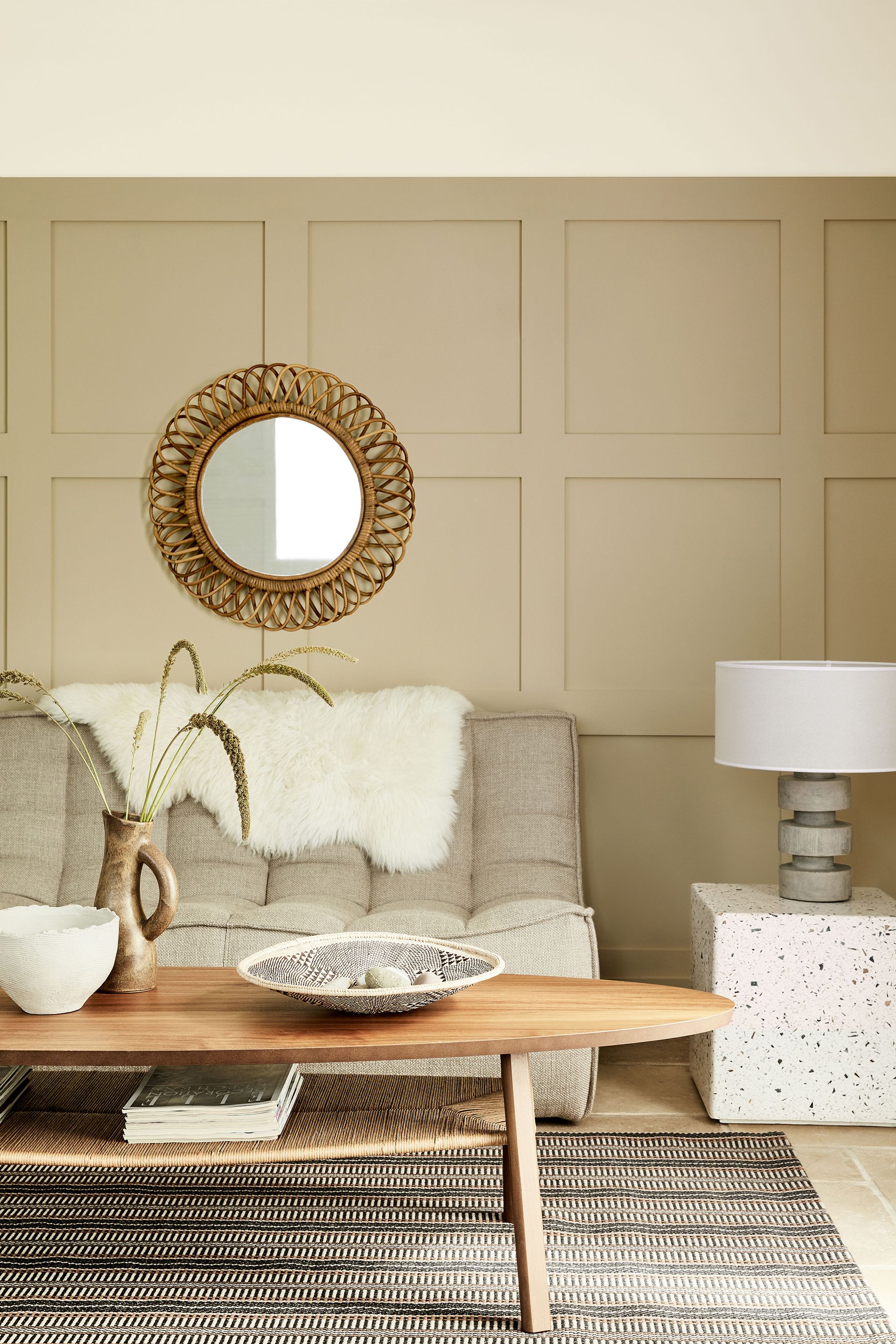 Instead of opting for cool greys, decorating with beige and neutrals that have warm undertones like clay and taupe, is a brilliant way to bring a comforting feel to a living space whilst keeping it feeling bright. To prevent a neutral living room looking flat, consider using a selection of neutral tones to create a soft, layered look.
'For an uplifting but calming scheme, consider warmer, earthier neutrals paired with deeper hues to create a contemporary look,' says Ruth Mottershead, creative director of Little Greene (opens in new tab). 'The warmth of 'Travertine' balanced with the fresh, yet warm 'Stock' feels incredibly soothing and works wonderfully with the addition of bare wood finishes, touches of rattan, and unglazed ceramics.'
2. Think about the light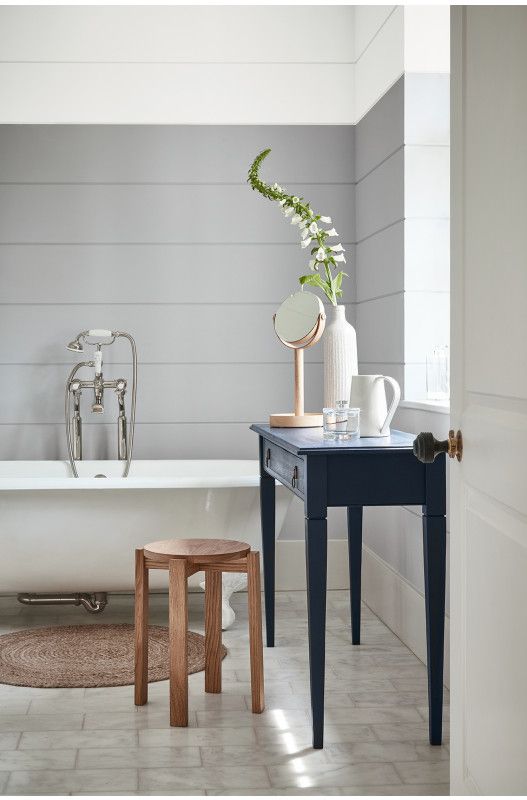 As a general rule, neutral paint ideas tend to be calming and easy to decorate with – they work with pretty much every other color but to get it right it's important to understand the base pigment that suits the light that a room receives. 
'The light in a room is a key consideration when thinking about whether to choose warm or cool tones,' advises Ruth Mottershead of Little Greene. (opens in new tab) 
There is a difference between a warm neutral (with a green or yellow undertone) which will tend to work well in north-facing rooms as they help to bounce the light around and a cool one (with a bit of pink, violet or blue).
3. Use neutrals as a base for bolder colors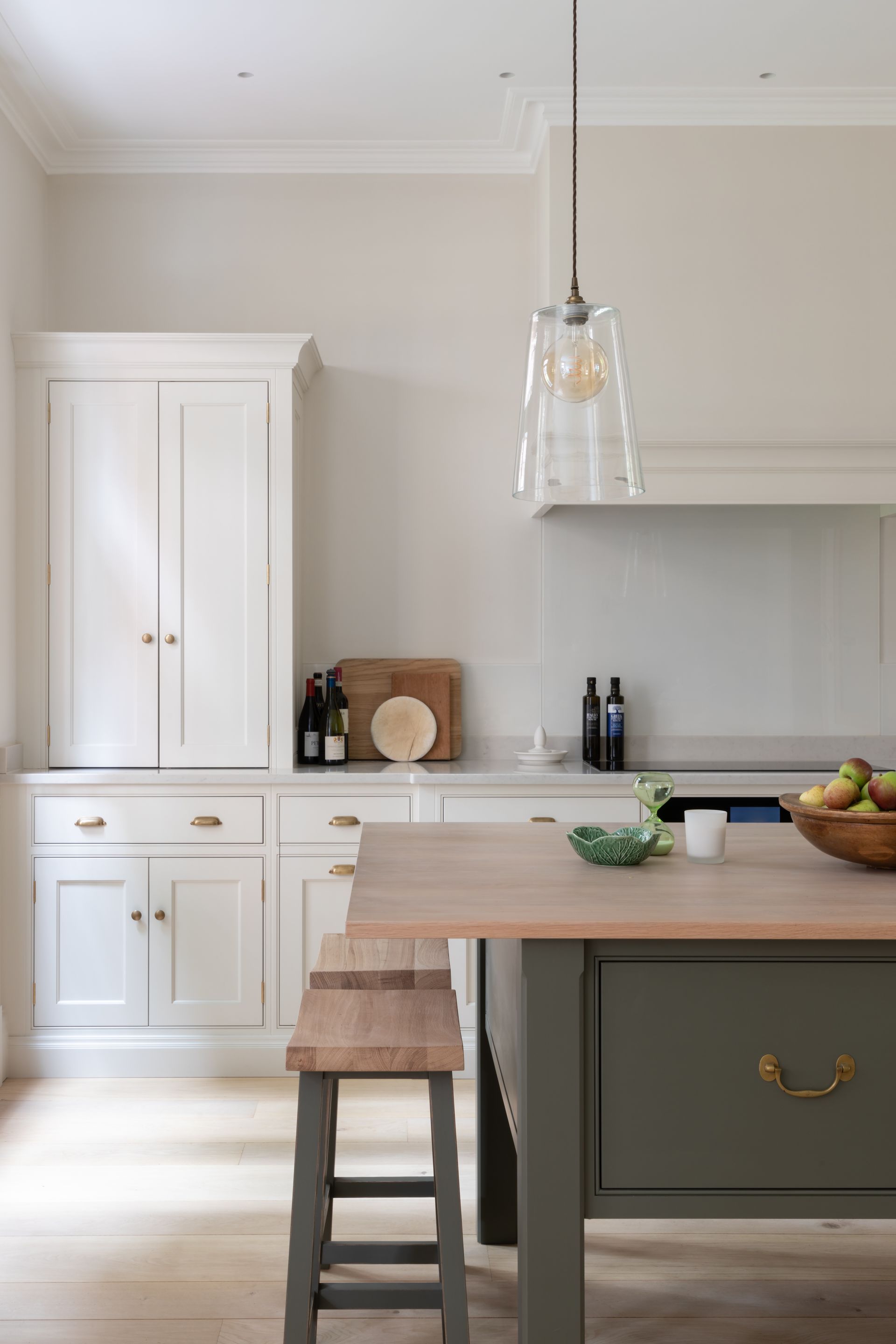 Decorating with neutrals can be a great way to showcase stronger accent colors, an approach taken in this beautiful neutral kitchen by Humphrey Munson. 
'Lock & Load – the color on the kitchen island – was an immediate first choice with no other colors considered. We chose Linen for the perimeter kitchen cabinet color with the aged brass hardware to have a contrast and really let the prep table stand out. For this reason we also painted the walls in the same color for a soft and seamless finish,' explains Louisa Eggleston, creative director at Humphrey Munson (opens in new tab).
4. Embrace texture with natural materials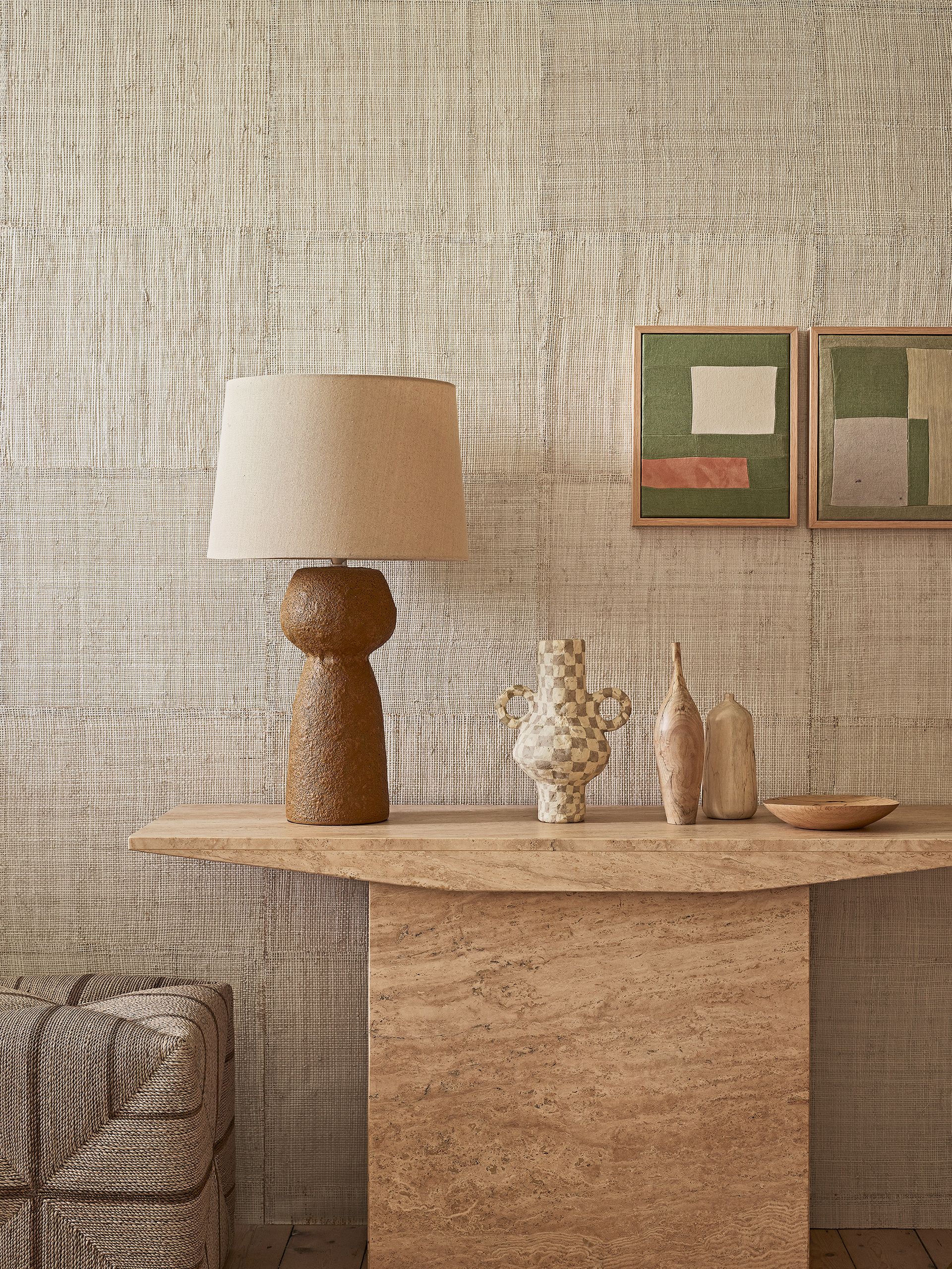 Texture plays an important role in any interior, helping to elevate the space and bring depth and interest, but it's particularly important when decorating with neutrals. Layering natural materials with beautiful texture is a great way to achieve a textured, earthy look as demonstrated with this combination of a striking vintage travertine console set against a beautiful open weave wallpaper idea.
'Interiors are all about evoking the senses and therefore texture is a vital ingredient to every design to get our sight and touch senses going,' says Camilla Clarke, creative director at Albion Nord (opens in new tab). 'Linen wallcoverings are amazing at making a room feel instantly more textural.'
'Create interest by mixing organic shapes and earthy materials to help bring a connection to nature,' adds Samantha Wilson, interior designer and founder of Collection Noir (opens in new tab). 'Natural stones is a great way to infuse elegance and a timeless feel. The natural colors and patina will add dimension and warmth without compromising on the neutral aesthetic.' 
5. Take a cue from the architecture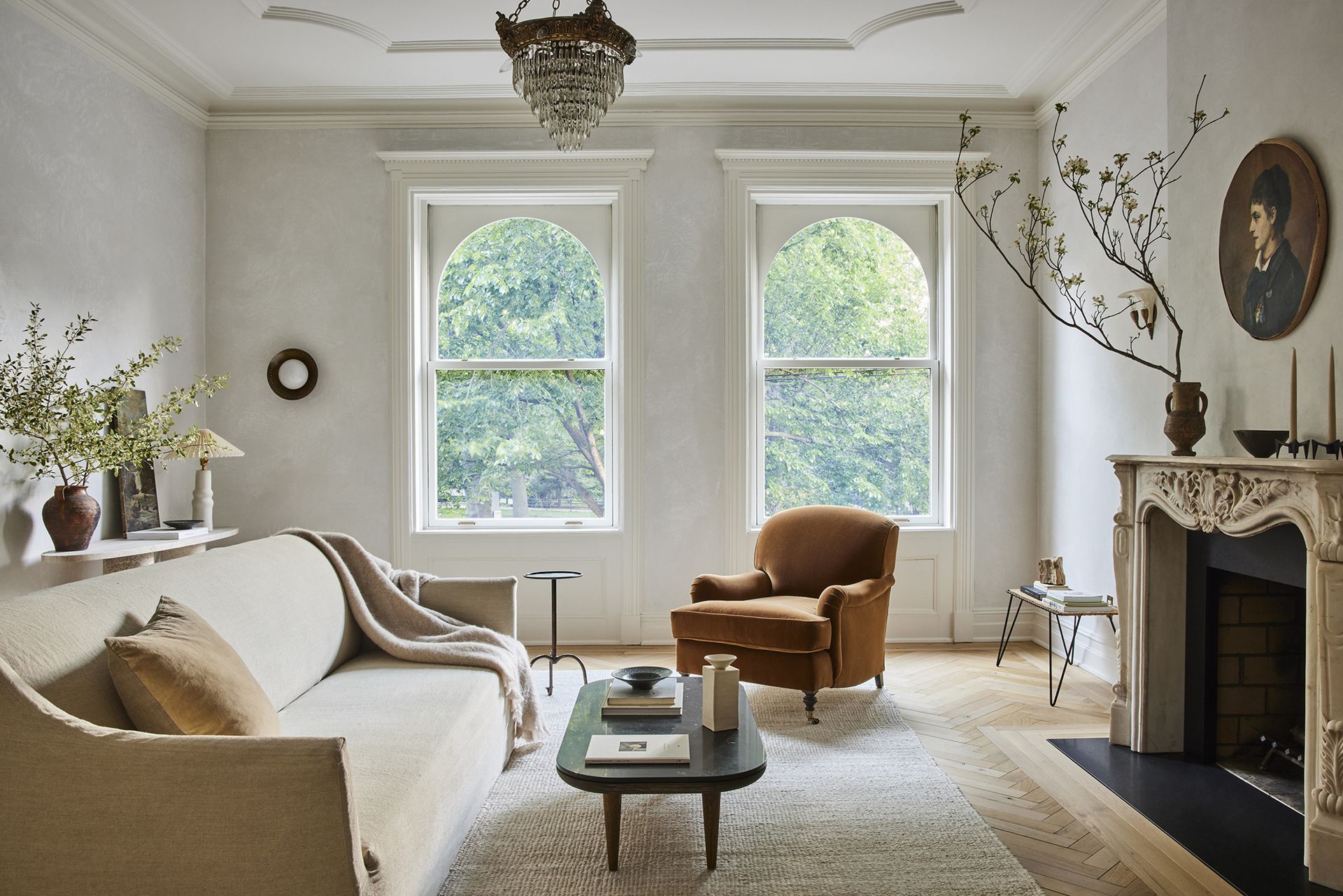 If you're lucky enough to have a living space with beautiful architectural features like this beige living room, then think about limiting colors to a neutral palette to help show off the details.
'The building had so many beautiful, original details left intact – including crown molding, stained glass windows, and a unique wooden grand staircase,' says interior designer Arianna De Gasperis of And Studio (opens in new tab). 'When choosing what colors to use in the space, I knew I wanted to keep everything quite neutral but with subtle hints of color in specific areas. It was important for the home to feel like a respite from the city, therefore using warm neutrals was the best way to achieve this.'
6. Let the views take the lead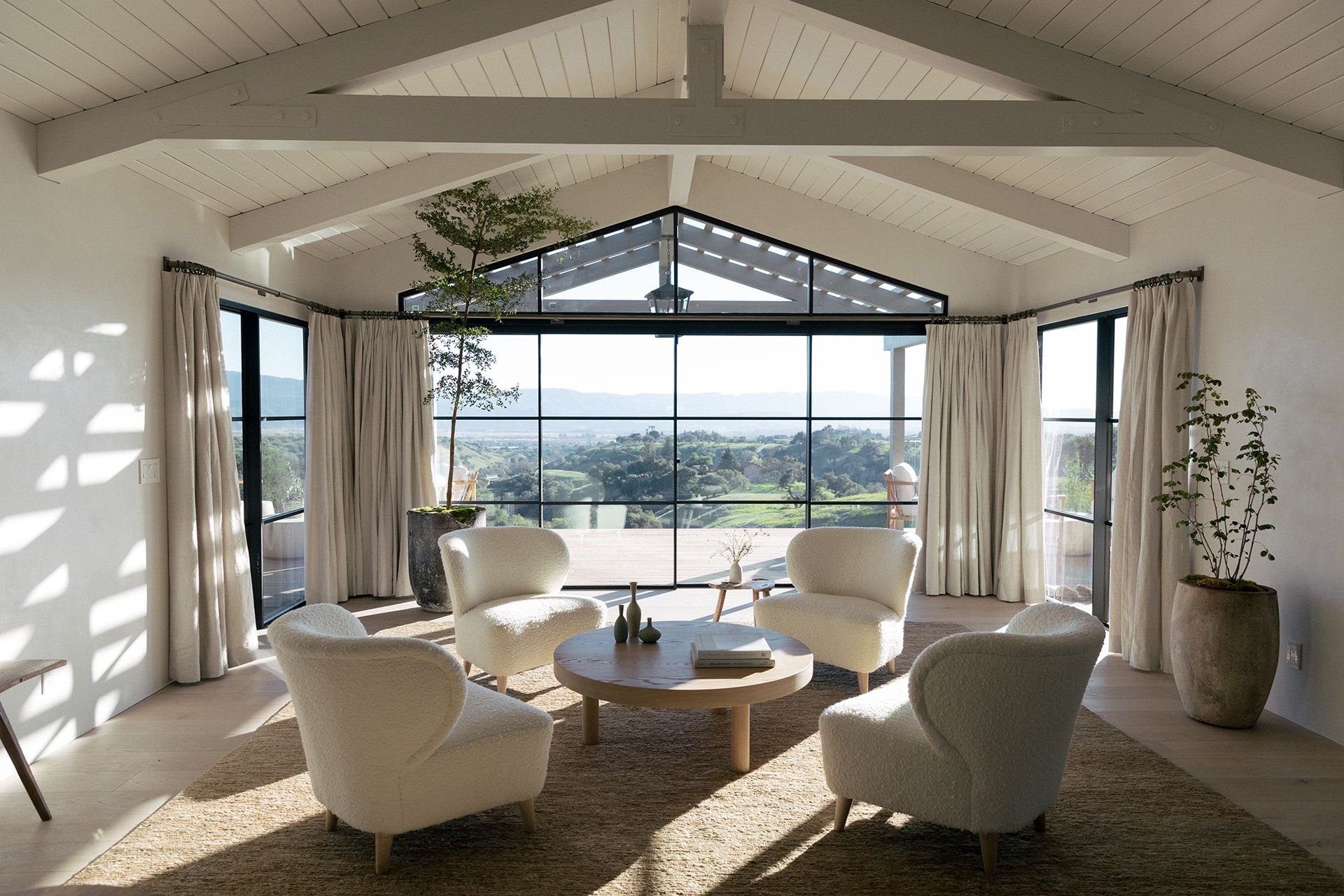 For interior designer Jenni Kayne, a laid-back, neutral palette layered with natural materials was the perfect way to focus attention on stunning panoramic views at this ranch renovation in Santa Ynez, California. 
'Wood tones, rich metal finishes, and organic, soft textures like the linen drapery from Wovn Home add sophistication and depth to this neutral living space. The result is a calm and welcoming space that also allows the beauty of the outdoors to shine,' explains Davina Ogilvie, founder of Wovn Home (opens in new tab).
7. Take care when decorating with white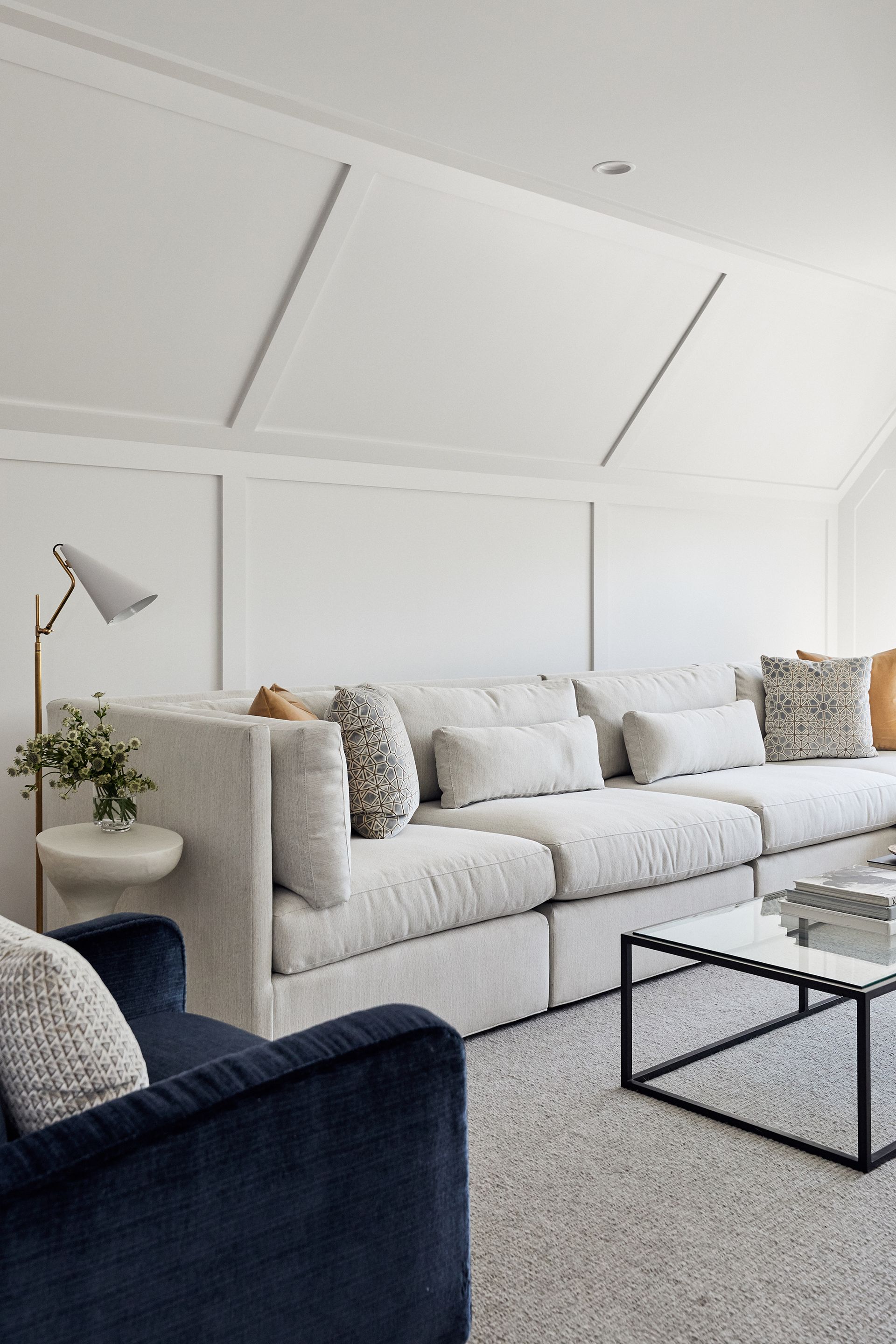 Decorating with white is hallmark of coastal decor ideas and minimalist schemes, but getting it right can be tricky as it can have a tendency to make rooms feel lifeless, especially if you're planning on an all-white scheme. In this white living room, interior designer Tara Cain has cleverly introduced texture and structure by opting for a soft velvet on the sofa and paneling on the walls. The neutral palette also provided a base for introducing pops of blue. 
'We ran with this color palette based on this client's desire to have a space that felt light and serene with varying shades of her favorite color, blue,' explains Tara Cain (opens in new tab). 'The mix of cut velvets offered an assortment of materials that felt luxe and interesting, all at the same time.'
8. Bring coziness with textural fabrics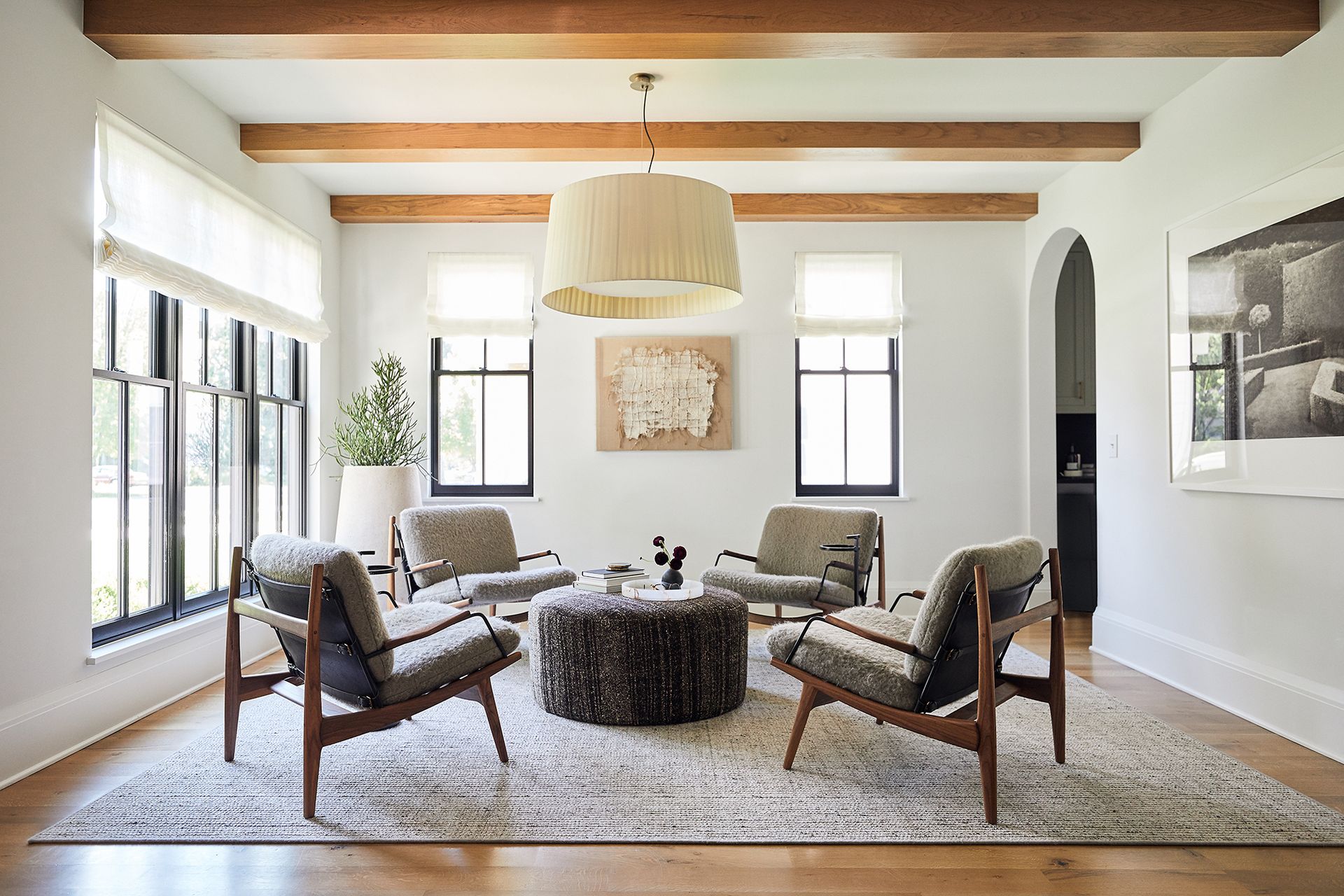 Layering textural fabrics is a brilliant way to bring interest to a scheme without the need for color. Designed by Tara Cain, this reception room lets materials and forms take centre stage and features a woven wool rug layered with chairs covered in a felted mohair and wool mix around an ottoman upholstered in a vintage turkish flat-weave rug.
With their sleek, open frames the mid-century modern chairs keep the space feeling light and open, while the choice of the neutral palette helps focus attention on their iconic sculptural shapes. Together the muted colors and iconic wood furniture combine to create a look of Scandinavian decor.
9. Use warm neutrals for a country look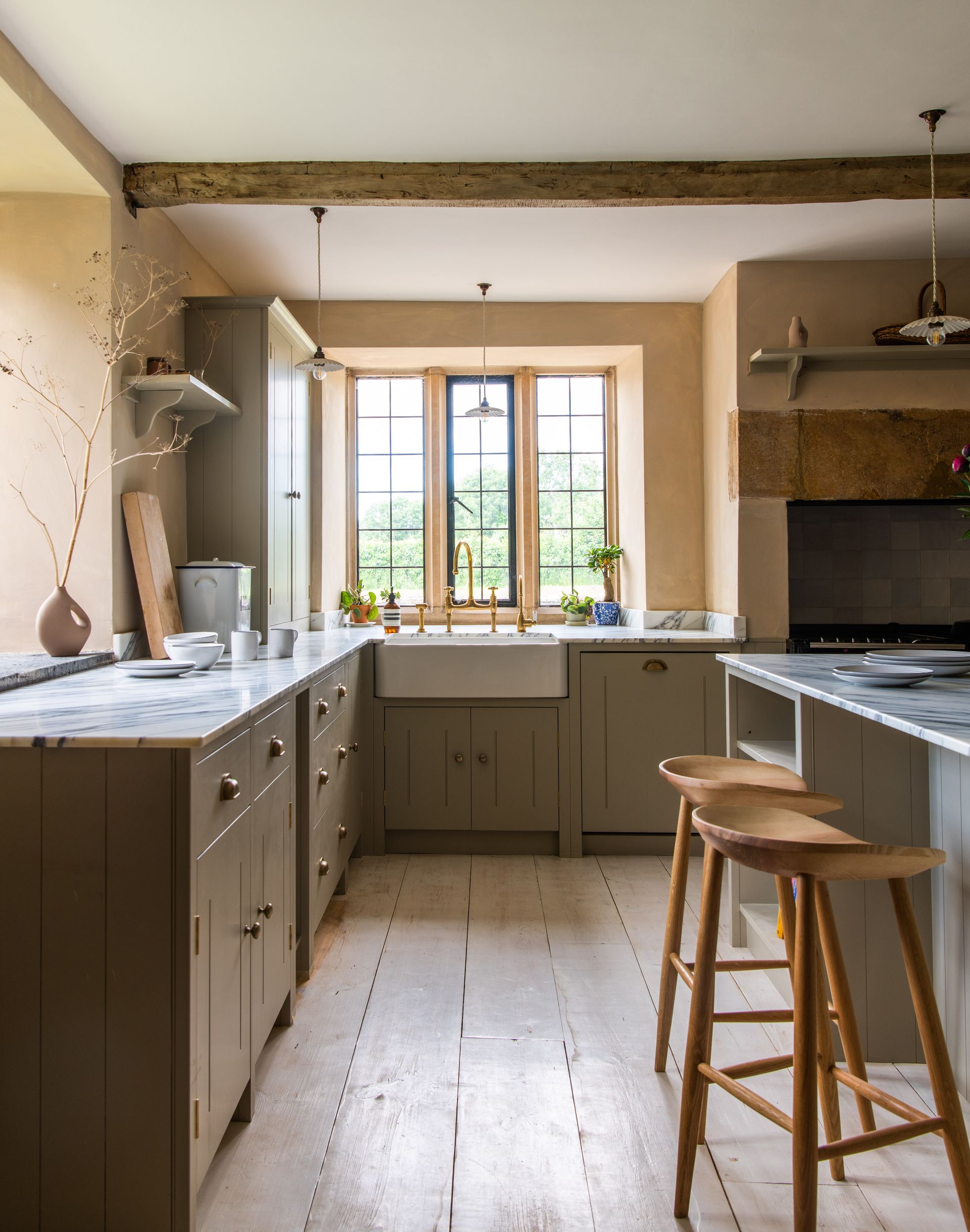 Original wood floors, ceiling beams and exposed stonework are often prized features of country homes, where these original features exist consider decorating the space in earthy neutral colors to compliment the natural tones and textures.
'In this country kitchen, sage green cupboards and soft plaster walls pay tribute to its surroundings, with heavily veined Italian marble worktops adding a striking edge to the traditional space,' explain the team at British Standard (opens in new tab) by Plain English.
10. Elevate neutral schemes with warm, earthy colors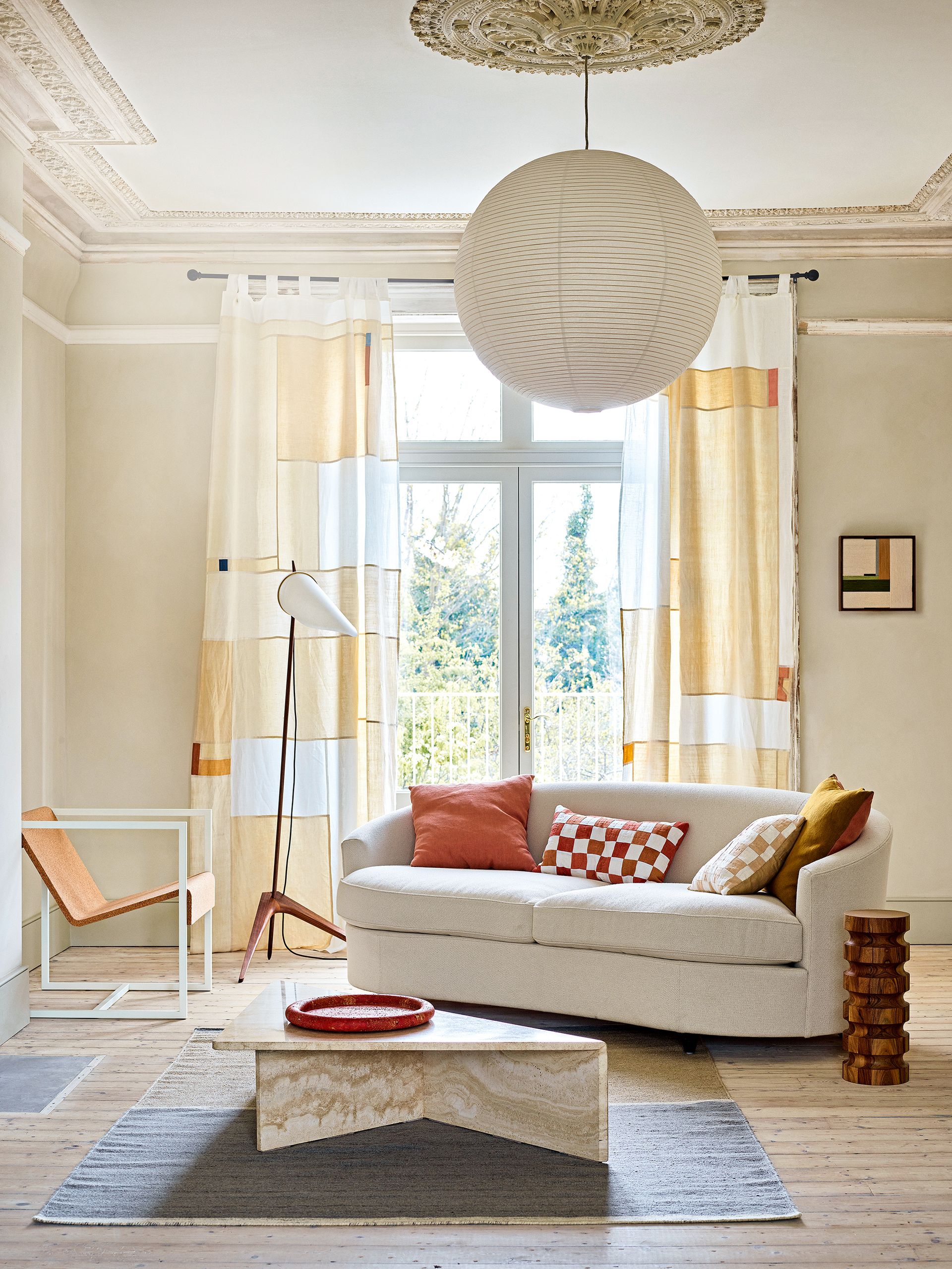 if you're thinking of decorating in light, warm neutrals then adding in earthy accent colors for beige like terracotta, orange and rich spice tones are a failsafe way to liven up the look.
'Remember there is more to neutrals than beige, taupe and grey – earthy tones in particular feel really neutral and warming and play to the aesthetic perfectly,' says interior designer and founder, Collection Noir (opens in new tab).
'Never have beige and grey shades been less boring, with the look being brought to life by earthy tones such as sand, browns, terracottas and tan. It's a look that is effortless and plays to the laidback luxury aesthetic, bringing a harmonious and relaxed feel to it,' adds Amanda Huber, owner of Dining Chair Co (opens in new tab).
11. Don't be afraid to mix different materials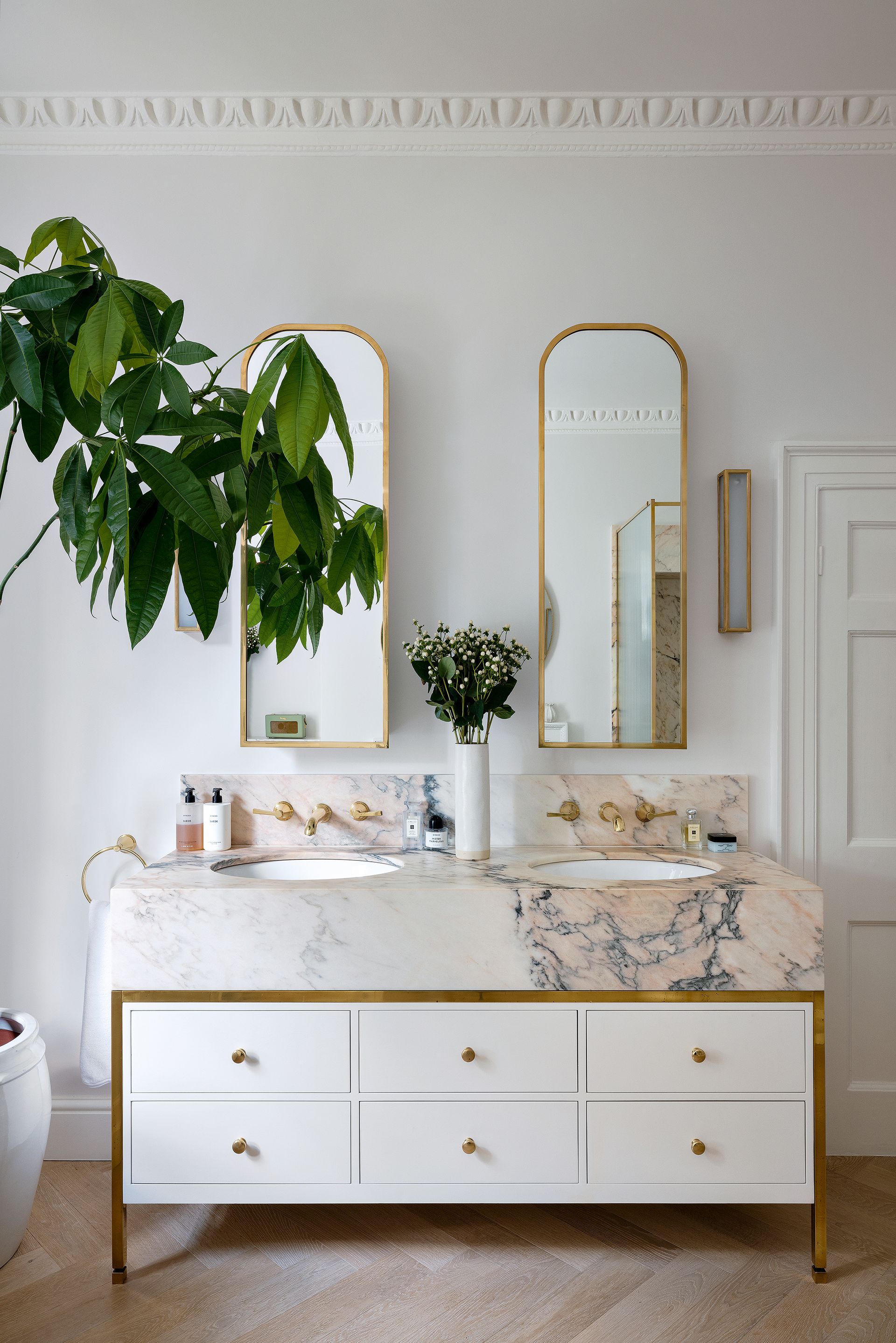 When it comes to decorating with neutrals, 'don't be afraid to mix materials,' Samantha Wilson, interior designer and founder of Collection Noir. 'Timber looks most beautiful when accompanied by natural stones, lime washed walls, occasional metal details, soft linens and of course textured ceramics.'
In this luxury bathroom, a pink-tinged marble countertop, wooden floor and metallic fixtures and fittings create a layered spa-like sanctuary. The scheme also demonstrates how decorating with plants can be a great way to bring life to neutral schemes. 
12. Bring interest by layering different tones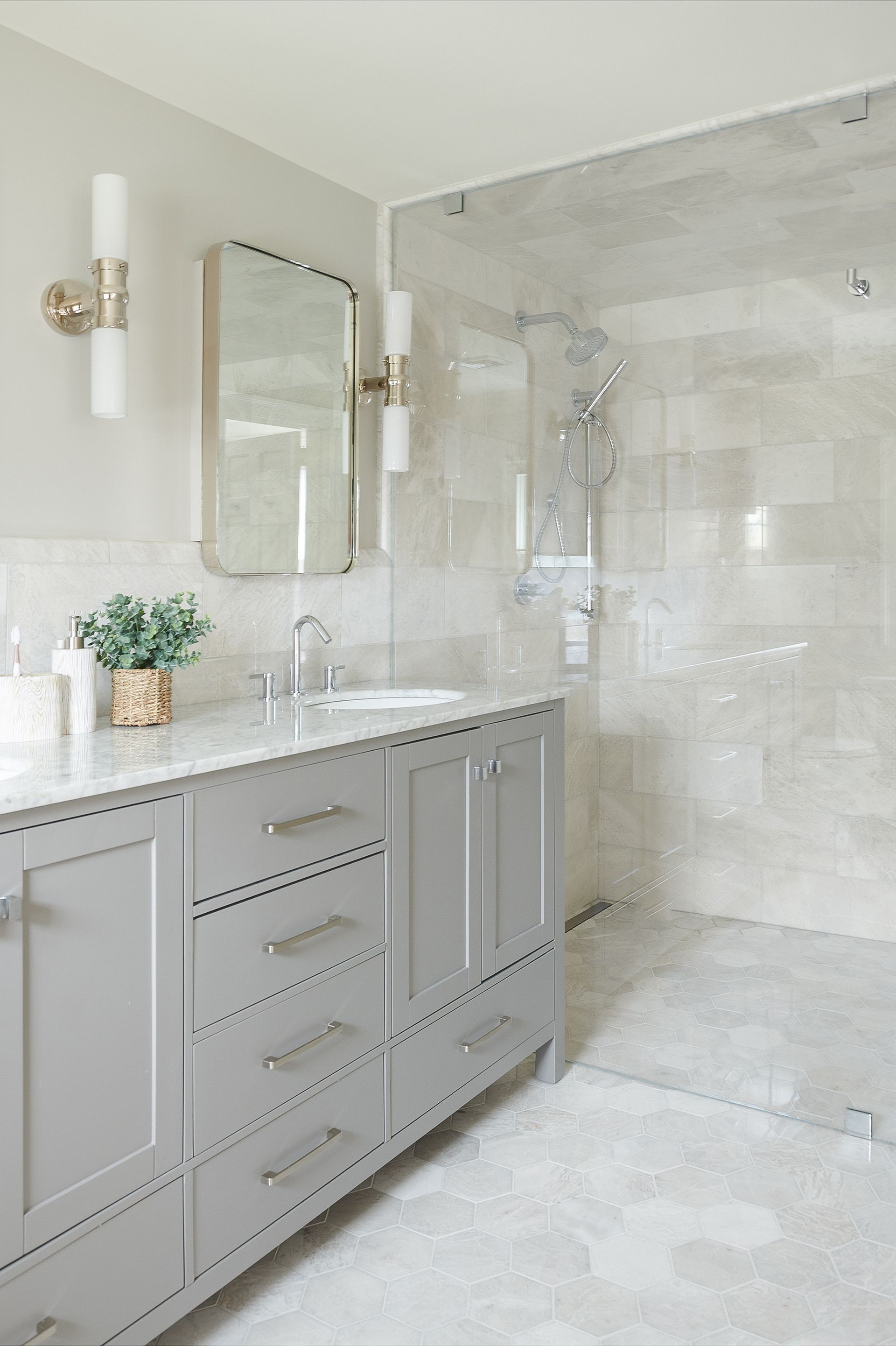 For interior designer Georgia Zikas, a neutral palette was the perfect choice for a bathroom that would stand the test of time, the key to a successful scheme is layering different tones, she explains.
'I am a big believer that classic does not need to mean boring. You'll see with I played with tonal greys – a soft dove for the vanity, a veined white-grey marble for the countertops, against a slightly creamery grey tile for the backsplash.
'This subtle contrast between these various greys create some dimension in the bathroom without it feeling overwhelming or busy. It's the perfect space to pamper yourself,' adds interior designer Georgia Zikas (opens in new tab).
13. Choose neutral furniture with sculptural shapes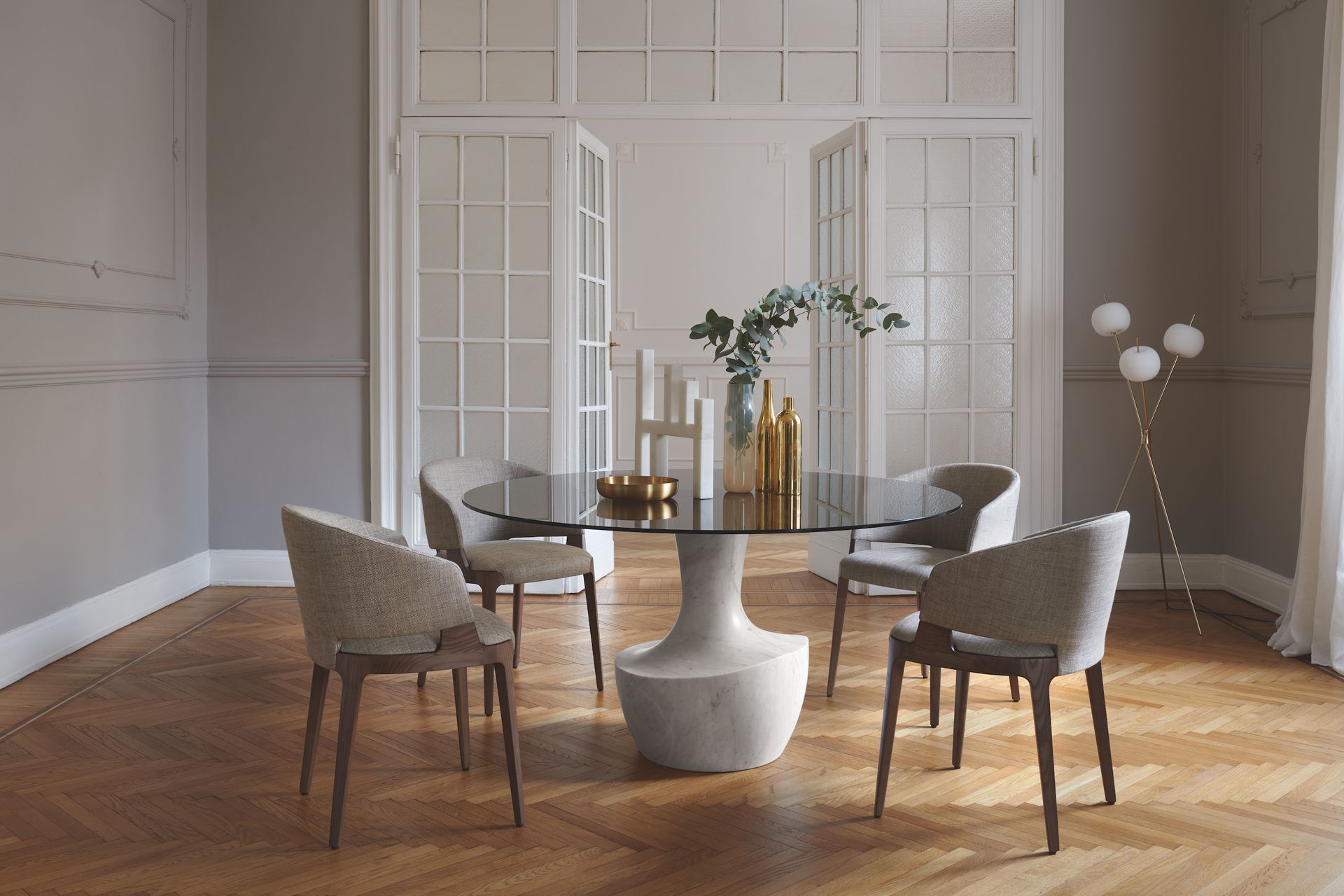 A muted palette is a wonderful way to showcase sculptural pieces of furniture as is demonstrated in this grey dining room.
In the chic, minimalist space, the soft grey dining room paint color allows the statement marble dining table and sculptural wooden chairs from the Dining Chair Co (opens in new tab) to really shine. In the absence of wall decor, the furniture serve as pieces of functional sculpture. 
Barak Alberro, architect and head of design, Banda Design Studio (opens in new tab), advises: 'Grey is a versatile color which pairs well with natural wood furniture. It works particularly successfully in large spaces where a bolder color would be too much.'
14. Opt for pared-back furnishings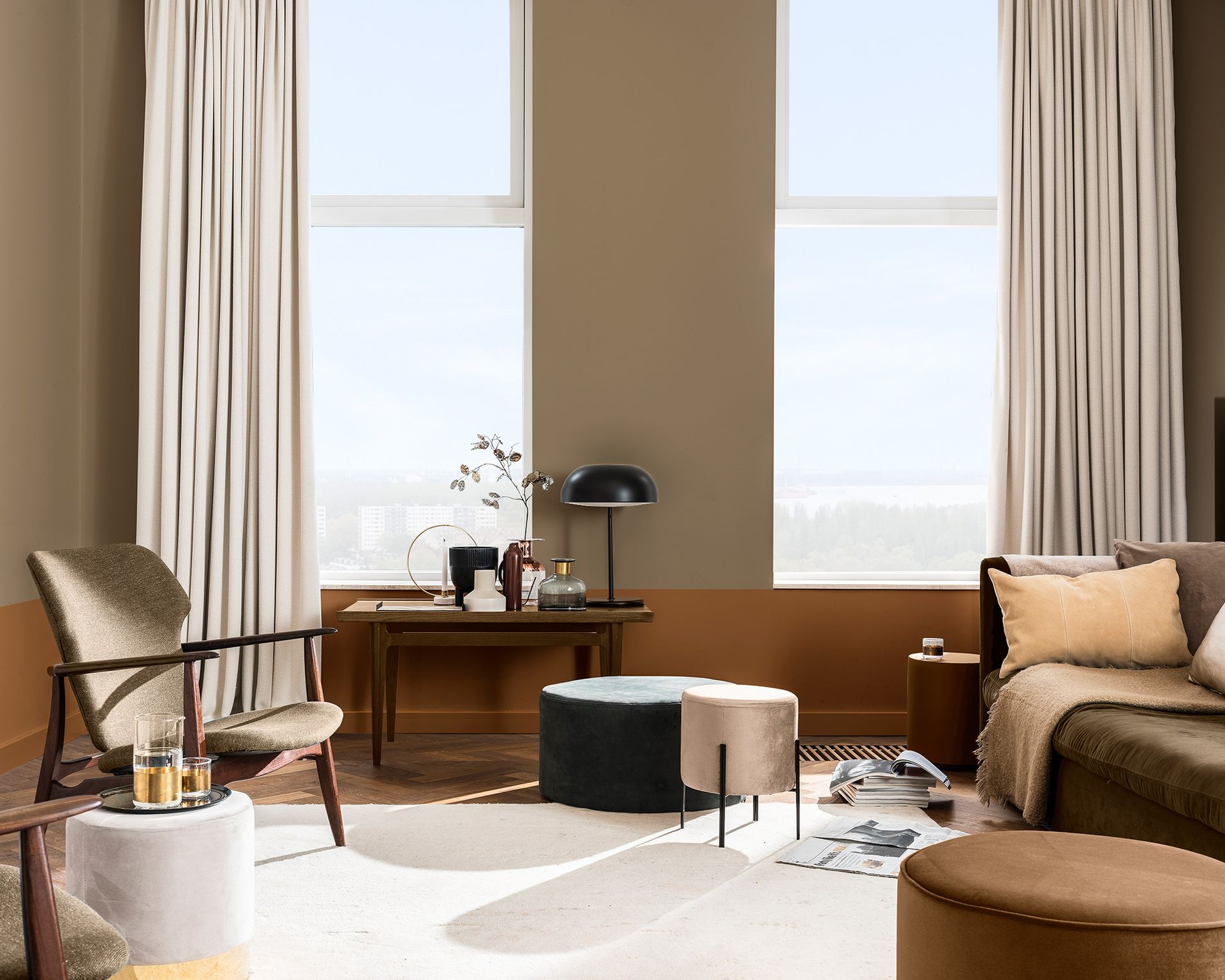 Using neutral tones in your home is a stylish way to create a look that channels understated chic. And you don't have to add riotous splashes of color or bold prints to inject interest into a space with muted tones.
Invest in unfussy prints on fabrics for seat covers and blinds. Simple organic shape designs – rather than an off the moment pattern – will last the test of time.   
Wire, ceramic, leather and stone accessories and vases add further texture while maintaining the natural materials and neutral tones. 
15. Keep the space clutter free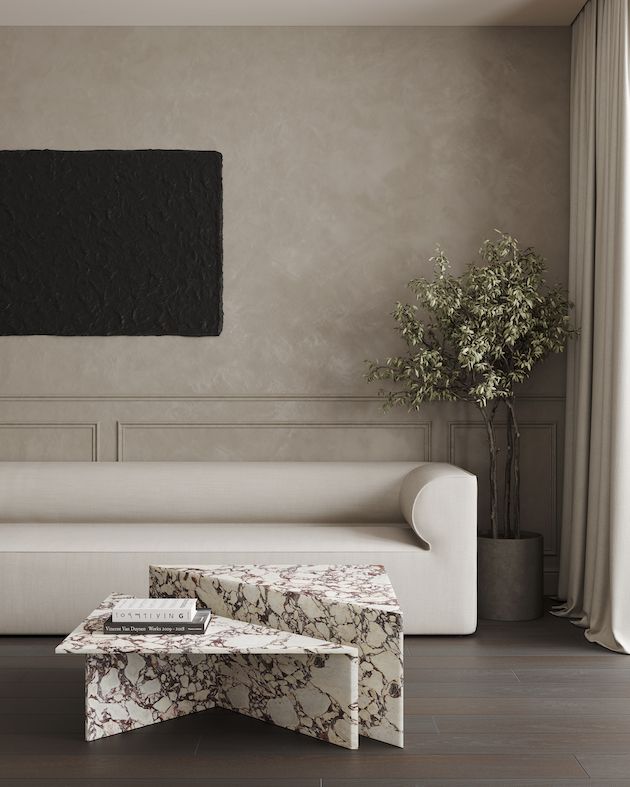 There is a tendency to create chaos in a space that is decorated with neutrals – we advise taking a less is more approach when it comes to furnishing, especially if you're looking to create a minimalist living room. Limiting furniture to a few love-level statement pieces is the perfect way to achieve the look.
A simple color scheme is the perfect excuse to create a haven of calm, peace and tranquility, so 'clear the clutter and re-home anything that doesn't add harmony to the overall space,' says Samantha Wilson, interior designer and founder, Collection Noir. 
How do you add color to a neutral living room?
There are many ways to add color to a neutral living room, from living room furniture ideas and living room seating ideas, to colorful accessories and decorating with art. The beauty having living room walls in neutral shades like cream, beige, white and grey is that they pair with almost any color so make a great foundation for layering bold pieces.
'Having beige walls allows key pieces of furniture in the room to really stand out, whether it's a luxurious, jewel-toned velvet sofa or an armchair in a bold pattern. It also allows you to make a statement of any artwork you have up, allowing the art to do all the talking,' says Emma Deterding, founder and creative director, Kelling Designs (opens in new tab).
When it comes to what accent colors work well in neutral living rooms it's important to pay attention to the tone of the wall color says Justyna Korczynska, senior designer at Crown.
'As with any neutral or white, whether it is a warm or cool color depends on whether it has underlying hints of the warmth of something like pink or the coolness of a blue. So if you are using a deep red you can complement it with a warm grey/beige, conversely you can mix a colder grey with cooler blues, deep greys and greens.'
If you want to keep your living room color scheme largely neutral, but like to switch it up every now and then, the easiest way to add color is with cushions or throws, lampshades or occasional furniture, such as footstools or side tables. 
What you choose will largely depend on how warm your room feels already – if it needs cooling down, you can coordinate neutrals with pale blues and greens; if it needs a little warmth, spice shades work brilliantly with neutral color schemes. 
What colors go well with neutrals?
Neutrals are truly versatile, so you can pick many different colors to complement them and be successful. What works best, though, is to stick to a limited palette – just two to three complementing accent colors that work with your base neutral will do. 
The easiest colors to add when decorating with neutrals are other natural shades – think earthy or spice shades as a color group; or, choose livelier greens and blues; or the warmer colors you'd find in nature, such as reds and oranges. You can, of course, also choose other neutrals to layer your scheme with – grey, brown and even black will all look elegant.
'Warm neutrals are colors that envelope and comfort and look at their best within a palette of natural tones like other earthy shades and soft grey greens,' explains Justyna Korczynska.