While a manicured yard has a neat and ordered beauty, you can bring a wilder touch to your garden or backyard. 
Few natural habitats capture the imagination quite as much as woodland does. Abundant with birdsong and full of possibilities down every winding path, it's little wonder many of us seek to recreate the feeling of being amongst the trees in our own plots. 
There are so many garden ideas to choose from. You might look for the best trees for shade, or the best trees for privacy, to bring a sense of shady seclusion to your outdoor space. You could take the quick route with fast-growing trees, or choose slow and steady growers that will stay compact and be the optimal trees for small gardens.
As well as an enchanting atmosphere, a canopy of trees – even just one or two – can help you create a sense of seclusion in both overlooked and large gardens. 'We want to feel enveloped and cocooned,' says designer Andrew Staib of garden design firm, Glorious Gardens (opens in new tab). 'After a day staring at screens, lush and relaxed is what we are after.' 
Woodland garden ideas
Our favorite woodland garden ideas will inspire you to design an outdoor space that embraces rewilding and wildlife gardens.
1. Think about more than just trees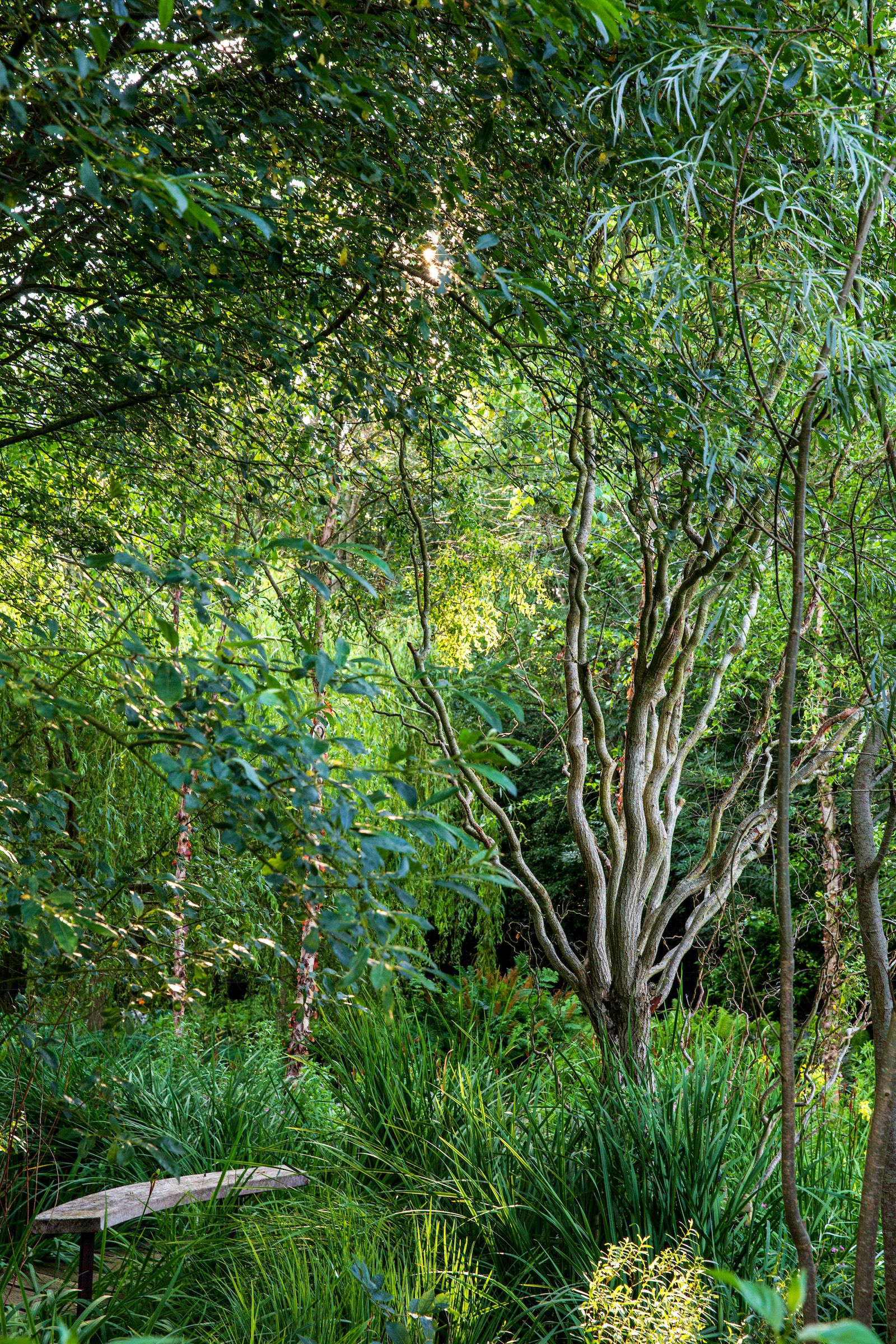 Creating a woodland garden doesn't mean you need a yard the size of a small forest, but you will need room for a few trees and the woodland plants associated with this type of leafy setting.
Whether you're making use of an already tree-filled spot or starting from scratch, soil and shade are the two most important factors to figure out in a woodland garden. 
'We suggest considering the following four conditions: full shade, partial shade, well-drained soil, and moist soil,' says the team at specialist shady plant nursery Moore & Moore Plants (opens in new tab). 'Once you can determine which combination you have in your garden, then you can choose the plants that will grow well.'
'The most challenging condition in the woodland garden is full shade with well-drained soil,' they continue. 'Here, trying to improve the soil prior to planting is important so that the plants are given the best start.'
2. Start by creating a structure for your plot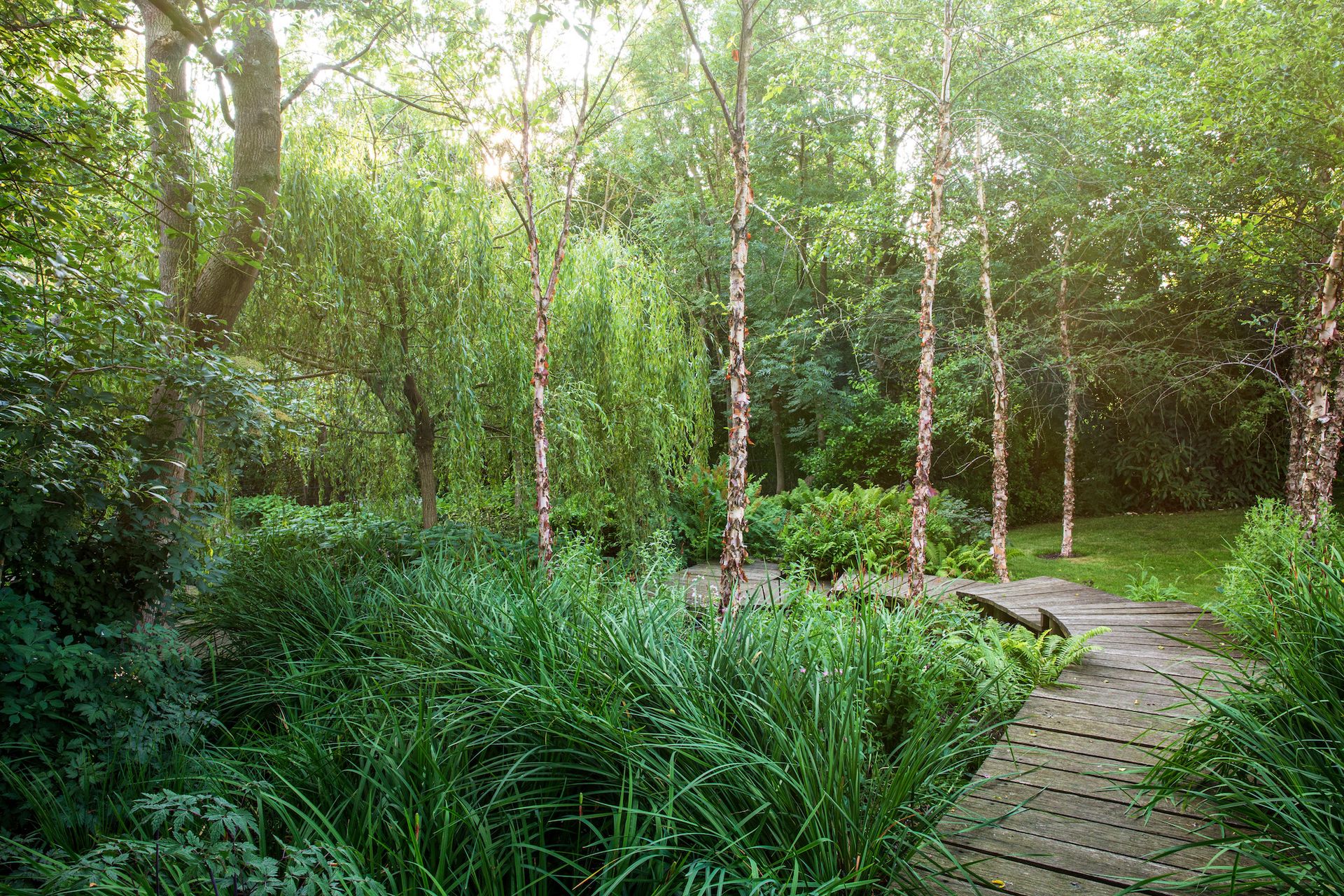 As the most significant part of a woodland garden, trees will be your natural place to begin when planning the space, so make sure you know how to plant a tree so that they establish well. 
You could also look at landscaping around trees, to add even more interest and character to your woodland garden. In the landscaping phase, it's likely that existing trees will have been thinned to allow light through, giving the opportunity to reuse the surplus logs as stepping stones or curved log walls which follow the shape of paths.
'Structures are important too. In winter, it's the mosses and lichens which create interest, so it's important to provide somewhere for these to flourish – a stone cairn, a tree stump, or a pile of logs in the shade,' suggests Sue Mabberley, the owner of Nant y Bedd (opens in new tab)garden. 
3. Add water to a woodland garden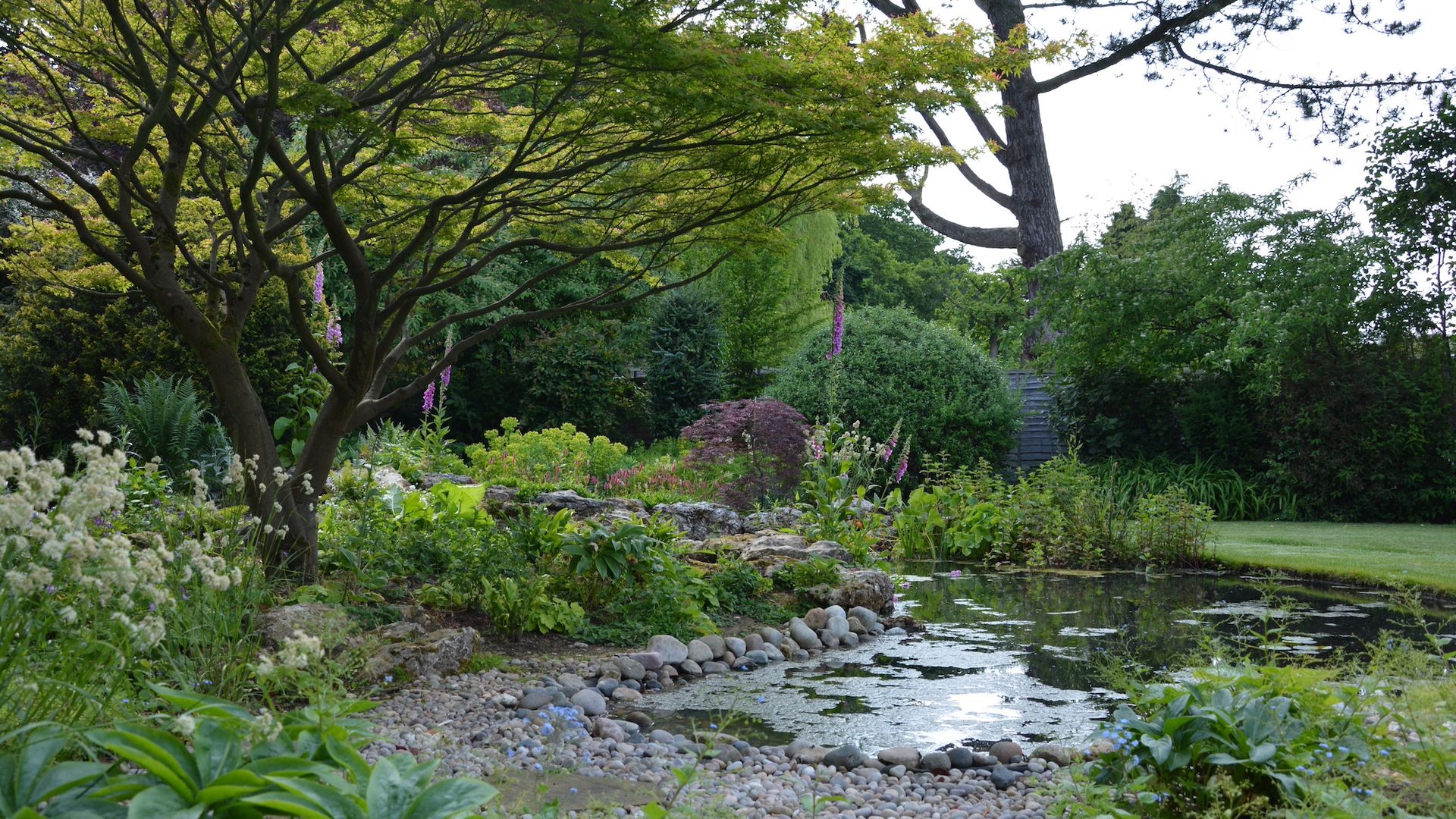 Adding water to your woodland garden will reflect the canopy above, provide a damp habitat for shade and moisture-loving plants like hostas, and enhance the tranquil atmosphere. 
Water feature ideas might include a rill of running water, a garden pond, or even a rain chain that funnels water into a garden fountain.
'It's important that your water source is shallow, ideally with gradual and textured edges, so that any wildlife that climbs in can get out safely,' says garden designer James Scott. 'If you don't have the space or resources to add a pond, then a running water feature or even a bird bath can bring added interest and a focal point to the space.'   
4. Plant woodland favorites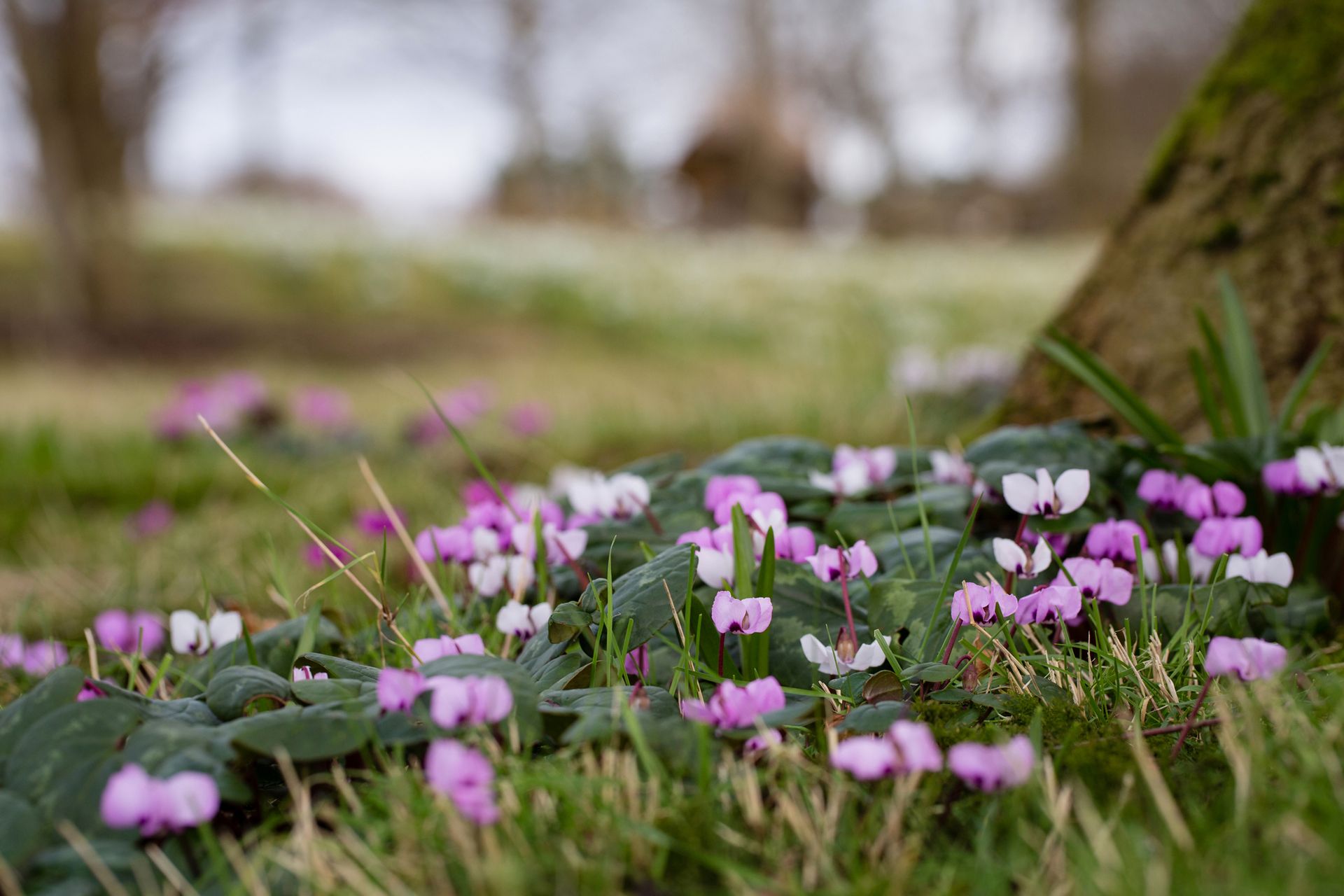 Most agree that woodland gardens are at their best in spring, when flowers can bloom without the shade of the tree canopy. These can include spring bulbs, and also woodland favorites such as snowdrops.
'Choose bluebells and primroses, carpets of wood sorrel, ground cover of wild strawberries, and sweet cicely bursting into life,' says Sue Mabberley. It's also worth thinking about how to grow ferns, which are an integral part of a woodland garden.
With a little thought, your woodland garden can be a place of interest year-round. 'Later on, you have geraniums for shade – Geranium phaeum, G. sylvaticum and G. wallichianum – and then evergreens for structure, including ferns and tiarellas, Peltoboykinia, Saxifraga, and grasses,' recommends Julie Moore, owner of Penlan Perennials nursery. 'You can then add bulbs like Erythronium and Arisaema if you want a more exotic look.'
5. Consider small spaces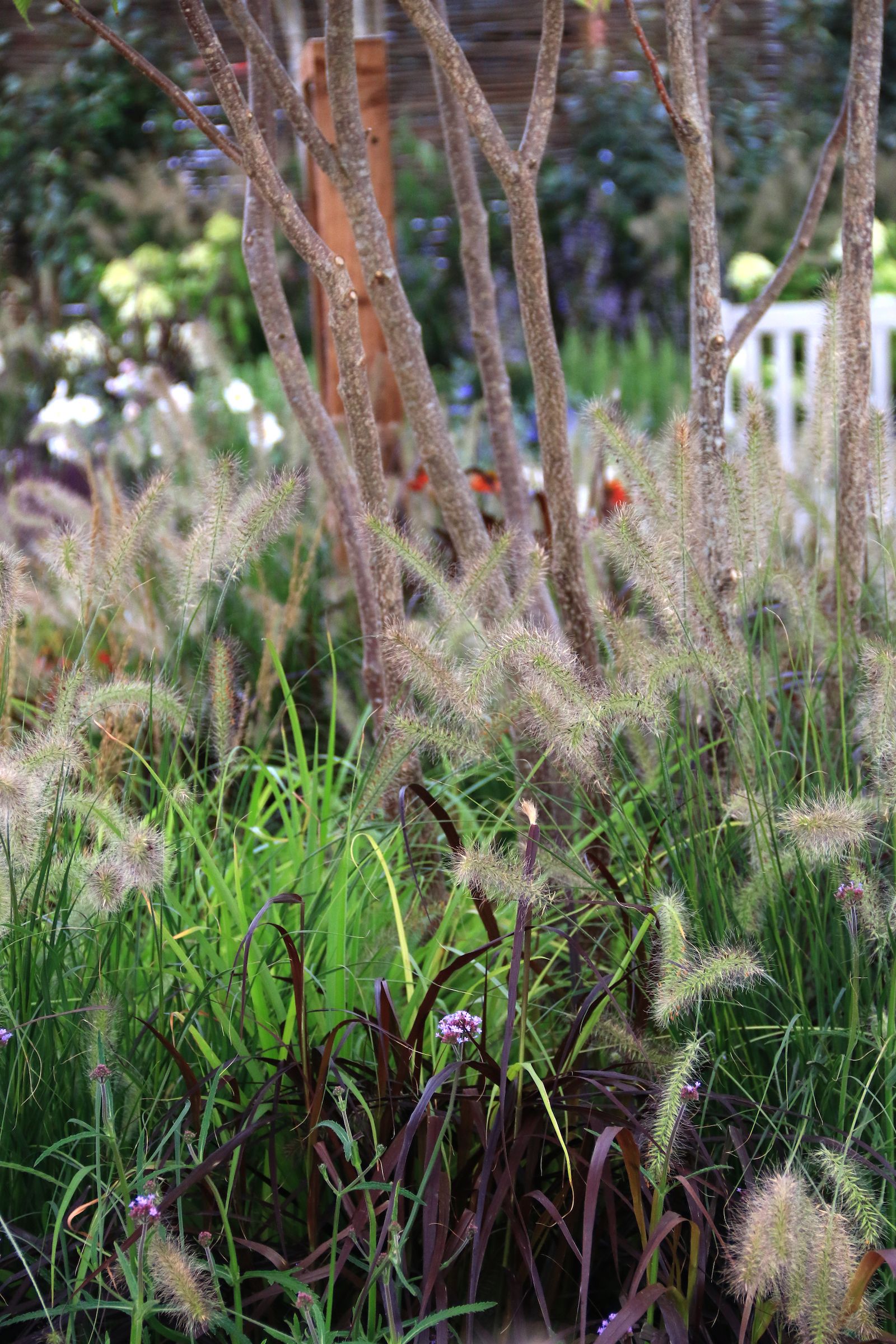 You can still capture the essence of a woodland garden in a more cultivated way within small garden ideas, be that a town garden or a pocket of a larger one. 
'The crucial thing to remember is that no matter how small a garden is, as in a Japanese garden, you can still give yourself the beauty and memory of a wild feeling: imagine a weeping birch tree, a couple of loose evergreen shrubs, and a carpet of ferns with bluebells and snowdrops,' says designer Andrew Staib. 
The key, as ever in a small garden, is to avoid too much going on. 'Keeping your palette simple and repeating planting in large groups will make the space feel more considered,' says designer Jasmine Burgess from Preston Bissett Nurseries (opens in new tab). 'Planting in swathes also mimics how many plants would naturalize in a woodland setting.'
6. Opt for low-maintenance options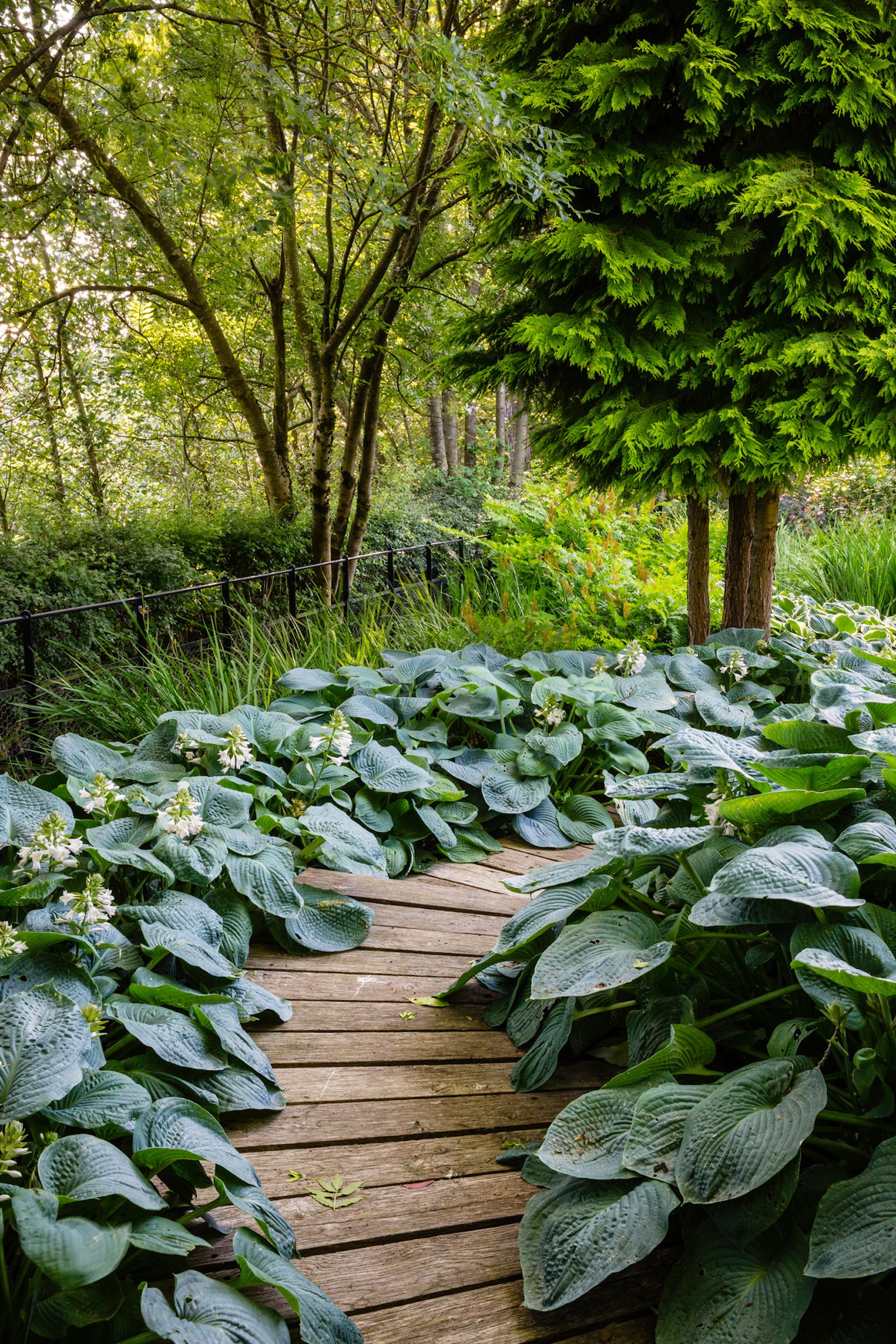 In comparison to other styles of gardening, a woodland garden, which benefits from a certain wildness, asks for relatively little once established and fits closely with the trend for naturalistic garden design.
A little upkeep, mainly in the winter months, is all that's needed.
'It's important to manage light levels by judicious pruning and occasional removal of trees,' says Richard Squires, head gardener at Antony Woodland Garden (opens in new tab). 'A glade in the dappled shade can soon become very dark with shrubs reaching up for the remaining light if not managed. Undergrowth also needs to be cut or trimmed at least annually, so the specimen plants don't get swamped.'
Why are woodland gardens are good for wildlife?
With hotter summers and wilder winters, woodland-style planting in part or all of your yard is also a wise choice. 
'Woodland gardens are, in my opinion, one of the best options regarding a changing climate,' says Katarzyna Rzepinska, botanical horticulturist at the UK's Royal Botanic Gardens (opens in new tab) in Kew. 'They reduce noise and pollution levels, create shade and cooler temperatures, and provide a degree of protection from strong winds and rain. They also act as a link between fragmented woodland habitats, allowing for the movement of plants and animals, and as a result, increased biodiversity.'
How do you make a small woodland garden?
The key to creating a woodland theme in a small garden is to take just a few of the essential elements and contain them in a limited area. So, you might have just one or two small trees, and a grassy bank planted with bulbs.
How do you prepare soil for a woodland garden?
'When choosing plants suitable for a woodland garden, it's particularly important to test the acidity of the soil, as some woodland plants will only grow successfully in soil with a higher acidity ph. of 4.5–6,' says David Glass, head gardener at Bowood (opens in new tab) in Wiltshire. 'However, don't give up if this isn't the case – you can always include plants such as rhododendrons and azaleas in pots containing ericaceous compost.'
Leaf mold, pine needle mulch, and organic liquid feed can all be used to increase the acidity of your soil.