Hanna Fillingham

George Stephanopoulos house: see where the GMA host lives in Manhattan with his wife Ali Wentworth

George Stephanopoulos and Ali Wentworth have lived together in their Manhattan home for 14 years, and while they tend to be relatively private, they have revealed a few glimpses inside.
MORE: GMA3′ T.J. Holmes' attraction to Amy Robach was sizzling a YEAR ago – according to body language expert
Ali has previously showcased their huge living room on Instagram in videos to promote her podcast, Go Ask Ali, and it has some unexpected features.
VIDEO: Ali Wentworth opens up about her anxiety
In the footage, the mom-of-two was seen sitting in her open-plan living room, which is decorated with black-and-white prints of New York's iconic skyline.
MORE: Ali Wentworth and George Stephanopoulos' bittersweet change to living situation
MORE: George Stephanopoulos' grown-up daughters pictured with family in rare photo
The living room leads onto a huge study area that resembles a stylish library, complete with a floor-to-ceiling bookcase filled with novels.
There are also decorative flowers in the living area and a quirky ceiling light adds an artistic touch to the space.
Ali Wentworth shared a glimpse inside her open-plan living space in New York
Ali and George relocated from Washington D.C. to New York when the journalist took over Diane Sawyer's job on Good Morning America.
MORE: Kelly Ripa reveals intimate New Year's Eve celebrations with Mark Consuelos
MORE: Inside George Stephanopoulos and Ali Wentworth's monochrome open-plan home in New York
The apartment has previously featured in Architectural Digest and features many stylish interior touches.
Ali and George live in Manhattan with their youngest daughter Harper, and faced a big change in their family earlier in the year when their oldest daughter Elliott left home to attend university.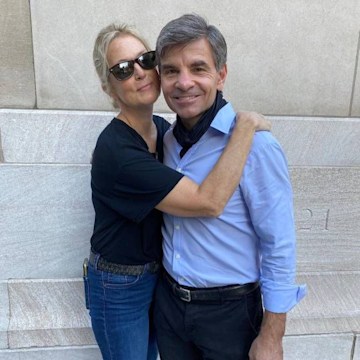 Ali and husband George Stephanopoulos live in the Upper East Side of Manhattan
The actress admitted that taking Elliott to university had been "brutal" in an honest conversation on social media with fellow parent Gwyneth Paltrow.
DON'T MISS: Meghan Markle to have family clash in 2023, says Princess Diana's confidante
However, the proud mom revealed on her Go Ask Ali podcast that her teenager was "thriving" there now.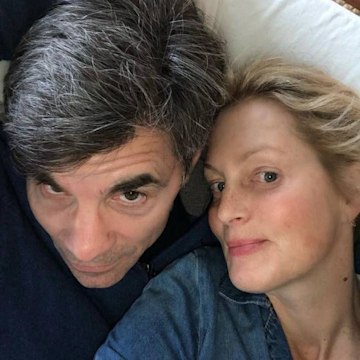 The celebrity couple have been married for 20 years
The family are no doubt looking forward to reuniting for the holidays too. Ali previously gave an insight into their family dynamics during an interview in 2016.
MORE: Ali Wentworth poses in gorgeous beach photo during family celebration
Chatting to Harry Connick Jr, she said: "I have two girls. George is the only guy in the house. For some reason, he gets beat up constantly. He is always wrong. He is an idiot. He is a loser, but in a loving way."
Read more HELLO! US stories here
Like this story? Sign up to our newsletter to get other stories like this delivered straight to your inbox.