Tim Allen and Patricia Richardson rose to fame when they starred as on-screen spouses in the hit 1990s sitcom "Home Improvement."
The 69-year-old actor and the 72-year-old actress played Tim "The Toolman" Taylor and Jill Taylor for eight seasons from 1991 to 1999. It was the first acting role for Allen, who was previously known for his work as a stand-up comedian.
In an interview with Fox News Digital, Richardson said that she didn't believe Allen received enough recognition for his acting talent during his time on "Home Improvement."
"People don't give Tim enough credit for the acting that he was doing," the "Strong Medicine" alum said.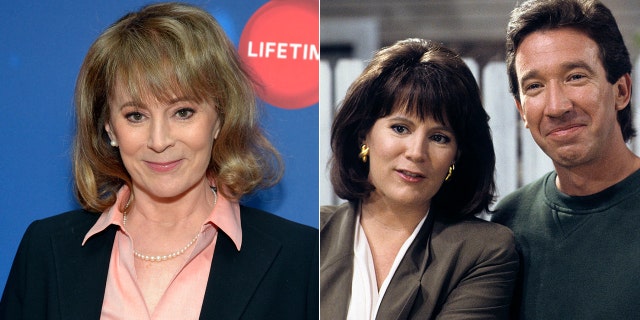 She continued, "He had never acted before. He was getting acting lessons on the side."
PATRICIA RICHARDSON SAYS CHEMISTRY WITH TIM ALLEN MADE HER TAKE THE PART ON 'HOME IMPROVEMENT'
Prior to landing her breakout television role on "Home Improvement," Richardson appeared in Broadway and off-Broadway productions as well a series of short-lived sitcoms. She told Fox News Digital that she immediately noticed Allen's natural flair for acting from the first time they performed together.
"I'd worked in New York theater for years, and all actors sometimes have trouble listening," Richardson said. "We're self-conscious or we don't know what we're doing or we're not really listening to the other person and just trusting ourselves to just respond."
"Tim did that immediately," she recalled. "Tim did that to such a degree that it scared him."
Richardson continued, "Early on in the first couple of episodes, if I would cry about something — the first time that I did that — he was so listening, and he was always so involved and just bouncing back. We were always just so listening to each other and reacting that I saw tears starting to come out of his eyes."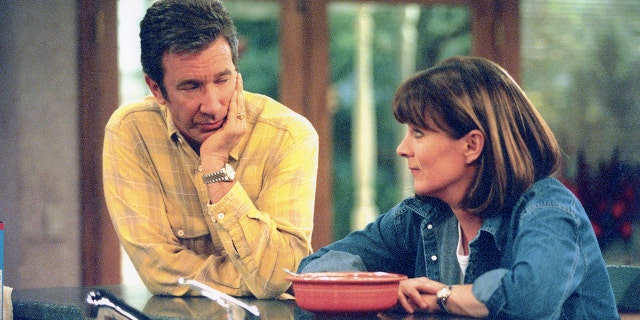 "And that totally freaked him out. And he stopped everything and just said, 'Wait a minute, wait a minute! She's upset!'" the actress remembered with a laugh. "[Director John] Pasquin said, 'She's acting, Tim.'"
The Maryland native told Fox News Digital that she and Allen "immediately" connected and trusted each other. She also recalled coming to Allen's defense several times during their early days on the show.
"I kept telling the guys who would like, bug him, and after our first couple performances, they would be on him," she said. "And I would be like, 'Why are you giving him such a hard time? He's brilliant. He's better than a lot of actors I've worked with that are really actors in New York who don't even look at you, you know?'"
"He had never acted before. He was getting acting lessons on the side."

— Patricia Richardson on Tim Allen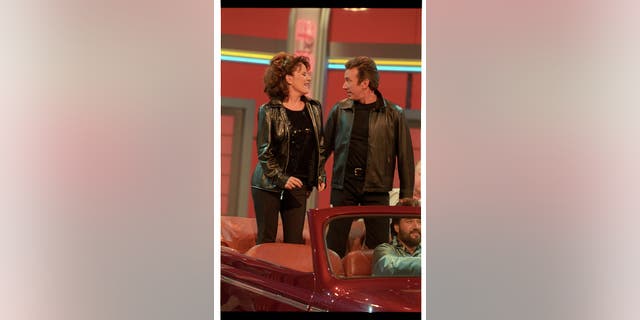 She continued, "So, I was like, 'Stop. Leave him alone. He's doing great.' And I always thought so."
Richardson explained that "Home Improvement" explored some heavier themes and storylines, which often demanded a wider range of acting from Allen than was required of other stand-up comedians-turned-actors.
"Obviously, Jerry Seinfeld was so charming and great," she said. "But I don't think you ever had to see Jerry do something serious, you know, like losing his parents or talking about the death of his father or dealing with lots of things that we dealt with in that show."
"Tim was right there for it always. And so it's not surprising that he went on to a long career of doing a lot of movies and other shows."
Allen was nominated for five Golden Globe Awards for best actor in a comedy series for his performance as Taylor, winning once in 1995. The "Toy Story" star also earned an Emmy Award nod for outstanding lead actor in a comedy series in 1993.
During her time on "Home Improvement," Richardson received five Emmy Award nominations for outstanding lead actress in a comedy series and two Golden Globe Award nominations.
However, the actress told Fox News Digital that she was initially hesitant to take on the role of Jill. After appearing in three sitcoms that were canceled after one season, Richardson said she was "trying to get out" of the genre.
In addition, she shared that she "especially did not want to play a mother" because the roles were usually "thankless" at the time. However, her interest was piqued after learning that the show's creators had also been involved with the development of "Roseanne."
Matt Williams, who created "Roseanne" with Roseanne Barr, was one of the creators of "Home Improvement" along with Carmen Finestra and David McFadzean.
"When they told me that these guys that created the show were the guys that created 'Roseanne,' I went, 'Oh, OK, my favorite show, my maybe favorite female character on television,'" she remembered. "And obviously, they can write women."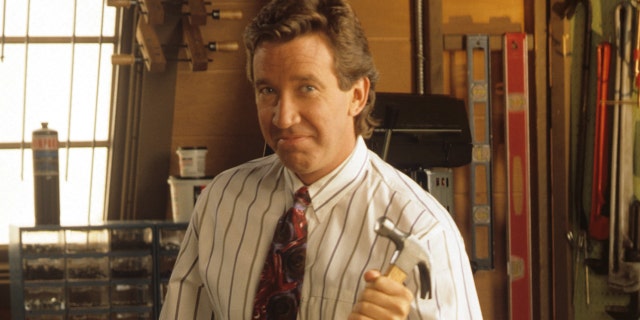 After Richardson had a meeting with the producers, they sent her a tape featuring Allen.
"I didn't know who Tim was," she said. "He wasn't really well-known then, but he had gotten an ACE Award for a Showtime special that he did. And so they sent that to me."
'HOME IMPROVEMENT' STAR PATRICIA RICHARDSON RESPONDS TO RESURFACED CLIP OF TIM ALLEN FLASHING HER ON SET
She remembered that Allen's Showtime special "Men Are Pigs" included parts of his act that were later incorporated into "Home Improvement," including his trademark grunting and love of tools. Richardson recalled watching the special with her then-husband, Ray Baker.
"My husband, who used to build houses with his dad, flipped," she said. "He's, like, laughing his a– off, you know? And I'm kind of like, 'Oh, yeah, this is kind of funny, he's good. Whatever, I'll go in.'"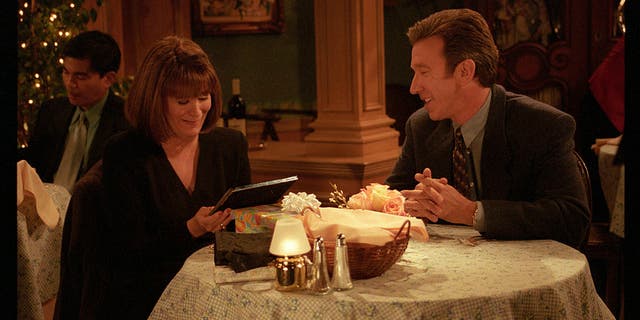 Frances Fisher was originally set to play Jill, but producers decided to recast the role at the last minute after they decided that the actress, who typically starred in more dramatic fare, wasn't quite right for the part.
Richardson was also reluctant to take on the role since she had just given birth to twins Roxanne and Joseph three months earlier. However, she was persuaded after the producers assured her that they would work around her breast-feeding schedule and make other accommodations.
She said that she and Baker were also really impressed with the pilot's script after giving it their "one-page test."
"I was so happy to be working again. And then Tim. I immediately found him so funny, and it was like this immediate thing back and forth between us."

— Patricia Richardson
"Just open it anywhere in the script, and you can tell on one page whether they're developing story and character or whether they're just trying to set up jokes, which is most of the time in a sitcom, what you get. And we were impressed."
Richardson described her first day on set as "shaky."
"I hadn't worked in a year because I'd been pregnant and having babies with colic," she said. "I was so happy to be working again. And then Tim. I immediately found him so funny, and it was like this immediate thing back and forth between us. It was instant. And we both really enjoyed that. And so it was kind of evident really from the first read-through that it was going to be a different thing for them and a wonderful thing for me. It was so fun."
The actress decided to leave "Home Improvement" after the eighth season to spend more time with her children. Richardson became a single mother when she and Baker divorced in 1995 after 13 years of marriage.
At the time, the producers and Allen urged her to stay on for a ninth season, but she refused. Allen rejected a proposal to continue the show without her character, who would have been killed off. Though "Home Improvement" came to end, Allen and Richardson later reunited on-screen in 2015 during the fourth season of "The Santa Clause" actor's show "Last Man Standing." She returned to reprise her role in the show's fifth season.
After leaving "Home Improvement," Richardson starred as Dr. Andy Campbell in the Lifetime medical drama "Strong Medicine" from 2002 to 2005. She landed a recurring role as presidential campaign manager Sheila Brooks in the last two seasons of the Emmy Award-winning political drama "The West Wing."
Richardson has also appeared on "Law & Order: Special Victims Unit," "NCIS," "Blindspot" and "The Blacklist." She guest-starred as author and patient Tessa Hobbes on the 19th season of "Grey's Anatomy" during longtime series star Ellen Pompeo's farewell episode.
"I always give credit to 'Roseanne' because before 'Roseanne,' every mother sort of had to look perfect. Be perfect."

— Patricia Richardson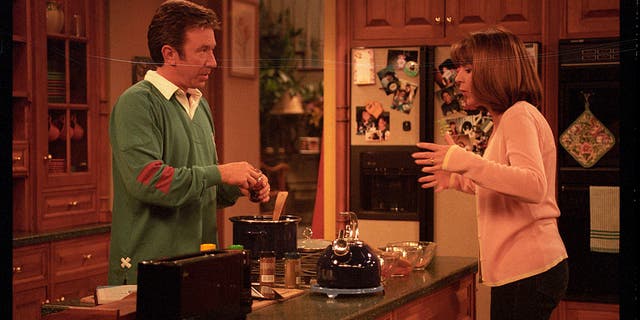 In addition, Richardson's film work includes her Independent Spirit Award-nominated role in 1997's "Ulee's Gold" and roles in a number of television movies, including "A Christmas in Tennessee," "A Very Vintage Christmas," and "County Line" and its sequels "County Line: All In" and "County Line: No Fear."
The actress will next be seen in Linda Yellen's upcoming film "Chantilly Bridge." A sequel to 1993's "Chantilly Lace, the movie also reunites original cast members Lindsay Crouse, Jill Eikenberry, Talia Shire, Ally Sheedy, Helen Slater and JoBeth Williams.
TIM ALLEN SLAMS PAMELA ANDERSON'S CLAIM HE EXPOSED HIMSELF TO HER ON 'HOME IMPROVEMENT' SET WHEN SHE WAS 23
Though she was the newcomer to the cast, Richardson told Fox News Digital that she quickly bonded with the other actresses: "A lot of the scenes, we [improvised]," she said. "There was always a structure."
"[Director Yellen] had a structure of where the film was going, and she knew what she wanted brought up as well," Richardson said. "But a lot of this conversation that you see and stories that we tell were as a big a surprise to each other as we told them as it will be to the audience. I have never done a film like that. And of course, I was like, 'I never want to do a film another way.' It was great. And it allowed us very quickly to really tune in to each other."
CLICK HERE TO SIGN UP FOR THE ENTERTAINMENT NEWSLETTER
"I'm very proud of it," she added. "I loved doing it."
The film opens theatrically in limited release on March 24th and on VOD, April 14th.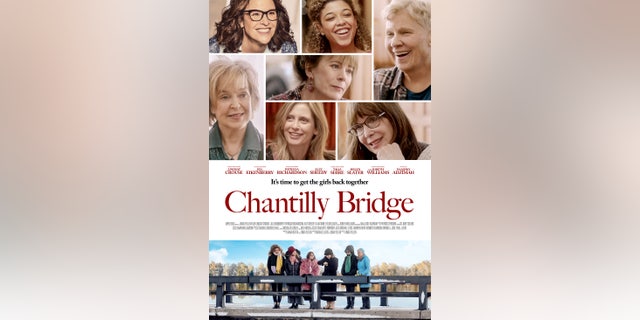 Richardson also reflected on how the landscape of television has changed over the years. She noted the significant change in the way that women are portrayed on TV.
"I always give credit to 'Roseanne' because before 'Roseanne,' every mother sort of had to look perfect. Be perfect," she said. "That was what I loved so much about her when I was, you know, in bed with my pregnancy and just being a mom. And I would watch her, and I'd be like, 'Yes, this woman, oh my gosh, this woman, this family.'"
She added, "I think women have changed a lot. I mean, that's one of the biggest changes."
"And of course, obviously, it's gotten a little more realistic, maybe too much so," Richardson said. "I think that reality television has been bad for America. For years and forever, people watch television the way they read the newspaper or books or anything that's really out there in society."
CLICK HERE TO GET THE FOX NEWS APP
She continued, "They judge what's normal by seeing what's on television because it's like, you think, 'I thought I was the only person who felt that or thought that or the only family that has this problem.'"
"And then you see on TV, well, this is how they're handling it. And TV used to be much more so idealized characters. And so that probably helped keep society in order, and now you have reality TV. I know somebody who cast all those shows. I mean, the really successful ones, and they look for people who are going to be difficult and cantankerous, and they look for that. And then people watch that and they think that's what's normal. It's not normal."