Perhaps that's not fair. Saying this apartment has effortless style. But isn't that a big part of style? True style is difficult to analyze, it just is. You either have it or you don't. And this home in the Trocadéro district of Paris has heaps of it.  
Let's face it, the 1895 Haussman-style apartment building and its setting, where the Eiffel Tower casts a long evening shadow right into the living room, are sufficient in themselves, bien sûr, to put this among the world's best homes. But factor in its recent redesign and refit by award-winning Paris-based designer Lichelle Silvestry (opens in new tab) and it's clear this family space has a certain je ne sais quoi. Credit where credit's due, Lichelle is the one who put the effort into this home's effortlessly stylish interiors.
The apartment's American-European owners were long-time residents of the United States and chose to relocate to Paris post-pandemic to be closer to their European families. They got in touch with Lichelle to redesign their new apartment ready for their arrival.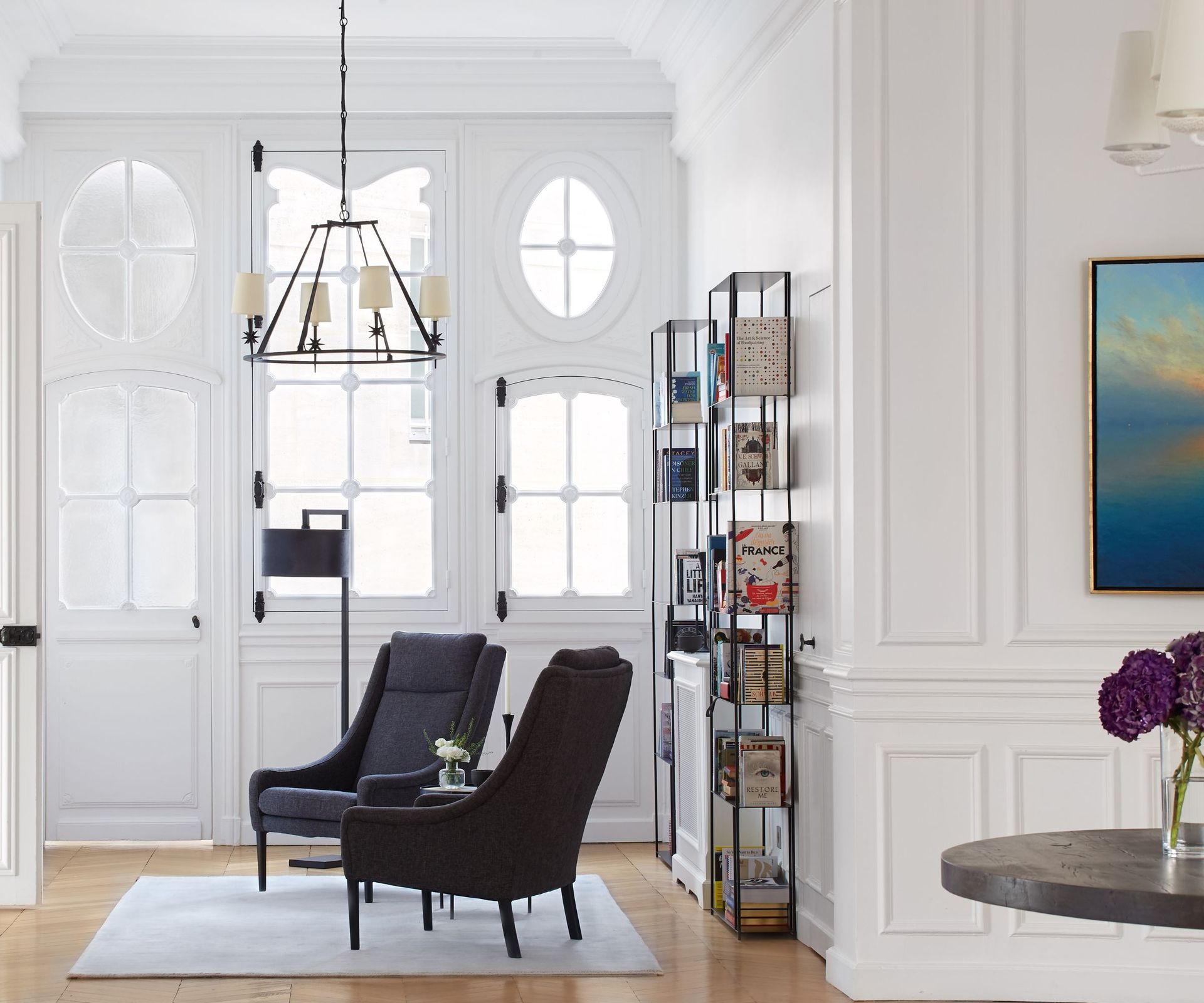 The apartment is located in the upscale Chaillot district, Paris 16th arrondissement, also known as Trocadéro. It is on a high floor with a full-length balcony (and the bathtub!) facing the Eiffel tower. It's spacious with 10-foot-tall ceilings, and is packed with sophisticated decorative features, elaborate moldings, and huge windows and fireplaces. There's a stunning entrance, living room, home office, dining room, a dine-in kitchen, and five bedrooms, most with ensuite bathrooms, in fact, there's no end of inspiration here, for anyone looking for apartment décor ideas.
Designer Lichelle Silvestry takes up the story: 'We embraced the monumental task of decorating this extraordinary property in a challenging short time frame. We developed the design concept within six weeks and sourced and purchased furnishings and fittings only from in-stock items. As a result, we delivered a fully furnished and decorated home within three months, in time for the client's arrival in Paris.   
'My design intends to create timeless and refined homes that are effortless, livable, and welcoming, which was the client's request for their new home,' explains designer Lichelle Silvestry. 'The opportunity to work with such a beautiful space while seamlessly integrating warmth and comfort to deliver a family home heaven was fascinating.'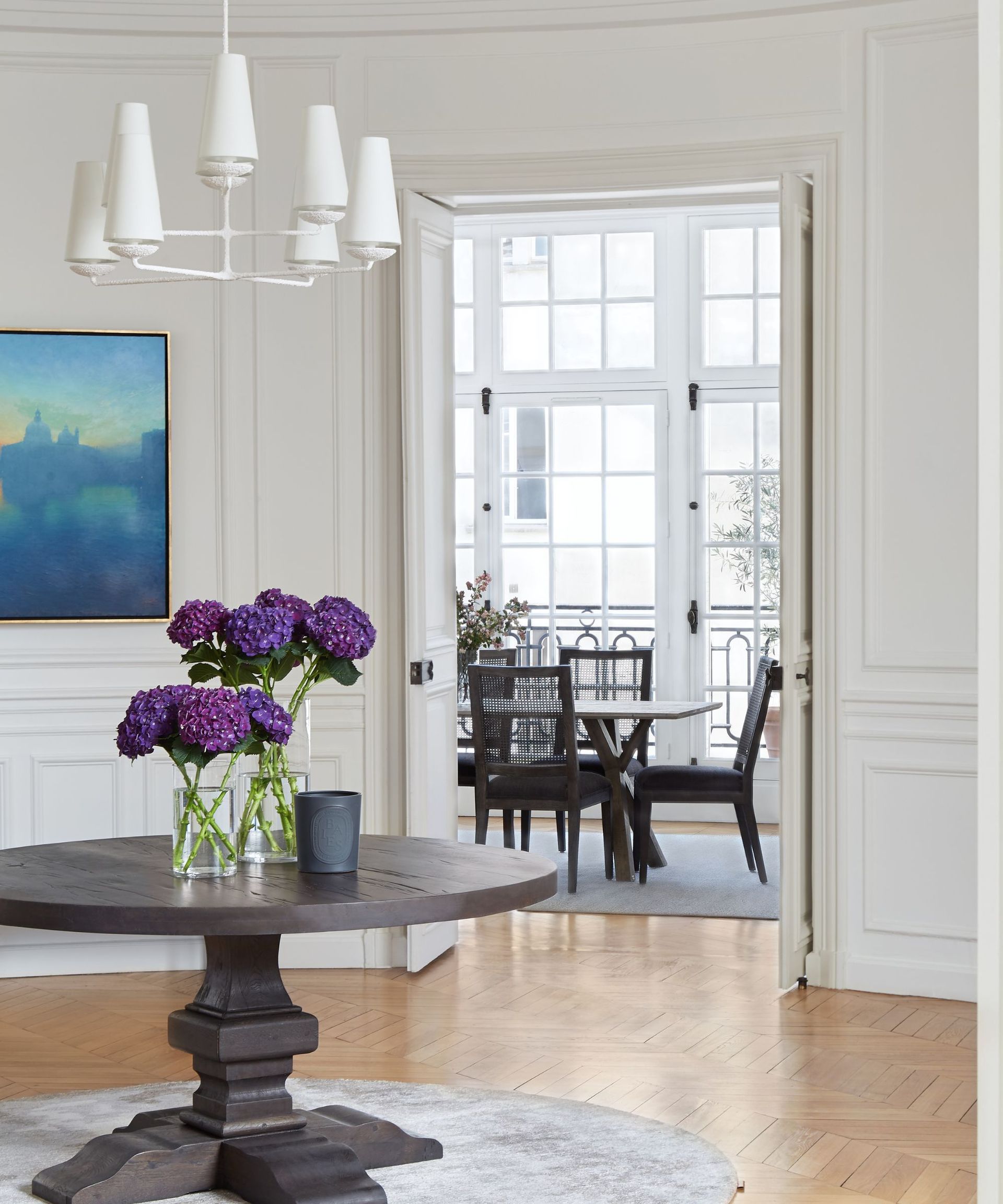 There's no need to make a grand entrance here, this impressive hallway is doing just fine all on its own. Designer Lichelle explains her entryway ideas and what makes this one so special: 'The enormous luminous entrance with a rounded ceiling is beautiful. This space is the heart of the home, where most rooms connect to, such as the dining room, living room, home office, "vestiaire" and master bedroom. We anchored it with a large wooden table and a plaster ceiling fixture. The art is from the client's collections.'
Living and working in Paris, France, Lichelle Silvestry (opens in new tab) has plenty of beautiful Parisian home redesigns to her name. Her ethos is about 'making luxury feel livable' and this latest apartment project plays into that mindset. Refined, elegant but eminently practical, this stunning Paris home is another in a long line of Silvestry design success stories.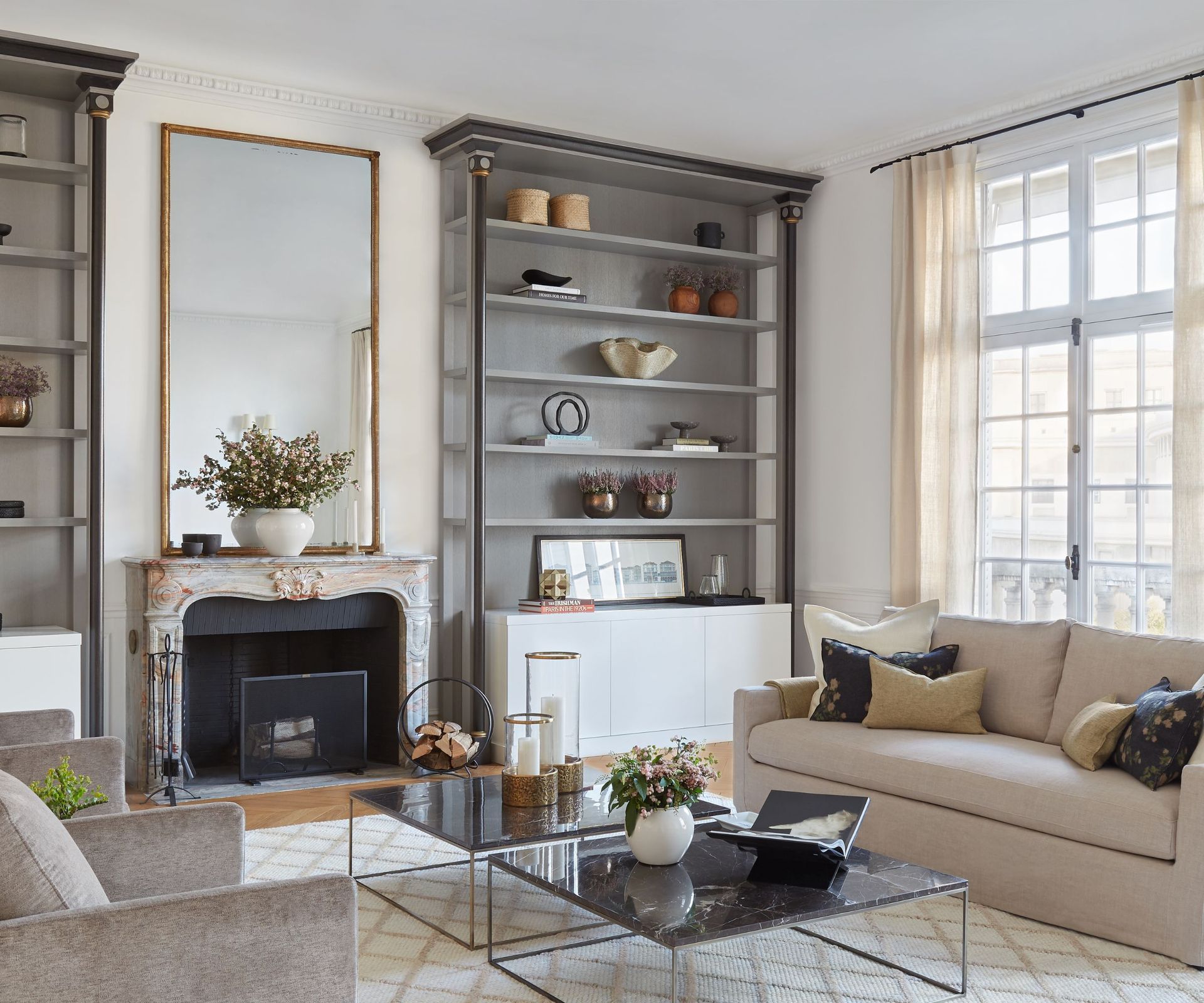 'There's comfortable seating for everyone in this large family,' says designer Lichelle Silvestry. 'The room's beautiful fireplace and the large window with the stunning view are showstoppers, but the effortless and inviting feeling makes this room the family's favorite, and mine too.' 
Living room ideas are classic, refined and welcoming in equal measure. 'I desired to integrate an American vibe within the Parisian environment, gravitating toward classic silhouettes and timeless pieces and proportions. Creating a home that feels "like" home was essential to my inspiration,' adds Lichelle. 'The elegant 1800s mirror was found in the Marché Paul Bert Serpette at Lila K Antiques, one of my favorite stores. This piece is remarkable with the mercury mirror, original parquet backing, and glided frame, all in perfect condition.'
Linen sofas, wool rugs, marble coffee tables, bronze side tables, and heavy linen pillows all come together to create an inviting atmosphere. The designer used tones of taupe, sand, and black as a base and layered them with an occasional touch of color in anticipation of her clients' art pieces.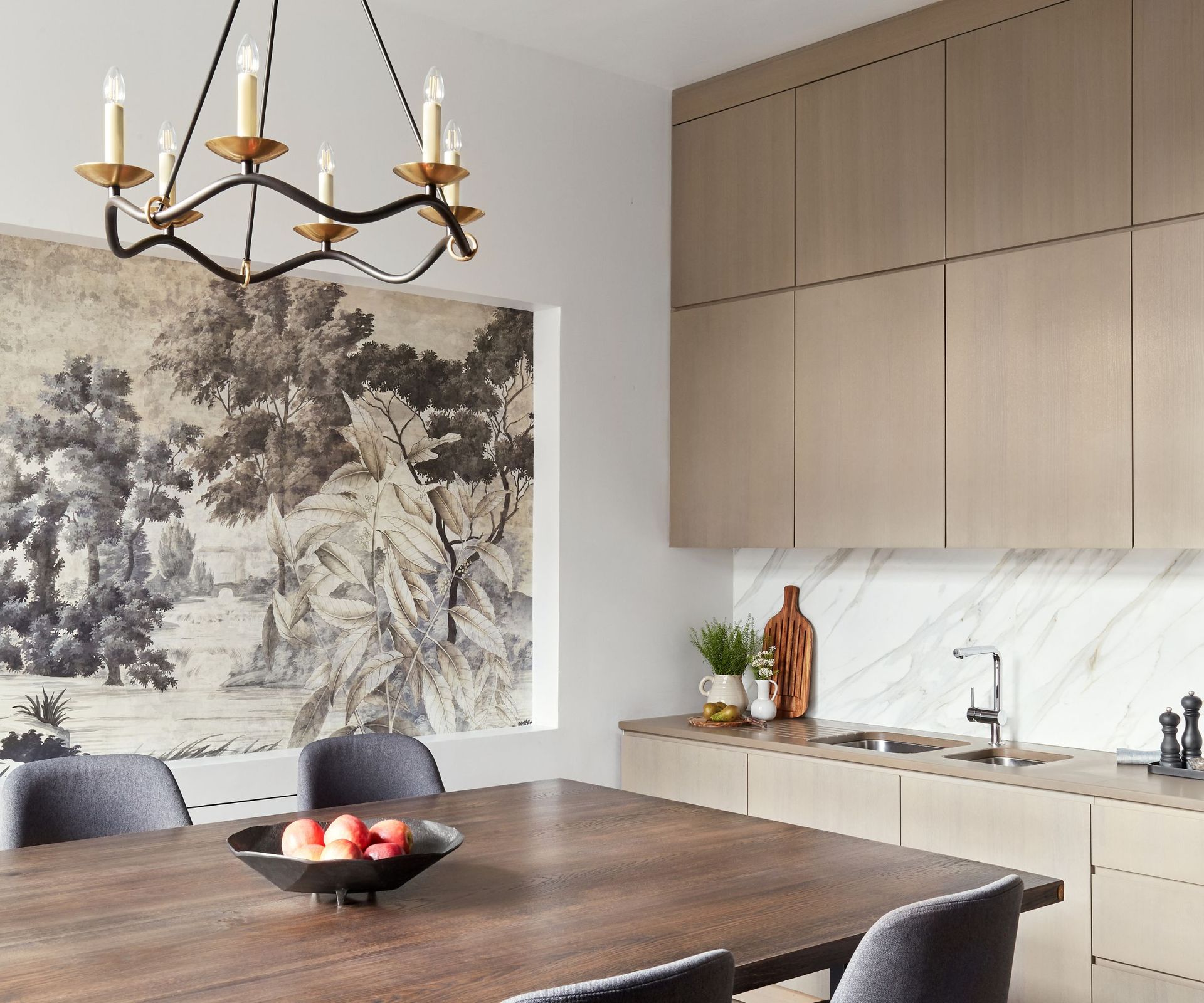 The kitchen is adjacent to the dining room, faces the courtyard, and enjoys a stunning view of the Parisian rooftops in the Trocadéro area.
The large kitchen, by Parisian standards, is comfortable, functional, and warm. Kitchen ideas include the Ananbo panoramic wallpaper, which makes a stunning backdrop to the distinctive light fixture by Circa Lighting. In addition, the designer had the large table custom-made in oak wood and stained it in a deep warm gray tone, adding a metal base.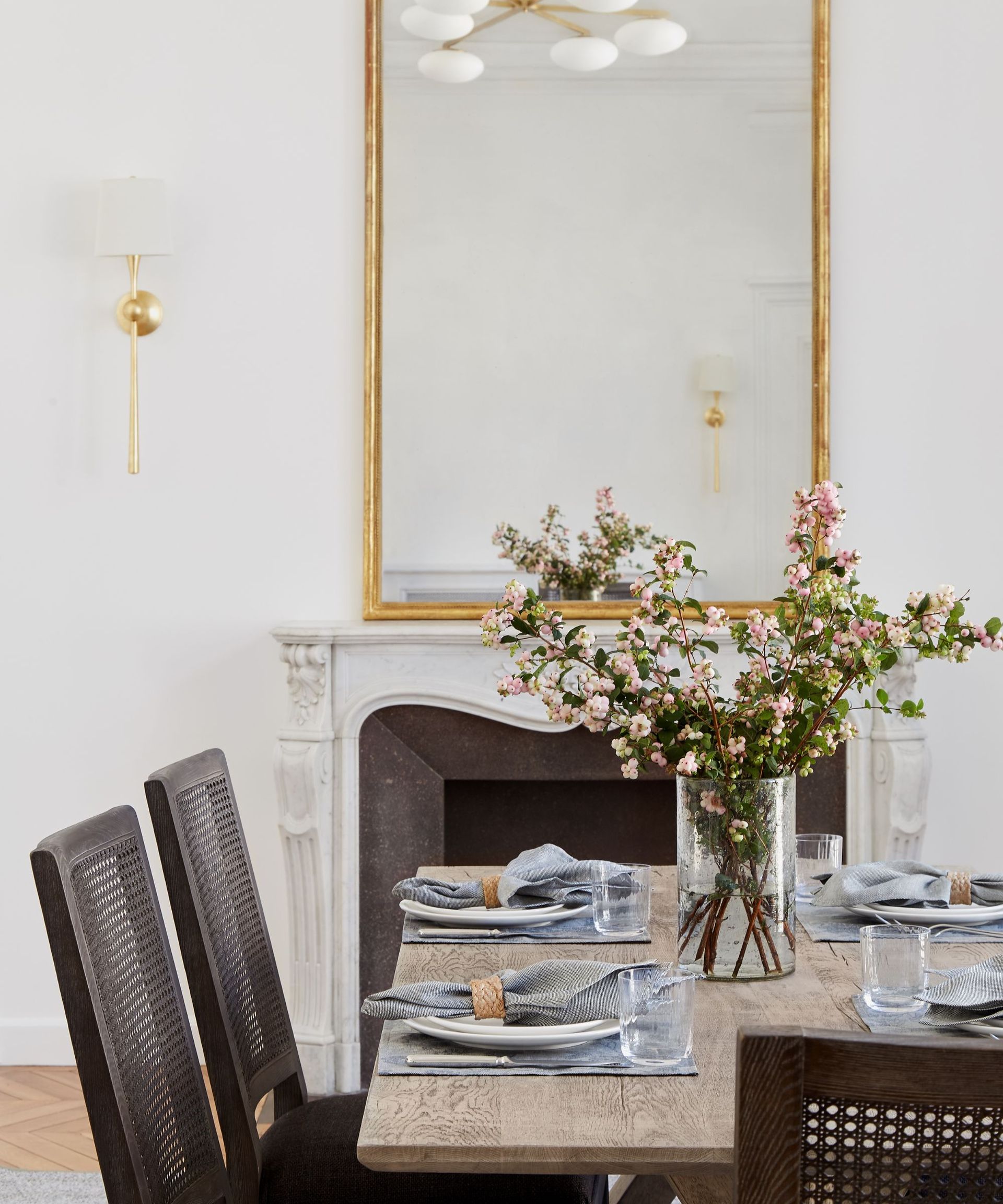 Anyone looking for dining room ideas can't fail to be inspired by this bright dining room, which faces the historic building's courtyard. A classical fireplace and an antique 19th-century Louis Philippe gilded mirror anchor the room. The clean and elegant lines of the mirror complement designer Lichelle Silvestry's graceful scheme for this room. 'We found this mirror at the Marché Paul Bert Serpette, at Lila K Antiques, the same fabulous store as the one in the living room. The modern ceiling fixture and wall sconces contrast with the rustic oak dining table and chairs,' she adds.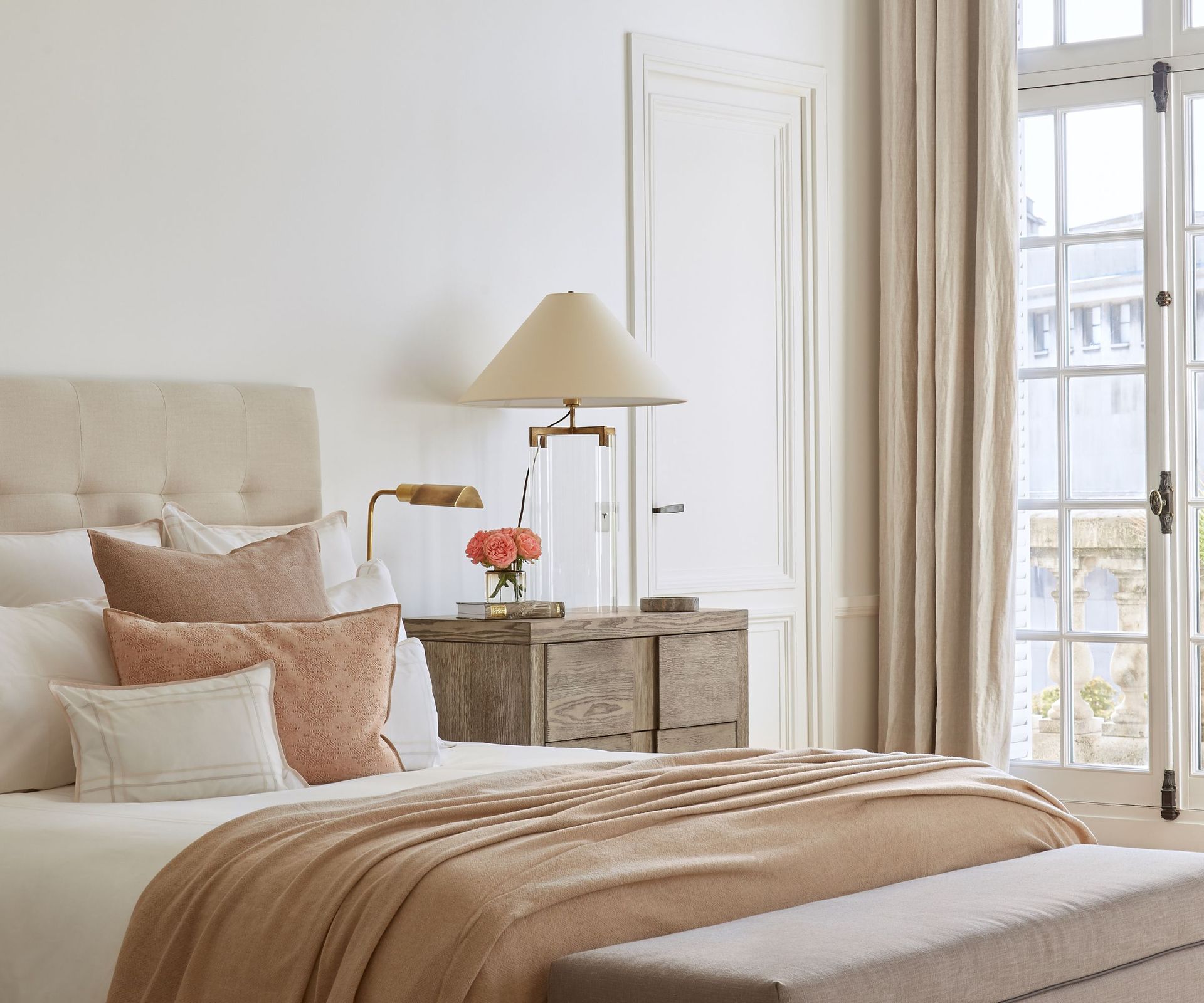 Designer Lichelle Silvestry says inspiration for her bedroom ideas came easily, given the room's starting points: 'The volume, view, and natural light of this master bedroom are gorgeous.
'We selected a tall headboard and large side tables to correspond with the proportions of the space but chose glass table lamps to give the assembly a light and airy spirit. Heavy linen curtains and a wool blanket add texture. The color palette combines tone-on-tone cream with touches of nude and old rose.'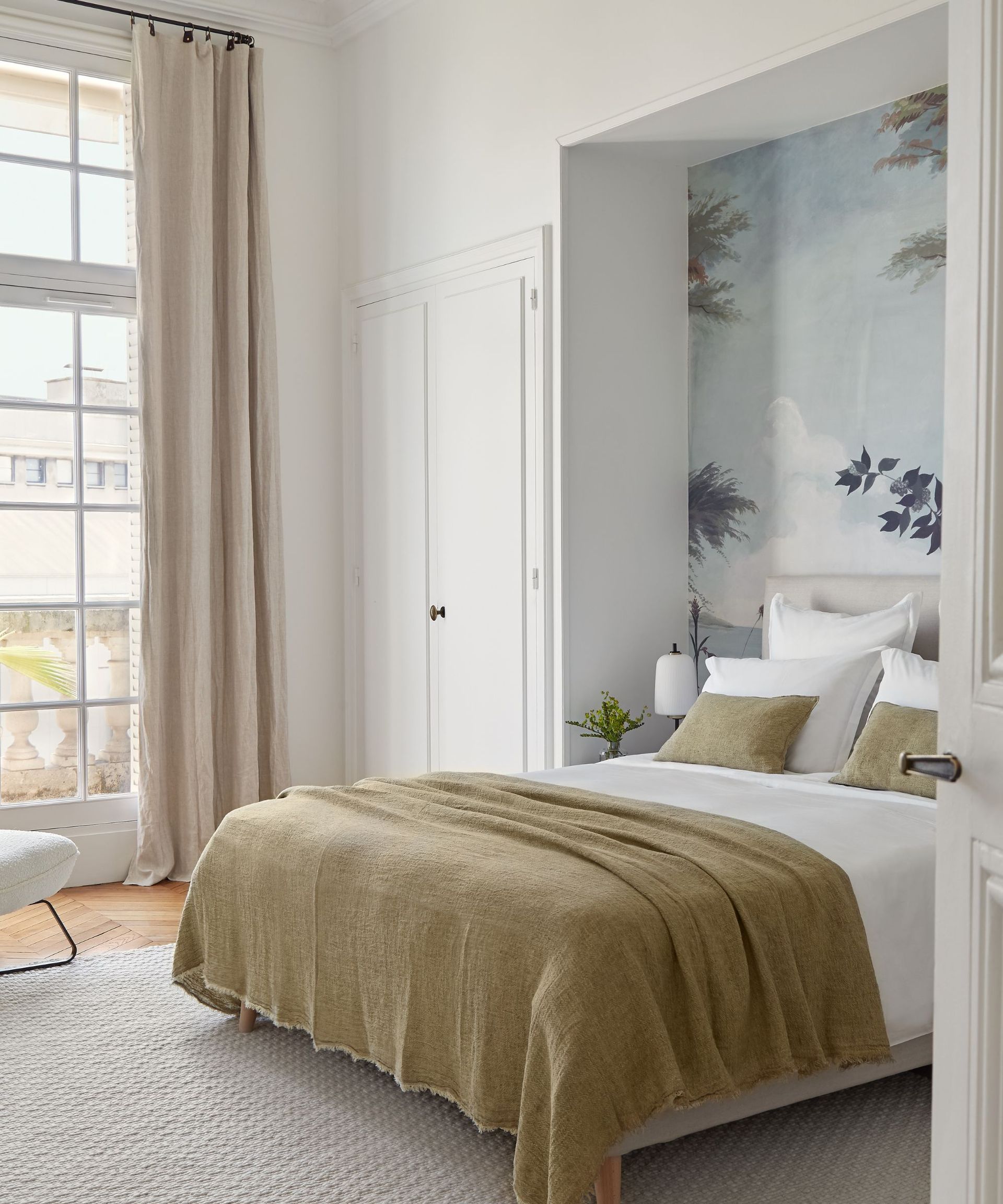 Looking for kids' room ideas? Here's a calm understated option that would work well for young teens. 'In this kid's bedroom, we created a serene, calming room with just a few touches of color to complement the panoramic Ananbo wallcovering,' explains designer Lichelle Silvestry. 'As a result, the space feels fresh and inviting, especially when you discover the Eiffel Tower's beautiful views from those 10-foot windows! 
'To ensure this room's relaxing yet luminous interior, we selected a light color rug with a rich and cozy texture. The room was immediately brightened and visually enlarged. The linen bed throw and decorative pillows add a layer of coziness and just the right splash of color to complement the beautiful panoramic paper from Ananbo. At the same time, the simple and muted heavy linen curtains allow the view to steal the show.'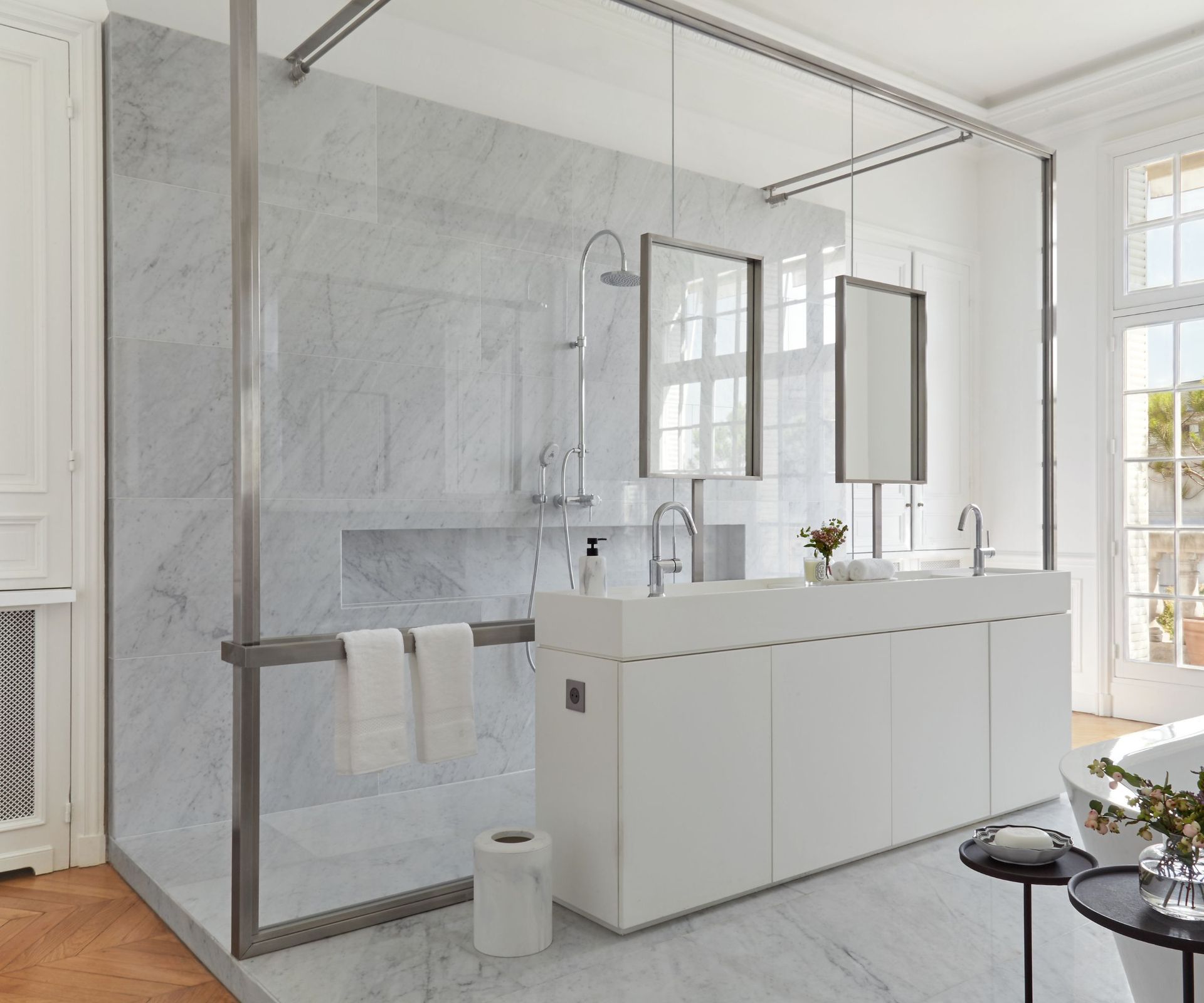 Bathroom ideas in the main bathroom that faces the Eiffel Tower are more about what's outside rather than what's inside the room. 'We kept the decor simple and functional and let the existing space talk,' says designer Lichelle. 'The voluminous space feels even airier with the glass division to the shower area.'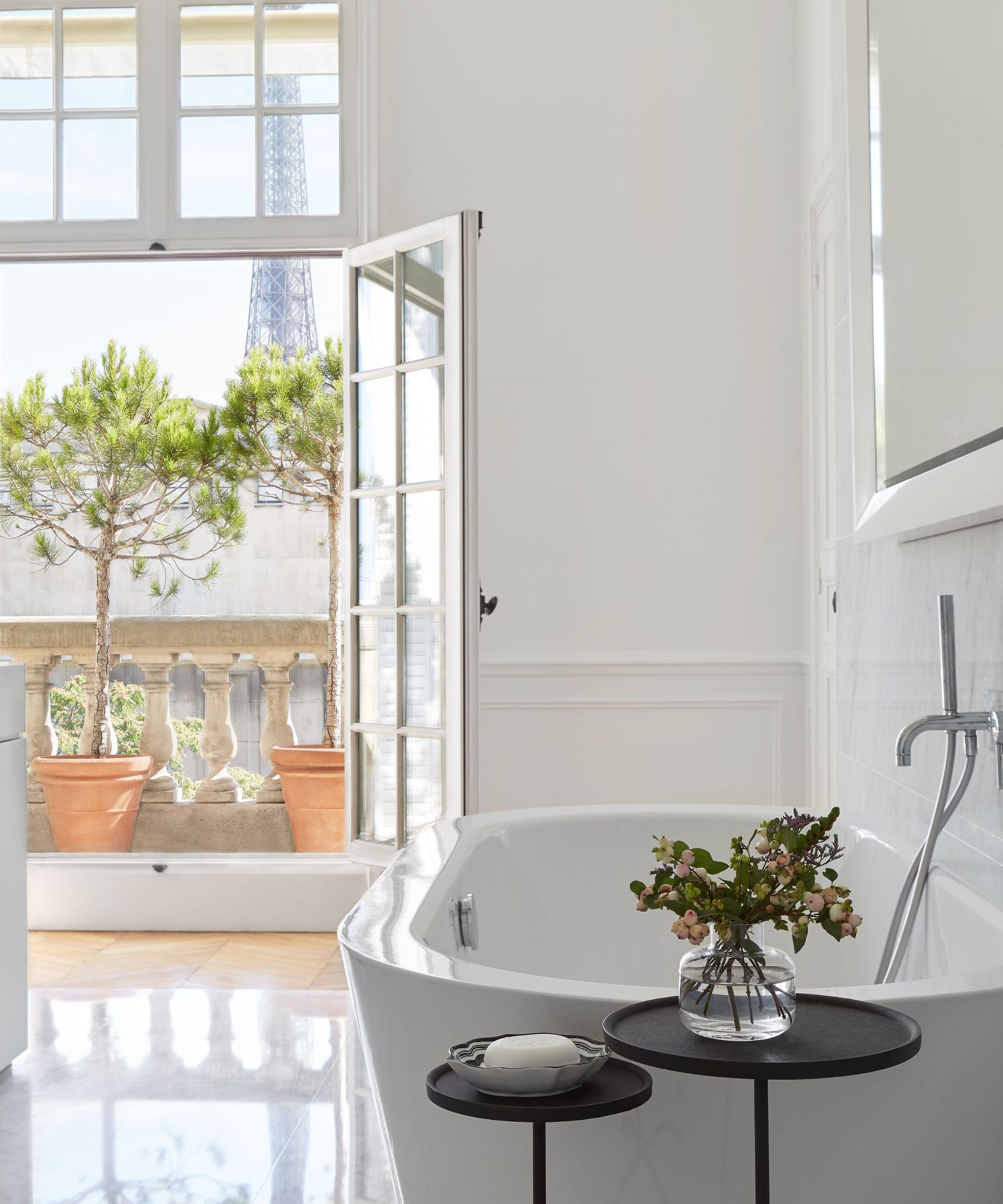 And there you have it: the bathtub with arguably the best view in Paris, or maybe even the world!
Interior Design: Lichelle Silvestry (opens in new tab) (Instagram @lichelle.silvestry.interiors (opens in new tab))
Photography: Heidi Jean Feldman (opens in new tab) (Instagram @heidijeanfeldman (opens in new tab))