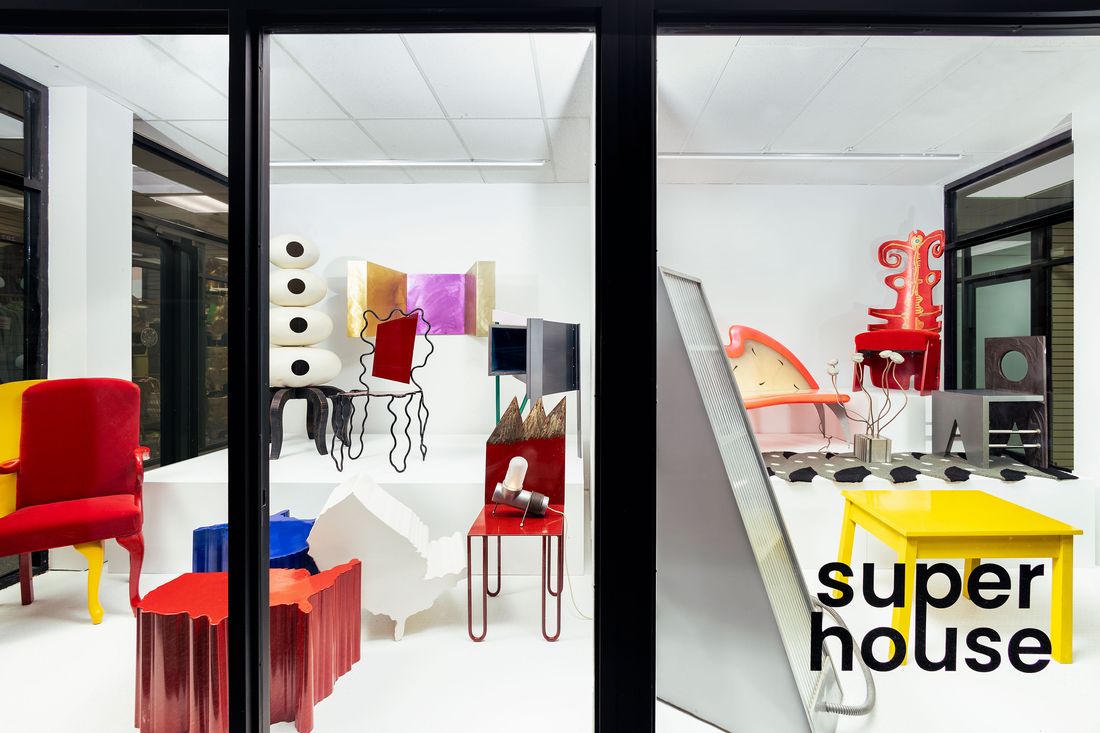 "Looking back, I thought we were in a revolution," says Rick Kaufmann, the co-founder, with Tracy Rust, of Art et Industrie, a Soho gallery that opened in 1977 with the idea of combining art and design — a conceit that was practically blasphemy 45 years ago. "Art had more freedom and design had more discipline," Kaufmann says. "And these two worlds in America were desperately opposed." At Art et Industrie's shows, everything looked different — a cast-concrete table covered in gold leaf, a stool made from tangled aluminum wire, a crimson chair with a tall, sculptural carved-wood back and mohair seat — but the artists who made the pieces were driven by the same thing: the thrill of making utilitarian art like no one had ever seen. Those pieces, and more, are part of "Return to Downtown," a new exhibition at Superhouse, co-organized with Magen H Gallery, that underscores Art et Industrie's singular influence on New York design.
In the 1970s and 1980s, when New York's art scenes began to converge downtown, Art et Industrie (named after a French magazine that Kaufmann loved) was like the Mudd Club for functional art objects — a place where artists from different disciplines would converge. What punk and New Wave did for music, Art et Industrie did for design. Kaufmann, who was then a dealer of Art Deco and Art Nouveau design, wanted to inject more conceptual thinking into design, which was more preoccupied with engineering than ideas. His goal was to change the language of materials, colors, and shapes in American contemporary design — to show work that was minimalist, maximalist, and everywhere between; that designers could mix industrial materials like concrete and steel alongside handmade ceramic and wood pieces. "We weren't afraid to fall on our face, individually or collectively," Kaufmann says. It was a daring sensibility that still sustains the artists Kaufmann helped nurture. "We felt like we were the kings of New York," the artist Carmen Spera reminisced during the opening of the show.
Dan Friedman's molded terra cotta Flowerpot vase (1994) sits on top of Carmen Spera's cast-concrete, wood, and gold leaf Cafe Rapido console (1985).
Photo: Luis Corzo
While Art et Indusrie might not be a household name, its influence is everywhere. The gallery helped launch the careers of Michele Oka Doner and Terence Main, whose Ribbon Chaise and Forth Frond Chair are part of the Met's collection. It was the first to exhibit European designers like Ron Arad, Michele de Lucchi, and Studio Alchimia in the U.S. The design dealer Murray Moss was a client of Art et Industrie before he opened his famed Greene St. shop MOSS in 1994. The fashion label Jacquemus recently borrowed Howard Meister's P. Strut chair — a wiggly wire-framed piece first exhibited at Art et Industrie in 1982 and part of Return to Downtown — for a photo shoot. Those who know, know.
After hosting over 150 exhibitions, Art et Industrie finally closed in 1999. "There was a certain point where I realized that we weren't getting the traction I wanted," Kaufmann says. "Movements have a shelf life. They're not a product; they're a feeling. There was no need to have a locus of energy." The artists he worked with had grown up and their careers had evolved. (Plus, his lease was up and renewing would have "cost a zillion dollars.") The current location of many Art et Industrie pieces is unknown; Kaufmann sold them to clients all across the United States and abroad. Stephen Markos, the director of Superhouse, was able to track down 20 for Return to Downtown, many of which come from Hugues Magen, a curator who has been collecting Art et Industrie work for decades, and from the artists themselves. Elizabeth Browning Jackson stored her archive in a coastal Rhode Island barn and wasn't sure if the airbrushed foam bench and wool rug included in Return to Downtown were in any shape to be exhibited; thankfully, they were. Main took his industrial Moondog lamp out of storage to show it for the first time since 1983. "I've been pinching myself, really," Markos says about being able to show the work of 12 Art et Industrie designers at Superhouse. "These artists broke barriers and challenged perceptions of what art could be." And that vision was ahead of its time. If you had no context for the exhibition, you would think everything was made today.