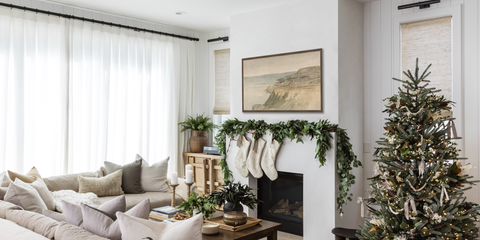 Pure Salt Interiors
Tradition dictates that red, green, and gold are the couleurs de saison. And although tradition is what makes the holiday observance so special, sometimes creating new traditions can be its own kind of special. This year, give your home a contemporary twist with these unpredictable colors, textures, and patterns that our favorite designers are using to create holiday magic. Prepare to deck your halls with these 15 modern Christmas decor ideas.
Advertisement – Continue Reading Below
This living room designed by Mint Room Studios has a fresh take on holiday decoration, with natural tones paired with texture and color. "Light wooden and evergreen pine garlands, as well as touches of twinkle lights create an elegant and inviting picture-perfect holiday corner," says Svetlana Kolotyrkina, cofounder and chief marketing officer of Mint Room Studios and Preto Loft.
This winter wonderland, also designed by Mint Room Studios, is the heavenly living room of our holiday dreams. With a neutral base (and actual cloudlike tree embellishments), this room feels cozy yet elegant. "While being grounded in timeless neutrals, there is something special about the petite elements of both knitted and cotton decor and warm metallics that are ready to take you to a cozy holiday place," says Ashley Gina, the cofounder of LA Building Group.
Inspired by vintage New York City hotel lobbies, this dining table illuminates the room with a chic modernity and an ultraluxe feel. Combine gold details, mixed metallics, and touches of natural elements to create this elevated look.
"The enchantment of this season is often found in the details we embellish our houses with," says Patricia Gibbons, from the Sofa.com design team. This living room sticks to original elements and adds simple pieces that elevate the holiday look. Red candles, a reindeer statement piece on the cocktail table, and, of course, a decorated tree finish the look.
Greenery brings life to Rachel Parcell's double-floor manse located in Salt Lake City (which has been known to have a full-on door switch out for added seasonal flourish. "I like the understated impact of cedar greenery," says Parcell. "It brings life to any room." If your home has height and windows, it's a great opportunity to go ham with garlands, wreaths, bows, and everything cedar.
This dresser top in the home of Rachel Parcell mixes greenery, metallic hues, and silky textures, creating a cozy holiday tableau. "I love decorating my space for the holidays to make it feel festive and welcoming," she says. "Whenever I decorate the space, I experiment with textures and heights."
Hanging a single garland from the ceiling can create drama and give that staple holiday look your home needs. Kelly Wreastler's funky garland installation does just that.
For Karen Bertelsen, a perfect home adds a modern twist to the classic English countryside style. In her living room, lemons decorate the Christmas tree and a garland sits on the all-white counter. "If you can imagine Iris and Amanda's homes in The Holiday holding hands, that's my style," she laughs.
If you're living in a space with dangling ceiling pendants (like the home of professional dancer Whitney Carson), top them off with mistletoe-like bunches à la design firm Gatehouse Style for the ultimate mood lighting.
Have a penchant for the white-on-white look? Do as Josh Yöung did in his Washington, D.C. townhouse. Spice it up over the holidays with a stand-out Christmas tree that features bold red and gold accents that are "merry and bright" at its finest.
Green, gold, and red may be the staple Christmas palette, but where's the harm in spicing things up a bit (or rather, cooling things down)? "Matching your tree decorations to the existing colorway of your home creates an effortlessly cohesive look," says Patricia Gibbons from Sofa.com's design team.
The starry light fixture in Bethany Adams's latest design project is already giving off silent night vibes. Adams created a festive atmosphere with burgundy curtains and illuminated stars on the mantel. "Repeating colors, textures, and motifs keeps the festive decor from feeling too over the top," she says. We wish we may, we wish we might….
A vibrant pop of orange sets the tone for Michelle Robinson's holiday look this year. By filling her home with nontraditional colors, she won't be in any rush to take down the decor come January. "I love to play up colors and incorporate nontraditional elements like pinks and oranges to put my own spin on things," she says.
14
Kitchen Island Centerpiece
Create a statement tabletop in your kitchen by simply adding an evergreen moment to your kitchen island. In Tamara Anka of Citrine Living's white kitchen, the gold-lined tray continues the sheen of the surrounding kitchen fixtures. We call that a win-win.
Subtly changing some elements in your home bar can automatically create a festive look. Emily Henderson added a gilded deer candelabra, smoky glasses, and a red cake stand to incorporate festive but modern colors. It's 5 o'clock somewhere, right?
Advertisement – Continue Reading Below