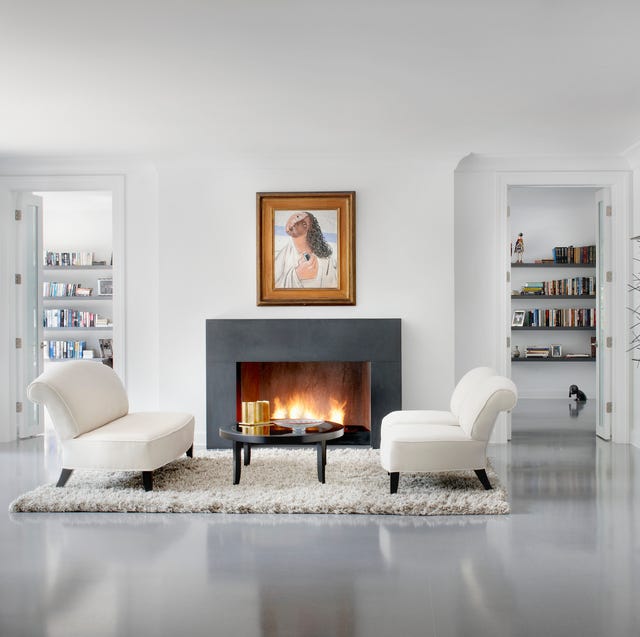 Michael Robinson / Getty Images
Modern home design is often viewed as cold, stark and maybe even a little bit boring. The reality is, it is anything but. There are many design avenues that can be taken to achieve a fresh and elevated space — even if you're working with a family-friendly living room or looking for small living room ideas. A touch of modern design can be incorporated into any living room, no matter what the overall feel of the home is.
Sleek floor-to-ceiling windows, custom built-ins, the right accessories, including stylish rugs, and grand architectural elements can create a modern living environment filled with both visual interest and functionality. Wallpaper, art and pops of colorful fabric can all result in a modern, chic and inviting space. A fresh coat of paint (especially if it's one of our favorite living room paint colors) can revamp your space in an instant, even if it's only an accent wall.
To help you get inspired, check out these dreamy modern living room ideas, which are full of 2022 design trends. There's something for everyone, whether you want to make a large living room feel cozy, design the perfect modern living room for your apartment or need creative solutions to distract from the TV. You'll even find a few DIY home decor ideas (like layering in glam touches or hanging an oversized mirror) that work well if you're on a budget.
Advertisement – Continue Reading Below
Despite what you might think, modern and cozy can exist simultaneously. Adding in warmer tones and natural materials like stone help strike a balance in a living space.
Black and white is as classic as it gets. When those two colors are incorporated into a space with clean lines and natural light, it really elevates a room.
The sleek, sharp lines in this space make for a modern and streamlined living area. Styled in a minimalist approach, the space is orderly and inviting, yet ready to be lived in.
Less is more in the world of modern interiors. Minimalist design doesn't have to be boring however. Grand focal points, clean lines and big windows keep things interesting.
Mount your television for a more modern look and draw the eye elsewhere, like to a statement fireplace mantel. Add open shelving and eye-catching decor, and a TV will quickly fade into the background.
Get creative by playing with bright colors. Art, throw pillows and paint choices are all a good place to start.
Painting the walls a dark color is an easy way to make a statement. Keep the rest of the design clean and simple to prevent the space from feeling overwhelming.
A gallery wall is a fun and easy way to showcase art and photos that are meaningful to you. It adds a personal touch to a room and can help extend the modern feel depending on what you chose to display.
Mirrors serve more than just functionality. Add a grand mirror over a fireplace to make not only a design statement, but also create the illusion of a larger space.
Intricate touches like a marble fireplace, brass sconces and custom built-ins create the perfect combo of modern and glam.
Chic and of-the-moment, an all white couch is a statement that will bring modern flair to any living room. Performance fabric is key and will ensure the longevity of your sofa.
RELATED: Best Sofas of 2022 at Any Price
Lighting is one of the most important design elements in a space. If you're striving for a modern look, pick light fixtures that feel contemporary and chic.
Feeling bold? A statement wall can add a modern design element to a living room. Pick a primary wall and add a daring paint color or eye-catching wallpaper to create a focal point behind the TV.
RELATED: Top Paint Color Trends to Keep on Your Radar
You can still stick to a neutral color palette when aiming to design a modern living room. Adding in different textures and materials will keep the space lived-in and inviting.
17
Incorporate Statement Fabrics
Statement fabrics add a fresh, warm take to a space. Window treatments and throw pillows are a great place to start.
19
Add Some Built-In Shelving
Custom built-ins are the key to elevating any space. They provide both storage and serve as a beautiful display case — what more could you want?
20
Floor-to-Ceiling Windows
Nothing is more breathtaking than a good view through floor-to-ceiling windows. They provide the illusion of being outdoors, while still maintaining the comforts of home.
21
Pick a Statement Color
Adding a statement color to a room keeps things playful. Consider using a piece of art or furniture to incorporate a pop of color, like this purple arm chair.
22
Make the Fireplace the Focal Point
A grand fireplace makes for a great focal point in a modern living room. Not only is it beautiful, but it draws the eye up, making any space feel loftier and grander.
A living space surrounded by windows invites the outdoor landscape in and blissfully merges both indoor and outdoor living. Complete the look by bringing natural woods and textures inside, like a raw wood coffee table.
Clean lines are a key modern design element. Straight and sleek lines of furniture, architectural elements and lighting add to the contemporary feel of this living room.
25
Merge Architecture and Art
A striking architectural element can be both beautiful and functional. This grand staircase looks as though it's a piece of art on display, while also serving a specific purpose.
A design detail as small as wall panels can completely transform and update a space. Add a fresh coat of paint on top to make it even more chic.
Advertisement – Continue Reading Below