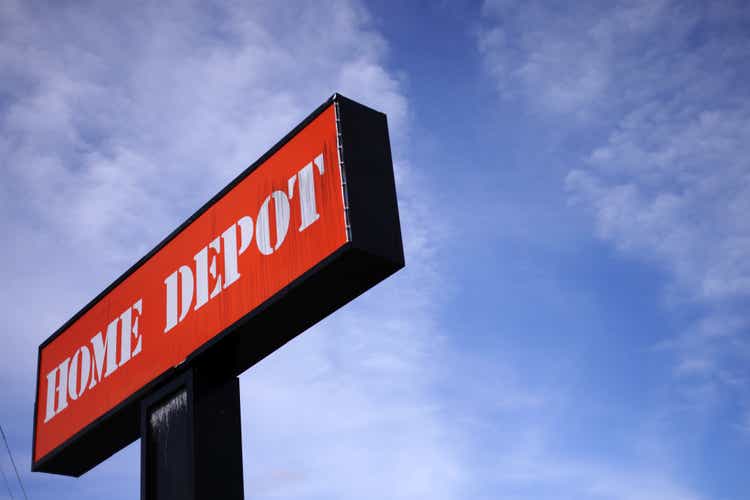 Home Depot (NYSE:HD) is set to post its earnings results prior to the market open on Tuesday, with macro factors in focus as the retailer attempts to maintain sales momentum after a pandemic-driven boom.
Analysts expect the company to report $3.29 in earnings per share for the fourth quarter $36B in revenue. The Atlanta-based retailer has beaten both revenue and EPS estimates in every report since May 2020 in the depths of the early pandemic. While shares have risen sharply from that point amid strong pandemic remodeling demand, shares have trended flat over the past year and remain notably below their late-2021 peak.
In 2023, the key concerns regarding the stock's trajectory include the potential for rising interest rates to hurt housing demand, lingering supply chain risks, still-elevated labor costs, a general slowdown in home remodeling post-pandemic, and increased competition from Lowe's (LOW), particularly in the key Pro segment. By contrast, upside drivers include rebounding homebuilder sentiment and potential for the housing market to remain resilient, continued dominance in the Pro segment, and the potential for better than expected remodeling spend among consumers.
"We recognize lapping the pandemic strength represents risks, but we still view HD as a large-cap, retail market share leader to own," Citi analyst Steven Zaccone said. "Housing market indicators are strong and point to ongoing strength in home improvement, HD's larger positioning with pros (45% of business), and recent acquisition of HD Supply should insulate the retailer from significant declines on tougher comparisons, and management's commitment to steady opex leverage provides clarity on returning to leverage post a multi-year investment cycle."
He currently holds a Buy-equivalent rating on the stock, in-line with the analyst consensus.
Analysts also broadly see upside for Home Depot (HD) via its cost-cutting efforts and channel checks that suggest strong same-store sales. According to Placer.ai, a data analytics firm tracking foot traffic to major retailers, visits to Home Depot and Lowe's have fallen double-digits from the pandemic boom, but have stabilized near 2019 levels.
Per the data, foot traffic into Home Depot locations slumped by an average of 11.6% year over year for the months of October 2022 through January 2023. However, visits trended only 2.5% below 2019 levels over the same span.
"Although the hot home-buying market is cooling off, year-over-three-year foot traffic remains close to pre-pandemic levels due to a shift towards projects aimed at sprucing up a current living space," the analysis explained. "Demand for projects associated with moving drove home improvement foot traffic when home sales were surging, but it appears that projects that enhance the prospect of staying in place also have the ability to drive visits."
That said, guidance into 2023 is likely to prove pivotal for the stock reaction on Tuesday, more so than sales trends into the close of the fiscal year. Analysts are not hopeful for the retailer to provide a detailed forecast. Bank of America analyst Eliazbeth Suzuki noted that 2022 guidance included a projection of "slightly positive" comps, "flattish" EBIT margin, and "low-single digit growth" in EPS rather than specific figures. She does not anticipate more granular detail in the upcoming report.
In terms of forward-looking surveys, Keybanc analyst Bradley Thomas told clients that "a continued slowdown in near-term growth for home improvement professionals" is likely. While Home Depot (HD) is likely to retain a dominant position in the Pro segment, the business could be choppy into 2023.
"As we have written in the past, the current pipeline of work should keep remodeling trends positive for the next one to two quarters, which is encouraging, albeit at growth rates that are likely to decelerate," Thomas wrote ahead of the results.
Read more on the week's slate of earnings.