A new Remembrance and Reflection Garden has been established on the SUNY Fredonia campus, the Eagle Scout project of Life Scout Cooper Stenger, a member of Boy Scout Troop 267 in Fredonia, and a freshman at Fredonia High School.
The project has been conducted in collaboration with Director of Facilities Kevin Cloos, Director of Facilities Planning Markus Kessler, Assistant Director of Facilities/Custodial Services Mark Delcamp, Vice President for Finance and Administration Michael Metzger and Head Grounds Supervisor Richard Newton, who provided design expertise as well as guidance on appropriate flowers and trees for planting.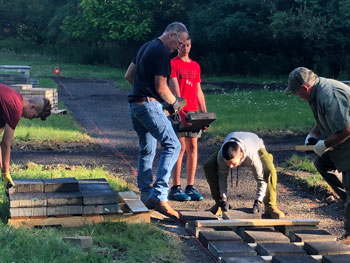 Workers included scouts from Troops 267 and adult leaders and parent helpers, siblings of scouts, and university staff.
Mr. Stenger noted, "While brainstorming ideas for my Eagle Scout project with my mom [Interim Vice President for Student Affairs Tracy Stenger], she mentioned that there had been talk of some type of Remembrance garden at the college but it never went through. I really liked the idea of the garden, so I reached out to a team of Directors and Administrators at the college who would be the prominent people I would be working with to get the project done."
"This was a great partnership between the local Boy Scout troop and SUNY Fredonia. The garden had been an idea proposed by Facilities Services years ago. Thanks to Cooper's leadership and Rich Newton's design, the project became a reality," noted Vice President Metzger.
The garden was designed as a place for families and friends to come and quietly remember students who have passed away while attending SUNY Fredonia. It is at an easily accessible location off Ring Road, just past the double tier parking lot on the right across from the entrance to the Phillips Ulrich Community Trail.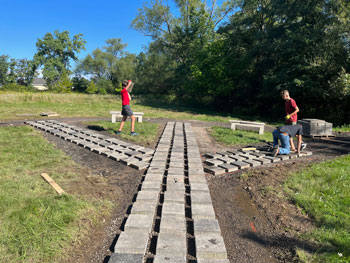 From the front entrance to the garden, the layout is similar to a tree, with a strong trunk and branches, and a backdrop of memorial trees. Viewed from the top looking toward the entrance, the design is of a peace symbol. The main paths were laid out with square pavers set in the grass for easy maintenance, and smaller paths cut with flagstones to walk on.
Open areas between the paths were filled with ornamental shrubs and perennials, with a focus on pollinators and deer resistant plants. There are also benches for quiet contemplation.
Stenger raised funds for out-of-pocket costs for the project, and pavers used were repurposed from elsewhere on campus.