Love RH living room ideas but not sure how to get there? Too often living rooms become one of two things – either a dumping ground for misfit furnishings or half-baked design ideas that never quite hit the form and function mark. But these central gathering places are vital to family life and need to be as versatile as they are aesthetically pleasing. Sounds like a job for the pros. 
Through the discerning design lens of RH – a brand well known for its one-stop-shop approach to a beautiful, well-designed living room ideas – we asked top designers to dish their dos for a successful living room space. Let the gathering begin!
RH living room ideas
RH living rooms have a distinct look but above all they are designed to suit smart and elegant but relaxed spaces. They suit every purpose, from formal living rooms to family rooms, and can be adapted to suit your home's style. Here, we speak to designers who love to use RH for their living room styling. 
1. Invest in comfort and quality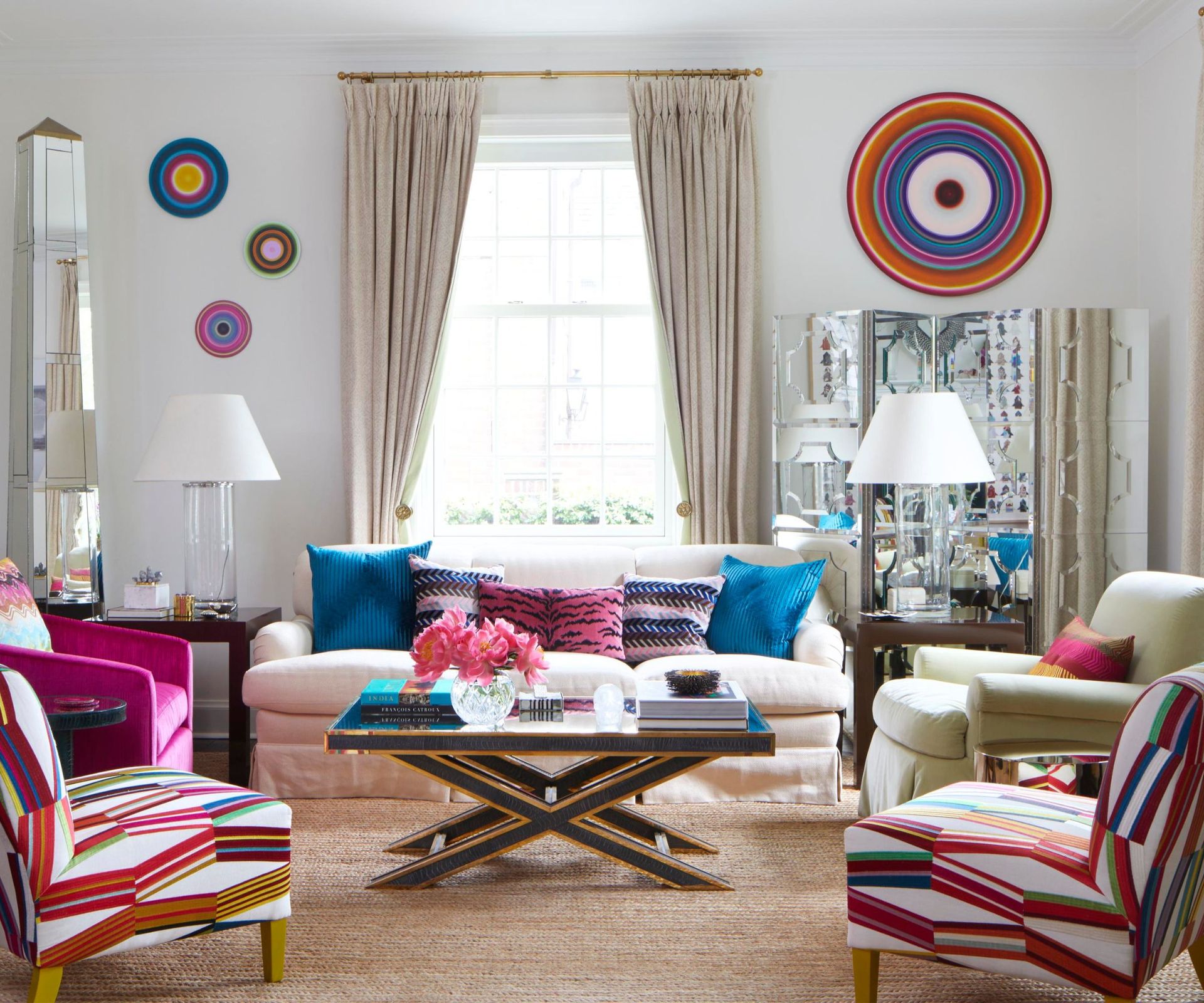 'To me, Restoration Hardware living room pieces instantly communicate comfort and quality,' shares Toronto-based interior designer Anne Hepfer (opens in new tab). 'I love their Belgian linens and general rustic-modern feel, especially for houses set in nature.' 
Citing the brand's quality and convenience, Hepfer confirms that 'RH has it all – we source lighting, hardware, furnishings and accessories at one location and know that we're delivering timeless, well-made pieces.' 
Setting a tone of togetherness, RH makes the goal of cohesion easy to corral. Hepfer adds, 'I love designing living rooms because they're one of the most used spaces in a home, not to mention where the family congregates and makes memories.'
2. Create an experiential space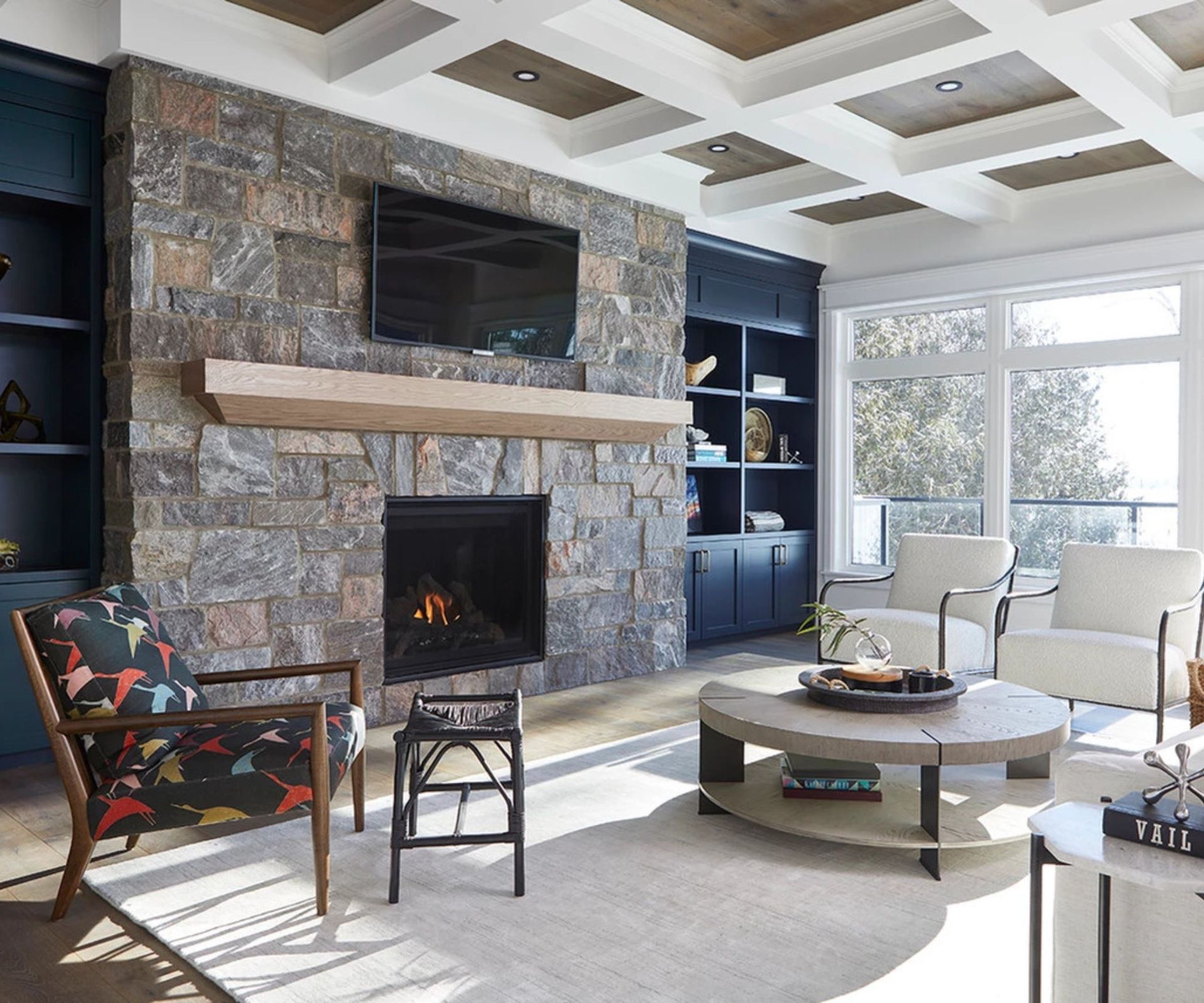 Senior designer of Ontario-based design firm Aspen & Ivy (opens in new tab), Ria DaCosta explains that she loves the inherent creative freedom that follows designing a living room.
'Unlike dining rooms or bedrooms which both require specific types of furnishings like tables and beds,' she says, 'living rooms, on the other hand, can look vastly different from one project to the next – from furniture styles to layout configuration and everything in between.' 
Echoing those bold sentiments, Hepfer weighs in, explaining, 'My goal is to make a space experiential through a concept and feeling.' Who doesn't love an experiential space that the whole family can enjoy? 
3. Follow the floorplan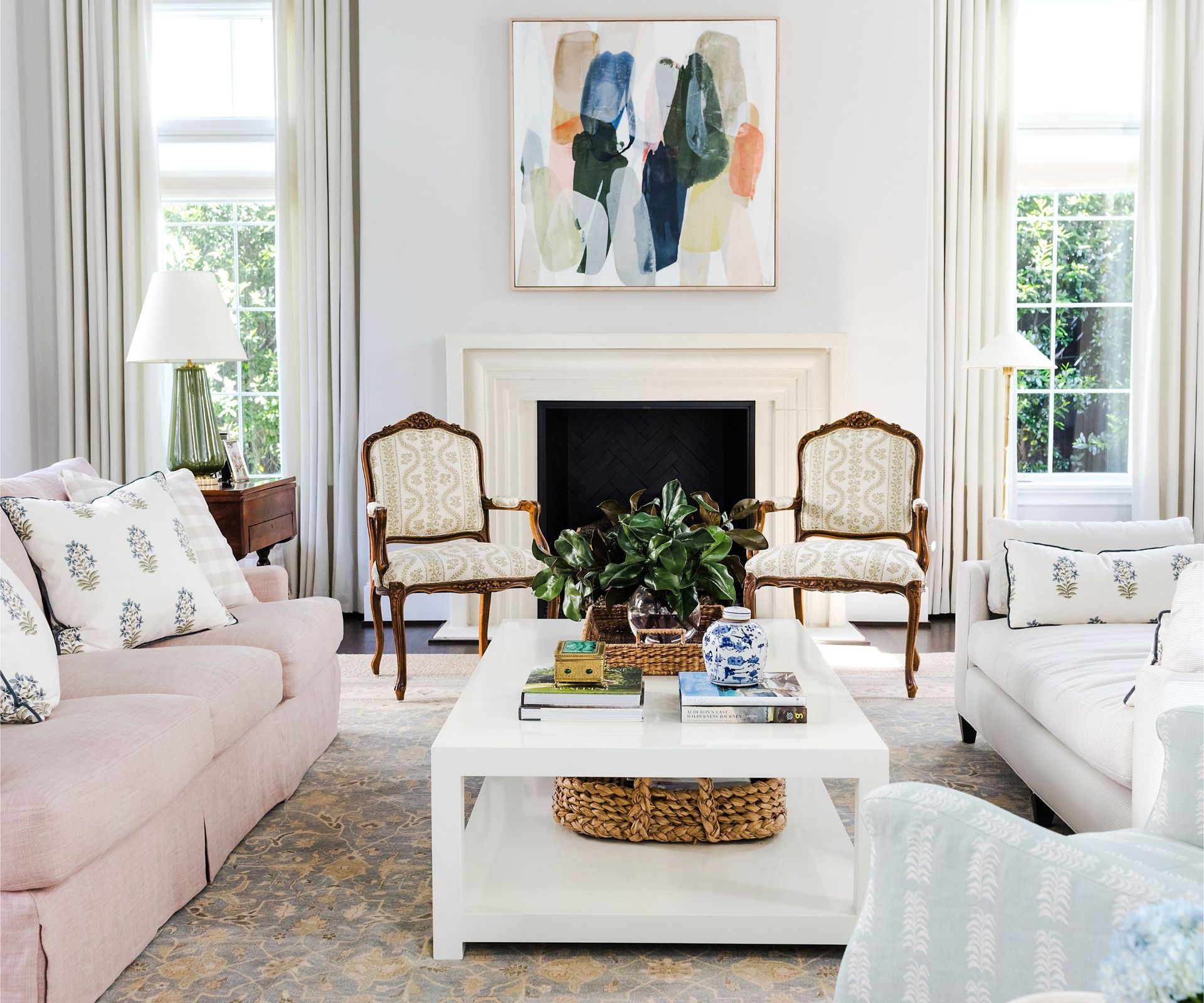 When it comes to devising a thoughtful living room layout, allow function to lead the way and form will follow suit. 
'A living room is a space in the house that requires equal parts comfort and beauty,' explains Houston-based designer Katie Davis (opens in new tab). 'I like being able to play with upholstery and patterns and create unique pieces that are comfortable first, but also pretty.' 
New York-based interior designer Cara Woodhouse (opens in new tab) calls for spatial considerations when she's plotting out a space. 'Make sure you have several areas to move around even if it's just one room,' she states. 'Your guests and family need multiple paths to flow comfortably in and out of the space.'
4. Sofa or sectional?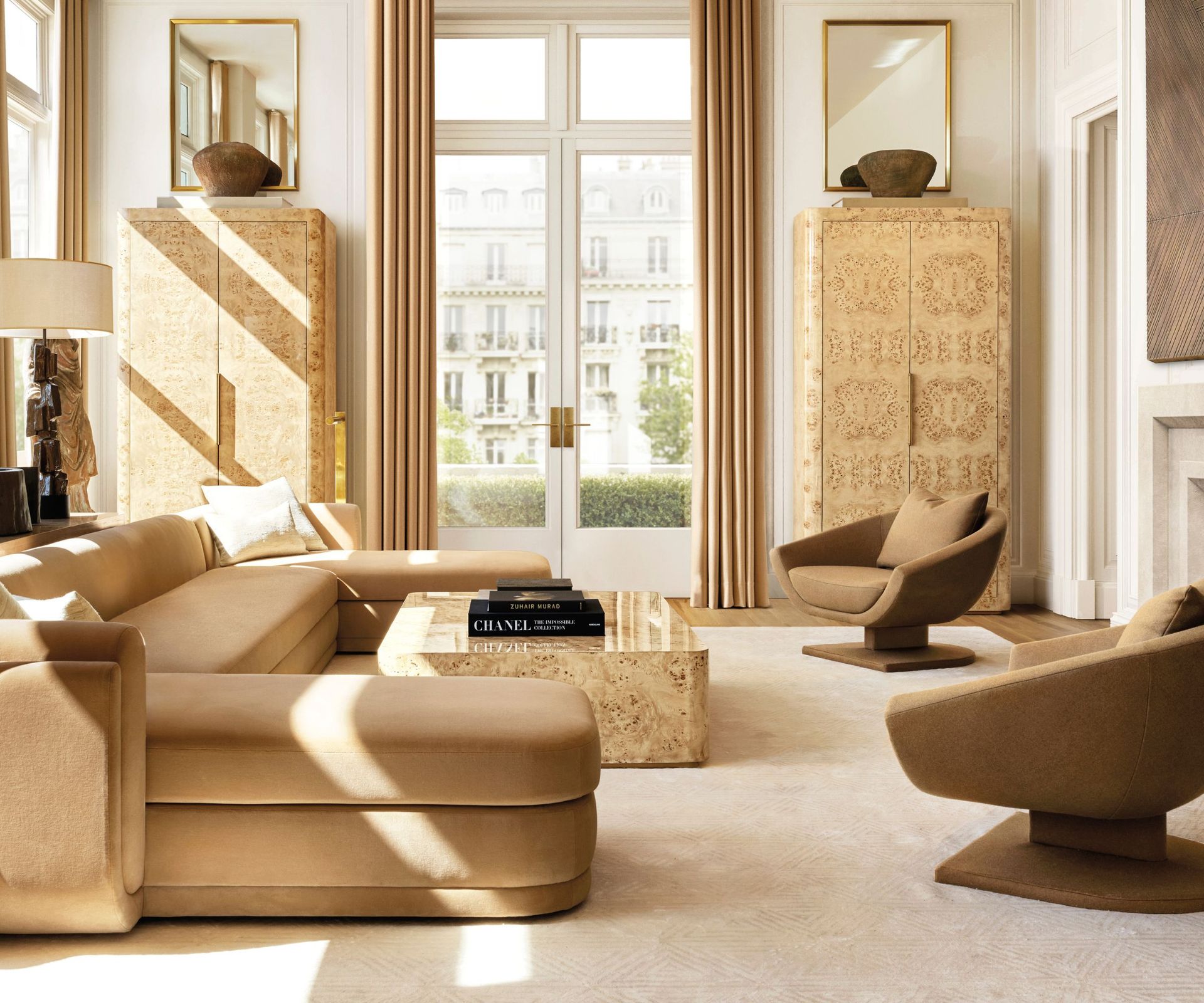 When it comes to living room sofa ideas, what do you choose? 'For me this decision comes down to two factors: What are the functional requirements of the space, and what is the client's preference?' questions DaCosta, answering that 'sofas tend to lend themselves toward being more conversational and often more formal versus sectionals which, while they also invite conversation, tend to lend more to lounging and relaxing and thus can be used as more informal pieces.' 
Hepfer firmly states, 'For a comfortable, casual room, sectional living room ideas are the answer – think movie nights with the kids and pets, or morning coffee with a crossword. And, for a more polished and elegant vibe, sofas are the solution.' 
Davis adds, 'I prefer the living room to have a mix of sofas and chairs to help spur conversation.'
5. Design with wellness in mind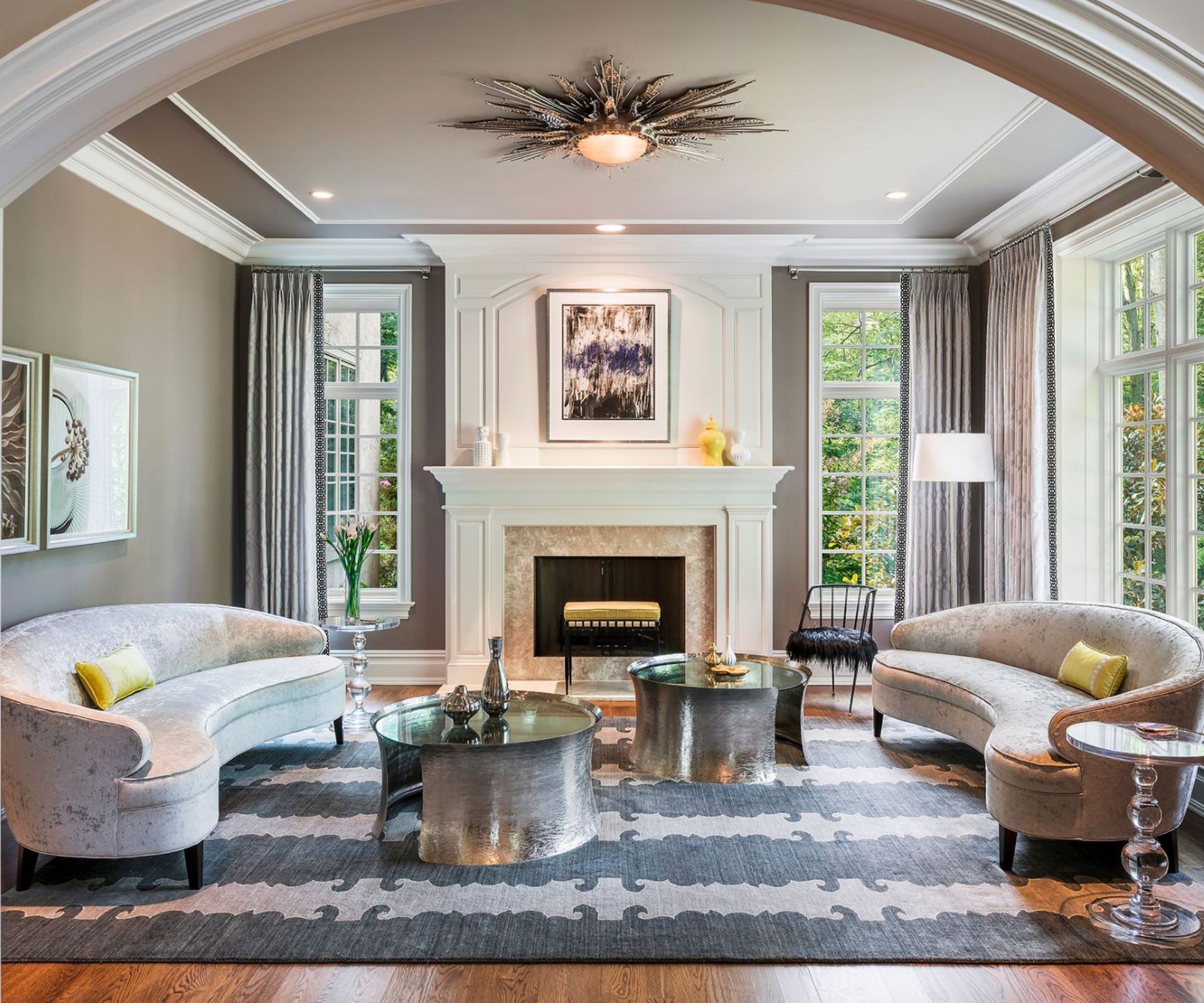 Going beyond aesthetics, New York-based designer Laurence Carr (opens in new tab) takes a holistic approach to the living room, especially when considering living room curtain ideas.
'Designing with wellness top of mind helps inform every choice I make,' she shares. 'Whenever possible, I include plenty of natural light, and draw attention to the windows, which not only let sunlight in, but give a biophilic quality to a living space by blurring the lines between the indoors and out.'
6. Ensure your living room is versatile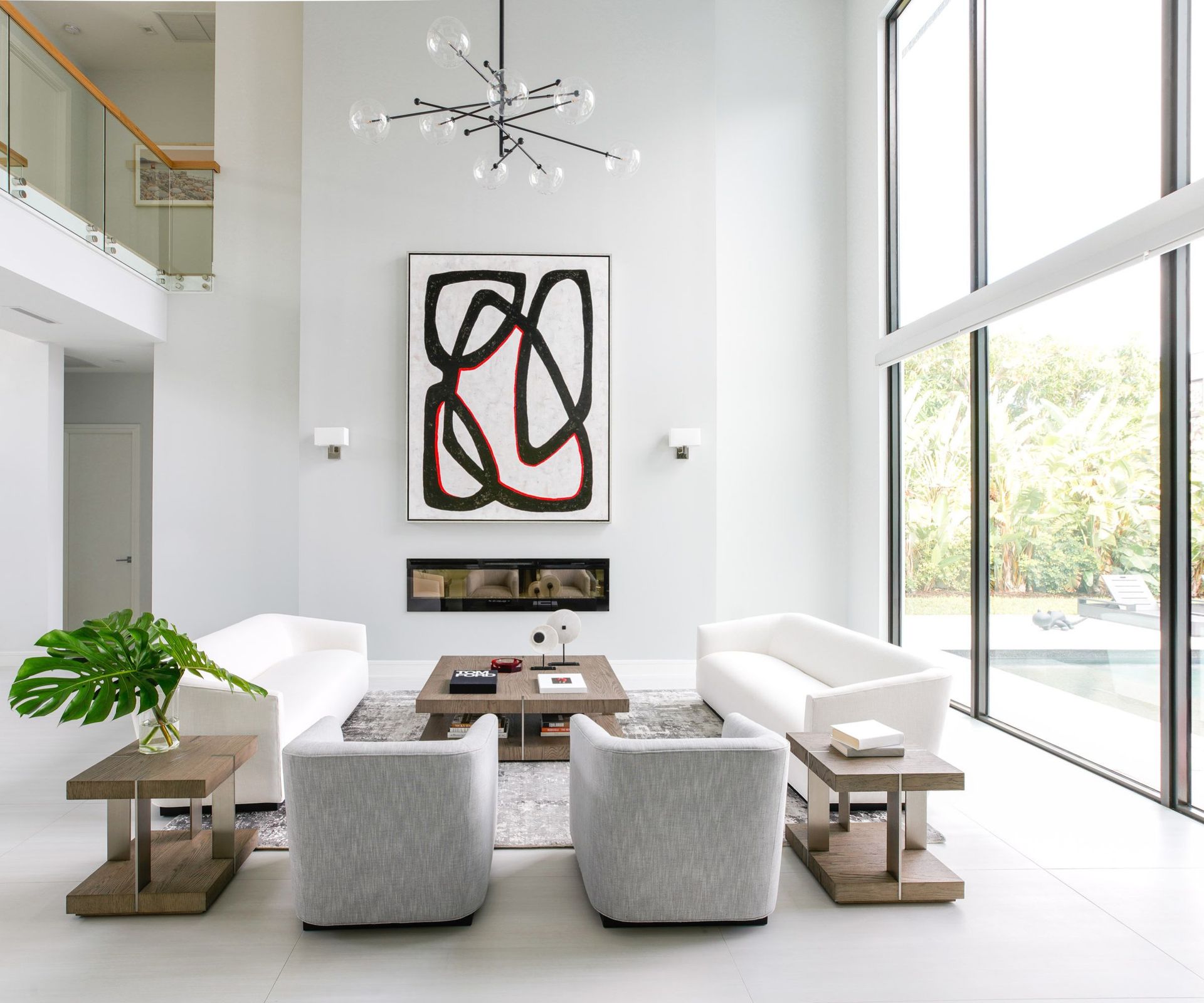 Laetitia Laurent, principal designer of South Florida-based firm Laure Nell Interiors (opens in new tab), breaks down the importance of versatility that neutral living room ideas can provide.
'A living room needs to be versatile and engaging – always leading its guests on a beautiful design journey,' she muses. 
Laurent often turns to RH living room ideas for inspiration, stating, 'I love how grounded the pieces feel. They are neutral without feeling boring, so they provide the perfect base palette to so many design styles.' 
An aesthetic that's particularly appealing to this Parisian native, 'depending on what other elements you pair the room with, you can take it from a modern Californian relaxed vibe all the way to a Parisian gilded glam vibe.'
The key is to leave a space open for growth and reinvention.  
7. Create a focal point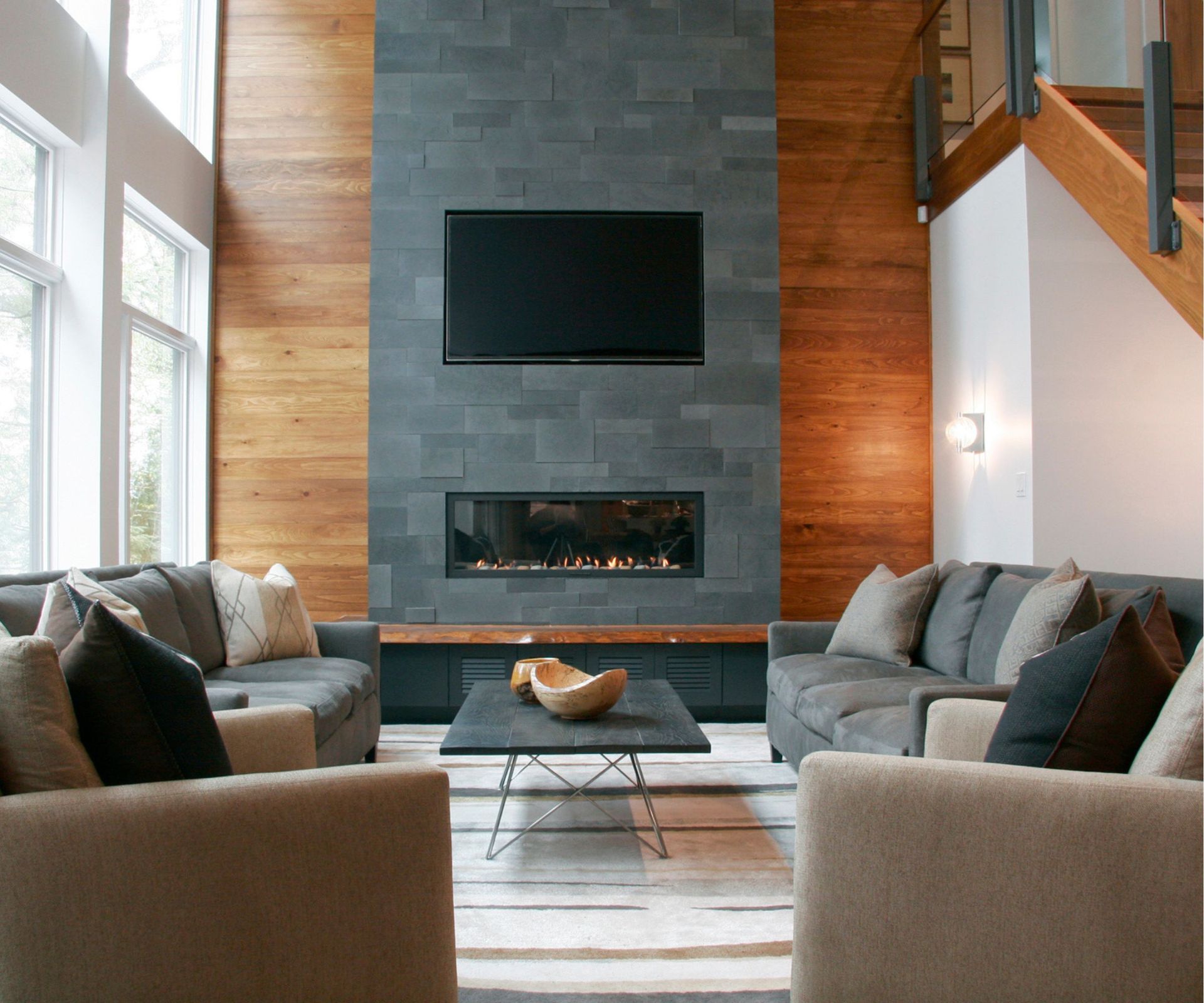 'I would say the main consideration when selecting the right rug is the size,' states DaCosta. 'People often select rugs that are too small, so the trick is to ensure that all of the furniture pieces in the space are entirely or at least halfway on the rug – this helps to ground the room and keeps everything well proportioned.' 
But when it comes to layering living room rug ideas she's not a proponent, 'I rarely layer rugs and prefer to keep it simple with just one, but do make sure however that you have a good thick rug pad both for comfort and to preserve the longevity of your rug.' 
Davis shares DaCosta's keep-it-simple mantra, but adds, 'Layering in interior design is nice if you have a large space that needs a base, or if you've sourced an antique rug that's on the smaller side. 
Hepfer continues, 'Using a variety of different rug materials and sizes will help the room feel blended and warm.'
8. Make a feature of the coffee table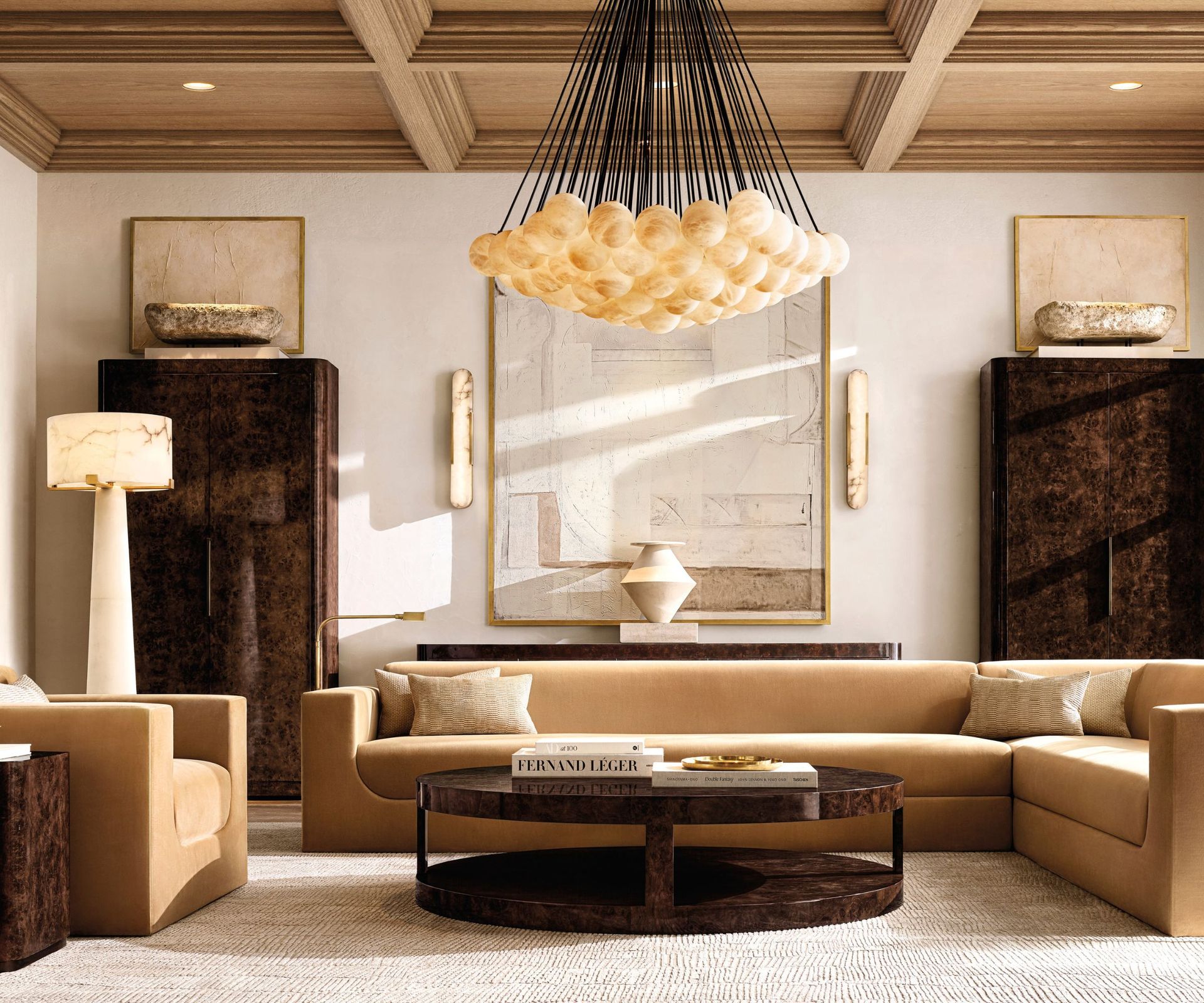 Coffee table decor ideas will boost your Restoration Hardware living room styling. 
'Good coffee table books are a must,' states Laurent. 'They give the space personality and you learn a lot about who lives there – I love coordinating them with the color palette of the room, blending content and form.' 
Houston-based designer Nina Magon (opens in new tab) seconds this coffee table styling notion, expounding upon their wide range of options and versatility make them a prime decor element for any space. 'They can be simple yet inherently stylish,' she explains, 'and great conversation starters to showcase the homeowner's personal interests.' 
9. Ensure your living room is fit for purpose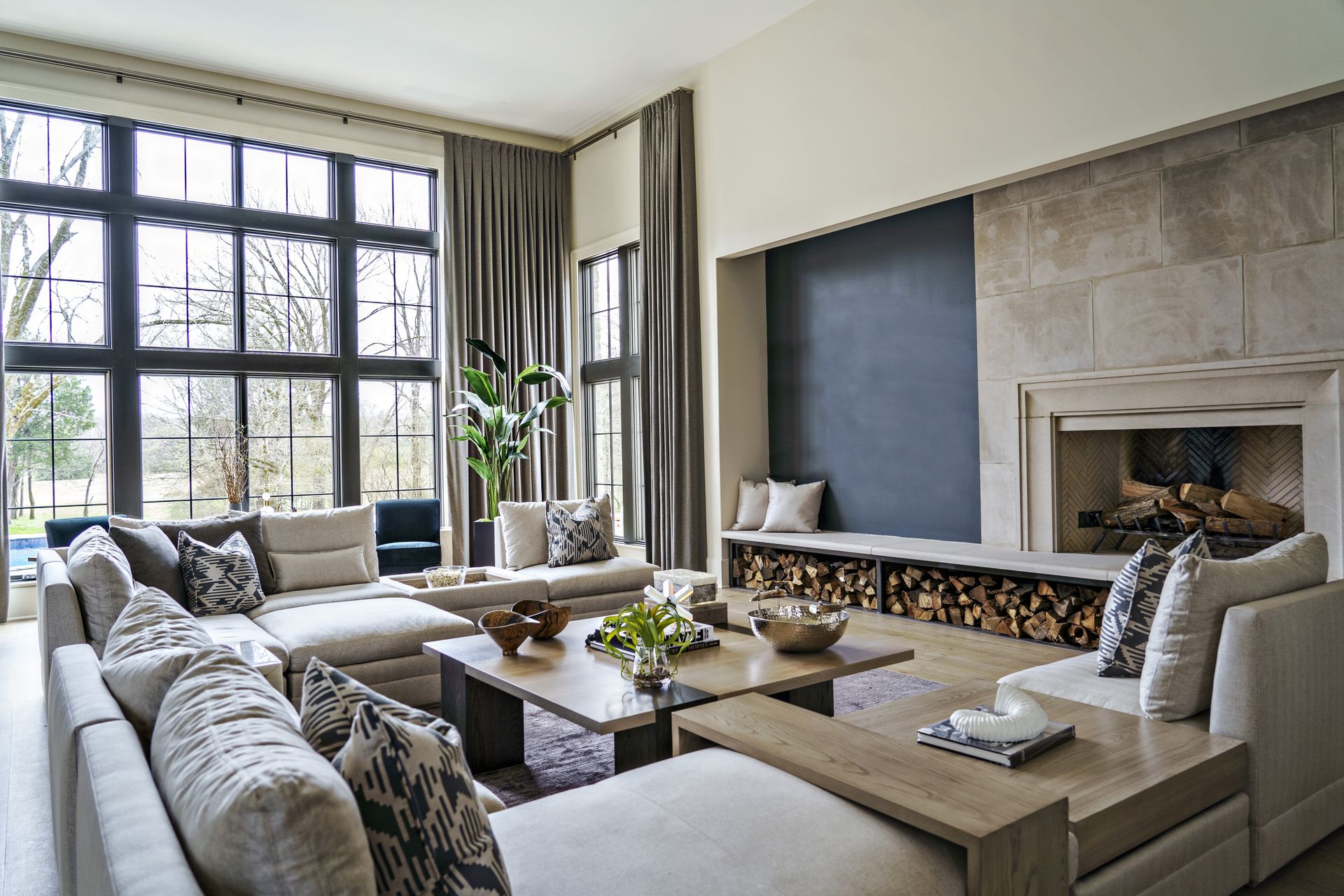 When it comes to the durability of a living room, Laurent gets into character. 'I imagine hosting a party which informs performance fabrics to withstand spills and a beautiful side table to sit your drink down,' she says. 'Following that idea of a motion picture, I'll imagine the homeowners' lounging as a family so the fabric needs to feel soft and inviting.'
10. Mix materials for interest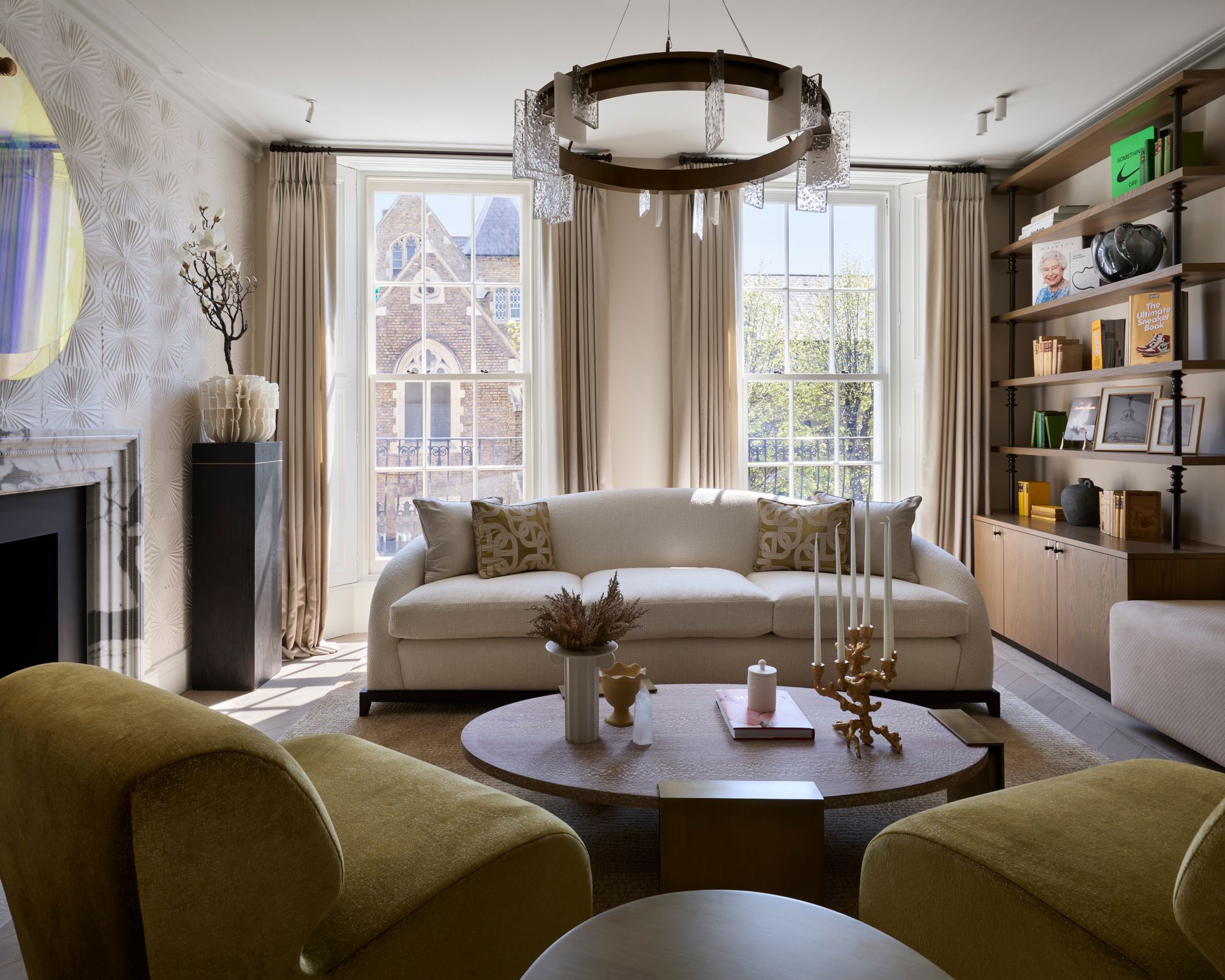 'Material mixing is so important,' states Woodhouse. 'It's all about layering and one way to do that is by mixing different materials and textures in a space – for example, you can do a cotton twill sofa with velvet pillows and it creates a mix of contrasting textures that I love.' 
Davis notes, 'We like integrating upholstered items with woven pieces, with antiques – mixing textures and materials adds soul to a space.'
What kind of style is a RH living room?
A RH living room, just like an RH bedroom is usually comfortable and lived-in looking, while retaining an elegant air. Laetitia Laurent, principal designer of South Florida-based firm Laure Nell Interiors explains that 'the pandemic and the need to rest has brought a desire for a variety of tactile experiences. In your living room, you're going to crave a crisp linen for its clean effect but it's also nice to pair it with a nubby boucle or a soft chenille for that loungy, cozy vibe.' 
What is the best RH living room furniture?
Senior designer of Ontario-based design firm Aspen & Ivy, Ria DaCosta shares her love of a RH living room classic: the French Contemporary Coffee Table (opens in new tab). 'Its simple design lends itself well to many different design styles, and I love the range of finishes it comes in giving it a unique look every time. I'm also a sucker for a functional coffee table so the fact that it has a bottom shelf is a huge win!'