Even the simplest kitchen design mistakes can hugely affect the layout and use-ability of a cooking space and it's often these errors, such as the quantity and placement of plug sockets or how accessible the fridge is while cooking, that are also the most common.
While it's easy to get carried away with the latest kitchen trends or picking out kitchen splashback ideas, there are more important considerations when investing in a kitchen that shouldn't be overlooked during the early design stages. 
"Designing a kitchen is the fusion of mathematics and creativity," notes Tom Howley, Design Director at Tom Howley Kitchens (opens in new tab). "It's all about scale, color and balance. Put in what works, rather than putting in what's on your bucket list." 
With this in mind, our experts share the 12 most common kitchens design mistakes to avoid when planning your dream space…
The most common kitchen design mistakes and how to avoid them
1. Choosing aesthetics over functionality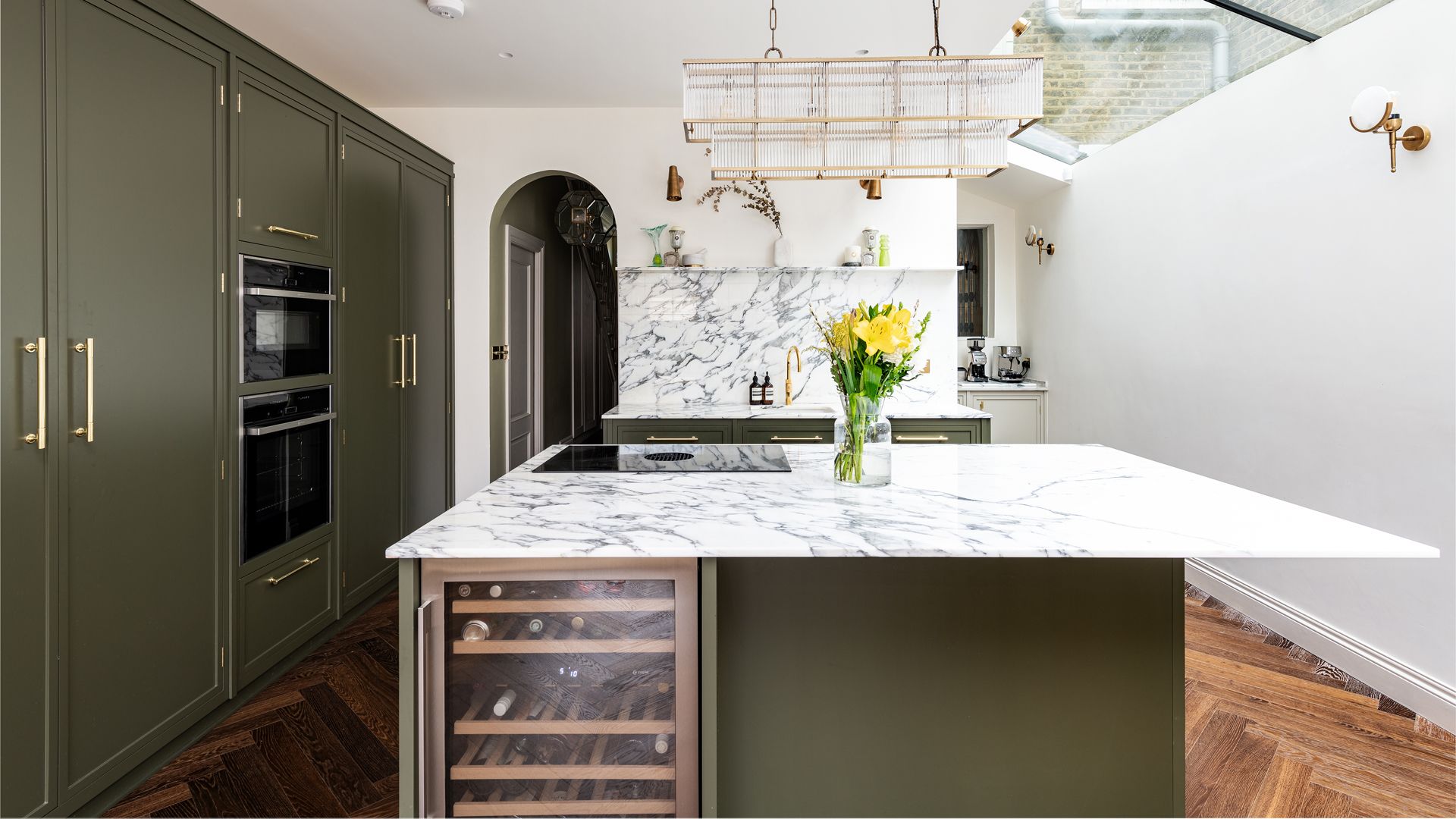 As tempting as it is to think first and foremost about a pleasing aesthetic, it's important not to choose style over substance. "One of the worst things you can do when designing your new kitchen is focusing solely on what it will look like rather than taking into consideration your lifestyle and functionality of the space," says William Durrant, owner of Herringbone Kitchens (opens in new tab). 
"Of course, you want your kitchen to be as beautiful as you've always dreamt but you will come to resent it once you start to find problems in how you work in it. Is there enough counter space and storage? Have I chosen a material that will stain easily and does this suit my lifestyle? These may seem more boring compared to choosing colors and handles but they are very important in the design process." 
2. Neglecting the workflow triangle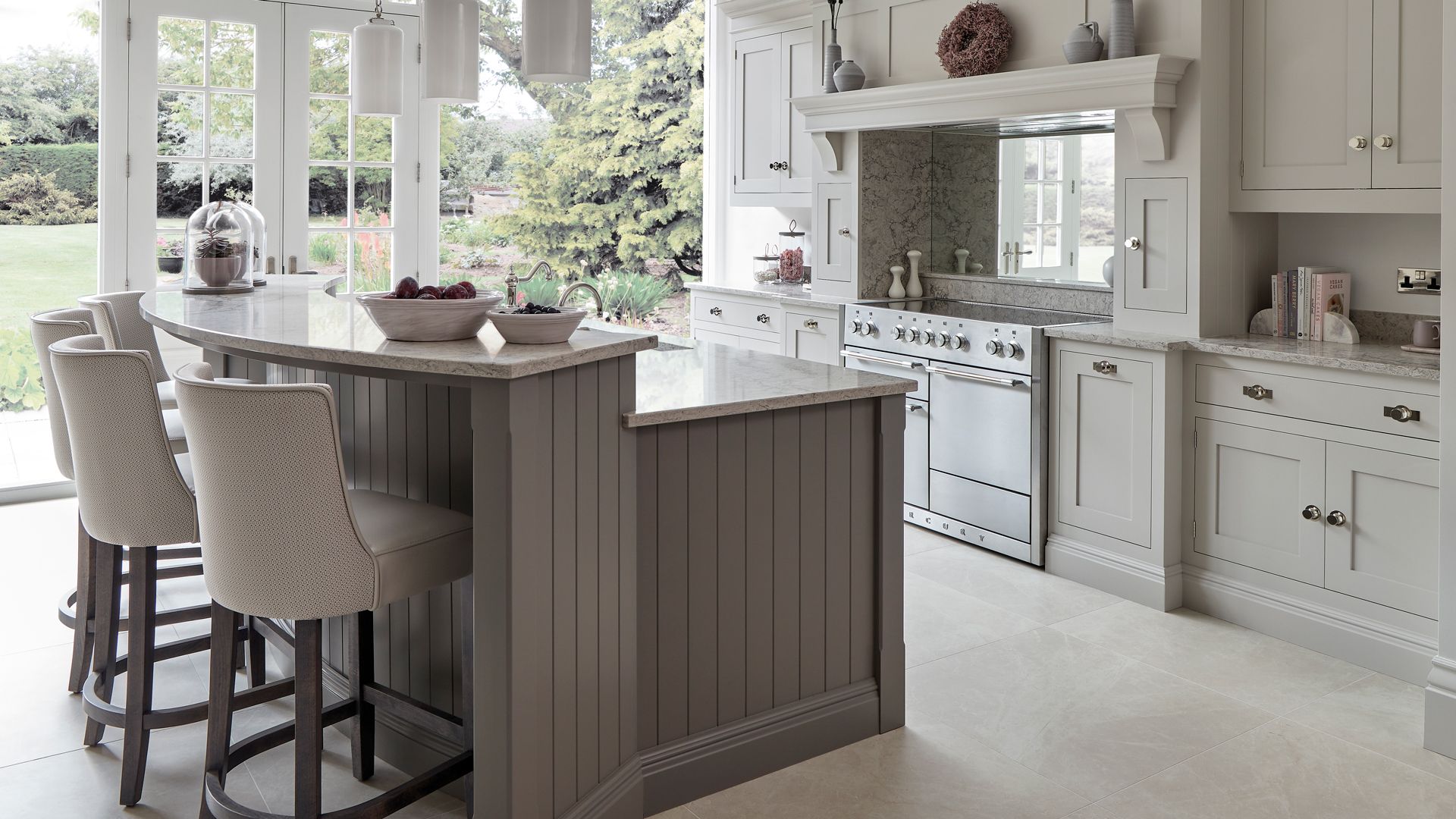 The workflow triangle is the single most important element to getting a kitchen design right, because the layout will dictate how easy and functional your space is to use. For example, a fridge placed on the other side of an L-shaped kitchen island may get your daily step count up but it'll become an obstacle that will drive you to despair in the long run.  
"A kitchen designer will consider how you use your space and more often than not will suggest that you incorporate the 'work triangle' into your kitchen design," explains Tom. "Essentially this means the hob, sink and refrigerator will all be located equidistant from each other optimising your work space and meaning everything is at arm's reach when using the space." 
3. Overspending where you won't get value back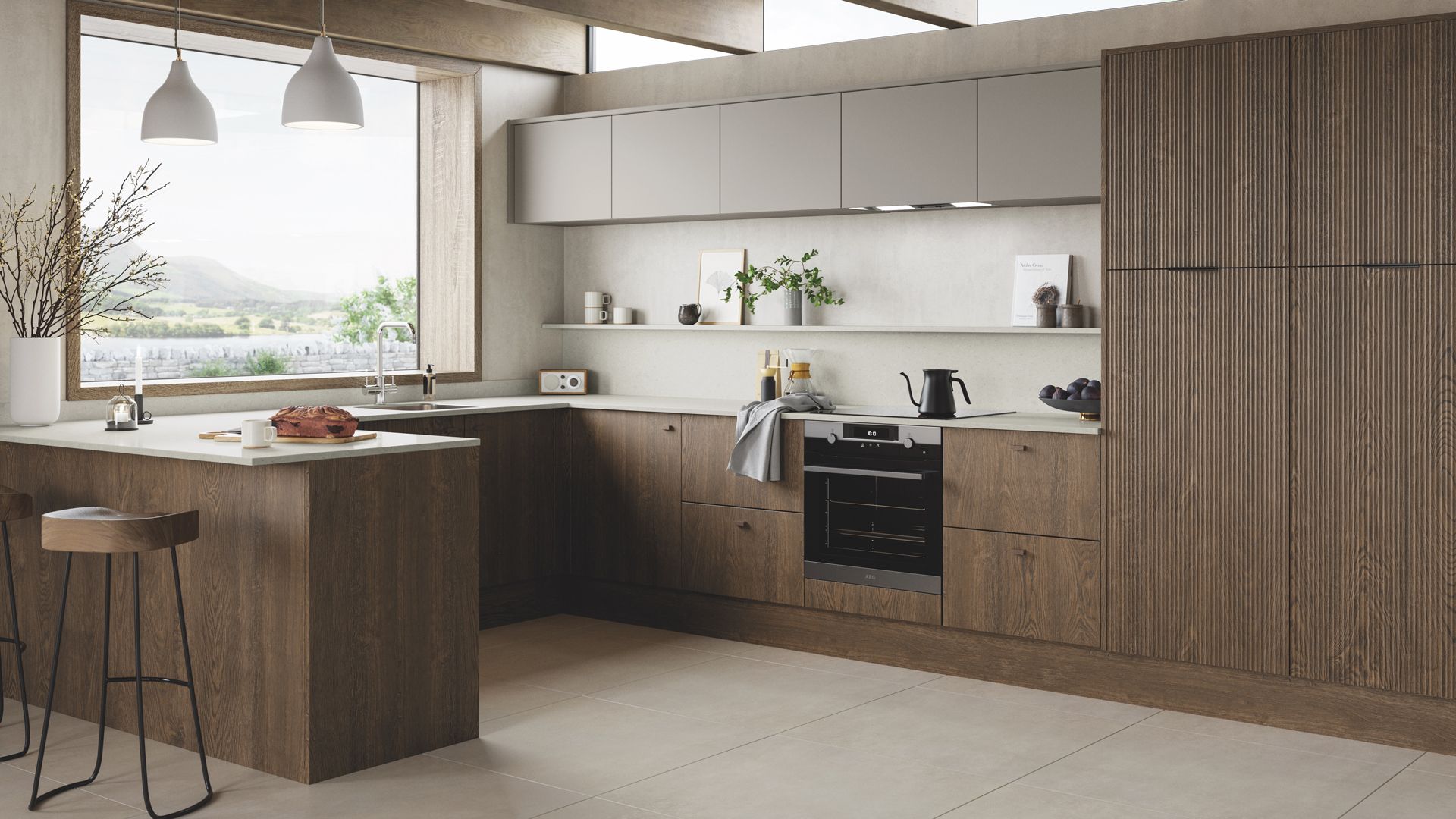 Because budget is an all-important factor when it comes to kitchen remodeling, spending on designs that add no value is not advisable – because unlike painting over the paint colors that can devalue homes, kitchen mistakes are not as easy to fix. 
"If you're not smart with your budget and start overspending on materials and features that don't have the overall capacity to drastically impact the value and desirability of your kitchen space, you can risk not getting the value back when you sell the house," warns Lizzie Beesley, Head of Design at Magnet (opens in new tab).
"In our recent study, we found that a standard renovation budget of £11K can add 5.5% property value, but this is if you're investing it in the right places. Spend it on stand-out features that are going to improve style and functionality like layout plan and sleek finishes. Whilst it may be tempting to overspend and get flooring that is a little more stylish, if it is already aesthetic and durable, that's enough to impact value.'' Plan each decision wisely to make every cost go that little bit further.
4. Following fashions over longevity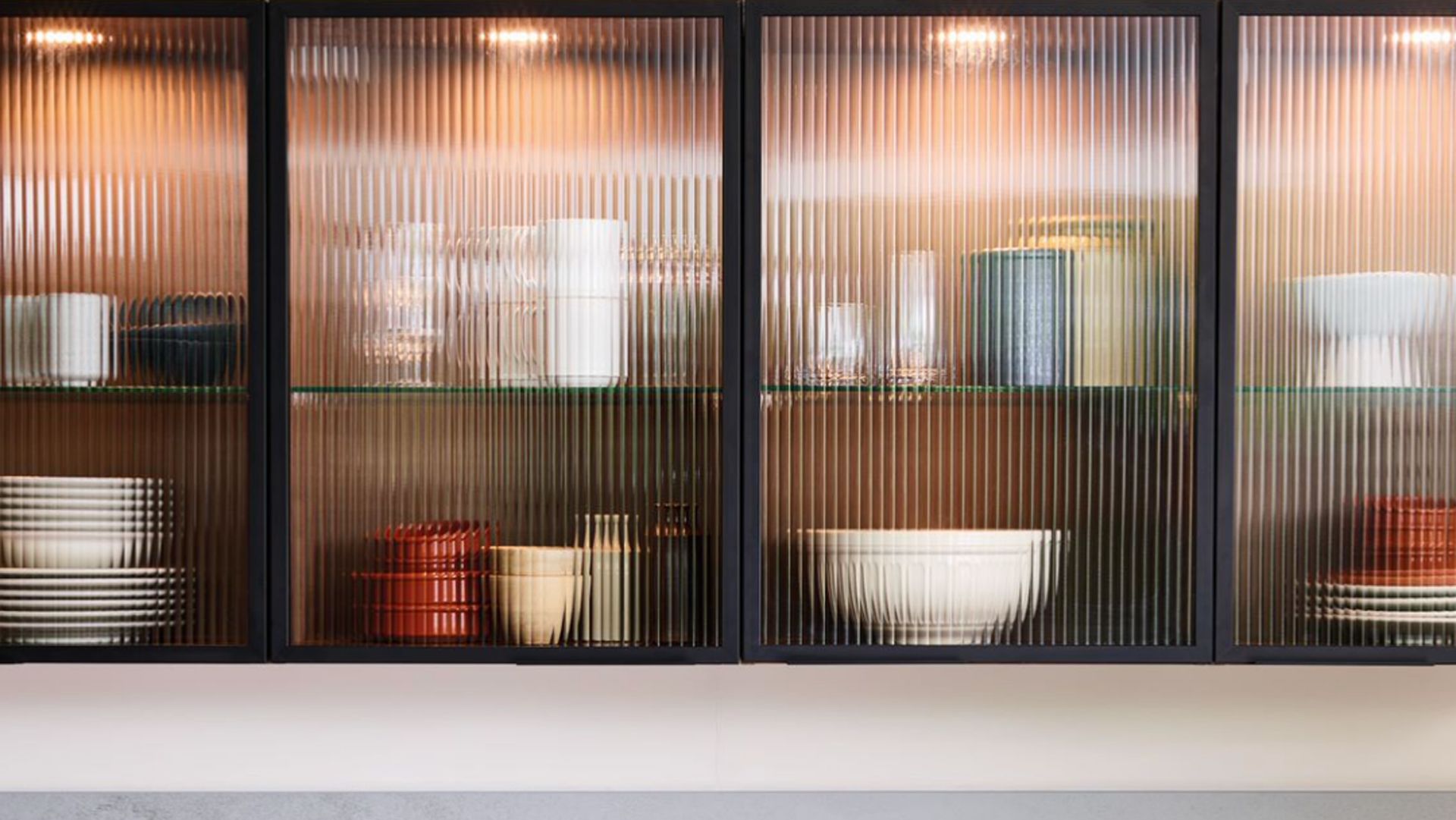 Don't be swayed by current interiors design trends when designing your cooking space, because kitchens are a longterm investment. ''As tempting as it is to go for the latest trends when it comes to the color scheme and decor, it's best to make a more considered choice and think about the longevity of a design and how it will impact the value of a kitchen," advises Lizzie.
"Don't choose a design that is likely to date and be old news in only a few years as the cost and efforts of having to redesign it can put off potential buyers. Do instead go for a look that has a universal appeal, with classic décor schemes such as minimalist or Scandinavian designs"
Lizzie advises going for, "neutral colour palettes that you won't go off and people can envisage themselves in. Having a simple base means you and future buyers can then add more details and personal features through light fixtures, chairs and shelving accessories – which can be changed out easily.''
She adds, "Last year, we found 22% of our customers went for a light grey, which is overtaking white paint colors and becoming one of the most popular colours for kitchen cabinets."
5. Miscalculating storage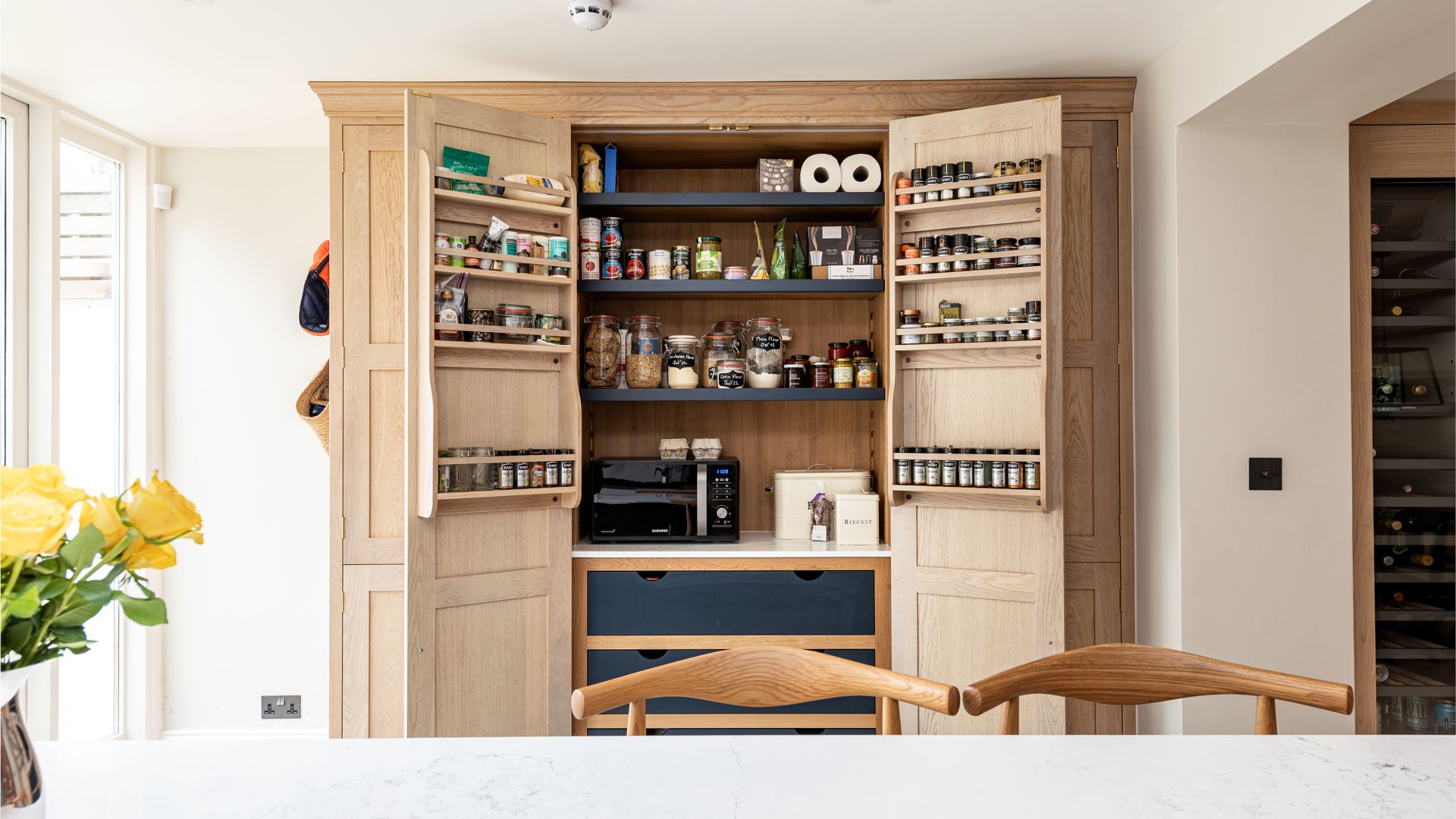 A common kitchen design mistake is not factoring in enough storage elements and different kitchen storage ideas to allow you (and future buyers) to organize the kitchen easily and effectively. 
Take the time during the early design stages to plan accordingly where you want to store different elements and remember to consider everything from appliances and tableware.
"Mix up cupboards and drawers depending on your lifestyle and storage preference, it'll make a world of a difference to the overall look of your kitchen," advises William of Herringbone Kitchens.
He also adds that this is even more crucial when considering kitchen organization ideas small spaces: "A sure-fire way to make your kitchen feel smaller and claustrophobic is by having too many wall units; especially if you have a smaller kitchen. If you don't have a larger space or taller ceilings, focus more on the bottom units and make sure to add a variety as too many cupboards can sometimes look busy." 
6. Installing cheap appliances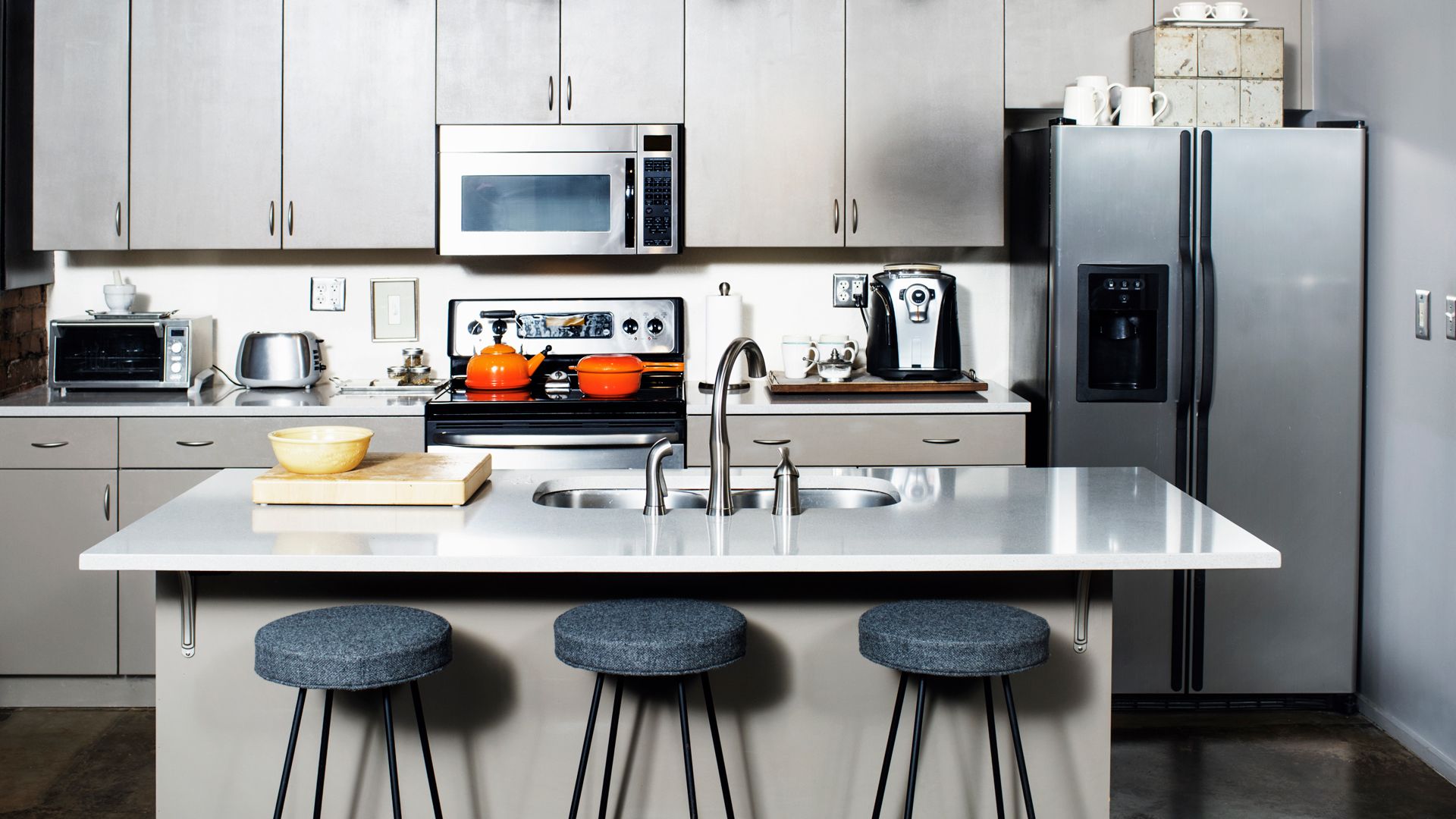 "Using the kitchen daily has made homeowners want bigger and better appliances and fixtures," Lizzie explains.
"Hi-tech gadgets like hot water taps and luxury fridges may seem like a big expense at the time of buying, but when it comes to living in your home, they will be a lot more reliable than cheaper alternatives and will increase the value of your home and make it sell faster.'' 
"It's also a smart move to invest in these high-tech appliances and gadgets because they're a much more sustainable choice, which can save you money on your energy bills in the long run," Lizzie adds. "Eco-conscious brands like AEG and RorosHetta are currently offering some of the most high-tech, sustainable kitchen appliances on the market and are a great investment to really impact kitchen value and reduce your carbon footprint."
After making the investment it's well-worth knowing how to clean a fridge, how to clean a washing machine and how to clean a dishwasher properly to ensure your appliances stay in tip top condition. 
7. Making lighting an afterthought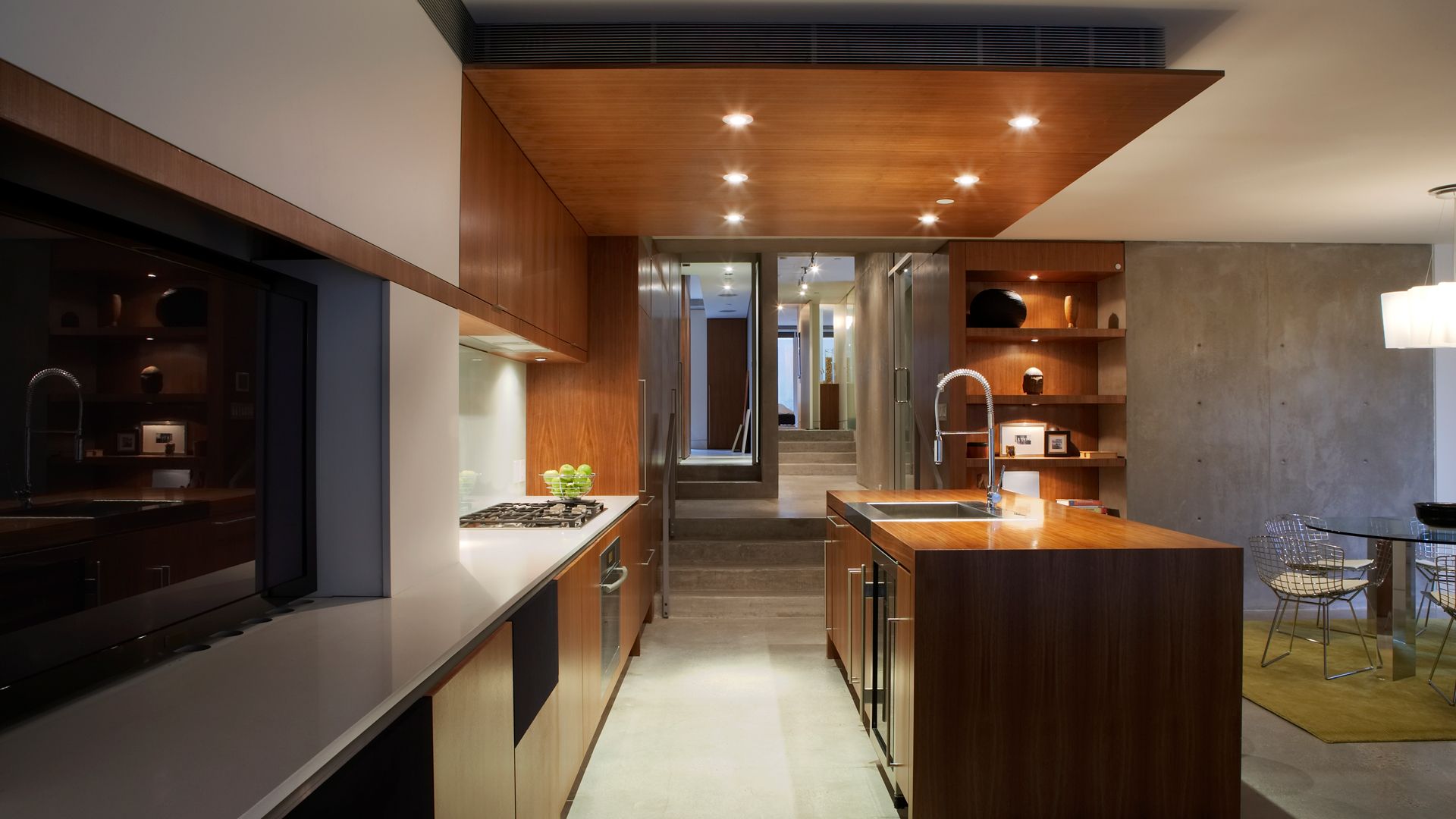 Lighting is integral to a functional kitchen space, and not just overhead lighting – consider task lighting, under-cabinet lights and decorative options too. 
"All too often with a kitchen, the lighting is an afterthought but it should be considered and research carried out at the initial planning stage, " advises Marketa Rypacek, Managing Director at Industville Ltd (opens in new tab). "Don't wait until after cabinetry and appliances are in place, as the position of the lights may affect where sockets and cables are placed and it's much harder to alter these things further down the line."  
"Look at the areas of your kitchen and think about the activities that will take place in each space. Some spaces, such as food preparation zones, the kitchen sink and above the hob, will require task lighting, while others, such as the dining area, call for mood and accent lighting."
Matthew warns, "Too many or all spotlights may be a little too bright and solely under unit light strips or lamps won't provide you with enough light to cook safely in. A few different lighting choices to keep things interesting and suitable for different times of day and moods are needed."
8. Trying to fit too much in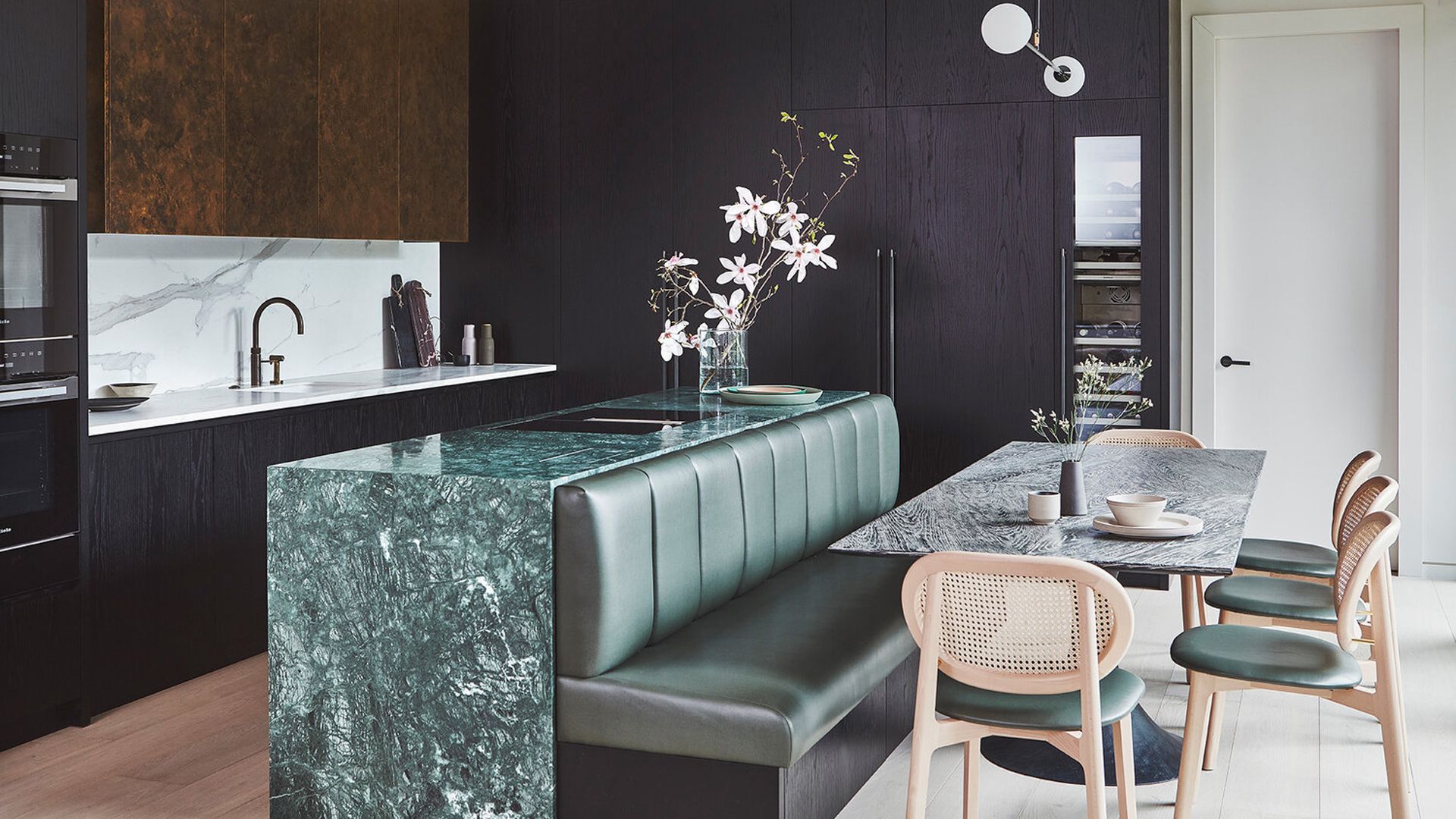 The key to good kitchen design is to work with what you have to get the most value from your space. Trying to squeeze too much in will limit how well each design choice serves its purpose. 
"Arguably the biggest kitchen design mistakes occur when people try to cram too much into one space," say the design team at bespoke kitchen company Blakes London (opens in new tab).
Kitchen islands may be fashionable but if you can't adequately fit one in without compromising the surrounding space it's a design fail. "For those wanting counter seating, your island ideally needs to be 1 metre wide as an overhang of 400mm is needed for comfortable legroom. An island narrower than 900mm is going to feel undersized, but if this is all the space available you could consider creating an overhang on one end of the island to tuck counter stools beneath."
Consider the walk around the kitchen once everything is built-in; will there be adequate room to use the remaining space? If things are a bit tight, it's best to re-consider your design plans.
9. Misjudging door clearance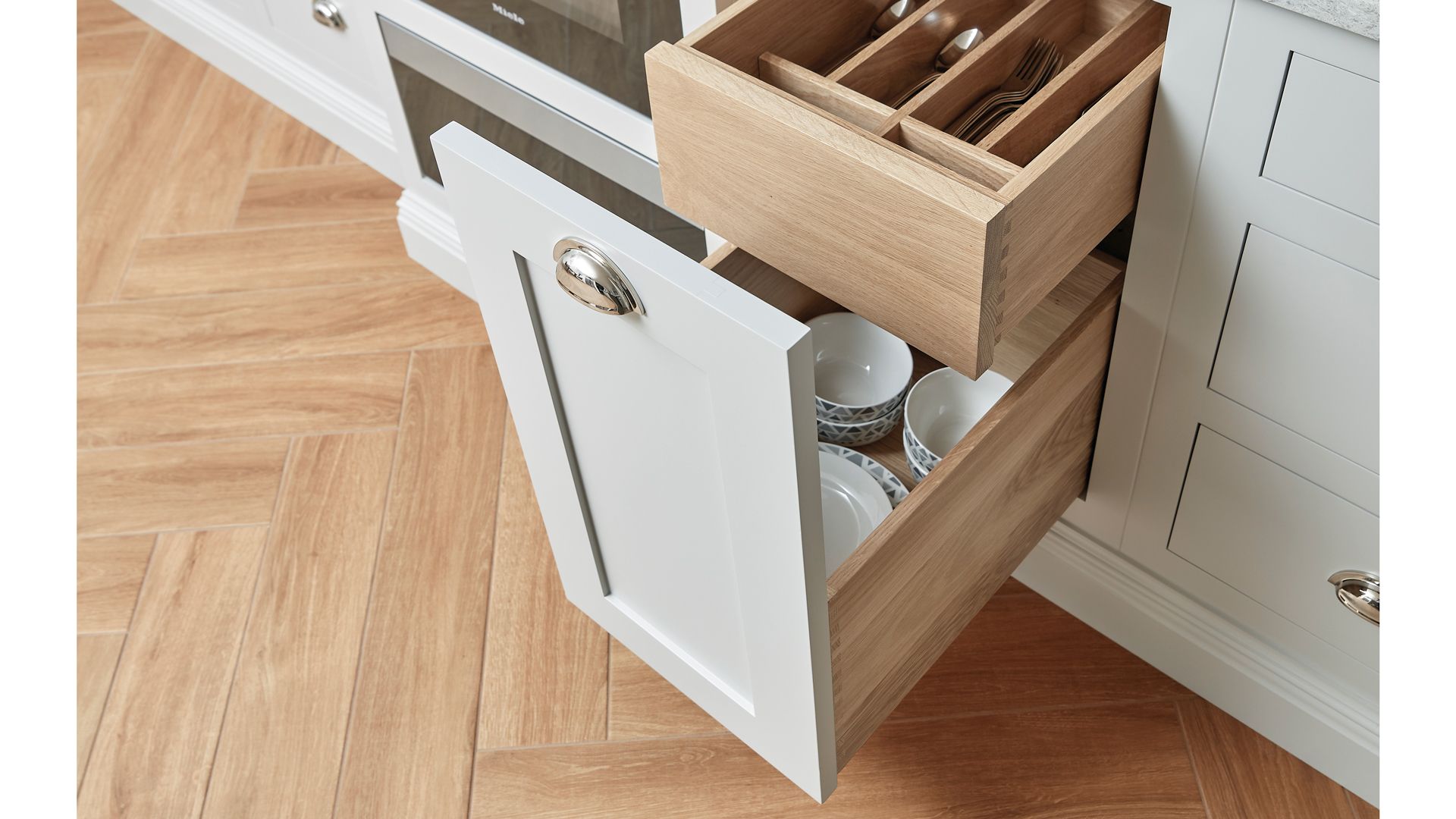 An easy but all too common kitchen design mistake is misjudging clearance when it comes to opening doors. This includes cabinet doors, fridges  and dishwashers. A lack of planning can lead to endless issues in fitting, as well as impacting how you use your kitchen day-to-day.
"This may seem nonsensical, but the opening 'swing' of a door is sometimes overlooked and can lead to endless headaches and alterations in the middle of a kitchen fit, " explains Andy Briggs, Interior Designer at Optiplan Kitchens (opens in new tab). "Consider things like: is there enough space to stand when you open your tall fridge/freezer? Or will my wall unit open if I choose to have feature pendant lights?"
"Failing to allow enough space can make any kitchen feel cramped and restricted – something which you need to avoid at all costs where possible. To provide the minimum circulation between cabinets, try to have at least 1.2m of space between kitchen units, walls and island units. You should also try to allow a little more room if the kitchen is a thoroughfare, like a galley."
Tom helpfully adds, "specifying appliances for a kitchen of any size and shape requires careful thought. If you have set aside the space for a walkway of around a metre, standard oven or fridge doors will compromise a considerable portion of that space when opened." 
10. Not plotting in enough power supplies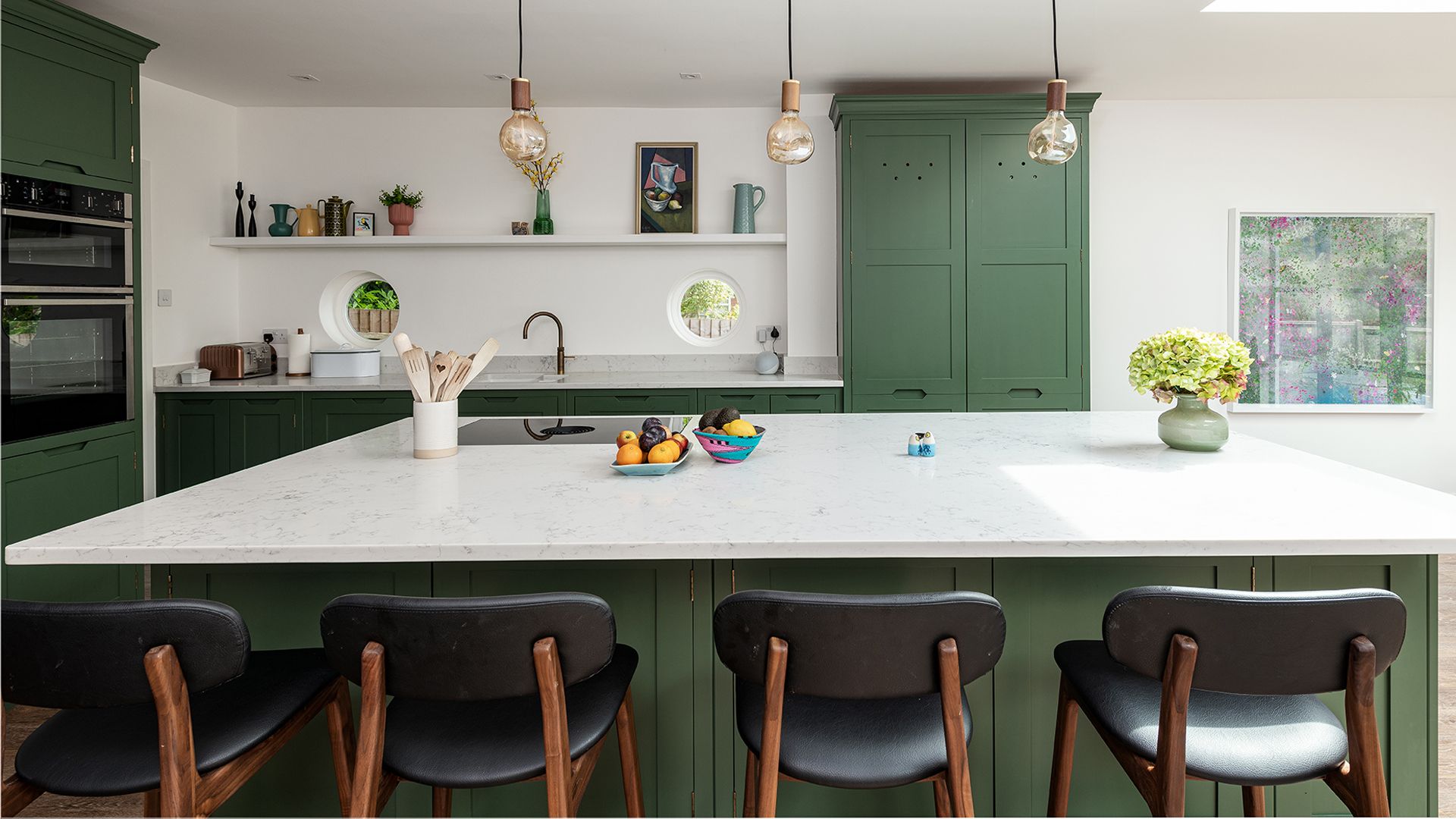 Power supplies are a key design consideration for how your kitchen will function, but it's all too easy to underestimate how many plug sockets you need and where you need them most. 
In terms of where the washing machine or oven can be placed, the power supply is a vital consideration, so before you commit to plumbing in kitchen appliances it's worth going back to the principle of your work triangle to ensure the power points are well-placed before installation. 
Also consider the plug sockets above the countertops. If you have a generous amount of space, think about how you will go about organizing your kitchen countertops and where differ appliances will live such as the kettle or coffee machine. If the microwave isn't integrated you'll need to allocate countertop space and a plug for this, as well as other small appliances like the toaster. 
11. Selecting the wrong floor material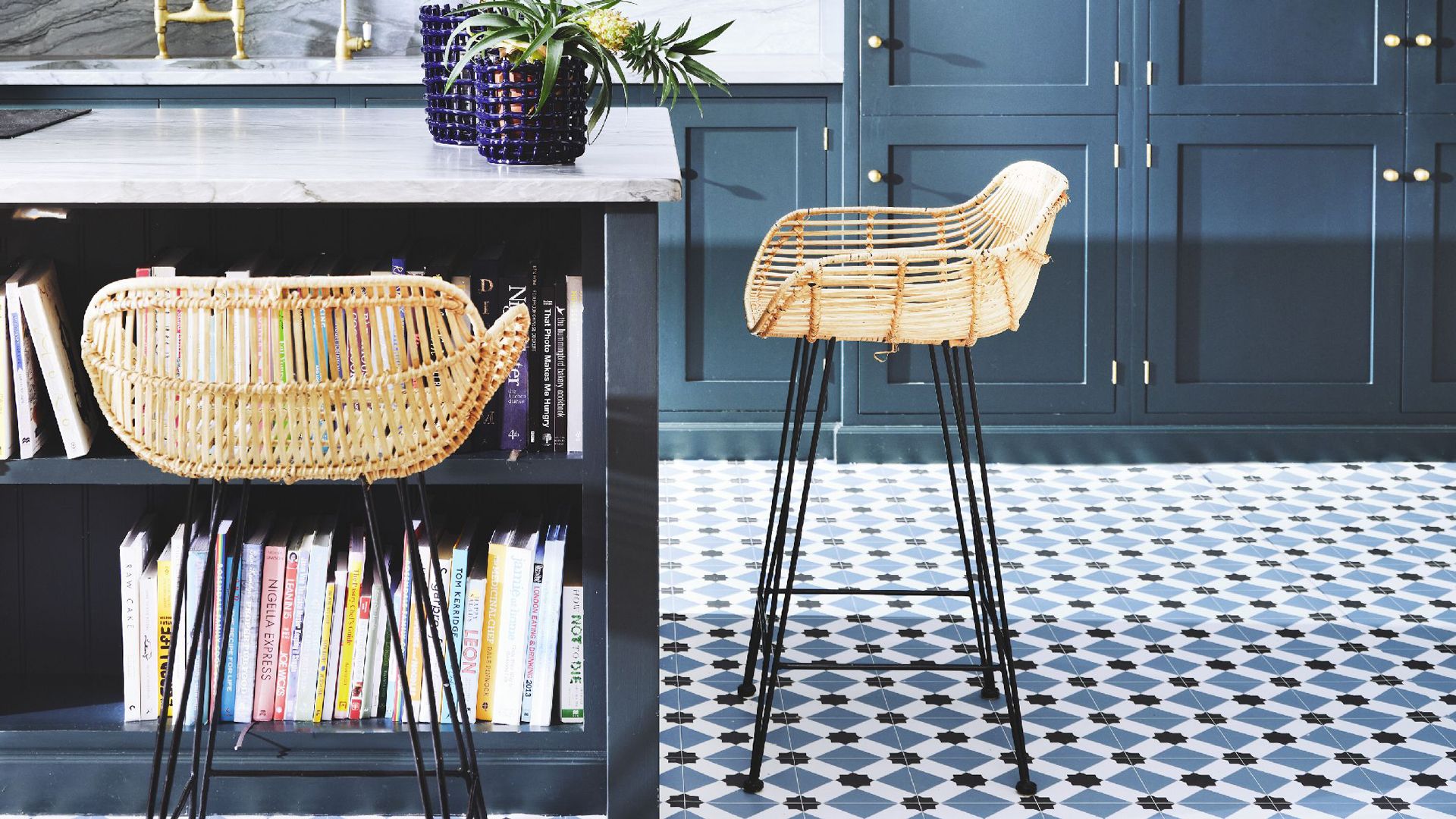 Aside from completing the aesthetic of your space, it's vital to choose a kitchen flooring material than can withstand the elements, because the wrong flooring is a costly mistake to make. 
"Before selecting a type of kitchen flooring, first take the time to consider the space you are looking to update to avoid mistakes. This will help determine suitability and style," advises Carpetright's (opens in new tab) Hard Flooring Buyer, David Snazel.
"
In kitchens, there are three main things to consider: safety, durability and ease when cleaning.  Kitchens usually see a lot of traffic, so it's best to opt for high quality, durable flooring that is low maintenance and will stand the test of time."
Look for hard floors that are easy to clean and safe to clean frequently – a requirement to keep kitchen floors hygienic. Some wooden flooring options are not suitable for kitchens as they are prone to water damage and unable to withstand a regular, rigorous clean as would be needed when cleaning a kitchen. 
If you do opt for wooden floors, see our guide to how to clean hardwood floors to ensure your design choice is well preserved.
12. Forgetting to incorporate bins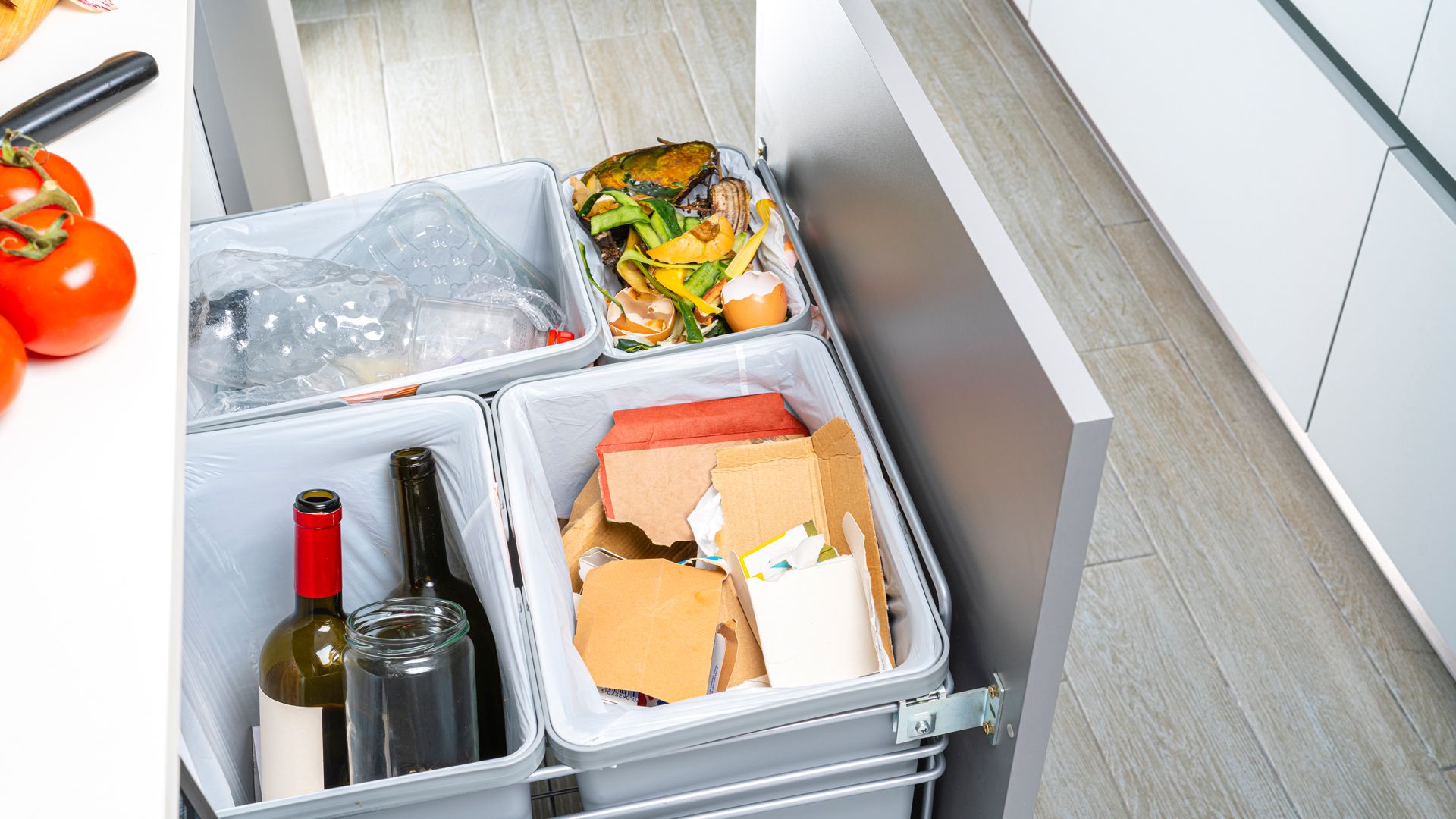 It's alarming how often waste disposal is left out of kitchen design layouts. Bins are integral to any kitchen – even more so now most households require separate bins for general waste, food waste, and recycling. If you're designing a kitchen, factor in adequate space to hide multiple bins inside cupboards, neatly out of sight. 
If you don't have the right configuration for concealed storage, ensure you have an area dedicated to bin placement and buy the best kitchen bin with a high-end design that's worthy of being on show. 
Deciding on a dedicated bin area will need to be a consideration at layout stage because while allowing floorspace for a breakfast bar or pantry unit is important, you also don't want your bins to attract unnecessary attention because they're obstructing a walkway.