Living room drape ideas can add warmth, texture and a beautiful dimension of pattern and color to your living room. Plus, they can make a room feel comforting, especially on cold, dark nights.
Drapes are often much heavier and thicker than living room curtain ideas, and are usually measured to hang at floor-length or in an elegant puddle on the floor.
These essential window treatment ideas are an essential part of designing a living room, and they can help to make the space feel more cozy and inviting, as well as effectively provide insulation and light control when required.
Rachel Usher from Rachel Usher Interior Design (opens in new tab) says, 'drapery can be opulent and formal, using traditional detailing and lots of passementerie, or alternatively, it can also be both tailored and smart, as well as more organic and slubby.'
With so many styles to choose from for your living room ideas, there are drapes that can suit windows of all sizes and rooms of all designs.
Living room drape ideas you'll love
From traditional patterns to contemporary color palettes, explore our collection of very lovely living room drape ideas.
1. Choose a timeless, neutral drape design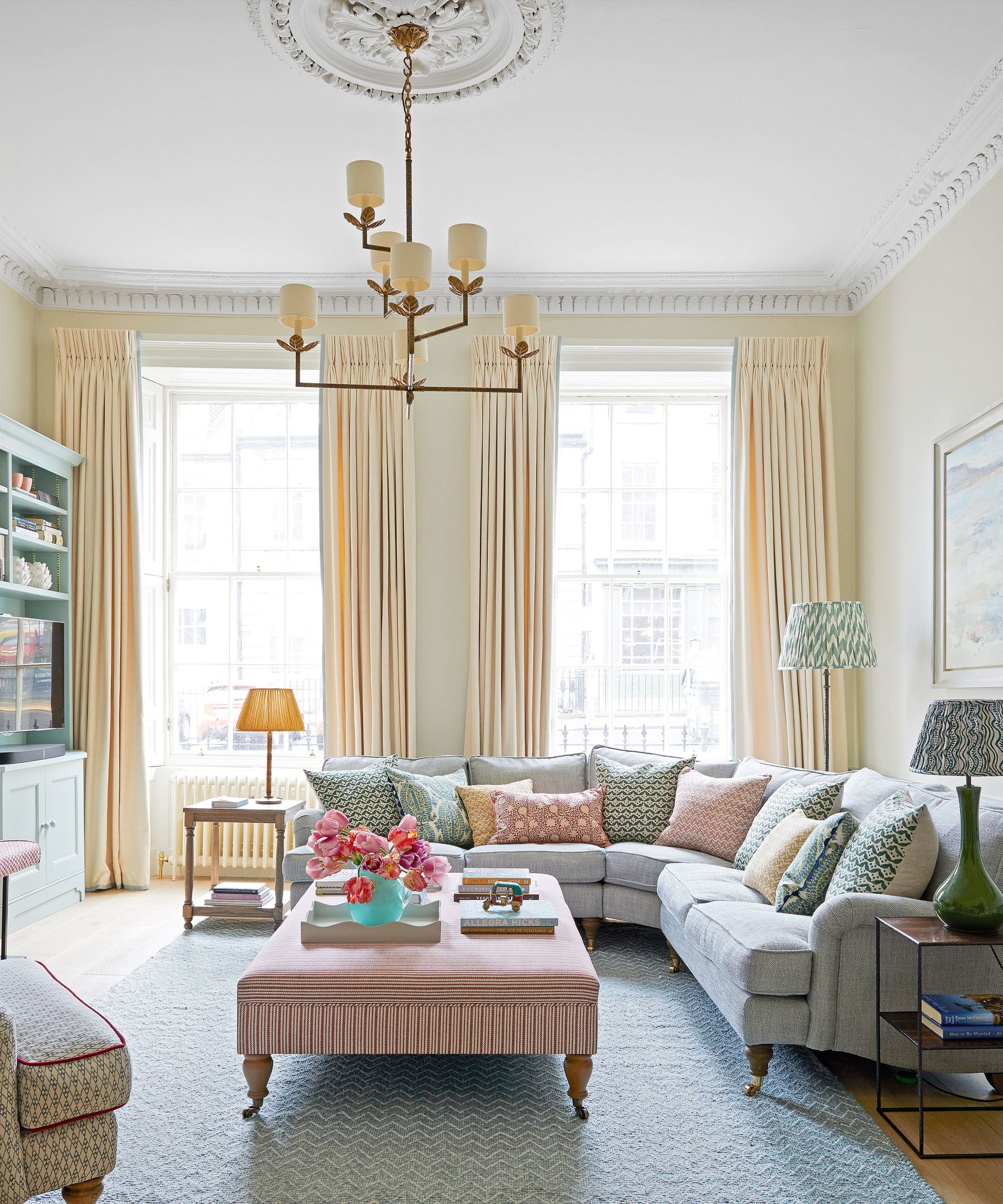 In this living room in a Georgian townhouse designed by Jessica Buckley Interiors (opens in new tab), the tall, cream drapes work with the matching cream painted walls to create a calming, neutral backdrop, allowing for the furniture pieces and colorful accessories and prints to take center stage.
Decorating with neutrals and embracing a neutral color palette for your living room drape ideas can be a practical choice, with a neutral drape more likely to coordinate with changing styles and interior designs over time. It will also, of course, allow more light into the room, and reflect light back, however heavy the fabric is.
2. Enhance your drapes with a pretty valance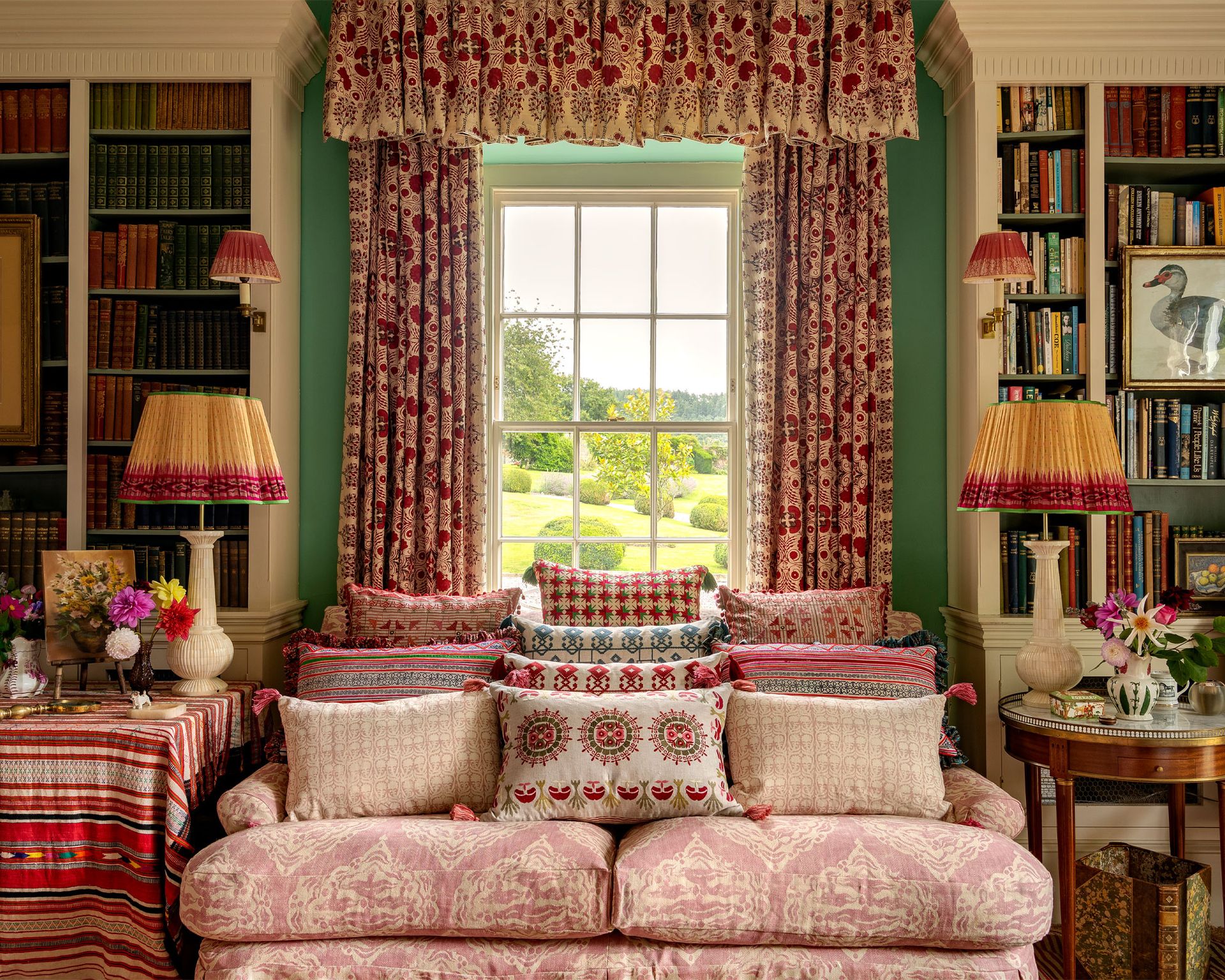 Usually seen in more traditional living rooms, a valance is a decorative piece of fabric, similar to a pelmet, that can conceal a curtain pole or track. 
Crafted to create a ruffle and frill effect at the top of a set of curtains or drapes, window valance ideas can enhance and embellish your living room drapes with beautiful added texture and material.
As shown in this characterful living room, the patterned floral Arabella Red fabric by Penny Morrison (opens in new tab) used for the drapes and valance not only creates a rich, textured look, but the positioning of the valance above the window is a clever curtain trick that makes the window look and feel larger than it is.
Amy Bant, fabric and soft furnishing specialist at Graham & Brown (opens in new tab) suggests, 'for an extra touch of opulence for your living room drape ideas, hang your curtain pole further towards the ceiling for the illusion of larger windows and taller ceilings.'
The drapes and valance in this living room work with the other soft furnishings and unique patterned designs to create a space bursting with texture, character and cozy comfort.
3. Pair your drapes with a fabric blind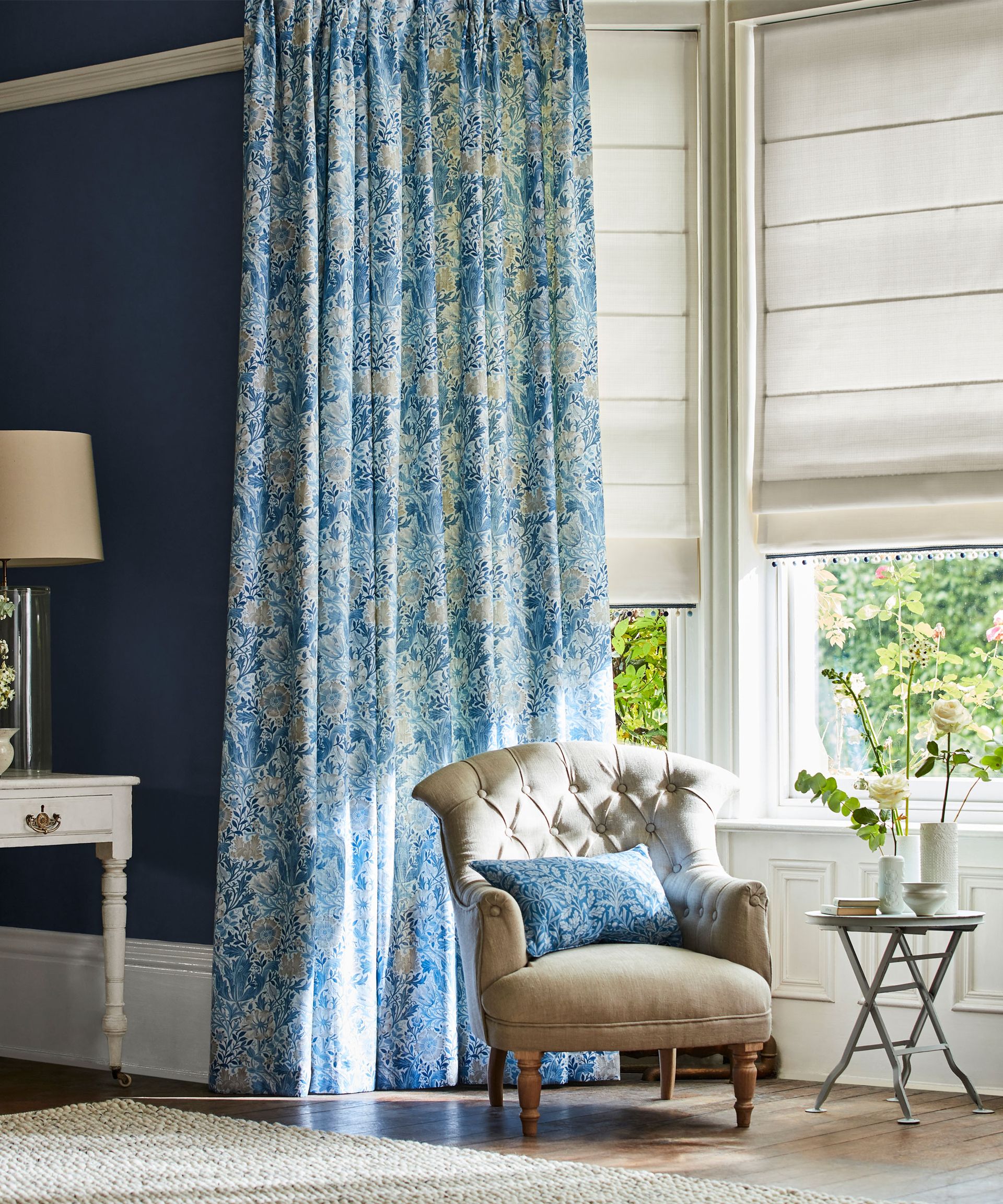 Rachel Usher states, 'almost all windows benefit from double layering, and this brings the advantage of extra softness and layers which add a sense of luxury, such as having a lighter fabric blind for the inner curtain, framed with something a little more structured as an outer curtain.'
In this blue living room, Quintessence Linen & Henley Trimmed Roman Blinds from Blinds 2go (opens in new tab) have been paired with V&A William Morris Compton China Blue Drapes from Curtains 2go (opens in new tab).
Establishing a beautiful union of contrasting materials and color palettes, this layered look elegantly frames the bay window, with the use of material creating an enhanced feeling of warmth and coziness.
4. Make a colorful statement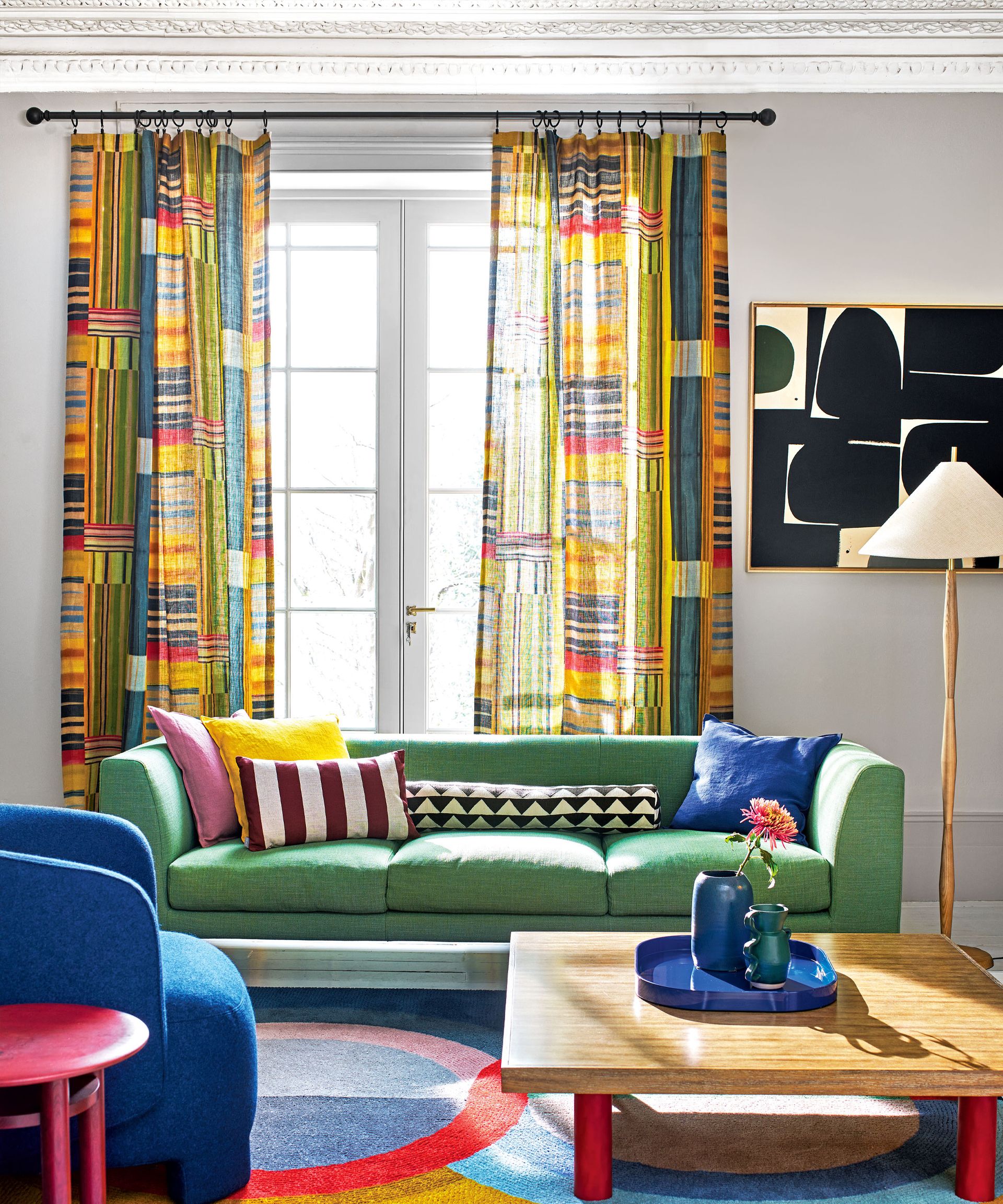 Decorating with primary colors requires finesse, but it can be introduced in living room drapes. Inspired by the work of Ukranian-born French abstract artist Sonia Delaunay, these Festival drapes from Pierre Frey (opens in new tab) fuse primary shapes and color palettes to form a statement design feature of colorful flamboyance.
Washes of color crisscross over the natural linen material to create an artistic expression, with the design acting as a unique work of art in the living space, beautifully framing the large window.
The living room drape design is further enhanced by the matching primary color palette in the rest of the living room, creating a striking, immersive looks that feels fresh, contemporary and totally unique. 
Emma Clarke, director at Warner House (opens in new tab) states that living room 'drapes can bring color, warmth, drama and joy. More than just a finishing touch, they can be the focal point providing your scheme with charm and texture.'
A great example of modern curtain ideas, living room drapes and curtains provide an opportunity to be creative and bold with color and pattern, and can completely change the look and feel of a room with a simple swish.
5. Create a coordinated look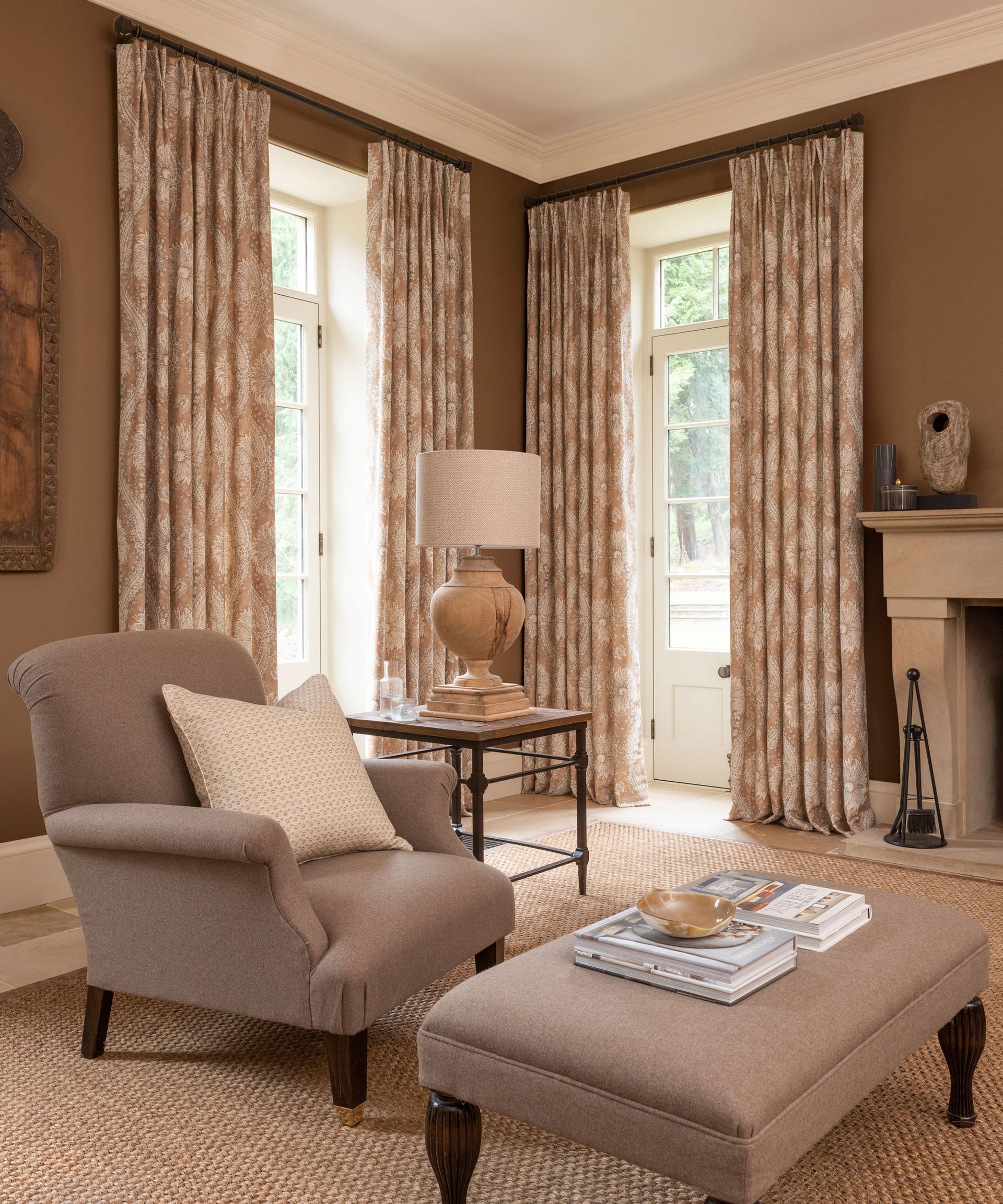 Coordinating your living room drape design with your living room color ideas can establish a unified look that feels stylish and thoughtfully considered. 
In this brown living room, the colors on the Leilani Ginger fabric from Warner House (opens in new tab) used for the tall living room drapes on the two windows, perfectly match the white painted ceiling and earthy brown painted walls.
The drapes are defined by a delicate, floral Alsace pattern with a watercolor painted effect, subtly uplifting the neutral space with pattern and visual interest.
6. Use living room drapes to zone the space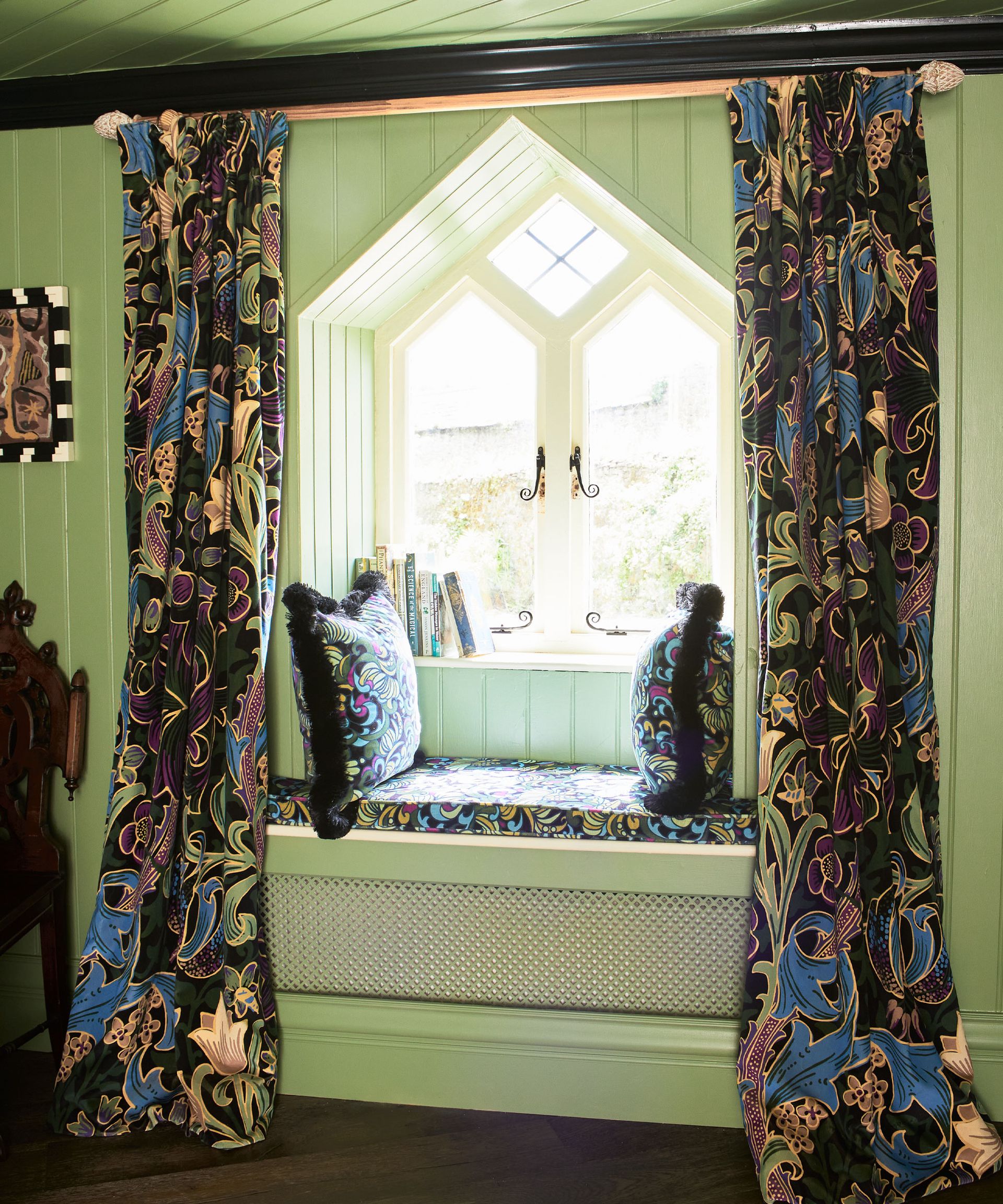 Decorating consultancy manager at House of Hackney (opens in new tab), Steve Corcoran says that 'a living room is the perfect space to make a statement with soft furnishings. This space should feel like a refuge from the world outside, where you can be cocooned in soft and tactile fabrics. Velvet decor is the ideal base for a window treatment as the pile of the fabric catches the light so beautifully. A blackout lining fabric and a heavy wool domette interlining will help to complete the ultimate drapes for your living room sanctuary.'
The bold, velvet floral House of Hackney drapes in this living room, featuring the Golden Lily Magna print in an Obsidian colorway, work in harmony with the matching seat and decorative cushions to create a cozy nook and beautiful window seat. 
Zoning the window space and seating area through rich texture and a decadent, dark pattern, the use of material in this section of the living room creates a striking design feature and inviting area to sit back and relax in comfort and style.
7. Complement the character of your home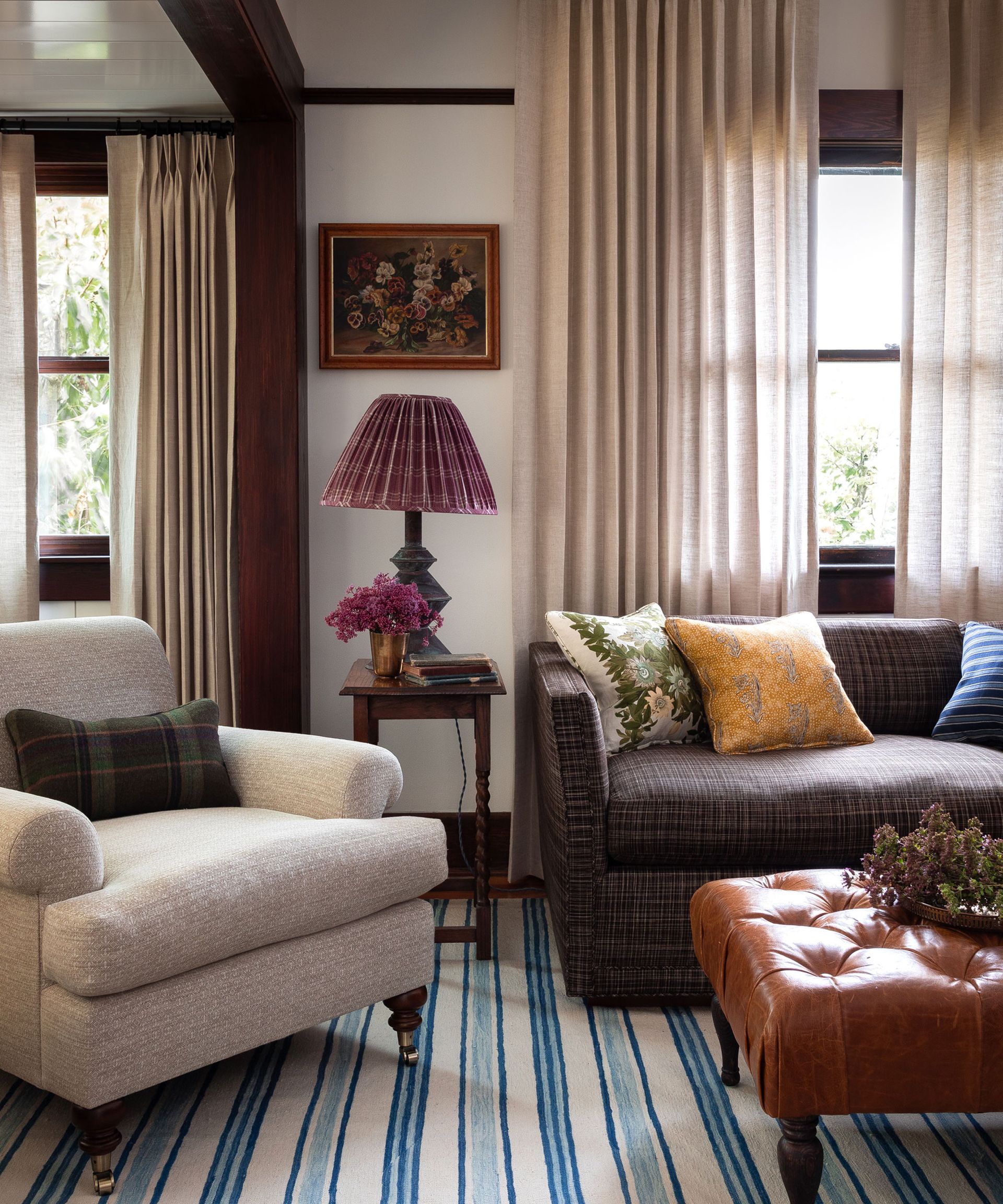 In this beautiful period property by Heidi Caillier Design (opens in new tab), the neutral, sheer drapes work wonderfully with the traditional dark wood features to create a relaxed, organic look.
Heidi Caillier says of the design, 'the house was built in 1916 and has much of its original character intact. All of the original millwork has been left untouched and we knew it was a detail we needed to work with rather than against as it makes such a strong statement.'
These drapes blend in beautifully with the natural colors and materials in this living room, with the sleek pleats adding a subtle modern edge. The sheer designs also work well to enhance the feeling of light in the room. 
A design that creates an elegant union of the old and the new, the drapes add inviting, soft texture to the space whilst effortlessly integrating with the history and character of the house design.
8. Choose a luxurious, layered design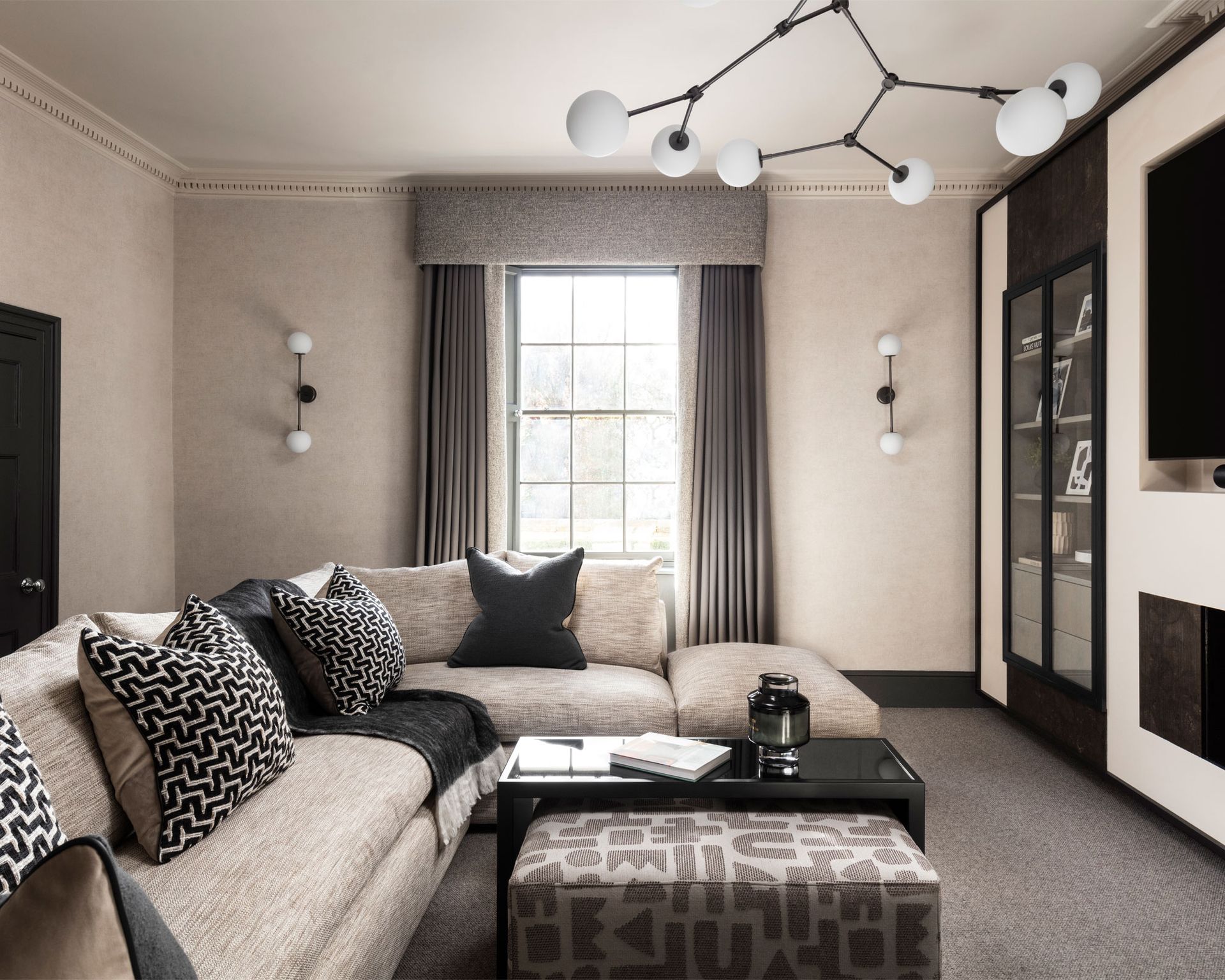 A sophisticated and smart modern gray living room designed by Rachel Usher Interior Design (opens in new tab), the contemporary gray drapes that frame this tall window are defined by a luxurious, layered design. 
Usher says that 'drapes are an important way to add layers and textures to your living space, and considered fabric choices can help to create different aesthetics and have a big impact upon your final space.'
Featuring two different fabric types and gray colorways, the elegant drapes are united through the sleek upholstered pelmet. A simple yet highly effective way to create an enhanced feeling of texture and depth, the tonal gray palette and use of contrasting materials makes a central focal point of the window in this modern living room.
9. Create an element of contrast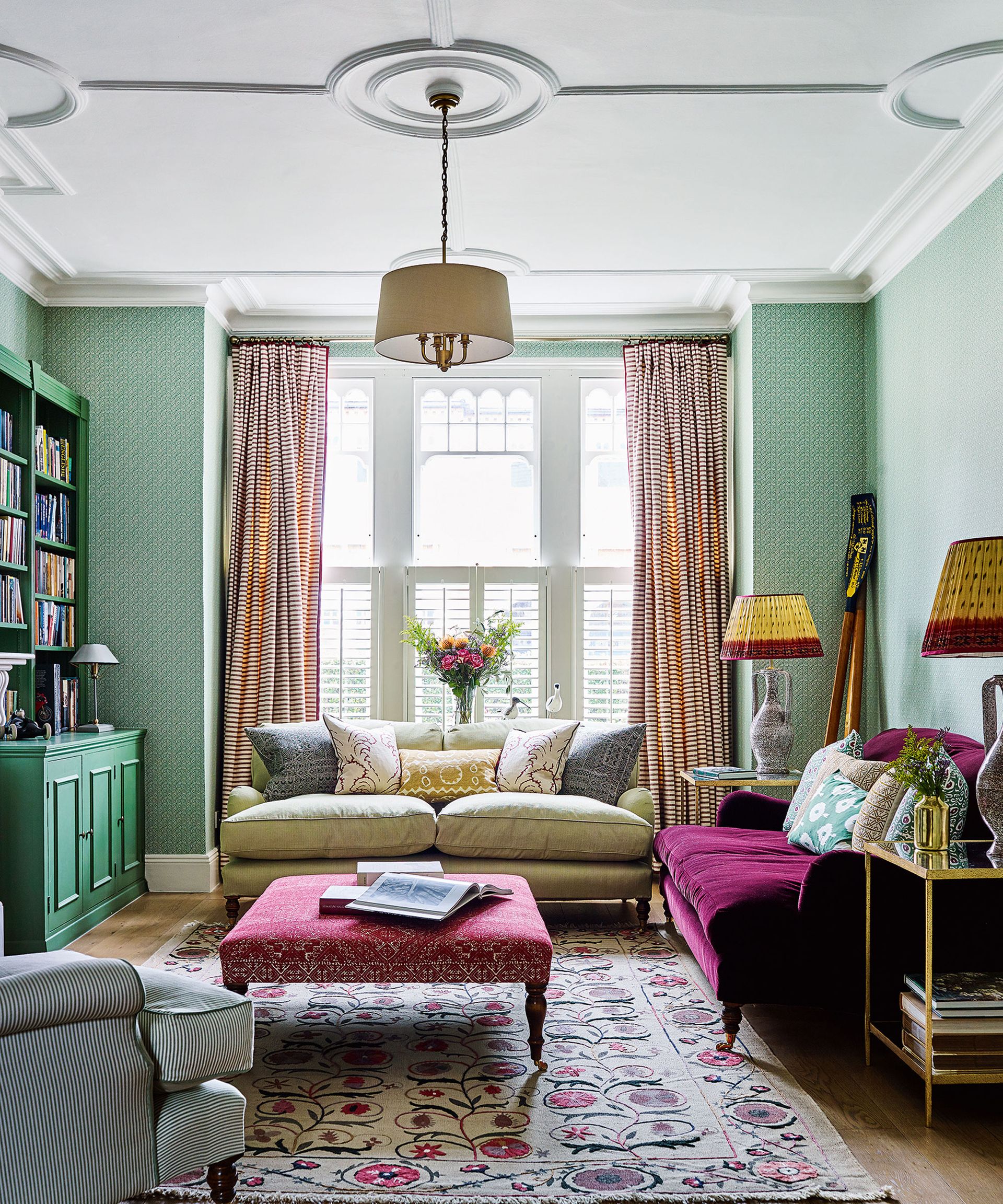 We have discussed choosing drapes that perfectly complement your scheme, but why not use them to create a stylish element of contrast in your living room? 
In this colorful living room design by Jessica Buckley Interiors, bright blues and greens contrast with deep purple and red shades to create a stylish mix of pattern, texture and color, with striped drapes from Guy Goodfellow Collection (opens in new tab) and patterned Gaia wallpaper from Robert Kime (opens in new tab). 
Consulting the color wheel for advice on choosing effective color combinations and the perfect palette for your space is always useful.
10. Choose a classic drape style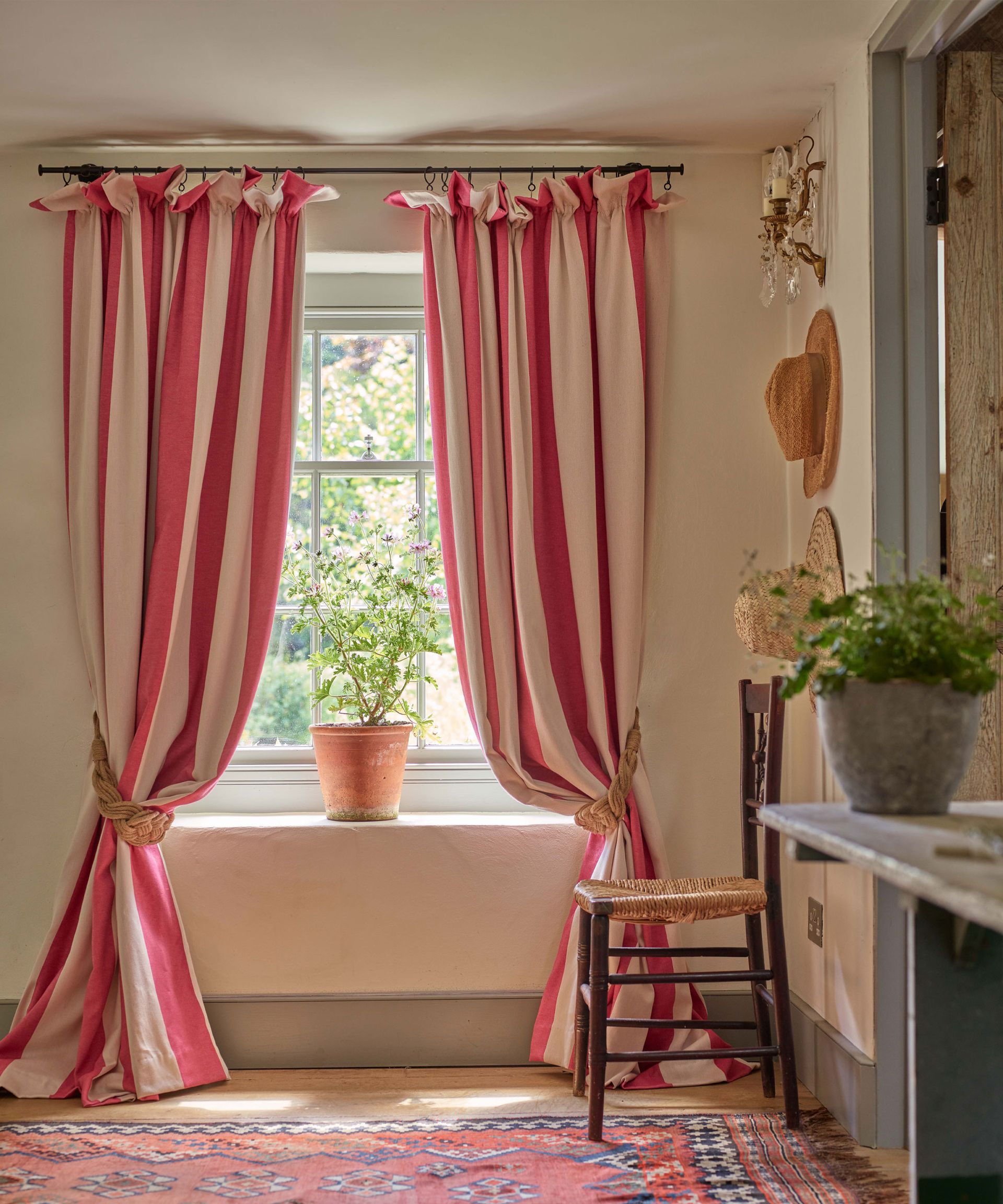 There are some patterns and prints that will always prove timeless in interior design, and decorating with stripes is one of the most popular and well-loved. 
Embodying uniformity and a sense of structure, a striped design can also be fun and playful, making it a versatile option for living room drape ideas in interiors of all styles and ages. 
A colorful example of country curtain ideas, these Sleeper Stripe Cotton Radish curtains by Tori Murphy (opens in new tab) have been beautifully gathered and tied back to elegantly frame the picturesque window. Adding an eye-catching dimension of bright color and inviting texture, these striped drapes can make for a long-lasting addition to a living room space.
11. Make a statement with a single drape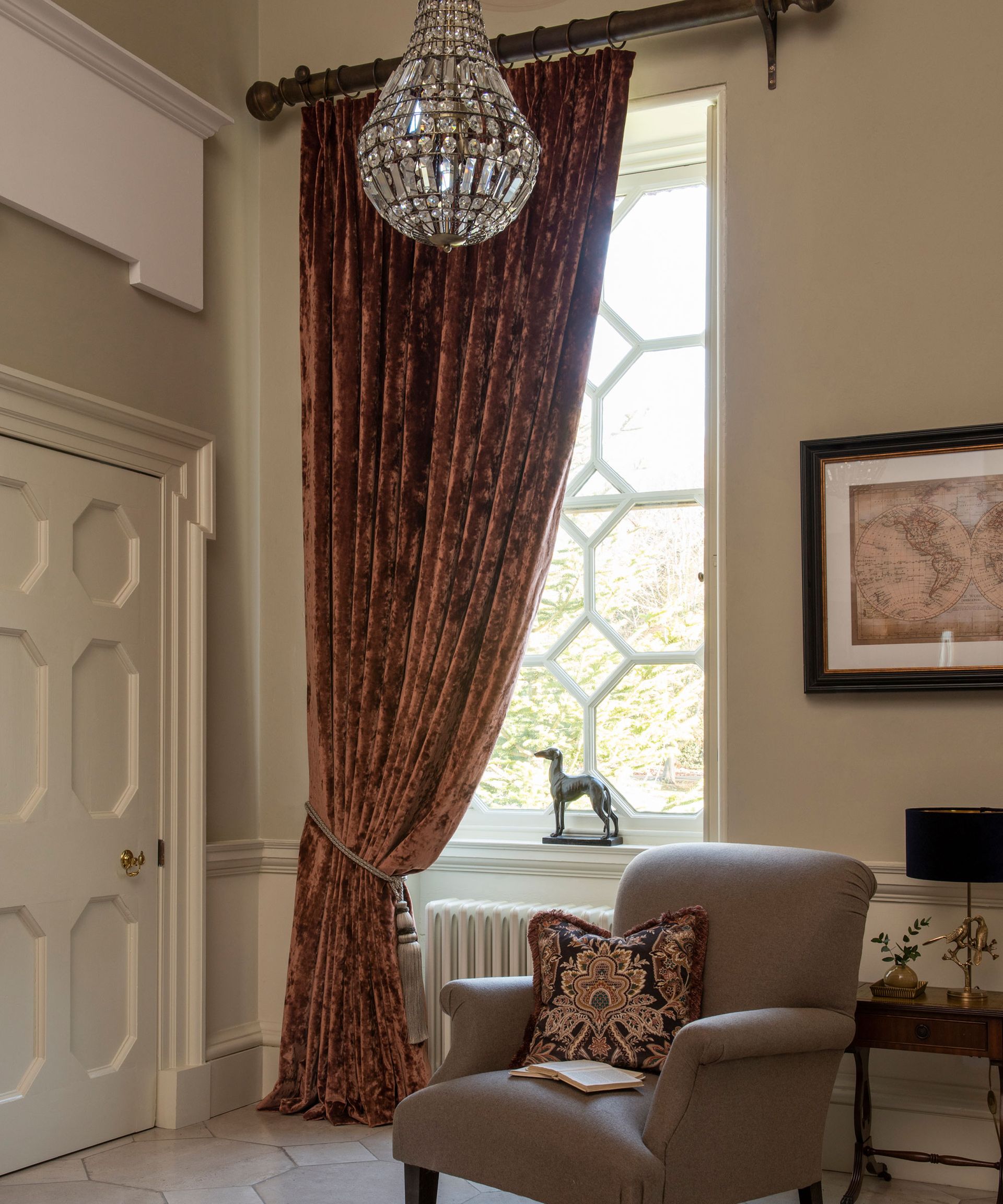 In this classically styled living room, the large window has been styled with an elegant, Lusso Copper velvet drape by Warner House. Enhancing the size of the window and adding beautiful height and grandeur, the deep copper color and thick material creates a luxurious, sumptuous effect in this living room.
A great option for large window ideas, a single drape like this is also perfect for acting as a door drape. If you have an older property, a door drape can not only make a room feel more cozy and snug, but it can help keep out any cold drafts.
What is the difference between drapes and curtains?
Often the words 'curtain' and 'drape' are used interchangeably, however, there is a difference between these two window treatments.
Drapes are usually much thicker and more formal than curtain ideas, and lined with a heavier fabric to completely block out the light. They are often seen on bigger, taller windows, with the fabric sitting at floor length or in a elegant puddle as it reaches the floor.
How do I choose drapes for my living room?
When choosing drapes for your living room, you need to find a design that is both practical and beautiful. 
Rachel Usher from Rachel Usher Interior Design advises: 'Think about the architecture of the space and the windows you are looking to dress. Are you looking to create a soft dappled light with sheers, and do you need a more heavy weight fabric that offers texture and warmth for colder evenings?'
Your drapes should effectively cover your windows and block out the light, as well as help to add inviting texture and comfort to the space. 
Drapes are also the perfect place to get creative with color and pattern, creating a stylish focal point and design feature in a room through beautiful fabric choices.
However if neutral or minimalist decor is more your style, you cannot go wrong with choosing a simple, neutral drape design that elegantly blends into the background.