This is my dream kitchen: It's airy and bright. Light pours through a giant window behind a farmhouse sink. A center island—peppered with bowls of produce—offers tons of space for sitting, chopping, and drinking wine. There's a glossy white backsplash and a creamy marble countertop. And anchoring it all are the most gorgeous dusty blue kitchen cabinets reminiscent of a stormy sky.
Blue is my interior design spirit color—and it seems, according to color consultant Amy Wax, it is for many others these days. "There's such a craze about blue," Wax tells me.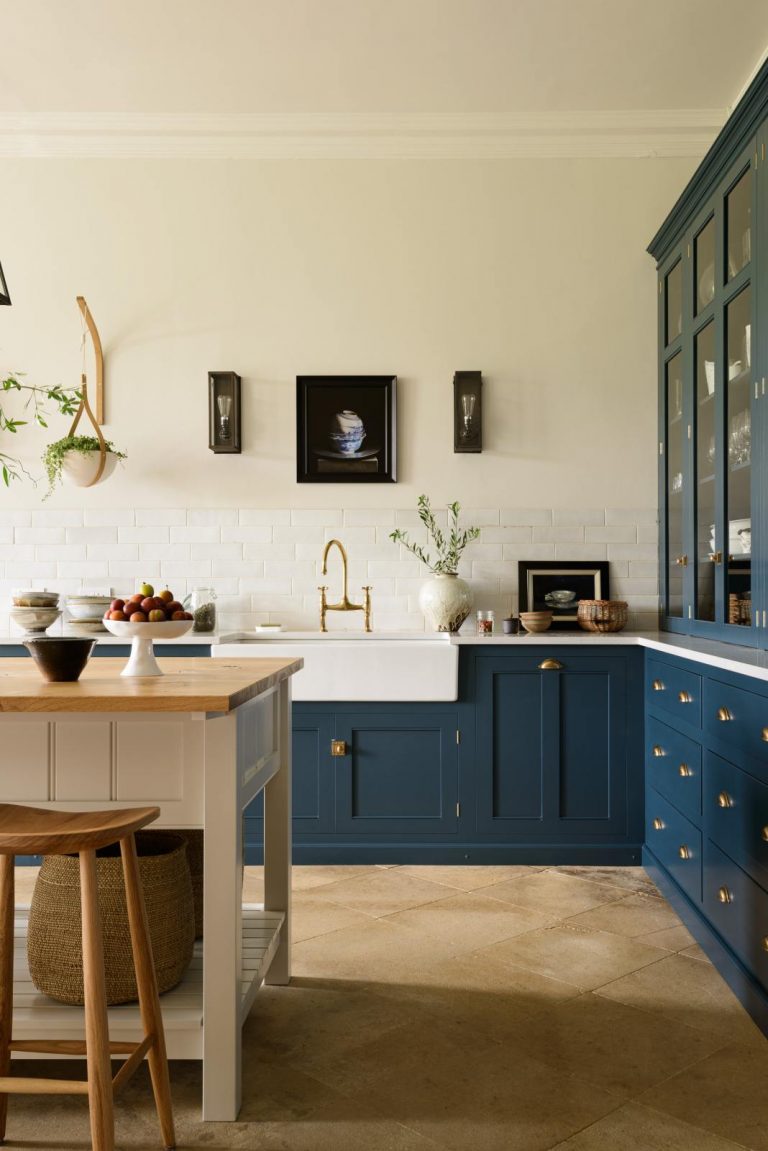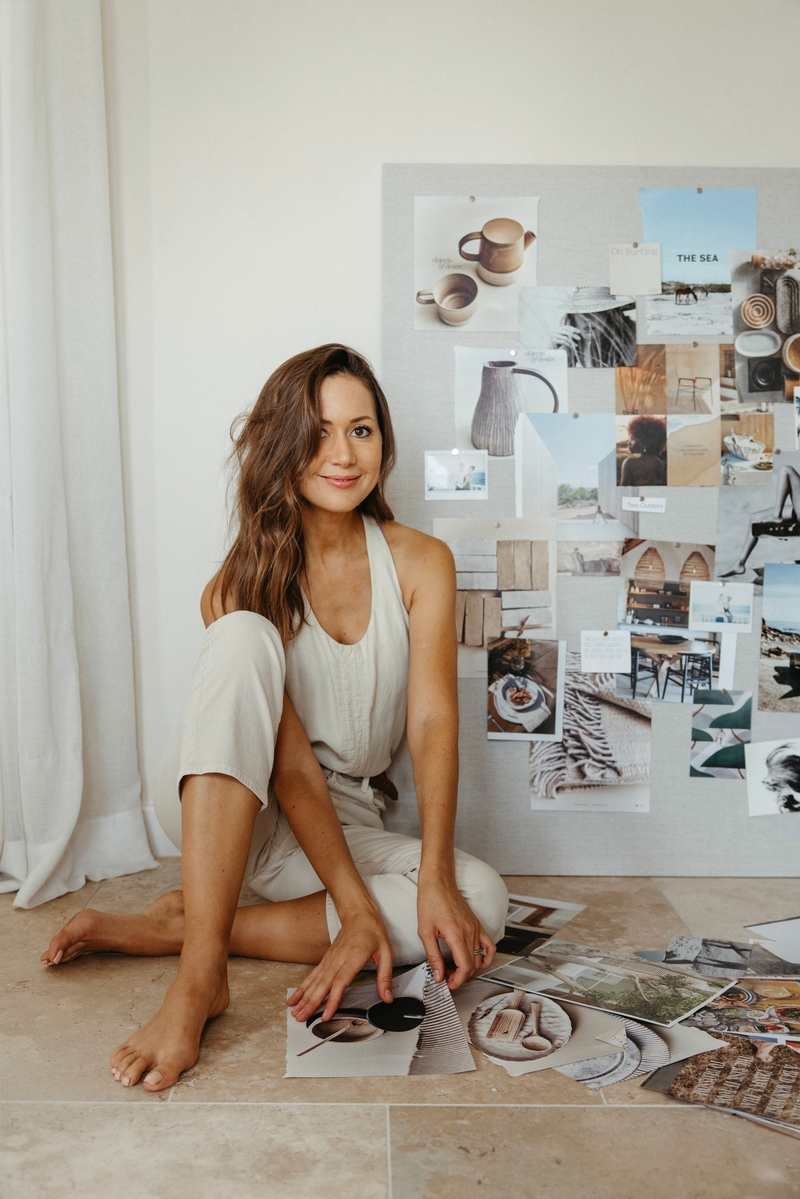 Subscribe
Bring the Comfort Home
Discover Camille's new brand, Casa Zuma, for yourself.
Thanks for Signing Up!
Oops!
Looks like you're already signed up or your email address is invalid.
Oops!
Looks like you unsubscribed before click here to resubscribe.
This makes sense, given how blue is a decidedly classic color, yet also one that pushes boundaries. It's not a neutral, per se, but it complements most décor and design. It can be moody and mystic, ethereal and calming, bold and exciting.
Blue in the Kitchen
Blue for the kitchen is big right now. Wax is seeing the color, both on the darker and lighter ends of the spectrum. gracing cabinets and walls. "Blue in the kitchen enables you to do something with confidence," she says, explaining how going for blue kitchen cabinets isn't a giant risk. "Blue doesn't commit you to redecorate around it—because it is such a classic color."
So I dug a little deeper into the blue spectrum with Wax. Here she breaks down what's trending in the blue world. Plus, she offers her insight into incorporating the colors, from inky navy to dusty cornflower, in the kitchen. Like with any hue or room, Wax says to go for the colors that pull at your heart. "The kitchen is so personal. It's a space where you are creative, spend time with family, have a glass of wine at the end of the day," she says. "So it needs to feel right for you."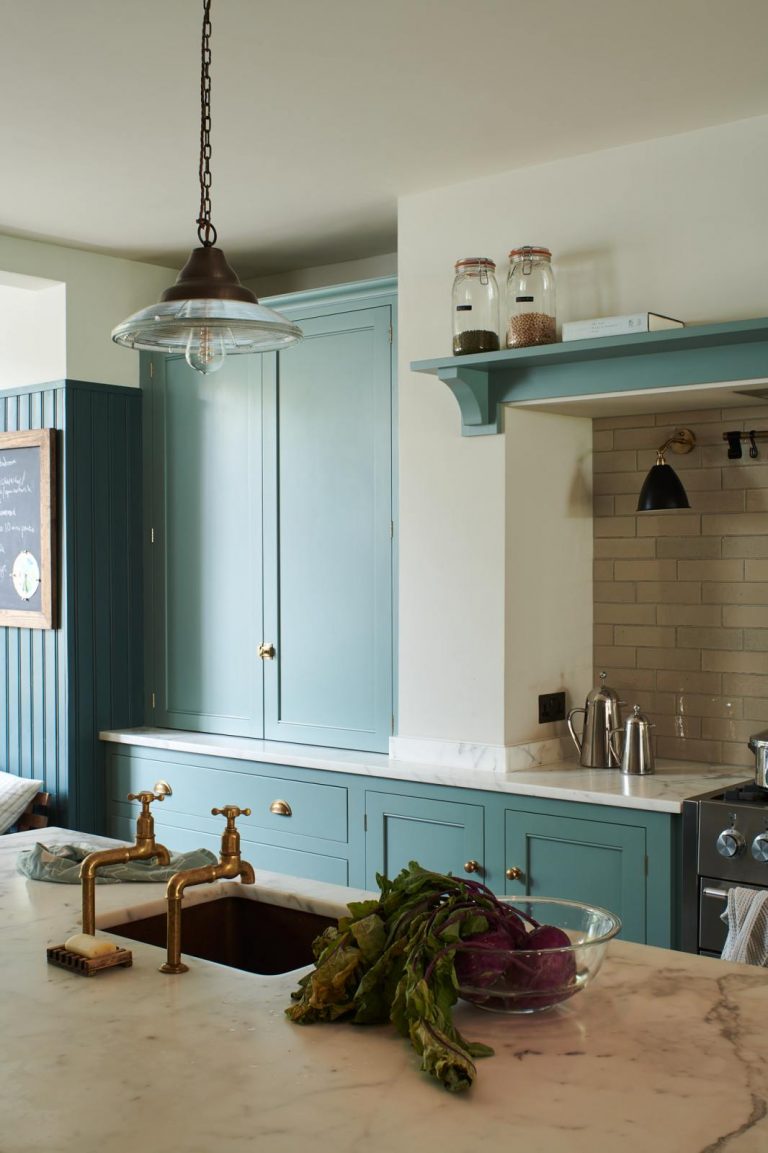 What Blues Are Trending Right Now?
Like any color on the spectrum, blue contains multitudes. And within those multitudes are different energies. This cool color ranges from deep navy to medium sapphire to light sky. Wax is seeing a love of two blue "camps" right now: darker navies and lighter dusty blues.
A deep navy is "almost like black with a personality," she says, adding that there's an elegance and chicness to this darker color. On the other end, the "dusty, cottage-y" blues, which Wax says are always "feel-good colors," are trending. Not to be mistaken with baby blues, these lighter hues add a discerning beauty and lightness to a room.
Why Does Blue Work in the Kitchen?
Certainly whites and grays tend to take all the kitchen applause, but blue is a classic and complementary color for the most beloved room in the home. Wax says that the trending darker and lighter blues complement kitchen hardware. Navy is very in-tune with brushed brash, she says. And the lighter dusty blues complement all metal fixtures, from nickel to brushed brass to matte black.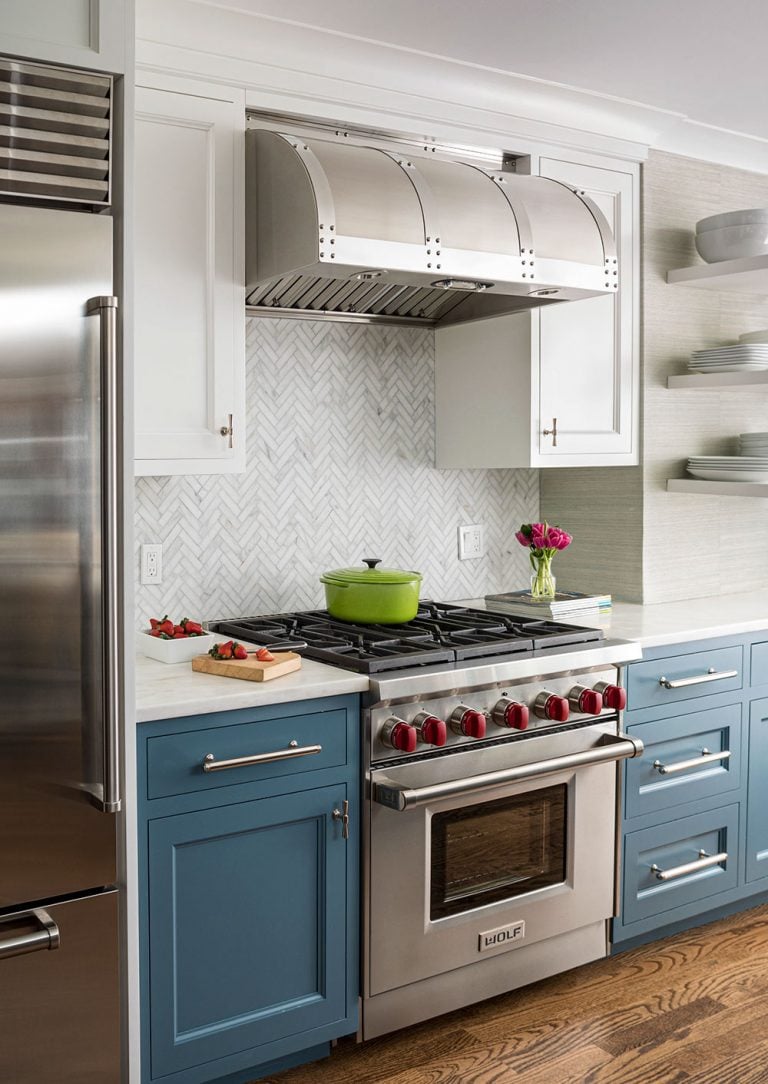 The most important tip when using blue—or any color—in the kitchen is to think in layers, says Wax. This approach helps to avoid oversaturating the space. Too much of one color in a kitchen "can literally tire your eyes," she says. If you have many kitchen cabinets, Wax loves the approach of painting the top portion white and the bottom blue.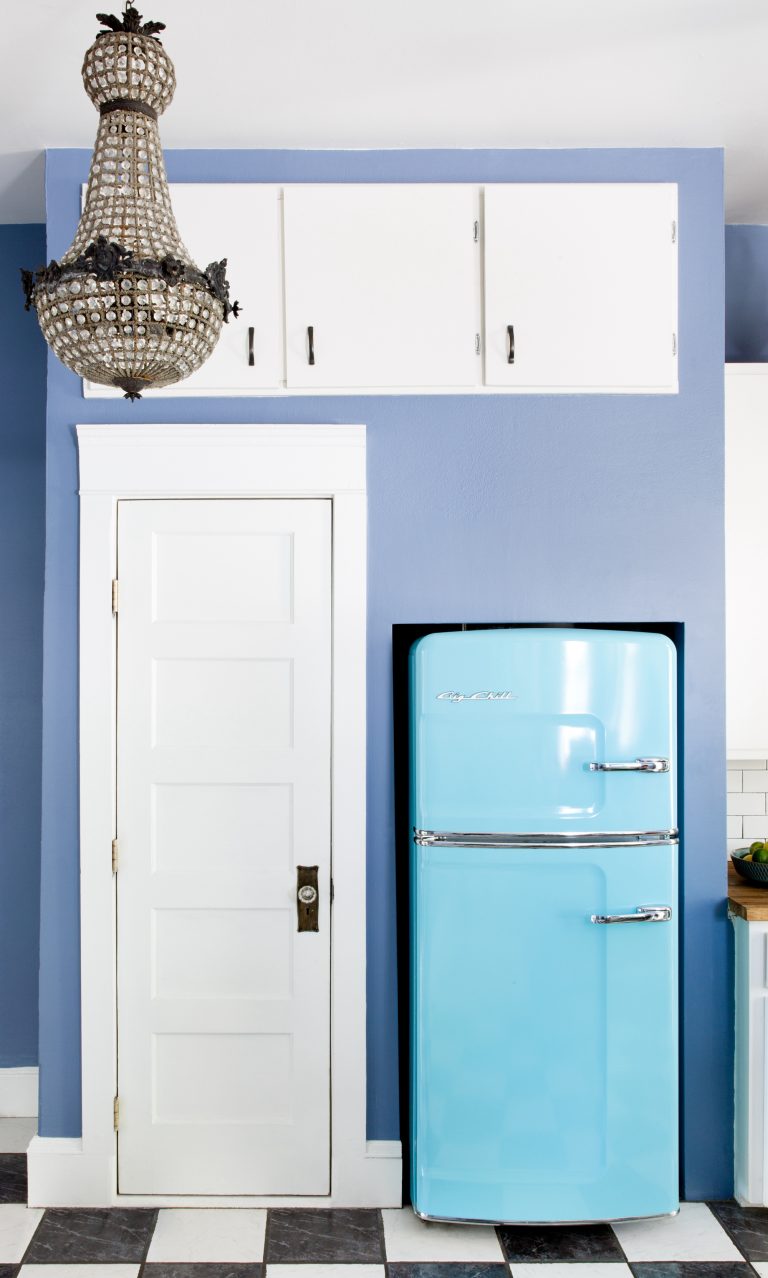 The 6 Best Blue Kitchen Paint Colors
From bold to bright, and dark to light, these are the top paint colors for blue kitchen cabinets and beyond.
Darker Blues
There's no choice quite as timeless as a deep, dark blue. If you're looking for longevity when it comes to your kitchen cabinets, this is a safe, but bold pick.
Lighter Blues
Light blue paints run the gamut from classic to contemporary. Their dusty undertones create a soothing atmosphere in a part of the home that's often prone to stress.