Autumn is almost here, and if you're wondering when is a good time to change over your home from summer to fall, the answer is now. A great way to get in the spirit is to start decorating your kitchen with everything fall-related. Of course, you might have already started digging out last year's decorations or making your way to Home Goods for some new fall mugs, orange plaid tea towels, or an endless amount of faux pumpkins with your Pumpkin Spice Latte.
It can be overwhelming when picking out embellishments you're not used to, like matching fall kitchenware or displaying "Hello Fall" signs on countertops. But Blogger Kim Woodward claims that seasons are perfect for decorating your space in a silly and crazy way because they only last two months. After the season, it's time to pack up everything and move on to the next one. Over the years, you start to figure out what works and doesn't work for your space. So, if you've been meaning to try something different, this is your sign. We know you're itching to start filling your kitchen with fall, so we rounded up some décor ideas for you to try out.
1. Hang a fall garland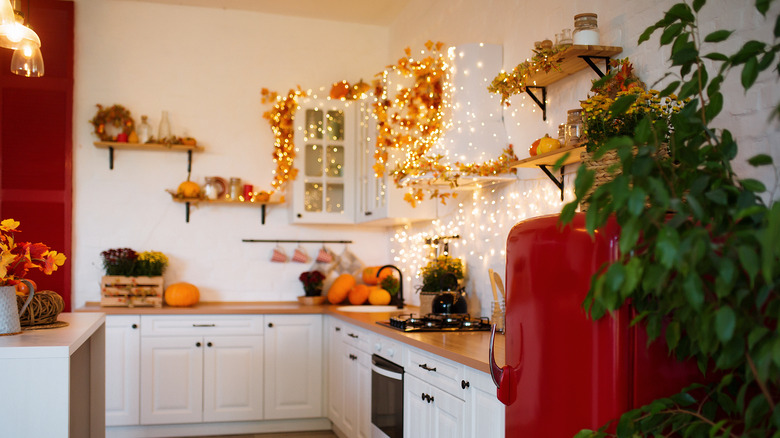 sergiophoto/Shutterstock
This gorgeous fall leaf garland running along the cabinets will make the kitchen feel like fall. Using intertwined string lights adds sparkle and charm to the décor element, making the space feel cozy. Plenty of stores like Michaels or Home Goods sell fall garlands in different colors and sizes to incorporate into your kitchen.
2. Light a fall-scented candle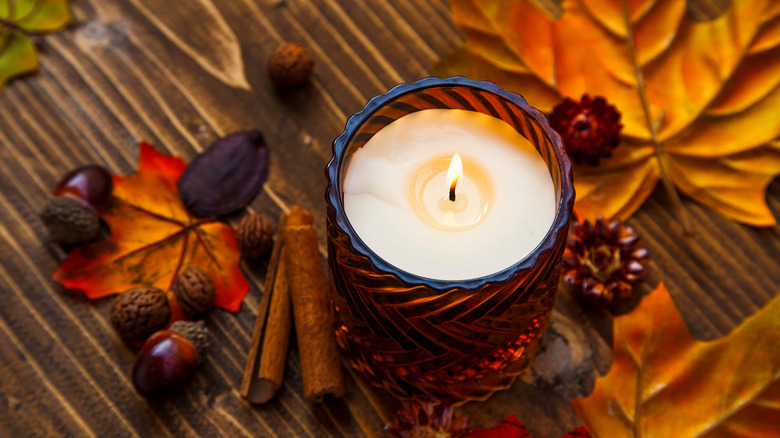 catalina.m/Shutterstock
Pumpkins, apples, cinnamon, spice, and everything nice is the perfect curated scent recipe for fall. Pick out your favorite fall candle to display on your island or kitchen table, and surround it with a couple of leaves, cinnamon sticks, and acorns to fill your kitchen with a sweet or spicy aroma. 
3. Fall haystack corner
If you have an unused corner in the kitchen, create a small pumpkin patch with haystacks, pumpkins, and a couple of lanterns. You'll love seeing a pop of fall in every nook and crevice of your kitchen, especially if you have windows that look out onto the changing colors of the leaves.
4. Add a fall wreath
Upgrade your walls for the fall season with a superb leafy wreath like this wheat one. Along with sprucing up your walls, wreaths come in various colors to fit in with your kitchen, or you can DIY and make your own.
5. Create a full fall table spread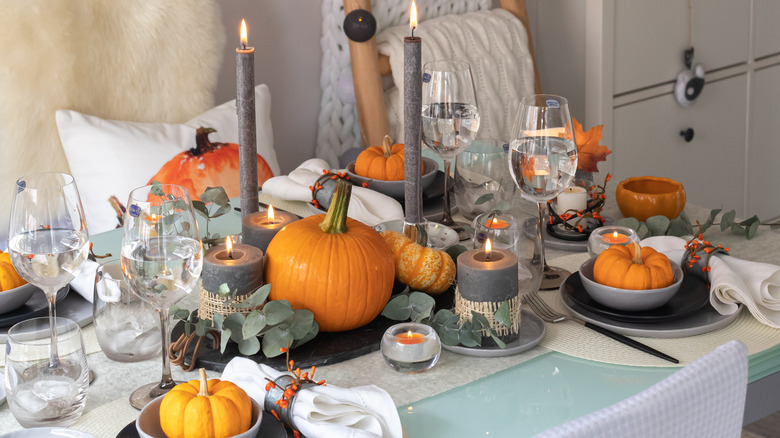 false/Shutterstock
This striking decorated table epitomizes what fall is with the multiple pumpkins, gray candles and candlesticks, green leafage, and black and white plates. If you enjoy a minimal look, opt for only a couple of candlesticks and pumpkins as a centerpiece. Displaying less décor will still give a fall feel to the kitchen table.
6. Pair a pumpkin with leaves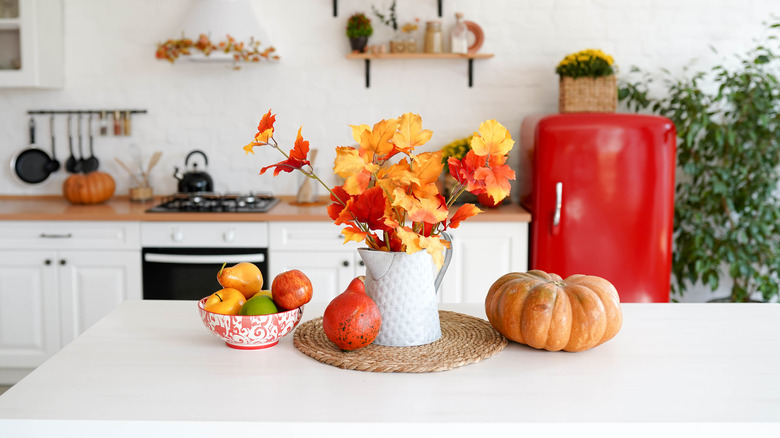 nastya_ph/Shutterstock
If you use your island for cooking purposes, keeping limited fall décors such as this one with a bowl of apples, a pumpkin, and a pitcher vase with leaves can still add a slight touch of fall to the space. Buying faux fall flowers or leaves makes it easier to switch them out throughout the season.
7. Designated fall shelf
Sometimes fall decorations don't have to be put in every kitchen corner. A couple of decorated shelves are all your kitchen might need. Place a pumpkin or two on each shelf with a candle and some string lights to capture the fall aesthetic.
8. Spruce up a lazy Susan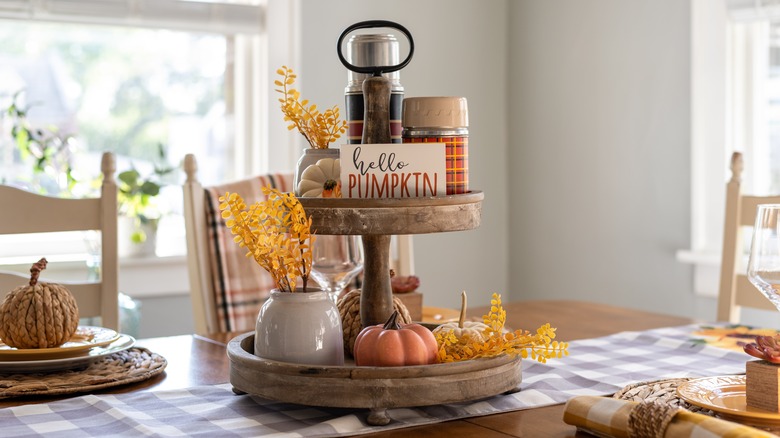 Kristen Prahl/Shutterstock
This kitchen table has a more superficial fall spread with a lazy Susan as its centerpiece. The dark wood trays have ceramic and woven pumpkins, small vases with yellow leaves, and a fall sign that will be the talk of the table. The rustic look of the trays is essential for a fall look.
9. Add fall-inspired signs
Of course, it isn't the fall season without a cheesy sign displayed in every room of the house. This "Harvest" sign in the island's center is simple and sweet, with an added letter board behind it. Letter boards are fun and creative that can be customizable to fit your kitchen.
10. Display every fall mug
Creating a fall mug station like this tiered hanging shelf adds the perfect seasonal touch to the kitchen and makes the mugs easily accessible. In addition, the mugs include the perfect amount of color for neutral kitchens. Finally, decorating the area with creepy spiders gives the space a spooky feeling.
11. Apple basket
Whether you enjoy apple picking or buying apples from the grocery store, a basket of crisp, juicy apples is a great way to prepare your kitchen for fall. Display them on the island or in a corner, and let their colors shine in your space. Then, they'll be ready to be snacked on or baked anytime.
12. Fall coffee and tea station
Transforming your coffee or tea station with fall décors like a garland, a sign, and a few pumpkins on a lazy Susan can make having your morning coffee or tea feel extra cozy. Once the weather starts cooling down, you'll look forward to making your pumpkin spice latte at home.
13. Fall-style bouquets
Incorporating fall colors in your kitchen with a stunning flower bouquet will make the room feel like fall has started. This beautiful arrangement with milky brown leaves and bright yellow and orange flowers captures the feeling of fall. The pumpkins next to it give the vase an extra boost of festivity.
14. Pumpkins here, there, everywhere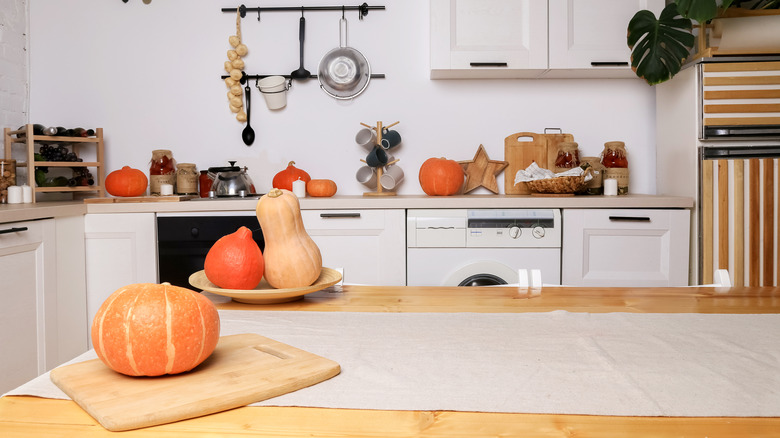 Zarubina_Yuliya/Shutterstock
If you're a pumpkin fanatic, play around with the placement of pumpkins in your kitchen like this one. Spacing the pumpkins on the back counter prevents the space from looking crowded. The orange pumpkins also stand out against the neutral-colored appliances and other décors.
15. Fall tea towels
The easiest way to arrange the kitchen for fall is to switch your summer tea towels with fall-themed ones. Place them on a small towel holder with other decorations like this countertop with candles, pumpkins, and a fall sign instead of the oven handle for a different look.
16. Fall-shaped kitchenware
This brown pumpkin ceramic bowl can hold all your favorite treats while preparing your kitchen for fall. In addition, there is an assortment of fall-inspired ceramic bowls that are great as décor or when you're cooking. For example, displaying a couple of cast iron pumpkin pots are easily reachable and enhances your kitchen's fall look.
17. Antique footed bowl
Styling your home with antiques like this footed bowl with pumpkins and pinecones can spruce up the bowl and make it look like fall on your kitchen table. The charcoal pumpkins add contrast to the table and metal bowl. You could find different footed bowl styles in thrift stores, Home Goods, or online to create a personalized look.
18. Pumpkins and candles
Using pumpkins and candles as statement pieces for your fall décor doesn't have to be boring. This rustic style with wood candleholders, lazy Susan, and wicker mats creates a beautiful centerpiece. The green leaves add some color to the neutral tones, but the leaves can be any color, like red or yellow.
19. Fall decorated wood trays
This dark stained wood tray filled with fall goodies like pumpkins and stunning foliage makes the centerpiece look sleek and organized. Wooden trays come in numerous sizes, so if you don't fancy a more extended tray, opt for a shorter one to fill with your favorite fall items.
20. Fall leaf arrangement
A leaf arrangement changes the ambiance in a room like a flower bouquet. If you prefer something long-lasting, try replicating this gorgeous clear vase with a colorful wheat bundle and a few fuzzy pumpkins on sticks. Leaf bundles add height and personality to the all-white kitchen.